Cincinnati Reds vs. San Francisco Giants Game 5: Live Score, NLDS Analysis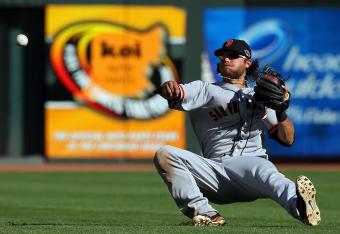 Jonathan Daniel/Getty Images
Welcome to the decisive Game 5 of the NLDS between the San Francisco Giants and the Cincinnati Reds (at Great American Ball Park) which is just getting under way.
Stay right here for Bleacher Report's live coverage of the entire game.
FINAL SCORE UPDATE:
Giants 6, Reds 4

After getting outscored 14-2 in losing the first two games at home, the Giants come back with 2-1, 8-3 and 6-4 wins in Cincinnati to advance to the NLCS for the second time in three years.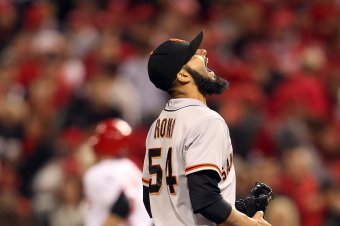 Andy Lyons/Getty Images
Rolen fights off a nasty slider. Romo comes back with another slider, and Rolen misses it. The Giants are the first team ever to overcome a 2-0 deficit with three straight road wins in a best-of-five. What a series!
He misses with a fastball, but then paints the outside corner with another fastball for strike two.
Romo drops in a slider for strike one.
The TBS crew keeps noting that Romo is tougher on righties than lefties. However, he actually held lefties to a .491 OPS this season compared to .537 for righties.
Romo just misses with a close 2-2 pitch to Bruce, then gets him to fly to left. Scott Rolen is up now with two outs.
If the Reds win this game, the walk to Cosart will be the key turning point in this inning. Romo had to challenge there.
Ludwick drills a single to left, Cosart scores, and it's a 6-4 game with two on and one out. Jay Bruce is at the plate with a chance to end it.
Votto drills a single to right, and Ludwick will have another chance to tie it.
Romo walks Cosart. Huge, huge mistake to walk a guy who only walked 31 times all year, especially with a three run lead.
Romo gets Phillips to foul out to Belt with a heavy dose of nasty sliders.
It will be Phillips, Cosart and Votto for the Reds in the ninth to face Romo.
Chapman recovers to get Nady and Pagan to pop out. His match-up with Scutaro is the immovable object versus the irresistible force, as Scutaro rarely strikes out and Chapman is a whiff machine. Chapman gets him to fly to center, and the Reds go to the bottom of the ninth needing three runs to avoid elimination.
Angel Pagan is a free agent this winter. That man is going to get paid! Baker brings in his flame-throwing closer Aroldis Chapman. Facing him cannot be fun. He gives up a lead-off single to Crawford, who somehow gets around on a 97 MPH fastball.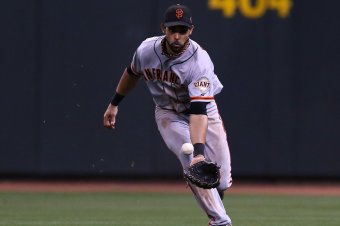 Jonathan Daniel/Getty Images
Bochy actually double-switched Xavier Nady and Romo into the game, removing Casilla and Blanco. That's a curious move because Nady is nowhere near as good defensively as Blanco. Baker turns to pinch-hitter Dioner Navarro who gets robbed by Angel Pagan on an incredible diving catch in center field. What a game!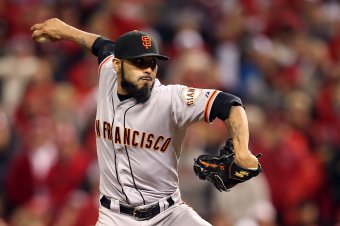 Andy Lyons/Getty Images
Frazier flips a single to center after falling behind 1-2 in the count. The Reds have the tying run at the plate again, and Bochy is turning to his closer, Sergio Romo.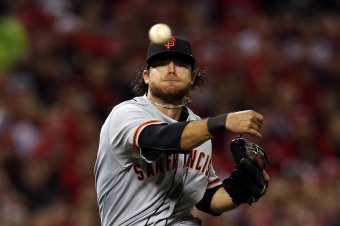 Jonathan Daniel/Getty Images
Brandon Crawford matches Phillips for the play of the game with a diving catch in the hole to rob Hanigan. Good call by Bochy to go with Crawford's glove today, after all. Baker is sending up Todd Frazier to hit for Stubbs with two outs.
Rolen bloops a single to center, and the Reds just won't go away.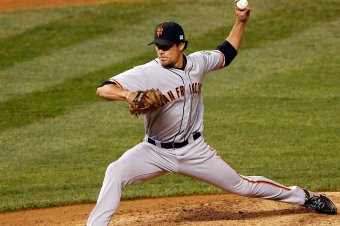 Doug Pensinger/Getty Images
Lopez, who held lefties to a .191 batting average this season, gets Bruce to ground out. Santiago Casilla is coming in to face Rolen. We'll see what Casilla has left after pitching consecutive days.
Affeldt got hit by a foul ball last inning in the dugout and fell down the stairs. Thus, Lopez is now in to face Bruce.
Blanco smashes a line drive to center, but Stubbs is there to end the threat. Giants still lead 6-3 going into the seventh. It appears that Affeldt may have been injured last inning, so Javier Lopez may be coming in to face Bruce to open the eighth.
Pence drills a single down the line, then steals second to get something going for the Giants off the Reds pen finally. Belt then smashes what looked like an RBI single to right field, but Brandon Phillips made the play of the day to rob Belt and get him at first base. Great play by Phillips.
Jonathan Broxton comes on for the eighth. He gets Posey to fly out to open the inning. That's nine straight retired by the Reds pen since the Posey slam in the fifth.
Affedlt gets Ludwick to bounce back to the mound to end the threat. Ludwick fouled a few pitches straight back in that at-bat, just missing a chance to tie the game. Giants are holding on 6-3 going to the eighth.
Votto grounds a single up the middle for an in-field hit. Crawford showed great range getting to the ball, but had no play on Votto at first. Ludwick is up as the tying run. He murdered left-handed pitching this season, hitting .263/.360/.576 off of southpaws.
Cosart flies out to center on a 3-2 pitch. Votto is up with two outs in another huge situation.
This article is
What is the duplicate article?
Why is this article offensive?
Where is this article plagiarized from?
Why is this article poorly edited?