The 5 Contenders for the English Premier League Title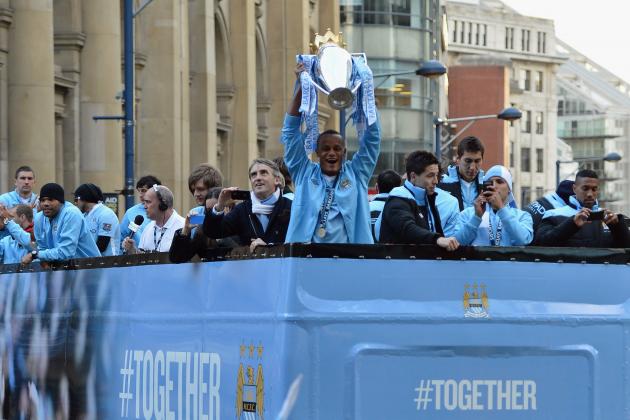 Christopher Furlong/Getty Images

Seven games into the EPL season and it is slowly becoming clearer who will contend for the biggest prize. Chelsea lead the table after staking their claim for the trophy as early-season pacesetters. Manchester United and Manchester City are neck and neck four points behind them, followed by Everton, Tottenham Hotspur and West Bromwich Albion a further point back and two points behind that trio are Arsenal. Among this group are the contenders—the teams who have the squad, the players and managers who can push them to potential glory.
In what is considered the toughest league in the world, things have changed considerably over the years.
The early days of the EPL saw many different teams battling for honors. Some of the names would surprise many who follow the current version of the trophy. Names like Aston Villa, Norwich City, Leeds United, in fact things have changed so much over the years that those who saw the very first season of the Premier League would look at the table now and simply shake their heads in disbelief at the level of change the competition has experienced in the last twenty years.
The only constant has been Manchester United, managed by the irrepressible Sir Alex Ferguson, who, like a dog with a bone, has fought every year to take the trophy back to his domain.
Over the years he has succeeded more often than not, with 12 titles to Manchester United's name, the Red Devils have won more EPL trophies than all the other winners put together. The trophy has gone elsewhere only eight times, with Arsenal and Chelsea the next most successful, with three apiece, and Manchester City and Blackburn Rovers the only other teams to have taken home the honors, with a title each. The following slideshow will outline the contenders, in order of their current standing on the table and outline the potential that exists for each side.
Begin Slideshow

»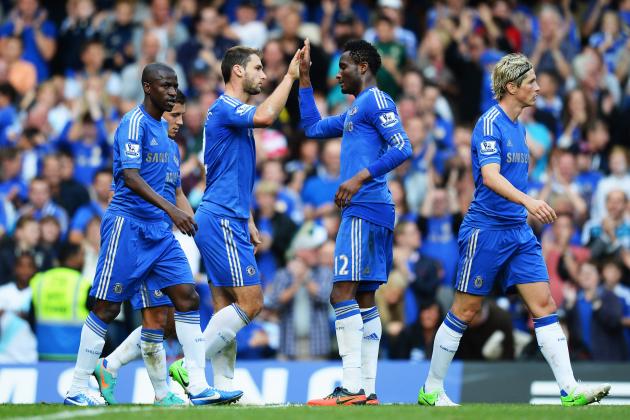 Mike Hewitt/Getty Images

Chelsea have started off as the most convincing of any side in the league so far. A well organised defensive unit has meant that their midfield has secured enough possession in most matches for their attackers to get the goals required for victory.
They outlaid the most in terms of finances in the transfer window, bringing in a lot of top talent in an effort to retain their Champions League trophy and regain the Premier league trophy that they have not won since the 2009-10 season. The acquisition of Eden Hazard, Oscar, Victor Moses, Marko Marin, Thorgan Hazard and Cesar Azpilicueta has given the squad a huge boost and added fresh impetus to a side that had been in some respects on the wane.
The loss of Didier Drogba and Nicolas Anelka would have been a huge blow to any side, such is the quality of those two strikers and their contribution to Chelsea's success over the years. Add to that the inevitable aging of members of their squad who have been key to their success over the last 10 years and the reasons why such extravagant transfer action was taken becomes all the more clearer.
Roberto Di Matteo's transformation of Chelsea was gargantuan. Considering the disharmony that was evident before his arrival. As a former Chelsea player he had a huge advantage, as a top-performing former player it was a massive advantage. He has a legendary status among the Chelsea fans and players alike and so he was the perfect person to take over the club in the wake of Andre Villas-Boas' disastrous tenure.
The Portuguese manager could not get the support of key members of the squad and lost the dressing room quite early. His managerial style was something that put a few noses severely out of joint, causing the players to turn on him. Something that generally spells the end for any manager.
The difference between AVB and Di Matteo is as plain as night and day. Di Matteo joined Chelsea from Italian giants Lazio and was an instant hit, scoring the winning goal in his debut appearance. He went on to be a key member of a side that set the platform for Chelsea's emergence as one of Europe's top sides. He won two FA cups, one League cup, one UEFA cup and one UEFA Super cup with Chelsea and finally retired in 2002. He is what in football is termed "Royalty" in terms of his standing in the history of a club.
One of Di Matteo's greatest advantages as manager is that he has played alongside two of the side's most important players in John Terry and Frank Lampard. He was still part of the playing staff when these guys were cutting their teeth as Chelsea players and despite them going on to greater things in winning league titles, they would never have forgotten that he was their senior at one stage and so would still hold him in the highest regard.
All this led to the huge surprise of Chelsea taking out the biggest honor in European football last season. Many consider it a fluke, but when you get out on the pitch, the players know better. These things sometimes happen because teams rise to levels that no one thinks they are capable of, and it seems as if the gods are on their side.
This season, with the addition of the likes of the electric Eden Hazard and outlandish Oscar, the Chelsea side has begun to resemble the sides that won the EPL with ease only a few years ago. Chelsea fans are very confident that this again will be their year.
Chelsea may be a little light on striking options, as they lost Drogba and Anelka as well as farming out Romelu Lukaku. They do, however, have the financial muscle to bring in more striking talent in the transfer window and could conceivably call Lukaku back, though at this stage, with Fernando Torres starting to recapture the form that made him the darling of Anfield and Atletico, and with midfielders and defenders scoring for fun, Chelsea look as though they could run away with the title considering the slovenly form of their opponents in the title race.
Easily favorites at this stage, it will be interesting to see if they can maintain the momentum they seem to have at present.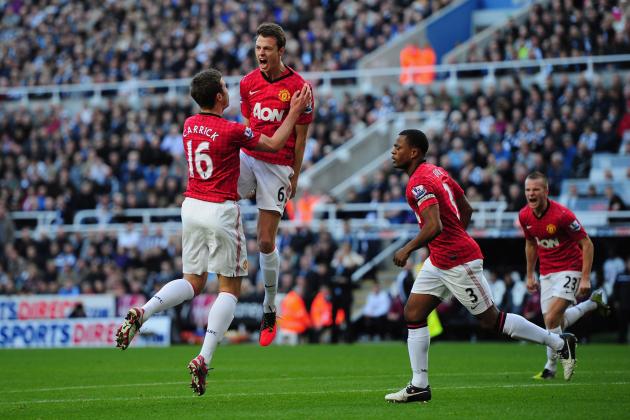 Stu Forster/Getty Images

The Manchester giants have started the season sluggishly by their standards, letting a game go to Everton early, though in terms of omens, some United fans consider that a good one. After all, United were given a good old fashioned 3-0 spanking at Old Trafford in the 1992-93 season early on, and went on to win the league for the first time in 27 years, and that began their modern period of dominance.
However, further unconvincing performances followed and the doubts about the team's ability to challenge for the title grew, especially following the home loss to Tottenham Hotspur, the first time the Londoners had won at Old Trafford since the 1980s!
United bounced back a week later, trouncing Newcastle United 3-0 on their own patch and sending a warning out to those who thought the team was on the wane. Sir Alex Ferguson generally does inspire new levels of commitment and desire out of players, and on the weekend gone he needed it like never before.
Fittingly, one of his most trusted and decorated players, Patrice Evra, stood up and had the type of marauding and bustling game that caught the wily Scot's eye in the first place, The Frenchman was everywhere, scoring the second goal and breaking up attacks as well as starting them off throughout the match, a true statement of class to all those who had begun to murmur that he should make way for the new talent waiting in the wings.
United were a team transformed against Newcastle, and for the opening twenty minutes, played football that made the opposition look like a disturbed rabble. Wayne Rooney has slowly eased himself back into things and finally looked the real deal for the first time this season against Newcastle, his bustling energy and intent giving the Newcastle players the type of test they were not up to the task of taking.
Add to this the resolute showing of a back four that had been soundly berated for their poor recent showings, a little brilliance on the part of keeper David De Gea and a little luck, and United got home with the three points and a reminder that when it comes to title races, you can never count this club out.
Robin van Persie's signing has dominated the headlines, and his goals have propelled United forward, but the real debate for many United fans has been how the other new signing, Shinji Kagawa, will link with Van Persie and Wayne Rooney to provide the trophies the faithful crave.
Sir Alex always has surprises in store and has an irrepressible self belief, almost that certain trophies are destined to be emblazoned with his team's name. After enduring last season's anguish of losing the title on goal difference to his "noisy" neighbors, he will desperately want to shut them up.
The question is whether him and his players will be capable of it, considering the EPL is the toughest that it has ever been.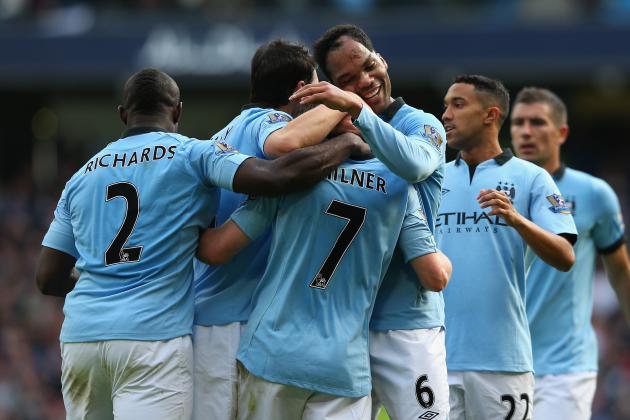 Alex Livesey/Getty Images

The champions have looked a shadow of the side that was so dominant for long periods last season. They were embarrassed recently in European competition by a rampant Borussia Dortmund, and only saved by a simply magnificent display by keeper Joe Hart. Roberto Mancini's team has leaked goals, something that would give the Italian horrible nightmares, such is his pride and belief in the defensive platform being the key to any good side's performance.
He has, though, shown a willingness to keep the unpredictable Mario Balotelli in the mix, which does point to a risk-taking streak that is often the mark of a trophy-winning managers. The last league match was a resounding win over Sunderland, who were made to look second best with an ease that belied City's below-par start to the season.
Slowing down in terms of spending has had some asking questions, but it also shows that Mancini has arrived at the squad make up he is happy with in terms of pushing for top honors in Europe and retaining domestic dominance.
They currently sit third on goal difference behind their greatest rivals and, despite shoddy showings in a few matches, have started to slowly resemble the well oiled machine they were last season, in the run-up to their miraculous last-day trophy-winning heroics. The squad seems settled and confident, though the injury to Sergio Aguero was a huge disruption and certainly damaged the cohesion of the side and the way the pattern had been set. His return and excellent goal against Sunderland would be a welcome balm to Mancini and City's fans, and most of all to the players, who week in and week out set the platform, for the strikers to convert. Having a player as tried and true as Aguero leading the line is something many players can only dream of.
Add to that the beast in the middle of the park that is Yaya Toure and the excellence at the back of Vincent Kompany and Joe Hart, and you have the spine of a champion side. Something that cannot really be said of many of the other challengers outlined in this piece. In terms of a spine, Manchester City are probably the team in England that has the strongest. Taking into account factors of age and ability, they certainly have a more tried and resilient squad than all of the other contenders.
The budget is immense, and so is the squad. This team is again going to win trophies, the question in the end will be whether Roberto Mancini is capable of pushing his players to the heights they need to reach. For in the end, teams can have all the money in the world, but it can be no guarantee of success, it is a funny old game like that.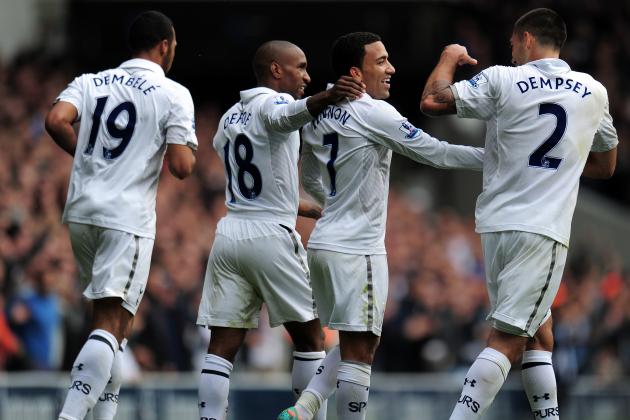 Shaun Botterill/Getty Images

Andre Villas-Boas made an ignominious exit from Stamford Bridge, the victim of a team not willing to alter its culture as severely as a new manager wished. All speculation, of course, now is history, with Villas-Boas managing Spurs to four wins in a row after a less than convincing start, including the first victory over Manchester United at Old Trafford in 23 years, a famous win for a Spurs manager, a win that had eluded more than fifteen other managers since 1987.
It appears as though the system he wished to instill at Chelsea may come to fruition elsewhere. Spurs now have an excellent platform with which to really challenge the elite of English football and, they will hope, eventually European football. Some intelligent purchasing, coupled with astute timing has led to the compilation of a side of players that have been regular thorns for several other sides in their former teams colors, but now with Tottenham they may reach a conclusion that was impossible for them elsewhere, as they become part of a side that is truly able to challenge for trophies.
AVB is saying he relishes the prospect of facing Chelsea after the international break, and the vengeance aspect is clear, though the manager says it is not an issue. For Di Matteo it is huge, he needs to win to further his team's excellent start, but also so he can settle once and for all the minds of some undecided Chelsea supporters. It will be an interesting match, two form teams meeting always is.
With Jermaine Defoe hitting his top gear, Emmanuel Adebayor just waiting to show what he can do, Mousa Dembele impressing twice at Old Trafford—gaining the win the second time—the Spurs attack is looking good. Gareth Bale was another to dazzle at Old Trafford, a storming solo effort rocking the Old Trafford faithful.
In his back line he has kept Brad Friedel in the sticks for most of the season, though now has replaced him with Lloris, who kept a clean sheet in a 2-0 victory over Aston Villa.
Villas-Boas has stuck with the youngster Steven Caulker at the back, and has new defender Jan Vertonghen as well contributing solid defence and goals, it looks good for Spurs at this time. AVB is at this stage keeping Defoe as his No. 1 goal threat, despite many thinking he would make way for Adebayor as soon as the former Arsenal and Manchester City striker was permanently signed.
Bringing Dembele in to provide technical ability and strength in the middle of the park, something Spurs have not had for many years, he has tinkered with the side and seems to have immediately hit a formula that works, something that managers dream of.
is it coincidence?
Is it more to do with his successor than him?
These questions remain, regardless of what happens. Now though he is the manager, and he has managed something Harry Redknapp couldn't, beating Fergie at Old Trafford.
It has now shown with four wins in a row and a quite excellent start to the season that the situation is very much game on for Tottenham and their new manager. Signing Adebayor, Dembele, Vertonghen and Clint Dempsey has outlined the intent and design that is going into the club, with the new training complex another big hint at the direction the club is headed. The future looks good for Tottenham, though, of course, it has many times before.
More will be known in the immediate aftermath of the encounter between them and Chelsea when the EPL resumes.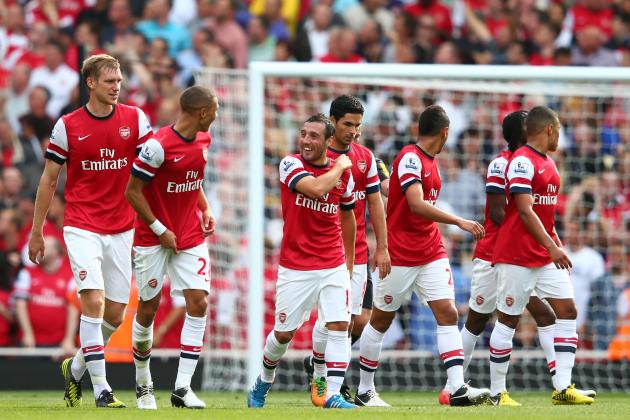 Clive Mason/Getty Images

Arsenal lurched in football consciousnesses around the planet upon the loss of Robin van Persie to Manchester United. It was seen by many as a sort of "death-knell" to their chances. The truth has borne out a far more intriguing development than any could have predicted. The resurrection of two if not three or four players' reputations.
Lukas Podolski had been signed by Wenger to little fanfare, his unlucky stint at Bayern Munich injuring his intent there to the point of his return to the club that sold him, FC Koln. On moving to Arsenal however, Podolski has excelled to the point of everyone rediscovering him, figuring prominently in play and scoring and setting up a few goals. Suddenly it is 2006 all over again.
Santi Cazorla was also brought to Arsenal with little real murmur, a sudden mention somewhere, and then hey presto, he's at Arsenal, for twice as much as Podolski but that is the standing of the Spanish league due to its teams and their dominance of world football for the last few years. Of course, it is also the quality of the player, as Cazorla has duly shown, his easy export of himself has seen him weave magic around startled defences, and score blistering strikes on opposition goals.
Olivier Giroud has taken longer to settle, though his recent goal against West Ham was evidence the Frenchman is of a rare class of striker.
Gervinho has also stepped up, as have others among the squad, Thomas Vermaelen and Per Mertesacker providing a solid central base for the actions of the team. Carl Jenkinson has impressed, and Mannone has looked the pick of the keepers. Arsene Wenger is suffering the same problem as his old adversary Ferguson—not being able to find his keeper. They have both been chipping away at that for a time now, though Ferguson was lucky enough to win several more trophies after Arsenal's goalkeeping solidity went.
Wenger has again demonstrated his marvelous tactical nous in signing three players who were below the radar of expectation a season ago, players who were little mentioned in the footballing transfer market hype talk, and it has worked, they have thrived because they are ready to do so. Arsenal have looked as convincing as any side. They were beaten by Chelsea at home, though, and they have seceded a bit of reputation and league standing to the their great rivals already because of that loss.
There is a very good spine to the team now, with ample support and skill outside it. Arsenal have signaled an intent more through the consistent rate of their players' excellence in terms of technical football than all other teams, with certain other major rivals looking far less convincing at times in comparison.
Arsenal at this stage could well be warranted as realistic contenders due to the nature of their improvement, rather than current position on the table. Cazorla and Arteta bring a quality to their midfield that not many English sides possess. Diaby has also been excellent at times, a cut above the rest, unfortunately injured he will be another excellent asset to the side.
Wenger has put together another excellent work in progress, he has a problem in working out which keeper to go with, but other than that his team looks strong and capable of beating most in the league.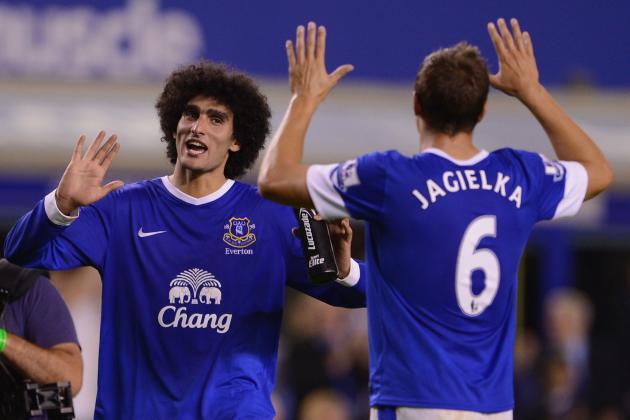 Michael Regan/Getty Images

Other challengers remain in the mix, the most prominent of course being Everton, though their recent results have signaled they may not quite be ready to mount a sustained assault on the upper echelons of the EPL trophies. They currently sit above Arsenal, though going into something like the international break they could lose players that they they rely heavily on, and with a smaller squad than the top sides, it could be difficult for them to cope with such losses, David Moyes has proved time and again that he is more than capable though, and this season he has definitely got the type of start he has desired from his players.
Their cross-town rivals Liverpool FC have stuttered and started but began show glimpses of their capabilities with a stirring performance against Manchester United, that they later went on to lose, thanks to an untimely red card. They have started to look very assured, though their lightness in striking options has hurt, with the Anfield Red's having loaned out Andy Carroll before finding a suitable replacement, and now have lost new signing Fabio Borini to a foot fracture, which further limits their arsenal of attackers.
Other than these teams, realistic challengers are hard to find, but as the season continues, it will become far easier to see the teams that are going to push for top honors this season.
It is a long season, and much is yet to be seen, though it will be one of the sides in this slideshow that wins top honors. It could well come down to many different mitigating factors, from possible injury to referee piquancy. The big teams are starting to hit their stride though, and with some big match ups in the coming weeks, once we reach December the teams capable of winning the league will have gone further to signalling the extent of their intent.