Vikings vs. Redskins: 10 Keys to the Game for Washington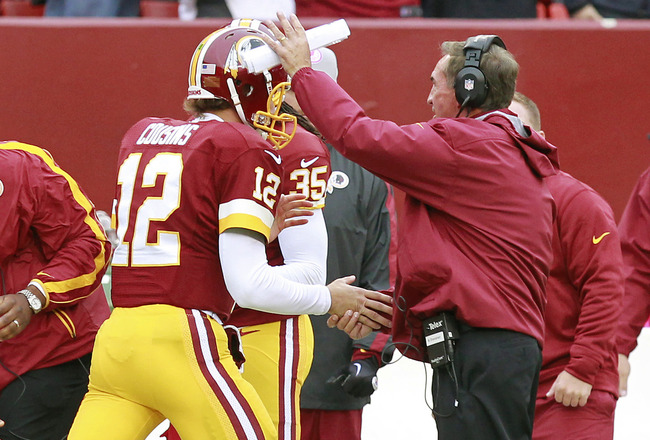 Should Robert Griffin III not play, Mike Shanahan will turn to another rookie in Kirk Cousins.
Geoff Burke-US PRESSWIRE
The Washington Redskins can't afford to go 0-9 at FedEx Field. Home games are the ones that teams must win in order to give themselves any chance of a successful season.
The Minnesota Vikings have been a surprising team this year, so they'll arrive full of confidence and looking for their fourth straight win.
Meanwhile, Washington's early hope has dissipated through injuries, the latest being the concussion to quarterback Robert Griffin III.
The Redskins have steadily proved all offseason fears about their team correct; the secondary is weak, the offensive line is a concern and there isn't enough depth at key areas to cover injuries to starters.
Despite the cynicism, there are still positives to be drawn from the season, of which Griffin is one. He has given the team a chance to win every game it has played in.
Maintaining that the team only lost by one score and was in the game until the end is a familiar comeback for Redskins fans, but this year it has been particularly true.
When the quarterback has the best completion percentage in the league and the team still isn't winning games, it's not difficult to see where the problems lie. That said, there's every chance that the Redskins can make life difficult for the Vikings and emerge with a win.
Robert Griffin III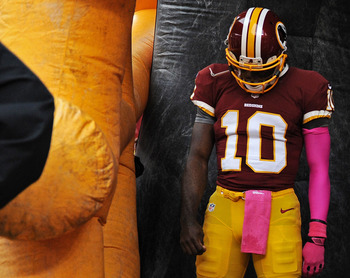 Robert Griffin III will aim to be back under center by game day.
Patrick Smith/Getty Images
It's best to get the obvious out of the way quickly. If Griffin plays, the team has a legitimate shot of victory. If he doesn't, it's difficult to see how the Redskins will get their offense going with a quarterback lacking in first-team reps.
Kirk Cousins is a talented QB, that much is certain, but the offense is catered around Griffin and the playbook is suddenly reduced when he isn't on the field. Cousins' performance against Atlanta was that of a rookie—an accusation which cannot be leveled at Griffin this year.
It looks as though Griffin will play on Sunday, with reports coming in that he fully participated in practice on Wednesday and is displaying no symptoms or setbacks following his concussion last week.
If present on the field, the same worries will emerge. It's understandable that the Redskins' offensive line means that he must sometimes leave the pocket, but he needs to work on his sliding. Throwing the ball away isn't a crime, either, nor is going out of bounds.
Tight End Coverage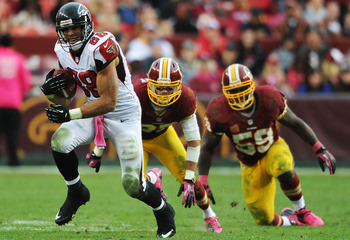 The Redskins failed to contain Tony Gonzalez last week, and have struggled all season against tight ends.
Patrick Smith/Getty Images
The Redskins continued their inability to cover tight ends last week, allowing Tony Gonzalez to catch 13 passes for 123 yards. The team has tried both man and zone coverage through the five games, with neither of them proving particularly effective.
It may simply be a case that the players aren't up to the job, but they need to find a way to stick to Kyle Rudolph, who has four touchdowns already this year.
An analysis of the Skins' tight end woes was presented at HogsHaven.com, with the article calculating that, at this pace, Washington would give up 112 receptions for 1,176 yards and 13 touchdowns to tight ends. Only Rob Gronkowski and Jimmy Graham did better than that last year.
Jim Haslett has tried assigning Perry Riley, London Fletcher and DeJon Gomes to the tight ends, but none have been successful. Ideally, the team needs a safety with the in-game experience of Fletcher but the legs of the younger players, but that's obviously impossible.
Bringing more pressure on the quarterback helps in theory, but adding to the rush just means that the potential is there to exploit the secondary via the tight end.
As we saw when Fred Davis got open against the blitz in Tampa Bay, the tight end is the go-to hot read for quarterbacks, so dialing up the blitz could only add to the Skins' difficulties.
The only viable solution is to attempt to confuse the Vikings with different looks, varying the fronts and using the entirety of the defensive playbook. When resources are deficient, the way they are utilized can make all the difference.
The Redskins should take a lot of heart from a defensive performance that allowed them to compete with the Falcons for most of the game, so Haslett needs to inject them with some confidence and get them playing hard from the outset.
Road games should be uncomfortable for the visiting team, and the Redskins need to reclaim their stadium. Now would be a good time.
Stop Adrian Peterson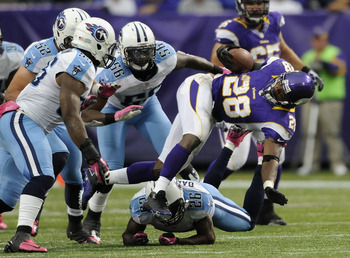 Adrian Peterson has made a good recovery from his ACL injury.
Hannah Foslien/Getty Images
Despite Kyle Rudolph being the source of Christian Ponder's success through the air, counting out Adrian Peterson would be catastrophic for the Redskins. Looking to be fully recovered from his ACL injury, Peterson has amassed 420 yards and two touchdowns this year.
The Redskins can take heart from the fact that Peterson has only rushed for 74 yards total in the teams' last two meetings, but it's also worth bearing in mind that the Vikings won both of those games.
Peterson will no doubt be aware that his injury took place on the Redskins' field, but he's unlikely to show any hesitancy in his cuts. Washington has been successful against the run this season, so will look to continue that showing on Sunday.
Alfred Morris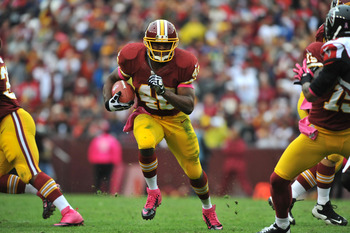 Alfred Morris has been exceptional this year.
Larry French/Getty Images
Alfred Morris can't have dreamed of a better start to his NFL career. Well, he would've liked to win more games, but from a personal standpoint he's off to a great start.
A total of 491 yards and four touchdowns is incredible for a sixth-round back in a Mike Shanahan system. Although some of his carries are no doubt down to injuries, Morris won the Week 1 start in camp and refused to let it go.
His ability to gain yards after contact continues to impress, especially considering that teams have now had a good look at his game, which isn't even that complicated to begin with.
He waits patiently for the hole to develop and hits it hard, with a one-cut style that Shanahan likes to employ. Easy to plan against in theory, but teams have found it difficult to execute those plans
Morris will need solid blocking from both his offensive line and receivers, as the Vikings currently rank sixth against the run. It will be another day of grinding out tough yards for the rookie out of Florida Atlantic, but you get the impression that he wouldn't have it any other way.
Kai Forbath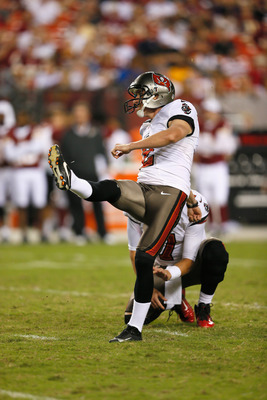 Kai Forbath had a good preseason with the Buccaneers, so the Redskins will hope that continues into the regular season.
Rob Carr/Getty Images
No pressure, Kai Forbath, but get the job done, okay? The former Buccaneer became the Redskins' 19th victim, sorry, kicker, in 18 years and fourth of this year if we include the preseason. He's yet to kick a regular season attempt but had a good preseason in Tampa Bay so there's some hope there.
Forbath won the Lou Groza Award for the nation's best kicker in 2009 (via The Washington Post) when he was a junior at UCLA, although he wasn't responsible for kickoffs.
He spoke to Stephen Whyno at the Washington Times and mentioned it was something he had been working on with Justin Snow and Sav Rocca:
We're going to work on timing and operation today. I'm not one of the kickers that are picky about holds. I just say "Get it down and I'll kick it."
The entire Redskins fanbase would like nothing more than that. As long as it goes between the uprights, anyway.
Ryan Kerrigan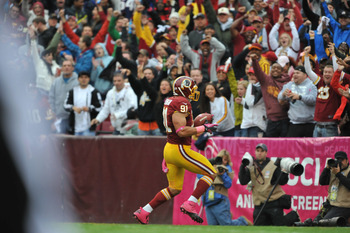 Ryan Kerrigan has proven himself a true defensive leader in his second year in the league.
Larry French/Getty Images
A great deal rests upon the shoulders of Ryan Kerrigan right now. To his credit, he seems to be rising to it, with an interception returned for a touchdown last week contributing to another stellar performance.
Rather than immediately head for the quarterback, Kerrigan instead took a moment to study the play and choose his plan of attack. He read the pass and rose to meet the ball, taking it to the house for the first score of the game.
He might not get as many sacks as people would like, but it's the considered plays like the one last week that will ensure his status as a leader on defense. The zone-coverage aspect of his game has shown significant development in his second year, and he reads the offense much better as a result.
Stephen Bowen has also been good this year, and Barry Cofield has shown progression at the nose, so Kerrigan is able to rely on them and concentrate on his own game.
The Redskins' offense was unable to match its previous prolificacy last week, but Kerrigan ensured the Falcons offense was also kept at bay. It's utterly essential that he remains on the field this year, as his presence means that the offense is never completely comfortable.
It goes without saying that he can't do it all by himself, but he doesn't seem to be acting that way right now.
Make Christian Ponder's Life Difficult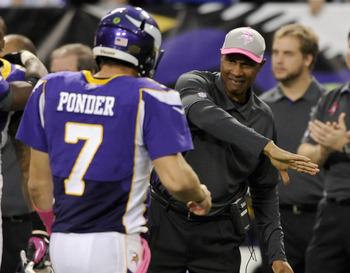 Ponder has found his feet this year, turning in some good performances.
Hannah Foslien/Getty Images
Although not the most highlight worthy of quarterbacks, Ponder has emerged as a remarkably efficient passer, making the most of the weapons at his disposal.
He is without a genuine deep threat, so most of his completions come on bubble screens and underneath routes to the tight end. Given the Redskins' problems with covering tight ends, expect this to continue on Sunday.
Despite the limitations imposed on him, his team is 4-1 and should really be 5-0. The game against the Indianapolis Colts was eminently winnable, but Ponder has impressed with his improvement this year.
It's clear that the full offseason has helped him learn the offense, as you no longer notice him thinking about the play as he's taking the snap, not paying enough attention to the defense as a result.
This extra knowledge means better decision-making, as evidenced by his 69 percent completion rate, second only to Robert Griffin III this year.
It won't be as easy for the Redskins defense to read Ponder's eyes and watch him telegraph his throws, so it will again be up to Haslett to confuse his reads by utilizing every aspect of his defensive playbook.
Shut Down Percy Harvin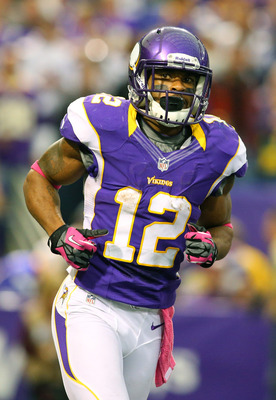 Percy Harvin excels in getting yards after the catch.
Adam Bettcher/Getty Images
In case you hadn't guessed, the secondary will figure highly in this list. The bubble screens mentioned earlier have been successful because of Percy Harvin, who has 407 yards for the season. The impressive part of this statistic is that 329 of those yards have come after the catch (via MankatoFreePress.com).
For a team that isn't the best in coverage, the Redskins should consider this a warning. Although last week saw an improved defensive performance, the occasional big play undermined all the good work leading up to it, meaning that the Falcons were able to continue their drives.
In addition to the yardage surrendered, it also means that the defense was on the field for most of the game, which reduced the time the offense had to get points on the board.
These are incredibly simple concepts, admittedly, but they have to be done in order to remain in the game. Harvin's stats after the catch illustrate a talent for making defenders miss, so Haslett needs to watch a lot of film on him and decide the best way to proceed.
Fred Davis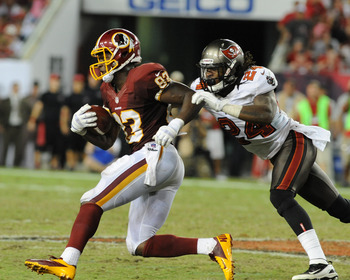 Fred Davis will be vital to the Redskins on Sunday, regardless of who is under center.
Al Messerschmidt/Getty Images
Fred Davis has emerged as a genuine receiving threat this year, as well as providing a much-improved blocking presence. He was almost absent for the first two weeks, but since Week 3 he has maintained a strong presence, showing a consistency that just wasn't there before.
Whether it's Griffin or Cousins that starts at quarterback, Davis provides a safety valve that is essential to a rookie quarterback.
If Griffin does play, Shanahan will be more reluctant to let him scramble, so Davis is the ideal option. However, if Cousins plays, Davis is still the ideal option. Cousins is more of a conventional pocket-passer, so using Davis as his checkdown means he can keep the chains moving without feeling like he has to make the big play. This was evident in his two interceptions from last week.
Short to intermediate passing plays that utilize the tight end will get the QB into an early rhythm, as well as providing mismatches that will enable Davis to use his athleticism to gain yards. The Redskins could do with both of those things right now.
Converting Third Downs
The Redskins' offensive line has to put in an improved performance.
Geoff Burke-US PRESSWIRE
This was the beginning of the end for Washington last week. As the failure to convert from third down moved over three, doubts began to creep in about the offense's ability to get into scoring positions.
This was obviously exasperated by Billy Cundiff's failure to make a chip shot after a fumble recovery, but the problem started with the offense. The team went 1-of-9 on third downs, with the only conversion being Cousins' 77-yard touchdown to Santana Moss when he was all alone in the backfield.
It's not just limited to last week, either. The team is 14-of-60 for the season, which is the worst in the league. The fact that they've still managed to put up 28 points per game is nothing short of a miracle, and goes to show how much Griffin has galvanized the offense.
Running the ball has been their saviour over the last few weeks, but sooner or later it gets predictable. The Redskins need to balance the offense correctly so that they don't end up on 3rd-and-9 every drive.
The offensive line can take some of the blame here—Tyler Polumbus has particularly struggled—but even when they maintain a drive to the red zone, the Redskins have been unable to maximize their opportunities.
In spite of all the words you've read to get to this point, the keys to the game can be summed up in just three.
Take every opportunity.
Keep Reading

Washington Redskins: Like this team?