NFL Prediction: Who Will Be NFL's Leading Rusher This Season?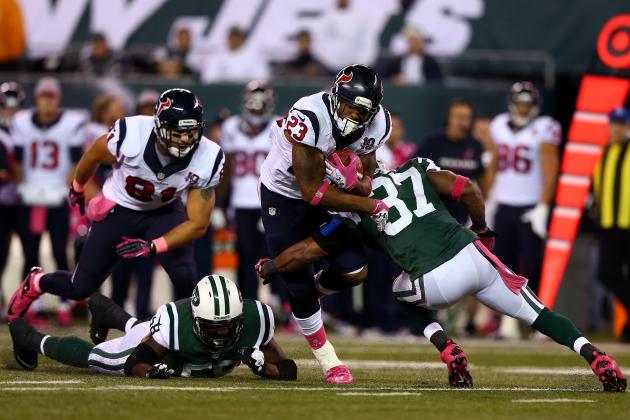 Elsa/Getty Images
Arian Foster could be looking at 400 carries this year.
Over the last decade or so, NFL teams have begun to shy away from only having one primary ball-carrier. That's resulted in RB becoming the most devalued position in football. Yet, we still wonder who's going to lead the league in rushing this year?
Arian Foster and his Houston Texans are out to the best start in franchise history at 5-0. They remain one of only two teams (Atlanta) that are still undefeated, as they sit atop the AFC.
The Texans are a bit of an anomaly in today's NFL, because they're winning with the "old formula": Run the ball and play great defense.
Foster continues to be a huge part of that success. His ability as a pass-catcher makes him a dual threat out of the backfield.
Coming up, we're going to discuss three reasons the former Tennessee Volunteer is going to win his second rushing title in three years in 2012.
Begin Slideshow

»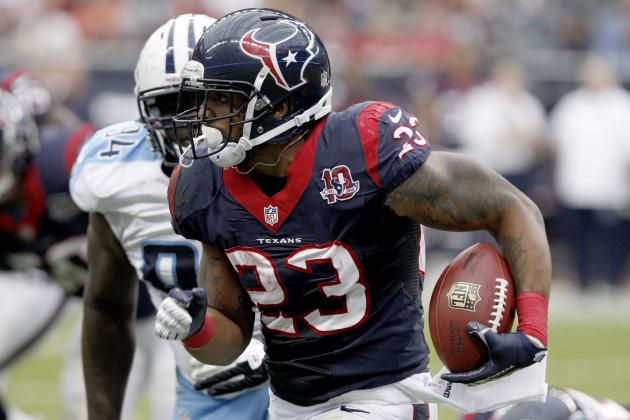 Thomas B. Shea/Getty Images
The Texans know Foster can handle a heavy workload.
A big part of the reason the Texans are comfortable with handing the ball off to Foster 25-30 times a game is because he's shown over the last two years that he can handle it.
When he burst onto the scene in 2010, he ended the season with 1,616 yards on 327 carries. That was good for 4.9 YPC. He also caught 66 passes for 604 yards.
When you average that out over the regular season, he was getting just under 25 touches a game. It's hard not to overwork a player when he's that productive every time he has the ball.
Now it is worth noting that at this point in the season, Foster's on pace to break the NFL single-season mark for rushing attempts. Larry Johnson had a ridiculous 416 carries back in 2006, and Houston would be wise to not let Foster get anywhere near that number.
After all, he is the third-fastest RB in league history to reach 5,000 scrimmage yards, needing only 40 games to do so. Edgerrin James and Eric Dickerson are pretty good company to find yourself in.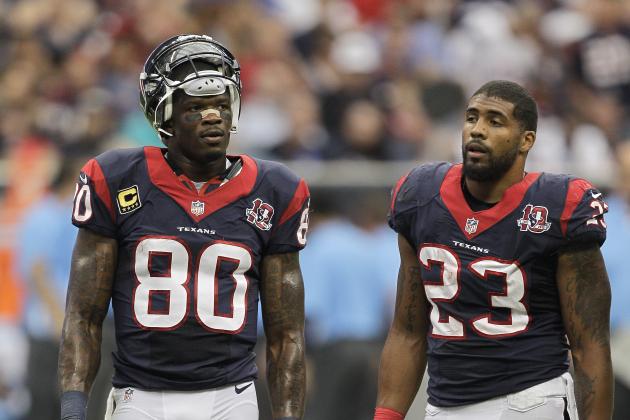 Bob Levey/Getty Images
Foster benefits from having an elite WR like Andre Johnson to play with.
Another thing that Foster has working in his favor is the versatility of the Texans offense.
Many would argue that Houston is blessed with the best backup RB in the league in Ben Tate. While Foster finished with well over 1,200 yards last year, Tate also had 942 of his own.
How often do you see two RBs on the same team with close to 1,000 yards each?
While most Houston fans may tell you they're still waiting on Matt Schaub to become an elite QB, it's not like they have Rex Grossman behind center. Combine him with WR Andre Johnson, and the Texans have as good a QB, RB and WR combo as any other team in the NFL.
This is worth pointing out as well because of who Foster's going to be competing with for the rushing title. Right now, he sits in second place behind Kansas City's Jamaal Charles and just ahead of Seattle's Marshawn Lynch.
Lynch is literally all the Seahawks have on offense. That makes him the focal point of every defensive game plan.
Charles has decent players around him, but he's coming off a torn ACL, so the Chiefs are monitoring his workload.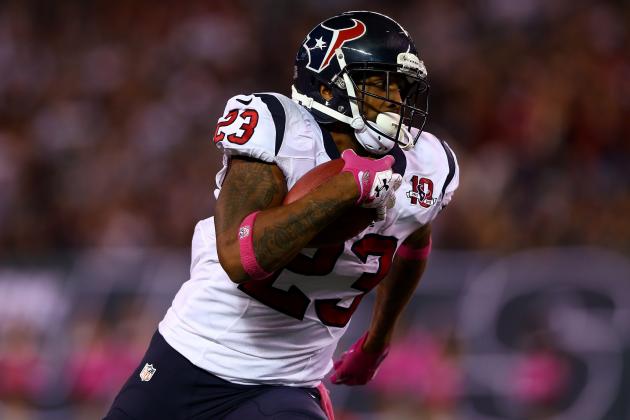 Elsa/Getty Images
Foster is getting more carries because Houston is usually up in most games.
So far in 2012, the Texans have been the most well-balanced team in the league.
Their defense has become a dominant unit, and that's a big reason they're 5-0. And although Schaub and Johnson are both out to relatively slow starts, it's only a matter of time before they have that breakout game.
It's common football sense that the closer a game is, the more it allows an offense to utilize its entire playbook. Houston's D is going to prevent it from getting blown out, which means its offense has no reason to abandon the run.
Because the Texans have actually been ahead in most contests, that also means they're relying heavily on Foster to close out things in the fourth quarter.
That gives him the opportunity to take advantage of their opponent's tired defense.
Arian Foster has enough talent himself to win the rushing title without any of these factors. But with all of these things only helping his chances, there's no doubt Foster will be at No. 1 by season's end.