College Football: A Scout's Guide to This Weekend's Top Matchups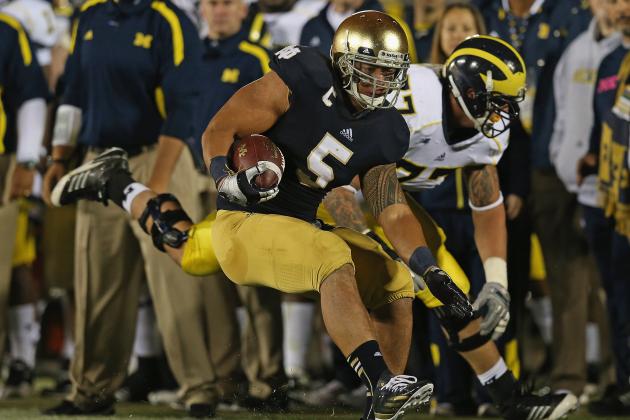 Jonathan Daniel/Getty Images

It is now the middle of October and we are starting to get a clearer picture of this year's draft class.
The senior class appears to be much stronger than last year's, but there are also several junior prospects that scouts will be keeping a close eye on going forward in the event they decide to leave school early.
Here is a quick preview of four of my favorite matchups for this weekend, matchups that include multiple junior and senior prospects that scouts are very intrigued to see develop.
Begin Slideshow

»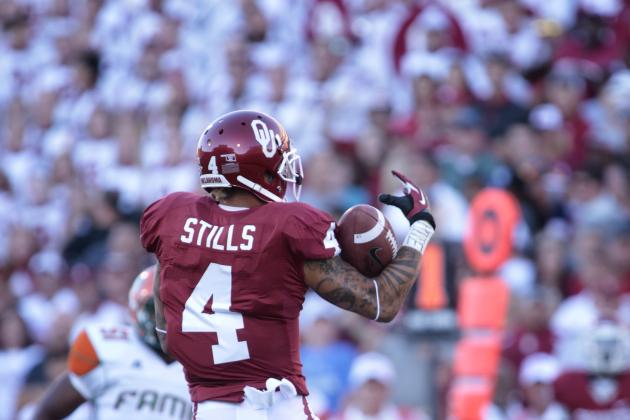 Brett Deering/Getty Images

As usual, the "Red River Shootout" is loaded with NFL prospects.
Last week the current odds-on-favorite to be the No. 1 overall pick of the 2012 NFL draft, West Virginia QB Geno Smith, lit up Texas for 268 yards and four touchdowns. This week the Longhorns will face the Big 12's second best signal-caller in Oklahoma's Landry Jones.
While I have already made my personal reservations on Jones known, he does have two weapons worth keeping an eye on in slot receiver prospect Kenny Stills and fullback Trey Millard.
Stills is able to create consistent separation with his polished route running and ability to make cuts at full speed, and Millard is an athletic back with the power needed to lead block effectively as well as the agility needed to run crisp routes.
Texas safety Kenny Vaccaro is quickly becoming one of my favorite prospects in this class, as he was extremely impressive last week battling West Virginia burner Tavon Austin throughout the night in man-to-man coverage. I love his combination of speed and physicality, as well as his angles of pursuit against the run.
The Longhorns also boast two excellent defensive end prospects in Jackson Jeffcoat and Alex Okafor. Jeffcoat is the more explosive athlete of the two, but both need to improve their hand usage against bigger blockers.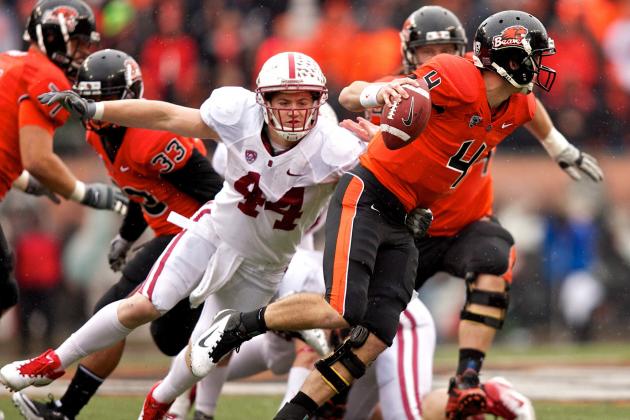 Craig Mitchelldyer/Getty Images

Stanford and Notre Dame have storied academic and athletic traditions, and this year's matchup on the gridiron features several solid NFL prospects on both sides.
Stanford is still trying to rediscover its passing game after losing star QB Andrew Luck to the NFL, but senior RB Stepfan Taylor is having another excellent season and has emerged as a solid mid-round prospect. While Taylor is not innately explosive, he can run with power between the tackles and possesses excellent vision.
Stanford also has two linebackers that have caught the attention of NFL scouts. Chase Thomas and Shayne Skov are both versatile defenders that are tough against the run and show some ability as blitzers, but neither is as athletic as some analysts are making them out to be.
Notre Dame is of course anchored by Manti Te'o, who is widely considered to be this year's top inside linebacker prospect. His instincts allow him to play sideline to sideline against both the run and pass, but he must be more consistent making impact plays behind the line of scrimmage before I feel comfortable giving him a first-round grade.
Braxston Cave is one of the better centers in a very weak class, but the star of the Irish offense is clearly red-shirt junior TE Tyler Eifert.
Eifert has the speed to stretch the seams and the size and athleticism to consistently catch passes in traffic. He is a matchup nightmare for linebacker and safety alike, and if he turns pro this year he could hear his name called late on Day 1.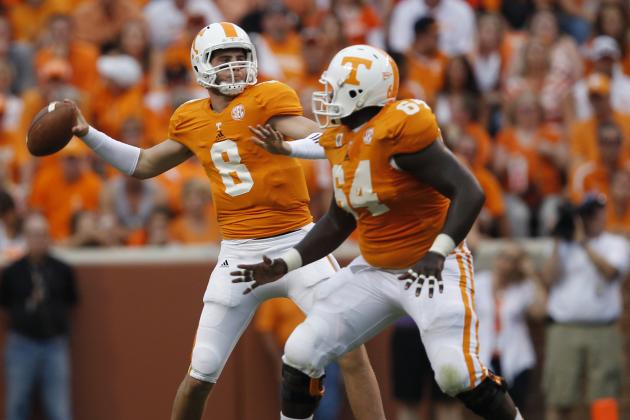 John Sommers II/Getty Images

While perennial national title contenders Alabama, Florida and LSU get the bulk of the attention on a weekly basis, the SEC's most intriguing matchup for scouts this week is likely Tennessee versus Mississippi State.
Tennessee boasts one of the top receiving duos in the country with the combination of Justin Hunter and Cordarrelle Patterson.
Hunter in fact could be this year's No. 1 receiver prospect, as he has an outstanding combination of size, speed and ball skills.
Patterson is a smaller target with the speed and quickness to create mismatches from a variety of alignments, but must significantly improve his strength and ability to separate versus man-to-man coverage.
Perhaps the most interesting (as well as frustrating) Tennessee prospect is QB Tyler Bray. He has NFL size and arm strength, but is constantly plagued by terrible mechanics and footwork.
While his inconsistent decision-making and technical flaws will likely cause many teams to shy away from him, inevitably at least one NFL offensive coordinator will stump for him in spring meetings, insisting he can harness his raw abilities and mold him into a viable NFL QB.
Bray faces a huge test this week in Mississippi State CB Johnthan Banks. He has an elite combination of size and athleticism for his position, and his likely showdown versus Hunter is one of the most important individual matchups of the entire season for NFL scouts.
Gabe Jackson and Josh Boyd are both intriguing Bulldog prospects on the interior—Jackson at offensive guard and Boyd on the other side of the ball at defensive tackle.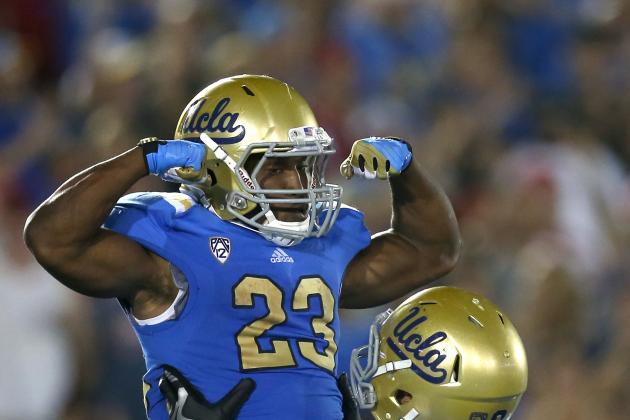 Stephen Dunn/Getty Images

My favorite West Coast matchup on Saturday features two teams coming off difficult conference losses.
By now the NFL draft community is well aware of Utah DT Star Lotulelei. His combination of size, strength and quickness is reminiscent of former Oregon Duck and current Baltimore Ravens stud Haloti Ngata.
Unfortunately, he tends to disappear for long stretches at a time, like he did in the second half of last week's game against USC. While he has the talent to be a top-five pick, if he does not show more consistency between now and the end of the college season, he could slip to the middle of the first round.
On the other side of the ball, the player to watch from Utah is receiver DeVonte Christopher. Christopher has good size for the next level and displays an excellent ability to adjust to the ball in the air comfortably without breaking stride.
UCLA has two very intriguing prospects on offense in RB Johnathan Franklin and TE Joseph Fauria.
Franklin is a shorter back but has thick legs and has a knack for making one cut and exploding through small holes before they close.
Fauria has the athleticism and speed to stretch the middle of the field and does an excellent job of creating separation with his aggressiveness and physicality versus man coverage. If he shows scouts he can be more physical as a blocker than he has shown to date, he could make a rapid climb up draft boards.