Breeders' Cup Classic 2012: Breaking Down Odds for Every Contender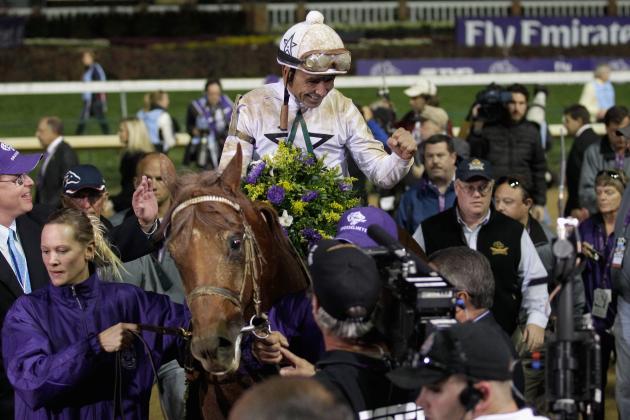 Rob Carr/Getty Images
Mike Smith aboard Drosselmeyer after winning last year's Classic
The $5 million Classic (Grade I) is the pinnacle of the Breeders' Cup event and the one everyone expects since most of the time, it attracts the best of the best in the USA and sometimes worldwide.
Last year, Drosselmeyer came in 10th place at the mile pole to run down a stubborn Game on Dude in the final half-furlong to win the race under Hall of Fame jockey Mike Smith.
That edition lacked true superstar power, even though several Horse of the Year candidates were in it, including the award's eventual winner, Havre de Grace, who finished fourth.
This year, although there are several very good horses on the race, and potential Horse of the Year candidates, it lacks that superstar horse on the field.
A true superstar could have been Kentucky Derby and Preakness Stakes winner I'll Have Another, who unfortunately got injured the day before the Belmont Stakes, lost the shot at the Triple Crown and had to retire, leaving everyone with the eternal question of "What if?"
Still, this year's edition, led by the likely favorite Game On Dude, Flat Out, Mucho Macho Man and Ron the Greek, promises to be a very interesting race, and one where another long shot could sneak up and win it.
The Classic, run on dirt at 10 furlongs, will go as the 12th race on the Saturday card at Santa Anita and will have an approximate post time of 5:30 p.m. PT.
Let's take a quick look at the contenders for this Saturday's main event.
Begin Slideshow

»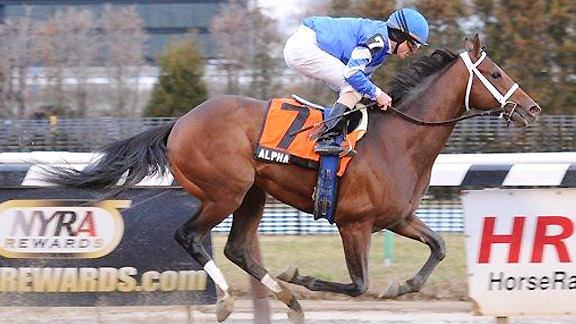 Image via espn.go.com
Owner: Godolphin Racing LLC
Trainer: Kiaran P. McLaughlin
Jockey: Ramon A. Dominguez
Record: 10-5-2-0
Earnings: $1,270,000
Odds: 20-1
Alpha is a very talented horse that just haven't been able to beat the top horses in his division, and now he will have the daunting challenge of topping the best older horses as well.
His last race—the Pennsylvania Derby—was a serious disappointment, although it can be said that his acting up at the start cost him.
He has two workouts that show he is in top form (5F - :59.80, 4F - :48.40) for this race.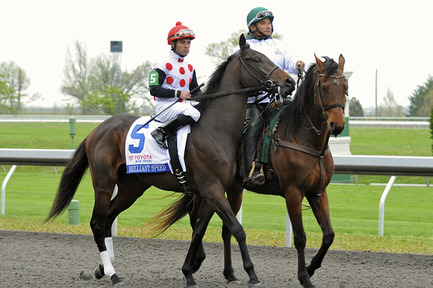 Image via kentuckyconfidential.com
Owner: Live Oak Plantation
Trainer: Thomas Albertrani
Jockey: Junior Alvarado
Record: 20-3-3-7
Earnings: $1,203,531
Odds: 30-1
Brilliant Speed's best race on dirt was in last year's Belmont Stakes, when he finished third after entering the stretch threatening to take the lead and win.
But that was on a sloppy track; on a fast dirt course (like Santa Anita should be on Saturday), he has never placed on the top three.
He is clearly a turf horse that has not been on top of his game for his last three races and will need to step up with a career effort here.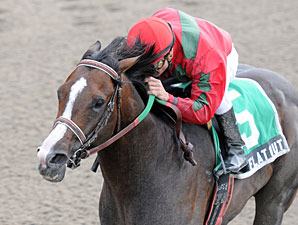 Image via bloodhorse.com
Owner: Preston Stables LLC
Trainer: William I. Mott
Jockey: Joel Rosario
Record: 19-6-4-2
Earnings: $2,042,383
Odds: 8-1
If this race were being run at Belmont Park, he would be the heavy favorite in this race; he is a perfect three-for-three there, including the last two Jockey Club Gold Cups at Belmont.
Still, Flat Out should be considered one of the top contenders to win this year. He finished fifth on this race last year, finishing 1.5 lengths by the likely favorite Game on Dude, who finished second.
He has been working very well for this race, handles the distance (two wins in three tries) and he just needs to outrun his injury-riddled past to contend for the win.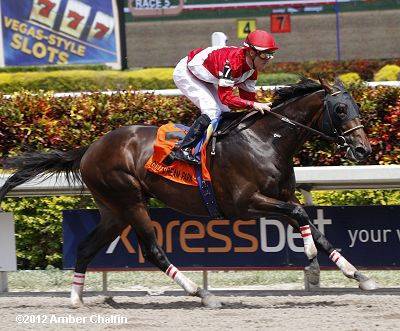 Image via horseracing.about.com
Owner: Janis R. Whitham
Trainer: Ian R. Wilkes
Jockey: Brian Hernandez Jr
Record: 18-7-2-1

Earnings: $981,236
Odds: 8-1
Fort Larned entered the Jockey Club Gold Cup as the favorite after his decisive win over Ron The Greek and Flat Out.
The question with him was the additional furlong he would have to cover, and although he made his move once again at the three-quarter pole, this time he was outran to the finish by Flat Out and Stay Thirsty.
The last time he ran a bad race (Stephen Foster Handicap) he came back to win and equaled his career best Beyer Figure (108.)
He has worked decently for this race, so a move forward can be expected.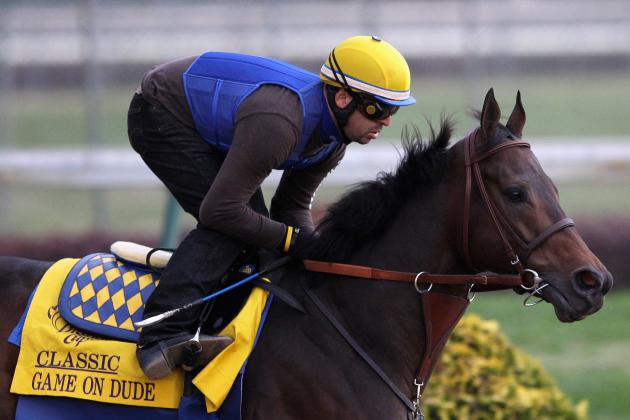 Rob Carr/Getty Images

Owner: B. Schiappa, Lanni Family Trust, Diamond Pride and Mercedes Stable
Trainer: Bob Baffert
Jockey: Rafael Bejarano

Record: 20-9-5-1
Earnings: $2,994,658
Odds: 5-2
Game On Dude ran a terrific race last year in this race, finishing second to Drosselmeyer after relinquishing the lead in the final half-furlong.
He has earned the billing as the likely favorite and possibly could pick up a Horse of the Year award if he were to win this Saturday.
If there is a horse for the course, it's Game On Dude. He is unbeaten in five starts at Santa Anita and has been blazing through his workouts.
His only question would be the distance. While he has won at the 10 furlongs, it hasn't been his preferred distance with a 7-2-3-0 record.
Chantal Sutherland did a very good job on him, but with the mount of California's top rider, Rafael Bejarano, there will be an added value.
Image via greenwichtime.com
Owner: Reddam Racing LLC
Trainer: Doug F. O'Neill
Jockey: Mario Gutierrez

Record: 10-2-1-1
Earnings: $756,780
Odds: 20-1
Handsome Mike was the big upset winner of the Pennsylvania Derby on his last race.
While that was a big win for him, the field on that race is not even close to the quality he is facing here.
He earned a career-best 92 Beyer figure for that race; everyone else on the field here—except Alpha—has eclipsed the 100 mark at least twice in their lifetime.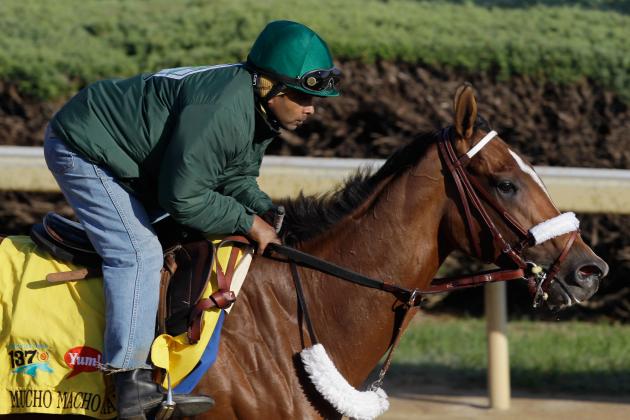 Rob Carr/Getty Images

Owner: Reeves Thoroughbred Racing
Trainer: Katherine Ritvo
Jockey: Mike E. Smith
Record: 17-6-4-4
Earnings: $1,456,410
Odds: 10-1
The very talented Mucho Macho Man can beat anybody on his best day and be a game contender when he is not up to par.
He likes to run coming off a layoff and has done it very well in the past, winning three of four times.
His top form cannot be denied. He has been burning the track on his workouts, as seen on Oct. 1 at Saratoga, running three furlongs in 34.60, and his lightning-fast five furlongs move on Oct. 6 in 57.60.
Questions arise around his handling of the distance; he has a third-place finish (2011 Kentucky Derby) as his best finish in his only try at the 10-furlong distance.
Image via bloodhorse.com
Owner: Green B. Smith Jr.
Trainer: Jerry Hollendorfer
Jockey: Martin Pedroza
Record: 8-3-3-1
Earnings: $409,000
Odds: 15-1
Nonios is coming off his best career effort, finishing second to Game On Dude in the Awesome Again Stakes and earning a 104 Beyer Figure.
He always has shown talent, being a game contender to the top horses he has run against in the past.
He looks ready to move forward from that last race, as he has shown no bounce on his works for this race.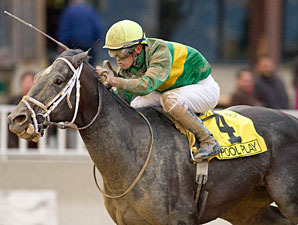 Image via bloodhorse.com
Owner: W.S. Farish Jr
Trainer: Mark E. Casse
Jockey: Miguel Mena
Record: 32-7-6-6
Earnings: $1,240,615
Odds: 30-1
Pool Play might be a horse that will be overlooked in this race.
But one thing that cannot be overlooked is the fact that he has run only twice on conventional dirt and has won both times, earning triple-digit Beyer Figures each time.
He can handle the 10-furlong distance; the question with him comes regarding whether he is good enough and ready to take on this top field.
So far, this will be the toughest field the seven-year-old horse has seen.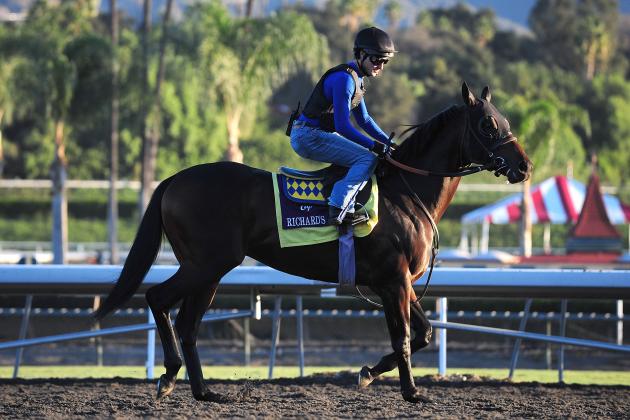 Jacob de Golish/Getty Images

Owner: Triple B. Farms, Westside Rentals.com, D. Kenney, S. Keh and D. Kramer
Trainer: Doug F. O'Neill
Jockey: Garrett K. Gomez
Record: 37-11-3-9
Earnings: $2,136,385
Odds: 12-1
The seven-year-old horse is the most experienced on the field and definitely has the quality to contend and win this race.
His last race wasn't his best because the slow pace up front hurt him.
He runs his best when there is an honest pace up front, but that is still not clear for this race, since there are a lot of stalkers and only one true pace-setter—Game On Dude.
Still, Richard's Kid is a dangerous contender here.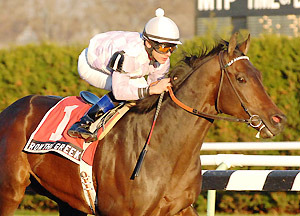 Image via espn.go.com
Owner: Brous Stable, Wachtel Stable and Jack T. Hammer
Trainer: William I. Mott
Jockey: Jose Lezcano
Record: 21-7-5-1
Earnings: $1,266,597
Odds: 8-1
Since last November, Ron The Greek has been one of the top older horses in the nation.
He is 8-4-3-0 during that span and has the distinction of being the only one this year to have defeated who many consider to be the best American horse at the moment, Wise Dan.
The only blemish for him is his effort on his last race, a non-threatening sixth-place finish in the Jockey Club Gold Cup.
He won the Santa Anita Handicap in his only start over the track. While it was a lesser field, his time was outstanding for the 10 furlongs.
His works for this race show he looks primed to move forward from his dull effort in his last race.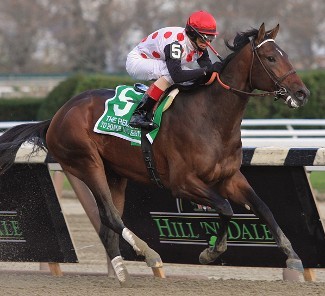 Image via kentuckyderby.com
Owner: Live Oak Plantation
Trainer: Thomas Albertrani
Jockey: John R. Velazquez
Record: 16-8-1-3
Earnings: $1,798,840

Odds: 15-1
To Honor and Serve is one of the best horses in the nation when he shows his best form on the track.
Unfortunately for him, he has been very inconsistent this year, failing to show up on three of his five races this year.
Just like Mucho Macho Man, he is a very talented horse that could win this race if he comes out running his best race.
This will be the first time he will make a cross-country travel to race. The farthest east he's gone is Parx Racing.
But consistency and the question of whether he can get the additional furlong are his low points.