Yankees vs. Orioles: Team Grades from ALDS Game 3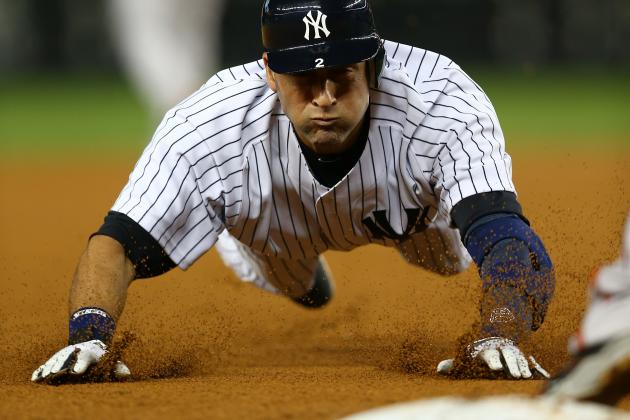 Elsa/Getty Images

With the series tied at one, the victor of a pivotal ALDS Game 3 would emerge with a chance to close the series in Game 4 on Thursday afternoon.
Advantage: New York Yankees.
Raul Ibanez delivered in crunch time for the Bronx Bombers, hitting the game-tying home run in the bottom of the ninth inning and the game-winning blast in the bottom of the 12th to give the Yankees a 3-2 win and a 2-1 lead in the series.
Solid starting pitching on both sides was all for naught, as it came down to the bullpens, with the Baltimore Orioles relievers, including closer Jim Johnson, stumbling once again.
Let's take a look at how the judges scored both squads.
Begin Slideshow

»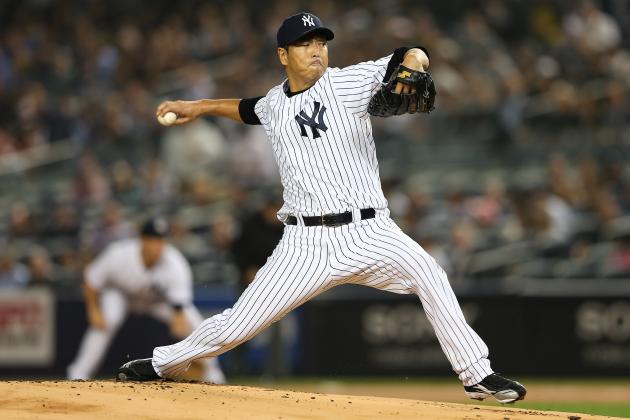 Elsa/Getty Images

Three bad pitches accounted for all of the scoring in Game 3, as both starters put together excellent outings.
The Yankees' Hiroki Kuroda hung two sliders—one in the third inning to Ryan Flaherty and another in the fifth to Manny Machado—that accounted for both of his earned runs on the night. He threw 8.1 innings of five-hit ball, allowing only the two runs while issuing one free pass and striking out three.
Miguel Gonzalez, who allowed one run over seven strong innings of work, scattering five hits while walking none and striking out eight, did something only one other rookie pitcher had done before:
Gonzalez's 8 strikeouts is the most by a rookie pitcher vs. NYY in a postseason start since Don Newcombe K'd 11 in Game 1 of 1949 WS.

— Jeff Quagliata (@yestoresearch) October 11, 2012
In three career starts against the Yankees, all at Yankee Stadium, Gonzalez has now gone 2-0 with a 2.18 ERA and 0.77 WHIP over 20.2 innings pitched, striking out 25 and walking only one. Were we handing out individual awards, Gonzalez would get an A.
Darren O'Day would work a one-two-three eighth inning for Baltimore before closer Jim Johnson, who the Yankees tagged for five hits and four earned runs in Game 1, faltered again in the ninth, serving up Ibanez's game-tying home run.
Brian Matusz would falter in the bottom of the 12th inning, serving up Ibanez's game-winning blast.
Boone Logan, Rafael Soriano and David Robertson combined to throw 3.2 innings of scoreless baseball, allowing one hit and striking out five.
Final Grade for New York's Pitching: A

Final Grade for Baltimore's Pitching: B-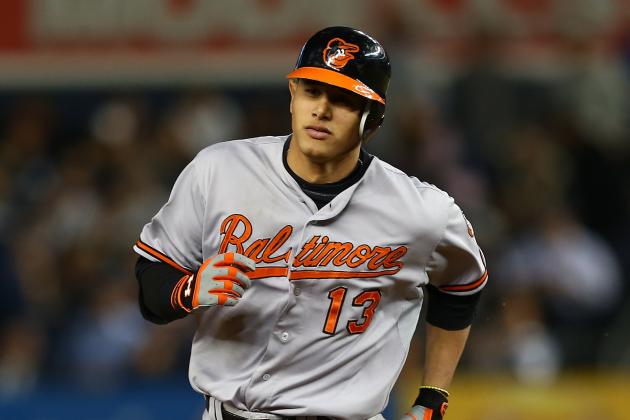 Elsa/Getty Images

Orioles second baseman Ryan Flaherty gave the Orioles a 1-0 lead in the top of the third inning with one out, turning on a slider that Hiroki Kuroda would leave over the plate. He took advantage of the short porch in right field to give the Orioles a 1-0 lead.
The Orioles would take a hanging slider from Kuroda deep once again in the fifth inning, when 20-year-old rookie third baseman Manny Machado drove one deep to left field, giving the Orioles a 2-1 lead. While the ball certainly had enough to get out on its own, the wind helped it along.
In the bottom of the third, with two outs and Russell Martin on third base, Derek Jeter hit a fly ball to center field that the wind kept pushing toward right field.
It would land on the warning track, just beyond the outstretched glove of Orioles center fielder Adam Jones. Jeter would wind up with an RBI triple that tied the game at one.
Pinch-hitting for Alex Rodriguez with one out in the bottom of the ninth and the Yankees trailing by one, Raul Ibanez would turn Jim Johnson's offering into a souvenir for a lucky fan sitting in right field, tying the game at two.
Raul Ibanez: 4th time a pinch-hitter has hit a game-tying home run in 9th inn or later of postseason game (last: J.T. Snow, 2000 Giants)

— ESPN Stats & Info (@ESPNStatsInfo) October 11, 2012
Ibanez wasn't done for the night.
Ibanez becomes 1st player in postseason history w/2 HR in a game he didn't start

— Alex Speier (@alexspeier) October 11, 2012
It should be noted that Machado's home run was notable on a number of levels, as the 20-year-old is now a card-carrying member of an exclusive club:
#Orioles from @espnstatsinfo: Manny Machado, 20, is 2nd-youngest player with a postseason HR. Andruw Jones hit 2 HR when still 19.

— Steve Berthiaume (@SBerthiaumeESPN) October 11, 2012
As if that wasn't enough of an accomplishment, consider this:
Accdg to home run historian David Vincent, Manny Machado is first player under 21 to ever homer in a Division Series

— Dan Connolly (@danconnollysun) October 11, 2012
Last, but certainly not least. Unless your name is Andruw Jones, your first name must start with the letter "M" to even be considered for membership:
RT @dknobler: Only 20 year olds with a postseason HR: Mickey Mantle, Miguel Cabrera, Manny Machado. Andruw Jones, of course, homered at 19.

— Scott Miller (@ScottMCBS) October 11, 2012
Neither offense came through with runners on base, with the Orioles going 1-for-9 while the Yankees posted an equally inept 1-for-8 night.
Final Grade for Baltimore's Offense: C-
Final Grade for New York's Offense: C+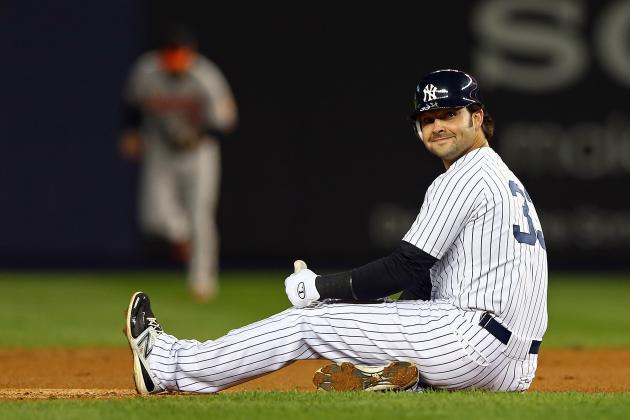 Elsa/Getty Images

While they won the game, the heart of the Yankees' batting order continues to struggle.
Robinson Cano, Curtis Granderson, Alex Rodriguez, Nick Swisher, Mark Teixeira and Ichiro Suzuki went a combined 1-for-23 with seven strikeouts.
That's not good, and that group is going to have to get going if the Yankees have any thoughts of making a deep postseason run in 2012.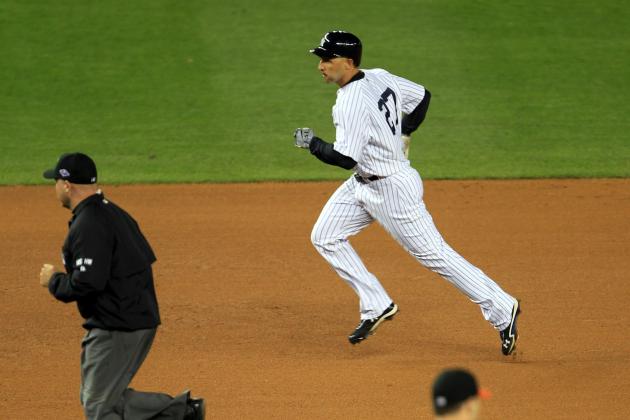 The Star-Ledger-US PRESSWIRE

After converting 51 of his 54 save opportunities during the regular season to lead the American League, Jim Johnson has now blown two saves in three attempts against the Yankees in the ALDS.
His inability to get through the ninth inning Wednesday night cost the Orioles the game, and his continued struggles have quite possibly cost them the series.
The Orioles bullpen, especially Johnson, was one of the strongest parts of the team throughout the regular season, ranking third in the American League with a combined 3.00 ERA.
Only two other pitchers on the Orioles' postseason roster have recorded saves this season: Luis Ayala and Pedro Strop. Ayala converted one of the two chances he had, and Strop struggled, converting only three of his seven save opportunities.
Johnson is going to need to figure things out quickly; otherwise, Orioles manager Buck Showalter may have no choice but to leave his starters in longer than he'd like.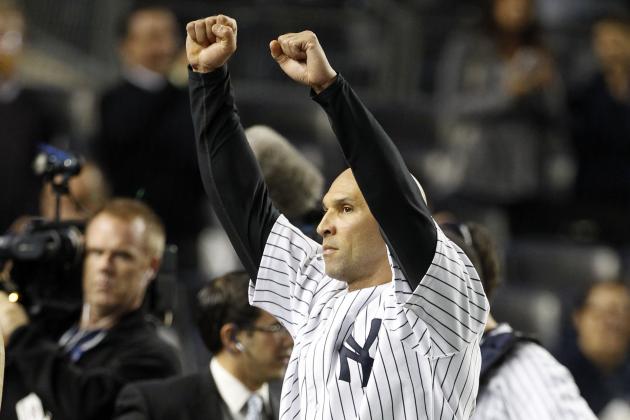 The Star-Ledger-US PRESSWIRE

Neither team did much offensively, but in a five-game series you don't have to look good when you win—you just have to win.
Both teams wasted excellent outings from their starting pitchers, who deserved better fates than no-decisions for their efforts.
It came down to the bullpens, and the Orioles 'pen, which has been one of their strengths all season long, failed them in the end.
The pivotal Game 4 gets underway at 7:37 p.m. ET Thursday night.
Make sure you check in with B/R early and often for the latest leading up to the game, and stay with us for in-game analysis and postgame coverage.
Baltimore's Final Grade for Game 3: C
New York's Final Grade for Game 3: C+