San Francisco 49ers: The 5 Most Improved 49ers in 2012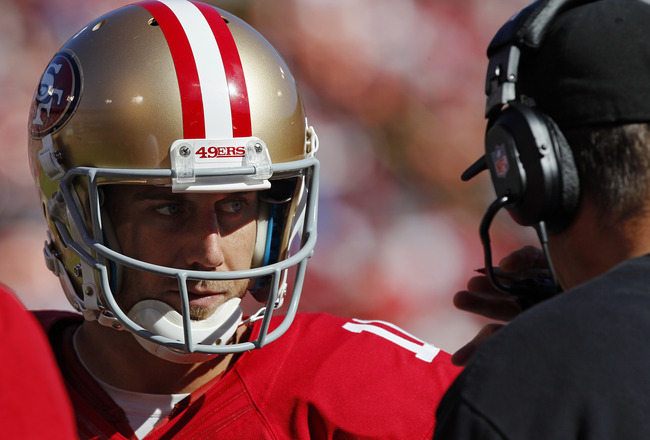 Brian Bahr/Getty Images
At 4-1, the San Francisco 49ers will not be sneaking up on teams any longer. After a magical 2011 season, the 49ers have all but lived to expectations in 2012.
With the exception of their minor hiccup against the Minnesota Vikings in Week 3, the 49ers have looked unbeatable, especially in the last two games.
The 49ers have outscored opponents 79-3 in their last two games.
The dominance isn't just extended to the defense.
Offensively speaking, the 49ers are ranked first in yards per game and sixth in total offense.
This is the same team that couldn't move an inch in their 2011 playoff loss to the eventual champions the New York Giants.
However, this is a much different team.With new faces at key spots, the 49ers have turned into the most balanced team in the league.
And it doesn't just stop with the additions of Mario Manningham and Randy Moss.
Unlike most teams, the 49ers have made improvements within.
Here are five players who have improved the most in 2012.
Kyle Williams (WR)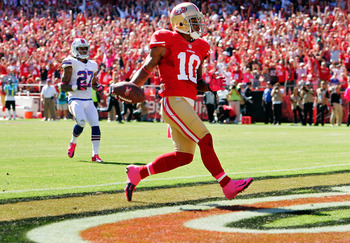 Brian Bahr/Getty Images
Williams will be remembered for his gaffe(s) in the 49ers-Giants playoff series in 2011, but his play in 2012 could ease the pain of some fans.
As a receiver in 2011, Williams was proving to be an underrated addition. Yes, he was still young and inexperienced, but physically speaking, Williams is a burner.
He may not stretch the field, but his agility and quickness, especially in open space, could make this a dangerous 49ers offense.
Opposing defenses will key in on Michael Crabtree, Vernon Davis, and Mario Manningham, leaving Williams with more opportunities.
This is still a run-first oriented offense, but the 49ers are creative enough to incorporate three or four receiver sets on offense.
Williams will have his first crack at revenge when the San Francisco 49ers and New York Giants square off this Sunday.
Ray McDonald (DE)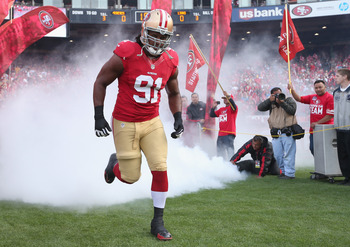 Ezra Shaw/Getty Images
Justin Smith is the anchor of this defense. Patrick Willis is the heart and soul of this defense. Aldon Smith is the designated pass rusher.
Ray McDonald? Well, he is a bit of everything.
In actuality, 2011 was McDonald's breakout year, but his play in 2012 should open some eyes. He is playing at a extremely high level.
Because the 49ers play in a 3-4 defense, much of the love will go to Patrick Willis and Justin Smith, and deservedly so, but McDonald must not be forgotten.
He is a stout run stuffer, exemplary pass rusher, and within this scheme, his versatility is crucial. McDonald can slide inside at defensive tackle in nickel packages and still be super effective.
Look for McDonald to make his first Pro Bowl in 2012.
Michael Crabtree (WR)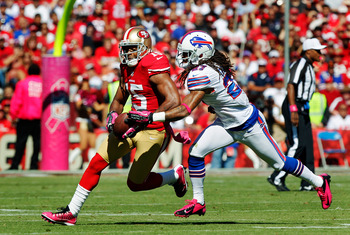 Brian Bahr/Getty Images
This is a eye-test measure.
Michael Crabtree hasn't statistically exploded on the scene, but after watching the receiver for three years straight, the diva has finally matured.
The maturity actually started to kick in during the 2011 campaign. Again, his statistics were average, but it was the little things that made him stand out.
In particular, Crabtree improved immensely as a blocker. Those type of things don't show up on the stat sheet.
Crabtree has turned into one of the better blocking receivers in the league.
Fans are still waiting for the big stats, but within this 49ers offense, Michael Crabtree has become a consistent cog.
The key word is consistent. Both fans and his fellow teammates trust the former diva has changed into a true teammate.
Anthony Davis (OT)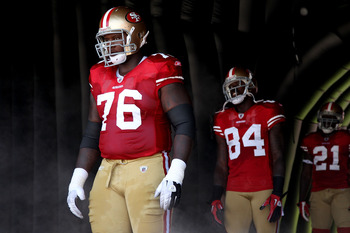 Jed Jacobsohn/Getty Images
Anthony Davis continues to impress.
The 49ers selected the raw Davis relatively early in the first round of the 2010 NFL draft, but the project has finally blossomed into a star.
Mike Iupati, the 49ers other first round selection in 2010, is the better player. In fact, Iupati has turned into a rather dominant left guard.
The same can be said for left tackle Joe Staley. Many would agree that the 49ers boast a impressive left side, but much of the publicity is lost when it comes to the right side of the line.
Right guard Alex Boone and right tackle Anthony Davis form one of the more physically gifted tandems. They both are natural maulers, and improved considerably as pass protectors, especially Davis.
If Davis keeps up this high level of play, the 49ers may end up switching him to the left side.
Don't be surprised if the 49ers send three or four offensive lineman to the Pro Bowl this year.
Alex Smith (QB)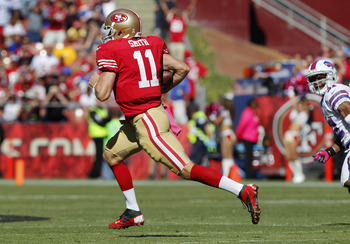 Brian Bahr/Getty Images
MVP candidate? You better believe it.
Yes, the 49ers have a phenomenal defense. Yes, the 49ers have the most efficient running attack in football. Yes, the 49ers have the most creative coaching staff in the league.
Shall I continue?
Its far time we stop making excuses for why Alex Smith is flourishing at quarterback. For some, the bad taste of six years of mediocrity still linger, but those dark days are finally over.
Smith has thrown eight touchdowns to only one interception through five games.
Quarterback rating? He leads the league at a crisp 108.7.
How about efficiency? Smith is tied for third in the league with a sizzling 68.6 completion percentage, bumping up his 2011 total by a little more than seven percentage points.
The eye-test? Smith looks comfortable and collected in the pocket, and by the looks of it, the former first-round pick has a complete understanding of Greg Roman's offense.
Smith will never be Joe Montana or Steve Young, but by the look of things, he could very well etch out his own legacy in San Fran.
Keep Reading

San Francisco 49ers: Like this team?