6 College Football Stars Who Will Play a Different Position in the NFL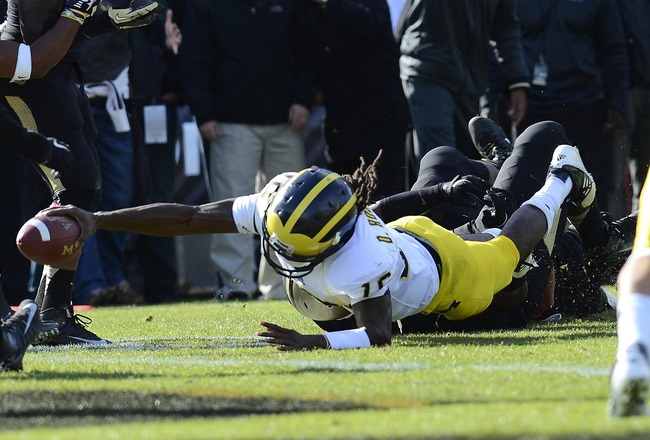 Mike DiNovo-US PRESSWIRE
While college football is the best (and currently only truly viable place) to develop NFL level talent, there's still a big difference between the college and professional games.
Professional players are generally bigger, faster, stronger, better in every way across the board.
That's what happens when you move to the top level of football.
So although a player may thrive at a certain position in college, sometimes he may be asked to make a bit of an adjustment and switch his position for the betterment of the team. In the end, such changes may be beneficial for all involved, even the player who has to give up his college position.
Who are the current college players facing this scenario?
Read on.
Tyrann Mathieu: Former LSU Cornerback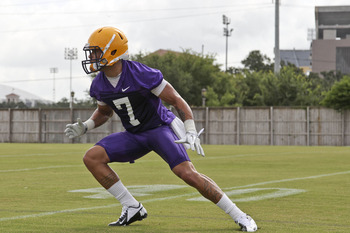 Derick E. Hingle-US PRESSWIRE
The Honey Badger is not playing football this year as he is in a drug rehab program after getting kicked off the LSU team. There is an outside chance that he could return to the Tigers.
Even if he doesn't return to Baton Rouge, Mathieu will find a new home once he can get clean, then he'll prepare for the NFL.
Regardless, I'm not sure that cornerback is the best position for Tyrann Mathieu. While he's athletic enough to make an impact, I'm not sold on his coverage skills.
He's probably better off as a free safety if he can make it to the NFL.
Corey Lemonier: Auburn Defensive End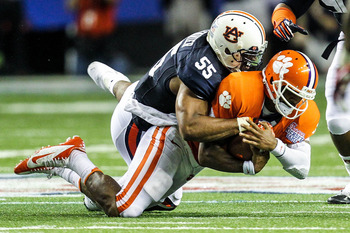 Daniel Shirey-US PRESSWIRE
Corey Lemonier is certainly athletic enough to make quite an impact in the NFL, but he is a bit undersized at 6'3" and 242 pounds for the defensive end position.
I see him more as an outside linebacker in a 3-4 scheme.
He'll still want to bulk up a bit, but I'm sure he'll do just fine terrorizing quarterbacks as a OLB rather than a DE.
Tyler Eifert: Notre Dame Tight End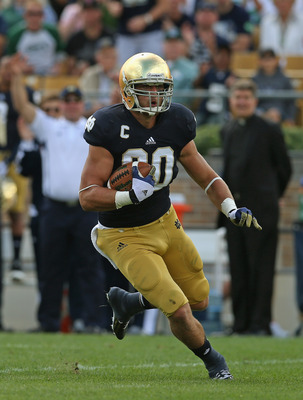 Jonathan Daniel/Getty Images
Tyler Eifert is listed as a tight end, but he really isn't.
He's a big wide receiver.
That's not a knock of Eifert. He's got great hands and can make fantastic catches. And honestly, Eifert lines up as a wide receiver quite often.
Eifert really doesn't have the blocking skills crucial to becoming a productive tight end in the NFL, but that's fine. His catching ability more than makes up for qualities he may lack.
Barkevious Mingo: LSU Defensive End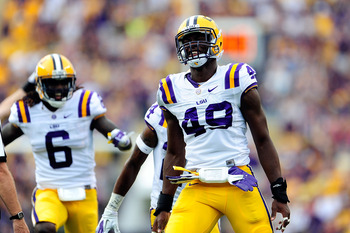 Stacy Revere/Getty Images
As good as Barkevious Mingo is from his defensive end position, he is probably better off as an outside linebacker in a 3-4 defense.
He's a bit undersized for an NFL defensive lineman, but Mingo should be able to wreck plenty of havoc as a pass-rushing linebacker.
I expect him to succeed either way, but this transition may be best for all parties involved...except opposing quarterbacks.
David Amerson: North Carolina State Cornerback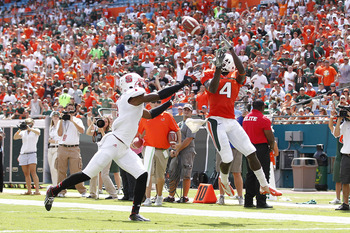 Joel Auerbach/Getty Images
David Amerson is a solid cornerback, without question, as he led the FBS last season in interceptions with 13.
He's a little behind that pace this year—as he has only three picks through six games—but that's still nothing to sneeze at.
However, I have a feeling that Amerson's future in the NFL will be more as a safety. After all, this season he was beaten badly while playing corner against Tennessee and Miami (FL).
Roaming in the defensive backfield rather than playing tight coverage may better suit Amerson at the next level.
Denard Robinson: Michigan Quarterback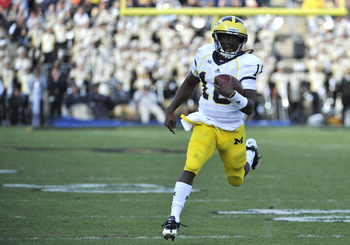 Sandra Dukes-US PRESSWIRE
Denard Robinson is a terrific athlete, but he probably won't be a regular starter under center for any NFL team.
He can run the occasional play out of a Wildcat formation, but he just doesn't have the arm to be a quality NFL quarterback.
His performance against Alabama offered proof, considering the Crimson Tide line up the closest thing there is in college to a NFL defense.
Still, Robinson has too much talent and ability to let go to waste.
He could bulk up some and become a running back, but I don't think that's the best route. He'll probably excel as a wide receiver. Robinson could be a useful tool in the occasional trick play.
I'm not the only one who thinks that Robinson will have to make a position change to make it in the NFL.
Keep Reading