UFC 153 Preliminary Card B/R MMA Staff Predictions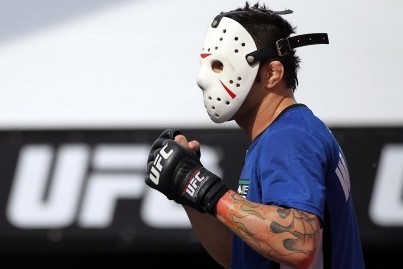 Photo Courtesy of BoneSnapper.com
UFC 153 goes down Saturday night from the HSBC Arena in Rio de Janeiro, Brazil and a number of Brazilian fighters will have the opportunity to showcase their skills on the preliminary card.
Kicking off the Facebook fights, highly-touted Brazilian Jiu-Jitsu technician Cristiano Marcello takes on another high-level grappler in Reza Madadi in a lightweight scrap.
Next up, hard-hitting striker Luiz Cane makes his middleweight debut against a very game Chris Camozzi, while two Brazilian prospects clash in the form of Sergio Moraes vs. Renee Forte.
At featherweight, one of the few Americans on the card, Joey Gambino, will have his hands full with The Ultimate Fighter winner Diego Brandao.
In a classic new school vs. old school battle, UFC veteran, the hulking Gleison Tibau, takes on surging prospect Francisco Trinaldo.
Headlining the preliminary card, the first The Ultimate Fighter: Brazil winner Rony Mariano Bezerra takes on the dangerous Sam Sicilia.
Predicting the action this week are Bleacher Report MMA Featured Columnists Vince Carey, Matt Juul, and myself, John Heinis.
Take a look inside to see whose picking up the "W" this weekend.
Begin Slideshow

»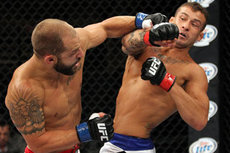 Photo Courtesy of MMA.SportsPortal.org
John Heinis: Many pundits were surprised to see the 34-year-old Cristiano Marcello on The Ultimate Fighter: Live earlier this year, but he had built up quite a reputation as Chute Box's Brazilian Jiu-Jitsu coach.
However, his striking and wrestling are subpar so the very durable and versatile Reza Madadi will likely give him some problems.
Madadi has seven submissions and five decisions to his resume, and while his striking is nothing special, it is still way better than what Marcello has to offer.
While this can very likely to go to the judges' scorecards, I'm going to say Madadi gets the finish here.
Reza Madadi via Round 3 TKO
Vince Carey: It's rare that you get to see two legitimate submission specialists go head to head in the UFC, but that's exactly what we have here.
Marcello is the more well known fighter due to his time on TUF earlier this year, and that name recognition will likely make him the favorite going into the bout, but that may be a huge mistake.
Madadi looked pretty solid in his UFC debut win in April, and I have him as the slight favorite going into this one.
Marcello's striking looked terrible at best in his bouts both on the show and at the live finale, and as long as Madadi is able to bring something in the stand up game he should be able to take this one.
Reza Madadi via Round 3 TKO
Matt Juul: For the first fight of the night, this is a pretty interesting battle between seasoned submission artists so it's guaranteed that this bout will go to the ground.
Cristiano Marcello, a one-time Pride veteran and former Chute Boxe Academy coach, has the better pure Brazilian Jiu-Jitsu skills than Reza Madadi. However, the Swedish-Iranian lightweight is the better wrestler and has never been submitted in his career.
Madadi will likely get the takedown and look to pressure Marcello from on top. As long as he can avoid getting submitted while in the TUF alum's guard, he should be able to grind his way to victory.
Reza Madadi via unanimous decision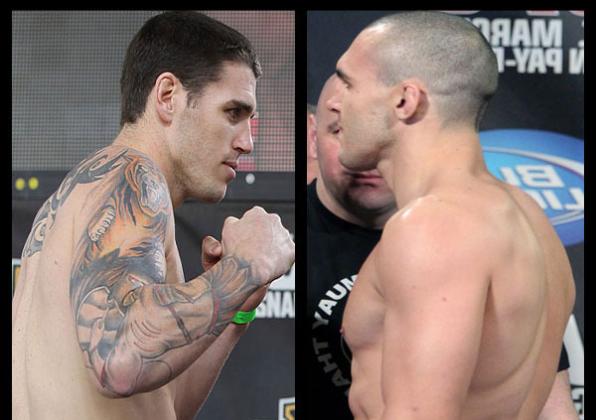 Photo Courtesy of CageWall.com
John Heinis: After losing three of his past four, Luiz Cane hopes to fine new life by dropping down to middleweight. He faces an interesting test in Chris Camozzi.
Camozzi is well-rounded with five wins by knockout, six wins by submission and six wins by decision. He is also as tough as they come, suffering a broken jaw en route to winning a preliminary fight to get in The Ultimate Fighter house during the 11th season of the show.
With that being said, Cane hits like a truck and is also a Brazilian Jiu-Jitsu black belt. On paper, this is his fight to lose. Let's see how he performs after cutting the extra 20 pounds.
Luiz Cane via unanimous decision (29-28 x 3)
Vince Carey: This should be a really fun fight to watch.
Chris Camozzi has proven to be one of the most game fighters on the UFC roster. He's always down for a good scrap, and he'll likely get another one of the wars he's grown accustomed to against Luiz Cane.
Cane is making his middleweight debut here, and he's trying to get back on track after watching his Octagon record slip from 3-0 to 4-3. That will likely be easier said than done against Camozzi, but I do think Cane has the skills to earn himself the win here.
Both on foot and the mat I think Cane is slightly better, and unless the weight cut completely drains him, he should get a relatively clean decision win.
Luiz Cane via Unanimous Decision
Matt Juul: Heavy-handed Luiz Cane hasn't had much success inside the Octagon in recent years, going 1-3 in his last four bouts, so a move down to middleweight might just do the trick in changing his fortunes.
Taking on Season 11 TUF alum Chris Camozzi, Cane will be the more powerful striker and will likely look to force him into a stand-up battle.
Camozzi, despite never having been knocked out in his career, will have a tough time dealing with Cane's power and won't have much luck on the ground either as the Brazilian sports a BJJ black belt and has never been submitted in his career.
As long as Cane doesn't get too wild with his striking, he should be able to put Camozzi away.
Luiz Cane via Round 2 TKO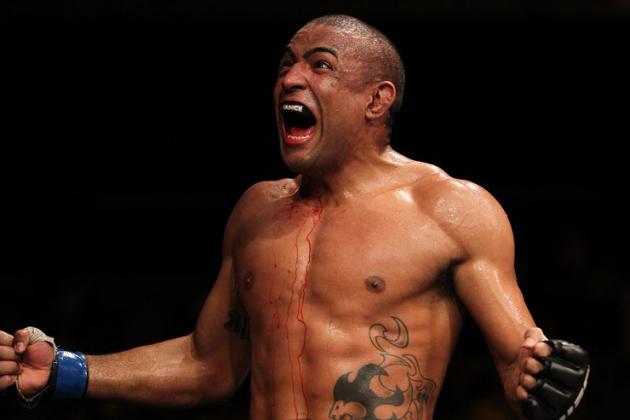 Photo Courtesy of UFC.com
John Heinis: Sergio Moraes is a very technical Brazilian Jiu-Jitsu black belt, but he will be tested by Team Nogueira protege Renee Forte.
Both competitors are young in their fight careers at just eight fights a piece, which makes this one a little tricky to call.
Given the fact that Forte has two wins via knockout and Moraes has none, Forte at least has more power in his hands. While anything can happen between two hungry prospects, a gut feeling tells me Forte puts Moraes' lights out.
Renee Forte via Round 3 KO
Vince Carey: Both of these Brazilian fighters have just eight fights to their name, but based on experience in overall competition alone this has to be considered a tough UFC debut for Renee Forte.
While Forte is a very good prospect out of Brazil, his opponent Sergio Moraes is one of the best grapplers on the planet, and could make life difficult for the 25-year-old fighter.
I think Forte could eventually be a really good fighter in the welterweight division, and could possibly be a fighter to look out for in the future, but Moraes and his ground game are just a bit too much for him to handle at this point in his career.
Sergio Moraes via Round 2 submission
Matt Juul: Sergio Moraes got a chance of a lifetime when he was asked to step in for an injured Daniel Sarafian at The Ultimate Fighter: Brazil finale.
Unfortunately, Moraes came up short against Cezar Ferreira, showing off a less than stellar stand-up game.
Moraes, a world champion jiu-jitsu player, will look to take the fight to mats against promotional newcomer Renne Forte, but will be unsuccessful in his attempt.
Forte has proven to be a solid striking threat and will likely out-strike "Serginho" to take the win.
Renee Forte via unanimous decision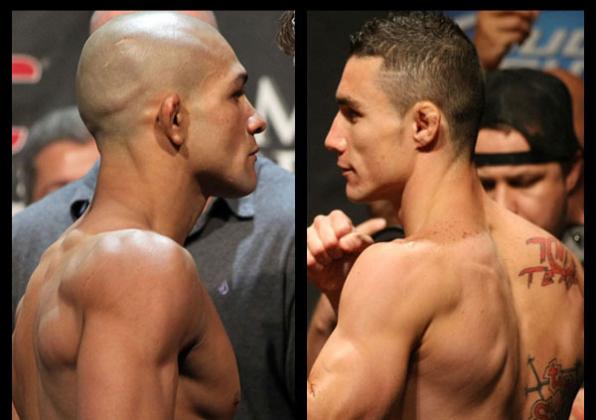 Photo Courtesy of CageWall.com
John Heinis: Diego Brandao, "the Ultimate Fighter" from Season 14, showed a chink in his armor against Darren Elkins at UFC 146.
After being as vicious as a rabid animal in the first round just mauling Elkins, his gas tank clearly took a big hit and his waning cardio cost him a close decision.
His opponent, Joey Gambino, made his UFC debut in June on the strength of nine straight wins on the regional scene. However, he was easily submitted by the lesser-known Steven Siler.
Gambino is just 23 years old and likely has plenty of good fights ahead of him...I just don't think this will be one of them.
Diego Brandao via Round 2 TKO
Vince Carey: Diego Brandao's first fight since winning The Ultimate Fighter 14 didn't go like he planned, but the UFC has given him a decent chance to rebound in his next one.
After Darren Elkins proved that by enduring the initial rush from Brandao and putting him on his back is the blueprint for taking out the young Brazilian, we can probably expect highly touted Joey Gambino to attempt the same.
Gambino hasn't shown the level of wrestling that Elkins brought to the table, however, and his tendency to go for broke and work for the finish could actually cost him here.
This may be one of the most fun first rounds in recent memory, as both fighters are young and hungry to prove they belong in the UFC, but I think Brandao is just too good in the first five minutes for Gambino to hang around.
Watch for Brandao to land something spectacular early, and put this one away with some urgency.
Diego Brandao via Round 1 TKO
Matt Juul: After taking the The Ultimate Fighter Season 14 crown with a brutal armbar victory over Dennis Bermudez, Diego Brandao lost to Darren Elkins in a lackluster performance at UFC 146 that saw the TUF winner gas badly in the later rounds.
Brandao has a great shot at rebounding from his first UFC loss when he takes on New Jersey's Joey Gambino.
The former Cage Fury Fighting Championship title holder is coming off a submission loss to Brandao's housemate Steven Siler in his UFC debut and will likely suffer a similar fate at UFC 153.
Look for Brandao come out in a flurry and finish Gambino early.
Diego Brandao via Round 1 TKO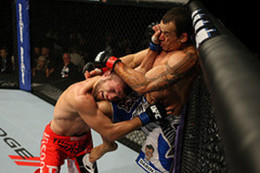 Photo by Josh Hedges/Zuffa LLC/Zuffa LLC via Getty Images
John Heinis: Gleison Tibau was one of the best kept secrets of the lightweight division, winning five of his past six heading into UFC 148.
Unfortunately, he was robbed of a decision against Khabib Nurmagomedov, so he now looks to rebuild against Francisco Trinaldo.
Trinaldo is definitely a very game opponent with an 11-1 record, including eight finishes, though it's really tough to gauge where he's at.
He won his UFC debut against Delson Heleno at UFC 147, but that bout was contested at middleweight. While that fight was in July, dropping back down to lightweight might prove to be difficult.
I wouldn't be surprised to see Trinaldo win, but I have to go with the veteran here.
Gleison Tibau via split decision
Vince Carey: For years Glesion Tibau has been known for being incredibly hard to finish, and for his massive size for the lightweight division.
Tibau's toughness will still be a huge factor in this fight, but his usual advantage in the strength and size departments with be completely negated against a massive opponent in his own right, Fransico Trinaldo.
Trinaldo looked like a decently sized middleweight in his UFC debut win over Delson Heleno, but the cut shouldn't be much of an issue since he's fought at lightweight for a lot of his career.
Both fighters can finish and both men have proven to be extremely tough to take out, making this an extremely interesting fight, but I'm going with the slight upset for Trinaldo here.
You can only hang around in the middle of a UFC division for so long before you eventually just can't hang with the new blood entering the roster, and I think Tibau has finally reached that point after nearly six strong years inside the Octagon.
Francisco Trinaldo via unanimous decision
Matt Juul: A powerful and muscular lightweight, Gleison Tibau loves to use his strength to dominate opponents in the clinch and on the ground. This will be a big factor in this bout.
Francisco Drinaldo, although previously competing on the The Ultimate Fighter: Brazil as a middleweight, will still have trouble dealing with Tibau's power now fighting at 155.
"Massaranduba" showed some solid skills in his TKO win over Delson Heleno at UFC 147, but just doesn't have the experience to contend with Tibau.
Gleison Tibau via unanimous decison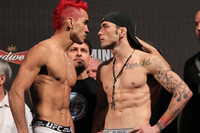 Photo Courtesy of SBNation.com
John Heinis: The first winner of The Ultimate Fighter: Brazil, Rony Mariano Bezerra is a dark horse candidate at featherweight.
The big question is how high is his ceiling, though that's tough to answer because 11 of his 12 professional fights took place on the regional scene in Brazil.
He squares off against an equally tough customer in Sam Sicilia. Sicilia has won seven in a row, including a definitive TKO victory over Cristiano Marcello back in June.
Both fighters know how to finish: in 11 career fights a piece, each man has notched an impressive 10 stoppage wins.
This is another competitive fight that is tough to call, but I think "Jason" has just enough to pull out the victory here.
Rony Mariano Bezerra via split decision
Vince Carey: The UFC definitely saved the best for last as far as their prelim lineup is concerned.
This should be an incredibly exciting fight, with two recent stand out fighters on their respective seasons of TUF going head to head.
Rony Jason proved that he is a fighter to keep an eye on by winning the featherweight division in the first season of TUF Brazil, and his exciting style is likely to make him a fan favorite soon after the rest of the world gets a chance to see him perform.
His first test outside of The Ultimate Fighter is the usual winnable fight that the UFC likes to give their reality show winners, but the Brazilian fighter needs to be careful if he ends up exchanging with the powerful Sicilia.
One solid shot on the chin could be enough to send "Jason" into unconsciousness, but I think the young fighter with a slightly unhealthy serial killer obsession is good enough to get the win here.
Rony Mariano Bezerra via Round 2 submission
Matt Juul: A battle of intercontinental TUF alums, Brazilian winner Rony "Jason" Bezerra won't be able to roll over Sam Sicilia like his previous opponents.
Sicilia has shown he's a well-rounded threat, possessing solid striking and submission skills. However, "Jason" earned his moniker for being a fierce finisher, with 10 of his 11 victories coming via knock out or tap out.
Bezerra will pressure Sicilia throughout the fight and won't let his American foe find his rhythm. Look for "Jason" to come away with another big finish.
Rony Mariano Bezerra via Round 2 submission