Detroit Tigers vs. Oakland A's Game 4 Press Box Diary and Live Chat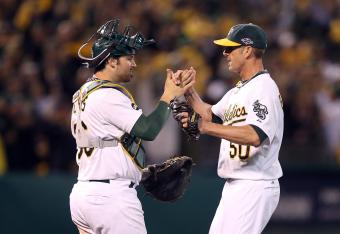 Ezra Shaw/Getty Images
Greetings once again from Oakland, California.
The Detroit Tigers went for a clean sweep of the Oakland A's in the American League Division Series on Tuesday night, but the A's said no in the form of a 2-0 victory. The A's will look to keep their season alive one more day in Game 4, which gets underway from O.co Coliseum at 6:37 p.m. local time on Wednesday night.
And once again, yours truly has a seat in the press box to take it all in.
On Tuesday, we did a live chat that tackled questions from readers about the Tigers vs. A's series and other topics from around the baseball world. We're going to do the same thing today, so be sure to leave me your baseball questions in the comments section. You can also send them to me via Twitter.
The only thing that's different for today's live chat is that I'm going to get a little more candid. I'll be providing running commentary of my day behind the scenes here at O.co Coliseum, which should satisfy those of you who are curious about what a day in the life of a baseball writer is like.
Just keep it here for answers to your questions and all the latest updates, which will come as soon as I post them.
Ballgame. A's win.
Unbelievable.
I say again: Unbelievable.
Now, to the interview room!
Welp, maybe not. My game story just got blown to hell by these darn A's and their magical magictastity.
Welp, looks like this one's going to go the way of the Tigers. They're taking a 3-1 lead into the ninth inning, and one assumes there are already people putting protective layers of plastic over the lockers down in Detroit's clubhouse.
I've already fired up the column I'm going to be writing, and I plan on bolting for the interview room as soon as the final out is squeezed. My guess is that the A's will send some people in first, and that the Tigers will send some people in after a few bottles of champagne have been sprayed around.
After I get my quotes, it will be a mad dash to get my column finished before the last BART train pulls out of the station. It's going to be a photo finish.
Alright, I need to get this out there.
As much as I love Gangnam Style...enough already. It's like Call Me Maybe all over again, except a cool song is being ruined instead of a crappy song.
And besides, nobody ever does the dance right. It makes me an angry bear face.
That is all.
As good as Max Scherzer has been in this game, A.J. Griffin has done a fine job of battling. The way the Tigers are squaring him up, it feels like he should have at least five earnies on his pitching line. But nope, only two earnies through five.
The A's will take that from Griffin. Now all they need is some offense, and they'll be in business.
Granted, coming up with offense will be easier said than done against Scherzer. He looks like his nasty self for the first time in about a month.
Ezra Shaw/Getty Images
Prince Fielder just fouled a ball straight back that hit the press box window to my right.
He hit the next pitch about 400 feet in the opposite direction.
Hey, if ever a guy was due for one, it was Prince Fielder.
Two innings into this game, I feel confident in saying that the crowd isn't nearly as into the proceedings as it was after the first two innings of Game 3.
One presumes this is because the crowd had seen a dominant couple innings from Brett Anderson, an RBI single by Yoenis Cespedes and a brilliant home run-robbing catch by Coco Crisp in the first two innings of Game 3.
No such excitement has taken place in this game. A.J. Griffin has battled, and Max Scherzer has looked very sharp.
And while I was writing all that, the Tigers took a 1-0 lead. The Coliseum is a little tense.
Now that the game has started, I'm basically just sitting and watching the action. I'm taking notes here and there, but aside from that I may as well be taking in a game like any other fan.
Things will get a little more complicated once the game gets to the sixth inning or so. That's when all the storylines of the game will be clear enough for me to start kicking around some ideas for a column, and that's when I'll start to do some writing.
By the eighth and ninth innings, my mind is going to be in a frenzy. I'll be writing while also watching the game, taking notes, and prepping for the post-game press conferences. With a bit of luck, I'll be able to finish my column about two hours after the end of the game.
So if you have questions for me, now's the time to ask them.
B/R FC Jeremy Sickel has a question about the next round as it pertains to the Tigers vs. A's series:
@zachrymer Does the winner of the Oakland/Detroit series have the upper hand in the AL?

— Jeremy Sickel (@KCPopFlyBoy) October 11, 2012
Darn good question, if I don't say so myself.
In my estimation, yes.
The Tigers are a dangerous team because of their starting pitching, which has been just as good as advertised in this series. Likewise, the A's have very good starting pitching of their own, not to mention a deep bullpen. The Tigers have Miguel Cabrera and Prince Fielder, and the A's have about 135 different guys who can hit the long ball.
I'll wager both clubs have better pitching than the Orioles and Yankees, and that's enough for me to give either of them the edge. The offense both clubs bring to the table is icing on the cake.
Suppose I'll go ahead and give a prediction for this game.
As far as the pitching matchup is concerned, there's no question the Tigers have the edge. If he is fully recovered from his shoulder soreness, Max Scherzer could very well give the Tigers seven or eight shutout innings, and I'm setting the over/under for his strikeout total at an even 10.
And for what it's worth, I'm taking the over.
If he's on, the A's will have to keep it close. Fortunately for them, they know they can do this. If A.J. Griffin can't get the job done, Melvin has plenty of guys to turn to who can.
At the same time, one thing the A's have to be worried about is the fact that Miguel Cabrera and Prince Fielder haven't really broken out yet in this series. Fielder, in particular, is due.
I've got the final score of this game at 3-2.
With the Tigers being the winner.
...Given my track record, I probably just jinxed them.
It's almost game time, and the press box is starting to turn into a hive of activity for the first time. A lot of people are typing away. Many others are scanning through the notes provided by the A's.
This place will basically be one big typing pool once the game gets underway. Some writers take notes while the game is in progress, but I saw some on Tuesday who were simply writing their pieces and changing them according to what happened in the game.
If I tried to do that, I'm fairly certain my head would implode. My concentration is good enough, but deleting stuff frustrates me to no end.
Those who have read some of my longer-winded columns will now start nodding understandably.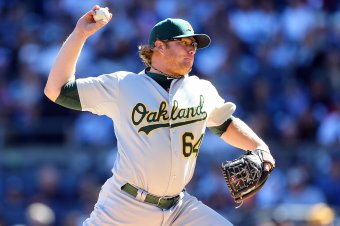 Jim McIsaac/Getty Images
Interesting note from the Elias Sports Bureau, via the game info issued by the A's:
When A.J. Griffin takes the mound for his start tonight in Game 4, the A's will officially become the first team to ever start three different rookies in a single postseason series.
Bob Melvin joked about that in his pregame presser, noting that it was probably inevitable seeing as how the A's were using all rookies in their starting rotation at one point.
It's worth noting that the one guy the A's are starting in this series who isn't a rookie is Brett Anderson, and he's only 24 years old.
Yeah, the A's are weird.
Ezra Shaw/Getty Images
Nearly forgot, Jim Leyland said something really Jim Leyland-y at his press conference when he was asked about how his experienced club matches up against Oakland's inexperienced club.
Leyland basically didn't want to hear it:
Oh, I've never believed in that. I believe in talent. And somebody has to win their first one. I've never believed in that. I've had teams that didn't have any experience...

I don't really believe in that stuff. A lot of people talk about it, it's good conversation, I guess.
This would be from the same guy who once said that chemistry in baseball "don't mean [bleep]."
Don't ever change, Jim.
They have the Orioles vs. Yankees game on TV here in the press box. When Ryan Flaherty hit his home run, there was some murmuring among some of the writers that bordered on excitement.
I find this to be fascinating because there's no reaction whatsoever from the writers when something happens in the game they're actually covering. There's a strict "no cheering" rule, and nobody dares cross it.
Case in point, I don't even recall anybody say "Wow" or anything to that effect when Coco Crisp made his tremendous catch at the wall in Wednesday's game. His catch was met with total silence in the press box.
This may be the status quo for games in progress, but it seems it's OK to react to games on TV just so long as nobody goes totally nuts.
Just an interesting observation.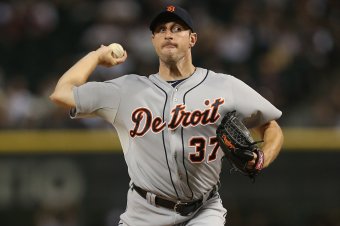 Jonathan Daniel/Getty Images
Jim Leyland was asked if Max Scherzer is going to have any restrictions in his start tonight given the recent shoulder and ankle woes he's had to overcome.
His response:
He says he's a hundred percent without any restraints at all, ankle, shoulder, everything seems all systems go. Now what happens when the game starts? Can something happen? Sure.

We're prepared for that. We've got [Drew] Smyly to go if something happens to Scherzer. We'll be prepared for anything. But right now, all systems are go.
Scherzer said pretty much the same thing at his press conference after Tuesday night's game. If so, the Tigers are in good shape.
Scherzer was the only qualified starter in the majors to post a K/9 over 11.0 this year, and he's going up against an A's team that strikes out a lot. They struck out a lot against Justin Verlander in Game 1, for that matter, and Scherzer is even more of a strikeout artist than Verlander.
The A's have all the momentum in this series, but Scherzer is a guy who could take it back in a hurry.
Just to give everyone a status update, they got the pre-game press conferences out of the way in just about an hour today, which is a little quicker than they did them on Wednesday. I suppose it helps that Jim Leyland's presence was only required for about five minutes, tops.
Now that the press conferences are over and done with, writers are pretty much free to do as they please. Some are down in the locker rooms. Looks like there are some on the field. Myself and many others are in the press box. Some are working. Some are chowing down on the ballpark-issued lunches.
Basically, we're all just looking for ways to kill time between now and first pitch, which is about two hours away.
So please, leave me questions. I don't want to get bored here.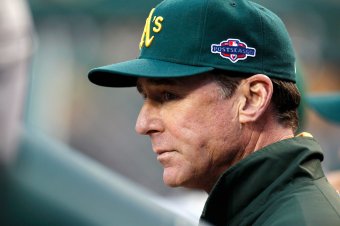 Gregory Shamus/Getty Images
At Bob Melvin's press conference, he was asked about what makes up the "quality" of his A's team. With so many rookies in the fold, they seem to have more confidence than they should.
His response:
The coaches prepare each and every day. We try to insulate within that. We try not to worry about tomorrow. It's a very selfless group that just worries about the win or loss at the end of the day. They don't worry about being pinch-hit for, no one takes it personally. No one takes it personally if they get three hits one game, [and] we get a different type of pitcher the next day and we match up accordingly.

Everybody has bought into it. It's a credit to the players and their willingness... understanding that we're trying to do the best thing for the team on a particular day and just worrying about winning or losing and keeping it current... And the coaches have done a great job preparing these guys each and every day.
For their part, A's players rave about the job Melvin and the club's coaching staff has done this season. That's typically par for the course when it comes to players, but I for one tend to take the players' word for it in this case because the A's really are so unique as a ballclub. A team as young and as unspectacular on paper as this A's team is really shouldn't be so good.
But they are good. The people running the show must be doing something right.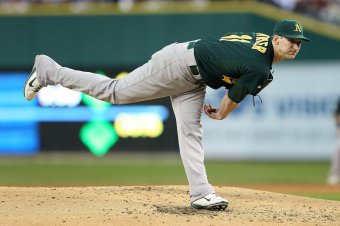 Leon Halip/Getty Images
Just got back from Jarrod Parker's press conference a little while ago. I asked him about his mindset today knowing he could be starting the game of his life on Thursday night if the A's win on Wednesday night.
He says he's not stressing it. His focus is on the here and now:
"We know what matters today matters most...We need to play tonight and [get] 27 outs. When the game's over, we'll figure out what we need to do the next day to get into that game and prepare a game plan and do all that. What's going on today and tonight is most important right now."
After all, what's to worry about? Sure, he'll be taking on Justin Verlander in a playoff game on Thursday night if the A's win on Wednesday night, but that's nothing he hasn't done before.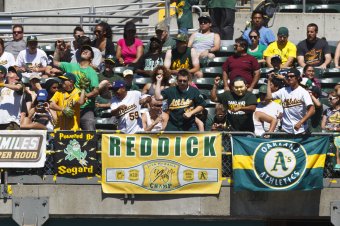 Jason O. Watson/Getty Images
Here's a couple questions about the A's ballpark situation from Owen Lystrup:
@zachrymer Questions that've been on my mind for years: What would/could a new ballpark (only) do for the A's? And why has it not happened?

— Owen Lystrup (@owen_lystrup) October 10, 2012
I'll answer the second question first. It hasn't happened yet because the A's have their hearts set on moving to San Jose, and the Giants don't want to give up that territory. It doesn't sound like they're going to be convinced to give it up either. It's a total stalemate until the Giants budge.
As for what a new ballpark could do for the A's, I'm afraid I can't think of anything beyond the obvious. A new venue would, in theory, ultimately mean more fans. More fans mean more revenue, which means more "Yay!" at the upper levels of the club.
In addition, a new ballpark in a place like San Jose could conceivably make the A's a more attractive destination for free agents. And since the A's would have so much extra revenue, they'd actually be able to afford these free agents.
Now that I have everything set up, I'm afraid I need to run. Pre-game press conferences are starting in about 15 minutes.
Due to all the extra media, they're actually running the press conferences out of the Oakland Raiders' locker room during this series. Today, they have Jarrod Parker, Bob Melvin, Jim Leyland and an as-yet unnamed Tigers player lined up for us.
The best part about taking in pressers as a member of the media? They have somebody that transcribes the quotes for you. Pretty major bonus in my book.
I'll post notes and quotes from the pressers in a little while. In the meantime, leave me your questions in the comments section if you have them.
This article is
What is the duplicate article?
Why is this article offensive?
Where is this article plagiarized from?
Why is this article poorly edited?