Brooklyn Nets: Roster Preview, Predictions and Storylines to Watch in 2012-13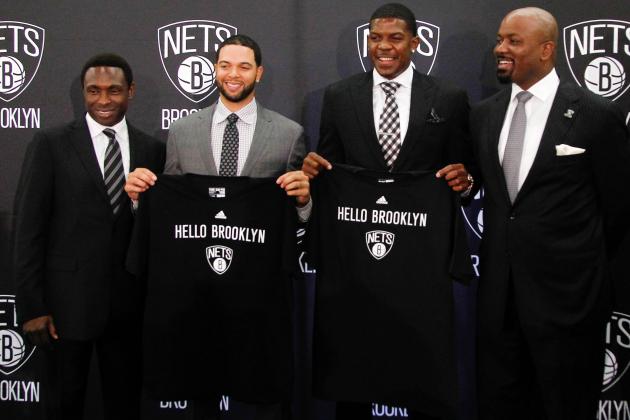 Debby Wong-US PRESSWIRE

For the past five years, the Nets have been nothing more than a punching bag for most other teams in the NBA. However, with a move to Brooklyn this past summer, the franchise's brass decided to shake things up and field a competitive team.
They re-signed all of their key free agents—Deron Williams, Gerald Wallace, Kris Humphries and Brook Lopez—and even brought in an All-Star caliber player in Joe Johnson. While these were extremely costly moves that likely will not result in a championship, they do make the 2012-13 Brooklyn Nets a competitive squad that seems bound to reach the postseason for the first time since 2007.
There are still plenty of questions surrounding this franchise, such as:
When the Nets get into the playoffs, will they find success? Will D-Will be happy with his choice of Brooklyn over his hometown of Dallas? Will Johnson be rejuvenated with a change of scenery?
We'll look into all of those questions and more in the season preview for the Nets, so keep reading to find out who else Brooklyn scored in free agency, impact players from 2011-12 that are now gone, the projected starting lineup and depth chart, some strengths and weaknesses for the roster, a season prediction and much more.
Begin Slideshow

»
Jim O'Connor-US PRESSWIRE

Joe Johnson (Trade with Atlanta Hawks)
Reggie Evans (Trade with Los Angeles Clippers)
Mirza Teletovic (Free Agency)
C.J. Watson (Free Agency)
Andray Blatche (Amnesty Signing)
Josh Childress (Amnesty Signing)
While the Nets needed to re-sign their own free agents first and foremost, they made a major splash by swinging a surprise deal for Joe Johnson.
The Hawks star is due approximately $90 million over the next four years, a salary that far outweighed his production last season (the guard put up 18.8 points, 3.9 assists and 3.7 assists in 2011-12—solid numbers but not max contract-worthy).
He does represent a major upgrade at the 2, and second-year stud MarShon Brooks can now return to the bench—a role much more suited for his high-volume shooting, scoring and energy.
Aside from Johnson, the Nets brought in Teletovic from the Euroleague. He's a 6'9" forward that will be making his NBA debut at the age of 27, and a lot is expected after he averaged over 21 points and six rebounds per game with Saski Baskonia. He's likely going to back up Kris Humphries when the season starts.
C.J. Watson was signed after the free agent left Chicago and represents a much better backup than Sundiata Gaines or Jordan Farmar—two players that the Nets relied on last year to spell Williams.
Reggie Evans will provide toughness and interior defense, something that the team needs in the paint. Lopez is a great scorer, but he's not an intimidator and certainly not a banger, as his career average of just 7.5 RPG at the height of 7'0" clearly indicates. Brooklyn acquired him via sign-and-trade for a trade exception and future second-rounder.
Finally, the Nets inked two promising players that were extremely overpaid by their former franchises. Childress and Blatche were both amnestied by their franchises this summer—Washington and Phoenix, respectively—and picked up on cheap, non-guaranteed, one-year deals.
If they can harness their immense talent and upside, the signings will be a major success for the minuscule risk involved.
Jim O'Connor-US PRESSWIRE

Gerald Green (Free Agency: Indiana Pacers)
Johan Petro (Traded to Atlanta Hawks)
DeShawn Stevenson (Traded to Atlanta Hawks)
Jordan Farmar (Traded to Atlanta Hawks)
Anthony Morrow (Traded to Atlanta Hawks)
The Nets' summer overhaul involved jettisoning a number of players to make the salary cap figures work in the Johnson trade.
Before we get to that, let's talk about Gerald Green, a guy who was a major revelation during his comeback season in New Jersey.
Back in 2005, the Boston Celtics thought they had the steal of the draft when they selected him out of high school at No. 18 overall, but he never panned out and bounced around the league and eventually couldn't make a roster. However, the Nets gave him a chance in February and he ended up playing in 31 games.
During that time period, Green averaged 12.9 points, 3.5 rebounds and 1.1 assists. He parlayed that impressive performance into a contract with the Pacers this summer and is a key loss for the Nets bench.
Back to the Johnson trade, let's take a look at who is now gone:
Petro, who started at center occasionally and has a seven-foot frame; Stevenson, a feisty swingman that was able to contain LeBron James in the 2011 Finals, but didn't seem to have his heart in it last year; Farmar, a serviceable backup guard with championship experience from his time with the Lakers; and Morrow, a sweet-shooting marksman that averaged 12 points per game, mostly on three-pointers coming off the bench.
Because the Nets were able to keep Brooks and add Watson, Evans, Teletovic and more decent bench players, their services won't be missed.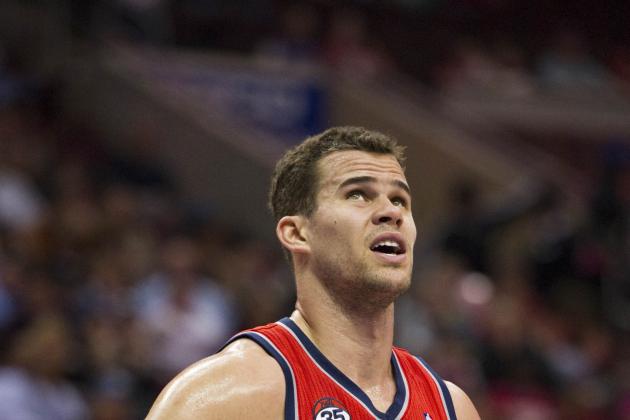 Howard Smith-US PRESSWIRE

The Nets have a legit starting five that can compete with most of the top teams in the NBA and a reasonable bench that figures to go eight or nine deep.
D-Will needs to learn to be the leader of the team, something he has struggled with despite being one of the premier point guards in the league. He's only made the playoffs four times in his eight-year career, even though he played on some quality Jazz teams. If the Nets struggle, it's going to fall on his shoulders.
Johnson, Wallace, Humphries and Lopez round out the remaining starters, and all figure to be able to put up points in bunches off Williams' dimes.
Once the team needs to reach to the bench, expect Brooks and Teletovic to be the first guys off. Watson will sub in for D-Will, and Blatche/Evans are likely going to be the two filling in at center when the team needs some interior defense.
Jerry Stackhouse, Keith Bogans, Childress and rookie Tyshawn Taylor figure to be glued to the pine and should only get minutes in blowouts and reserve situations.
Expect coach Avery Johnson to tinker with his lineups throughout the year, but when it comes to the postseason, the starting five and just a handful of key subs will be seeing the court.
| | | | |
| --- | --- | --- | --- |
| Position | Starter | Bench | Reserve |
| Point Guard | Deron Williams | C.J. Watson | Tyshawn Taylor |
| Shooting Guard | Joe Johnson | MarShon Brooks | Keith Bogans |
| Small Forward | Gerald Wallace | Josh Childress | Jerry Stackhouse |
| Power Forward | Kris Humphries | Mirza Teletovic | Reggie Evans |
| Center | Brook Lopez | Andray Blatche | |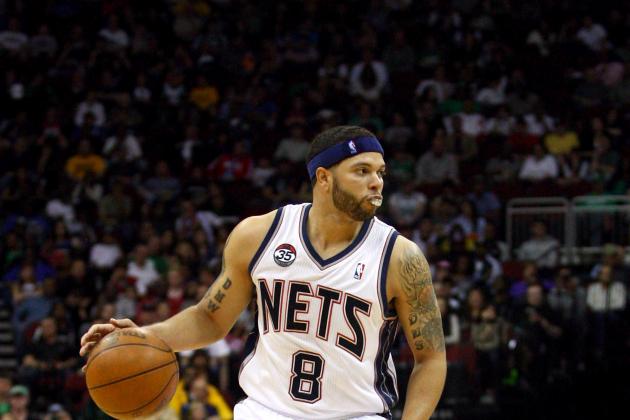 Chris Chambers/Getty Images

Brooklyn's strength lies in having a well-rounded team that can score a lot of points. The roster is shaping up to be near the top of the league in points per game, although that will largely depend on how much coach Johnson lets his players run.
Because of the four different All-Star level players in the starting lineup, the Nets will conceivably be able to weather some off nights from certain guys. Williams certainly didn't have that luxury last year when Wallace was new to the team and Lopez was hurt.
Now that these players are healthy and have a full training camp together, there is likely going to be significant improvement from top to bottom..
One thing to note is that Johnson has had to put the Hawks on his back for the better part of seven seasons, but he was once an incredible third option during his time with the Phoenix Suns. If he can embrace that role again, the Nets will be in great shape.
While we have some worries about how the team will mesh, the bottom line is this is a group of consummate, highly-paid professionals that know how to put the ball through the hoop. They are easily going to win 50-plus games by simply getting up and down the court and doing their job.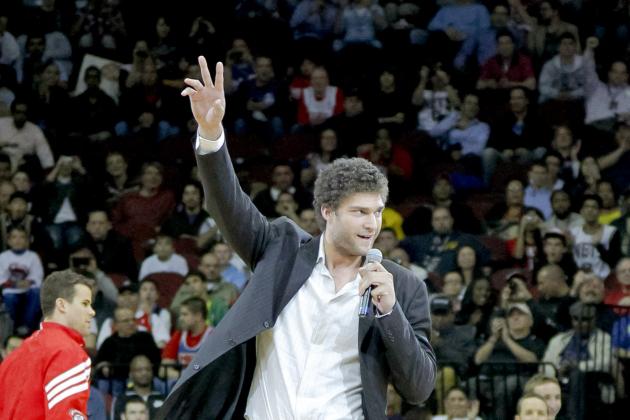 Jim O'Connor-US PRESSWIRE

It's been harped on over and over, but the Brooklyn Nets' biggest flaw on paper is their lack of elite defenders.
Wallace is a high-energy forward that will be tasked with locking down the opponent's best perimeter player, and Humphries can bang in the paint. But there are problems everywhere else.
D-Will is a notoriously lazy defender despite standing at a sizable 6'3", 210 pounds. Johnson isn't known for his D and doesn't have the bulk or sheer athleticism required to play it at a high level. Lopez is simply a ninny in the post and can't pull down boards to save his life.
The bench doesn't help there either, as Brooks simply guns when he is out on the court and couldn't care less about guarding his man. Watson has no clue what he's doing in a team-oriented defensive set, and the rest of the roster isn't great at marking either.
There are going to be nights when the Nets just look confused out there and get torched by elite scorers like LeBron, Carmelo Anthony, Kevin Durant, etc.
Unless Brooklyn gets its act together quickly and figures out a way to coordinate as a team to lock these guys down, it is going to struggle in contests against top teams and in the playoffs.
With the season still weeks away, there surprisingly hasn't been a shortage of fresh topics to discuss surrounding the Nets.
Most recently, D-Will and Dallas Mavericks owner Mark Cuban engaged in a war of words through the media, with the PG blaming Cubes for not showing up to a face-to-face meeting to address his questions and concerns about signing with the Mavs.
Cuban responded with kind but cutting words and eventually forced Williams to give him the silent treatment. You can read much more about that in our recap article right here.
Big-picture stuff concerning the Nets mostly has to do with if Johnson elevates his game now that he has an elite PG, if the team can play a lick of defense and how Lopez does upon his return from injury.
Speaking of Lopez, Shaq recently called him one of the top centers in the NBA and said he's up there with Andrew Bynum and ahead of Dwight Howard.
This ludicrous statement carries absolutely no weight, but if Lopez elevates his game and actually learns how to go into the post and use his massive body to get a rebound, maybe it won't be as much of a joke.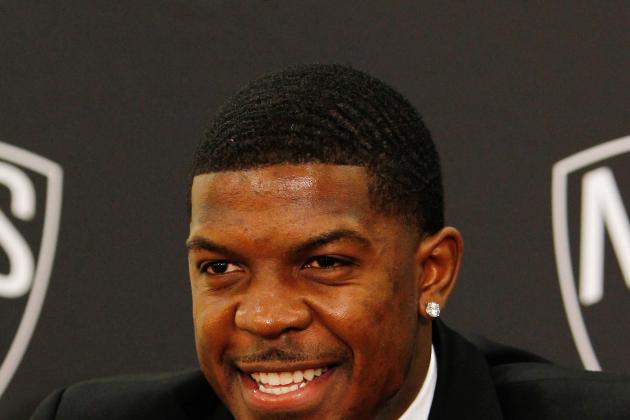 Debby Wong-US PRESSWIRE

The best-case scenario for the Nets involves this team living up to its scoring potential and growing throughout the season on defense.
If the Nets can get stops and turn them into points on the other end, they are going to win a lot of games. It's that simple. They have the tools, but need to adapt the mentality to do so.
This will be a huge reflection on Coach Johnson, as he is on the hot seat and needs to succeed now that the pieces are in place to make a serious run at a top seed and go deep in the playoffs. Should he fail to engage with this team and get them to play D, he's likely going to be ousted by the start of the 2013-14 season.
Brooklyn also needs to catch some breaks with injury, as all of its key players have battled with them in the past. Because they aren't going to be relied upon as much as individuals to shoulder the load, they should hopefully be able to avoid serious problems.
If the Nets can earn a good seed and contend for the Atlantic Division title with the New York Knicks and Boston Celtics, they could catch some lucky breaks and make it far.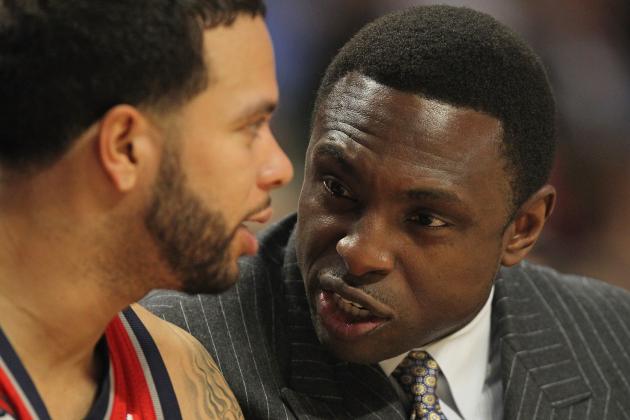 Jonathan Daniel/Getty Images

It'll be a rough season and early playoff exit for the Nets if they can't figure out a way to play solid team defense.
Without a doubt, with the lack of talent in this league and through sheer firepower, this team is getting into the postseason, but it might not last long if it only manages a low seed.
The Nets want to do their best to avoid the Miami Heat for as long as possible, and drawing a bad seed would almost assuredly mean they meet in the first or second round. There is no way—barring a tragic injury to LeBron or Dwyane Wade—that this team is beating Miami in a seven-game series.
Brooklyn's best bet to last deep in the spring is to ratchet up the defensive intensity and start blanketing the other team's scorers while it does its damage on the other end.
Obviously, injuries to their own stars will also sink the Nets' season, but they are hopefully healthy, in shape and ready to run.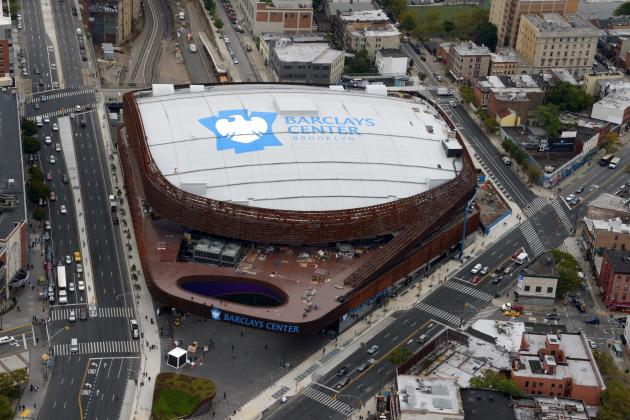 Kirby Lee-US PRESSWIRE

50-32, second place in Atlantic Division, fourth seed in Eastern Conference
The Nets are exactly a 50-win team in 2012-13, a respectable number—especially for a franchise that hasn't won more than that since the 2001-2002 campaign.
This season will build hope for all of the new Nets fans, and even the jaded ones that are sticking with the team after its move from New Jersey will appreciate a winning season and home-court advantage in the first round of the playoffs.
However, after they duel whoever earns the No. 5 seed (we predict the New York Knicks), the Nets would have an inevitable showdown with the Heat.
That's just not a winnable matchup for this team right now, and it might not ever be as long as LeBron is in South Beach.
Regardless, it's still better than being in the basement and selecting in the lottery year after year, so Brooklyn fans should get excited and be happy to see playoff basketball for the first time in their new city.