San Antonio Spurs: 1 Burning Question Facing Each Spur in 2012-13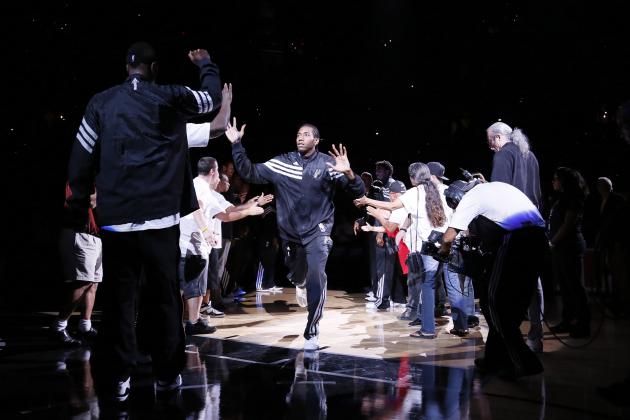 Soobum Im-US PRESSWIRE

Nando De Colo's buzzer-beating jump shot on Wednesday night marked the first of many wins for the San Antonio Spurs this season.
While the preseason game meant nothing in the record books, it was a fantastic start, especially considering the win came without the help of the Spurs' Big Three.
On pace for another exciting season, many wonder whether the Spurs will match last year's success, considering the increased difficulty of the Western Conference.
However, that isn't the only question critics have about the Spurs. Each individual player has a certain value or aspect to his game that has given Spurs fans and NBA fans alike something to think about when mentioning San Antonio.
Begin Slideshow

»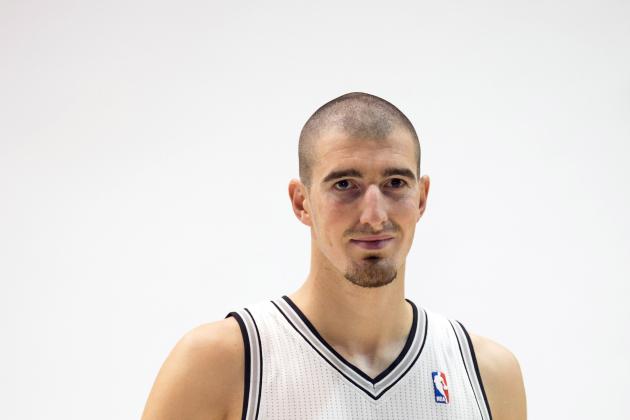 Soobum Im-US PRESSWIRE

Where will Nando De Colo fit into the offense?
With the exception of the eventual recipient of the 15th roster spot, Nando De Colo is the only new face in the Spurs lineup this season, and despite his flashy passes during the preseason, consistent playing time is anything but guaranteed.
Unlike those of the 13 returning players, his role remains unclear, and with the rest of the roster already having played with the team, De Colo will have the hardest time moving up the lineup.
The Spurs' incredibly deep backcourt doesn't help the situation, as Manu Ginobili and Tony Parker lead the team at both guard positions. Danny Green and Patty Mills also remain the Spurs' primary role players at either position.
While De Colo can play either guard position, he would have to knock Gary Neal out of the picture, who still remains a valuable asset despite having the similar problem involving a set role.
In a lineup full of already established players, whether or not De Colo will assert himself as a legitimate player this season is highly unlikely.
Soobum Im-US PRESSWIRE

Can Cory Joseph establish himself in such a deep backcourt?
Cory Joseph has a very similar problem, as he too has the misfortune of landing a spot in the league's deepest set of guards.
While he does have a little more NBA experience than Nando De Colo, he spent a large portion of the 2012 season in the D-League, and while his All-Star selection during this year's Summer League gives him something to add to his résumé, he still remains toward the bottom end of the Spurs depth chart.
Joseph entered the league unexpectedly. His early departure from Texas left him very raw in his rookie season, and while a year in the D-League has helped him strengthen his talents, he still has a lot to prove before he can receive a larger role.
Unless he becomes the Danny Green of 2013, Joseph may find it hard to establish himself as a top talent.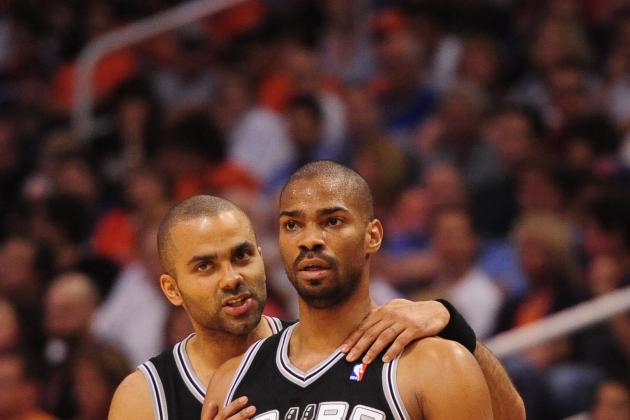 Mark J. Rebilas-US PRESSWIRE

What is Gary Neal's true role within the team?
Poor Gary Neal.
Very rarely has a player been so important to a team at times only to see his role reverse in the subsequent game, receiving little or no time.
Neal undoubtedly has established himself as a solid player, and the team has ridden his excellent three-point shooting to numerous wins. However, no matter how many flashes of stardom he exhibits, Neal unfortunately has found his numbers fluctuating greatly from game to game.
Neal seems intent on securing the back-up point guard duties this season, but Patty Mills may win the job since he is a much more natural floor general.
Neal is a shooting guard in a point guard's body, and this awkward inability to play neither position naturally has prevented him from completely breaking out. After maturing, Neal finally may establish himself this season, but there also is a solid chance that the team's depth causes him to spend yet another season living in his shell.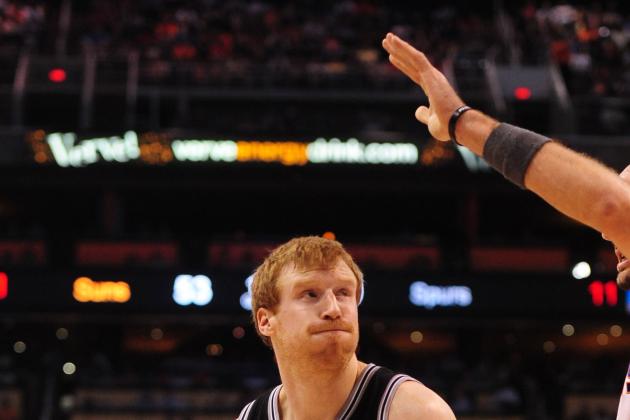 Mark J. Rebilas-US PRESSWIRE

Will Matt Bonner continue to receive quality minutes despite his one-dimensional game?
It's not every day that a team comes across a 6'10'' big man with the ability to dominate from beyond the arc.
It also isn't every day that a 6'10'' player has displayed an overall incompetence when it comes to grabbing rebounds.
Matt Bonner provides the team with a unique talent, and while his many faults may outweigh his single talent, he still manages to receive quality minutes.
However, the team has found other three-point shooters, and their greatest liability remains their lack of depth in the frontcourt. So, it may come time for the Spurs to redistribute Bonner's playing time to the team's other big men.
With DeJuan Blair's situation unclear, we wonder if Bonner will retain his minutes, or take a smaller role in the upcoming season.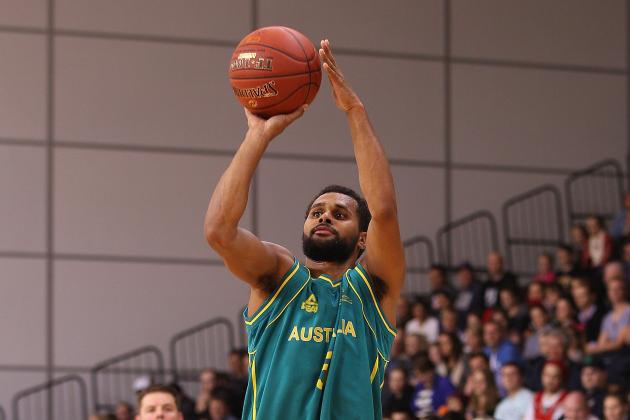 Quinn Rooney/Getty Images

Can Patty Mills prove to be a legitimate point guard in the NBA?
Patty Mills joined the team last season to help fill the Spurs' need of a true, back-up point guard following T.J. Ford's unexpected retirement.
Mills' expectations were not high, and his role remained unclear. However, he dominated in games that Tony Parker sat out, and an impressive performance in London this summer proved that he could very well be the real deal.
Parker isn't in any danger of losing the starting job, but Mills may have begun what could be an impressive career eventually.
Should he secure the second-string point guard job, Mills' performance possibly could legitimize him as a future elite point guard.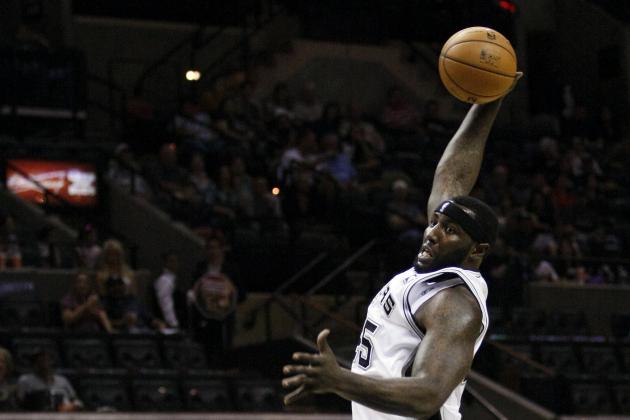 Soobum Im-US PRESSWIRE

Will DeJuan Blair remain a Spur for the entirety of the season?
After beginning the season as the Spurs' starting center, DeJuan Blair's season took a turn for the worse; the addition of Boris Diaw sent Blair to the bench, where he spent the majority of last season.
Trade rumors surfaced this summer, giving Blair the inclination to believe that he would be playing for a new team in the 2013 season.
Blair returned to the team slimmer and in better shape than last year, but even so, his spot is far from guaranteed. If the Spurs add another big man to fill their vacant roster spot, Blair becomes more expendable, and his youth makes him a valuable trade piece.
He has been a strong contributor to the team for a few years, but after such a dramatic change in role, it is unclear if the San Antonio Spurs include DeJuan Blair in their future.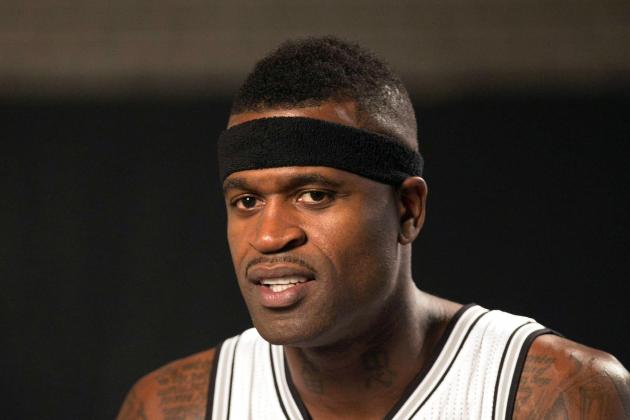 Soobum Im-US PRESSWIRE

Will Stephen Jackson show signs of improvement in his contract season?
Stephen Jackson joined the Spurs at the deadline last year, marking his second stint with the team. He quickly proved to be a valuable asset and was arguably one of the Spurs' most efficient players in their series against the Thunder.
Now Jackson is entering the preseason knowing fully well that his contract expires at the end of the season, and a return is not going to come easily. Head coach Gregg Popovich already advised Jackson not to count on an extension, so with next year's income on the line, Jackson will need to perform to the best of his capability this season.
He found himself a consistent role backing up Kawhi Leonard at the small forward position, so playing time is not an issue. If he slacks off, then his return is unlikely, which drives us to believe that Jackson will try his hardest to remain in the city that he adores so much.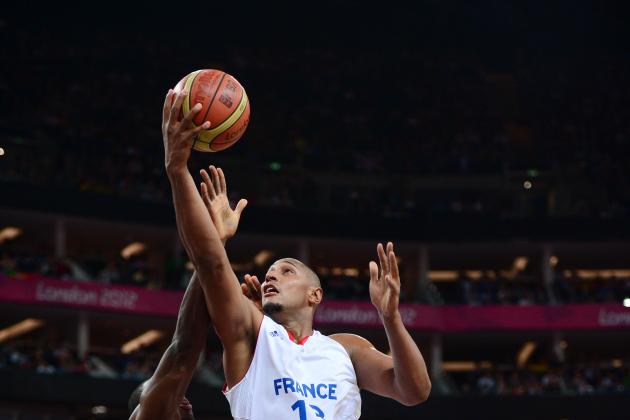 Mark J. Rebilas-US PRESSWIRE

Will Boris Diaw revert back to his lazy persona that was displayed during his stint with Charlotte?
During his term with the Charlotte Bobcats, Boris Diaw lost all affection for the game, as he became lazy, unproductive and an overall waste of space.
Sensing his displeasure, Charlotte bought out the big man, making him fair game for potential buyers. The Spurs signed him, and Diaw was then reborn in San Antonio. He began to hustle on both ends of the floor and was a contributor from every aspect—whether it be on the boards, defense, scoring or assisting.
Diaw's rejuvenation made the Spurs re-sign him with the hopes of his production remaining on par to that of the previous season. However, now that his contract is guaranteed, Diaw may find himself reverting back to his old ways.
While many would like to believe that the Spurs have reopened his eyes, it is not yet definite if he will remain the same productive player, or if he'll become the lazy one the Spurs would like to forget.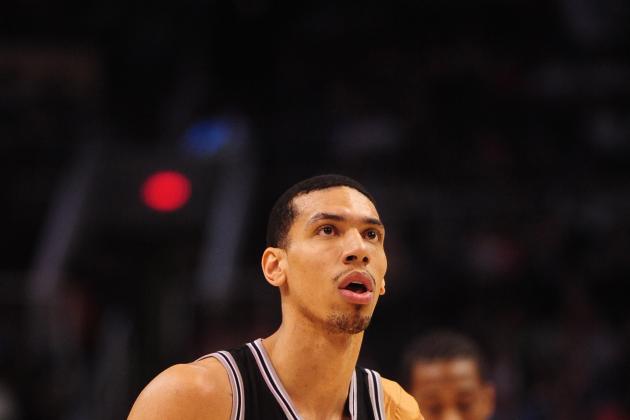 Mark J. Rebilas-US PRESSWIRE

Can Danny Green bounce back after disappearing in last year's Western Conference finals?
Danny Green had the season of his life, as he quickly went from barely making the roster to finding himself a spot in the starting lineup.
However, this one dark cloud in his otherwise bright season would be his dismal performance in the Western Conference finals, where he struggled to make shots and was an overall liability to the team when he was on the court.
Despite his playoff troubles, the Spurs elected to bring Green back, as his outstanding regular-season play outweighed his poor performance against the Oklahoma City Thunder.
Now, entering the 2013 season, Green likely will retain his starting job, but his productivity is unknown and hard to speculate. His final performance left fans with an ugly taste in their mouths, which they've carried through the offseason.
The stakes are lower once again, but it is unclear whether or not Green will remain in a slump, or bounce back and have another great season.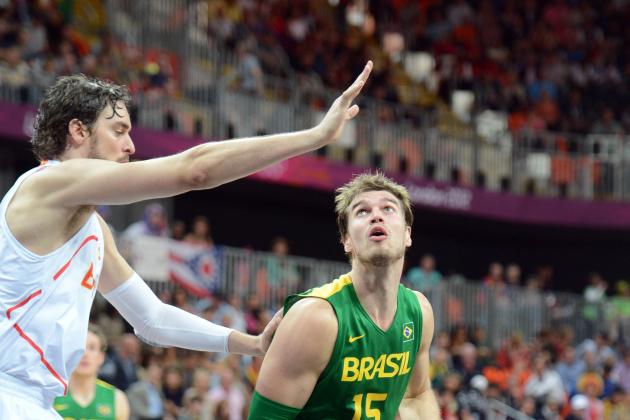 Matt Kryger-USA TODAY

Will Tiago Splitter prove that he is a legitimate successor to Tim Duncan?
Tiago Splitter remains a confusing player; he plays well one night, only to show up completely lost the next. He became a target for the "Hack-a-Shaq" technique during the playoffs last season, but slowly and surely he is making the improvements necessary to become a force.
However, Tim Duncan is in his final years, and Splitter—being the only true big man on the team—will be forced to pick up some of his slack. He's also first in line to receive Duncan's spot in the lineup once his eventual retirement comes.
Yet, if Splitter is going to succeed the Big Fundamental, Splitter will need to see a dramatic improvement in one of the next two seasons. Hopefully Splitter decides to make it this season, as he is crucial to the team's success both now and in the future.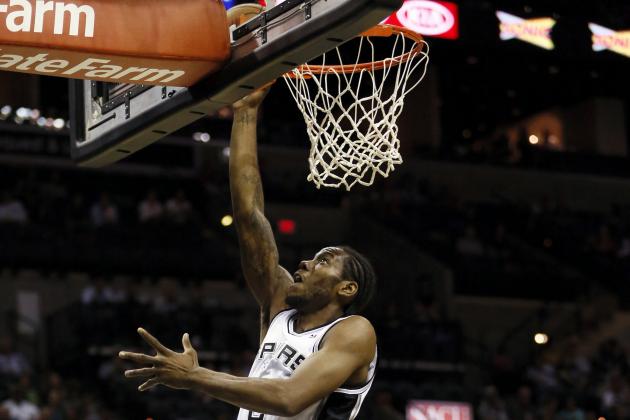 Soobum Im-US PRESSWIRE

How much will Kawhi Leonard's role increase?
There is no denying that Kawhi Leonard has the makings to be the next big thing in San Antonio. With arguably the best rookie season for the Spurs since Duncan, Leonard gives fans a lot to be excited about.
Considering how much he will likely improve, both as he matures and receives a larger role, Leonard has the potential to one day be a star. Popovich wants to keep Leonard in San Antonio for his entire career, with the intentions of making him the team's face in the future.
Pop already has declared they are going to be integrating Leonard even more into the offense this year, with the intentions of easing him into an offensive role with which he is comfortable:
Defensively, he's good. He's going to handle the ball more this year, be in pick-and-rolls more this year. We expect a lot from him."
It is clear that Pop wants to utilize Leonard more this season, but how much so is the true question. Pop is known for his tendency to play starters less than their counterparts on opposing teams, and Leonard may very well fall victim to the same fate in his sophomore season.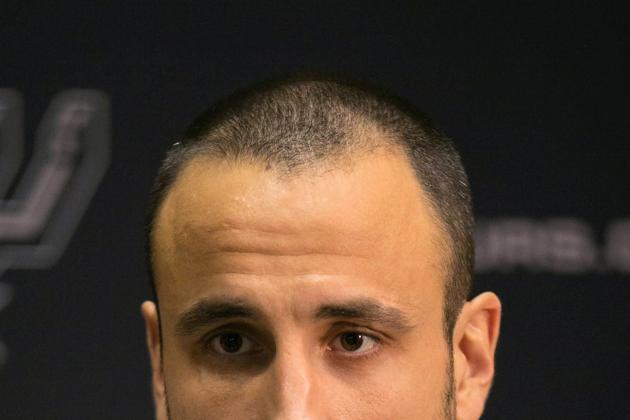 Soobum Im-US PRESSWIRE

Can Manu Ginobili remain healthy all year long?
Manu Ginobili is growing older, and with his age, his body is becoming increasingly weaker. He is prone to injury and was forced to miss extended time at various points throughout the 2012 season.
When he is healthy, Ginobili is one of the league's top players, and the team is highly invested in his talent and leadership, so his health is one of the many keys to the Spurs' success.
Now Ginobili is another year older and even more fragile, considering his summer of rest was replaced by the Olympics. Nicknamed "El Contusion" Ginobili could fall victim to a similar misfortune in the 2013 season, which largely could impact the team.
He has been a long-time star in San Antonio, and should he remain healthy, Ginobili will be one of the team's top players. Unfortunately the chance of injury is too high to be neglected, as you never know how or when disaster may strike.
Ronald Martinez/Getty Images

Will age finally catch up to Tim Duncan?
Tim Duncan signed on for what likely will be the final contract of his career this offseason, and while the legendary big man certainly has shown a decline these past few years, he still remains one of the league's top big men.
Each year people predict Duncan to finally show signs of slowing down, and each season he proves them wrong with a spectacular overall performance.
However, entering what likely will be his second- or third-to-last season, many wonder if this will be the season that Duncan's age finally catches up to him. He receives his minutes sparingly, and with Kawhi Leonard growing into a larger role, Pop will be able to decrease Duncan's even more.
He'll still be a top player in San Antonio, but will this be the season Duncan's name falls from the top players in the league?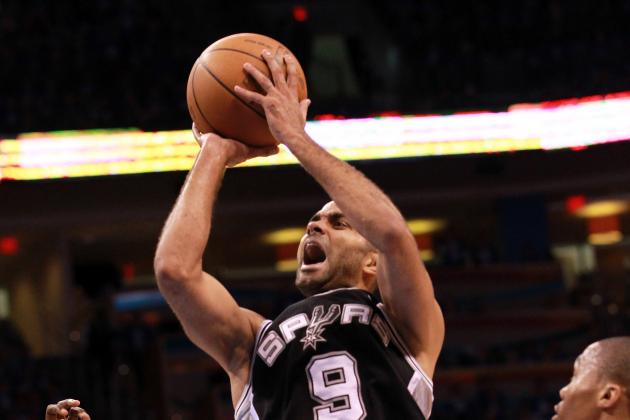 Ronald Martinez/Getty Images

Can Tony Parker replicate his heroics from last season?
Tony Parker took a larger role within the team last season and, in return, became one of the best players in the league. In what will go down as a career season, Parker's spectacular play earned him enough MVP votes to finish in the top five, while the Spurs' overall success was enough to measure his performance.
Parker was the primary reason for their dominant record, and he was a main contributor during their outstanding playoff run.
However, the new season brings forth a huge question: Can he do it again?
While he'll most likely be the team's best player, his finish last year made him one of the league's best players. With Kawhi Leonard slowly stepping into a star role, some focus will be taken off Parker, which can be a positive in some aspects and a negative in others.
San Antonio is counting on him to deliver and, once again, allow it to have a fantastic style of play. After such a successful campaign last year, though, many wonder if Parker now will be on a slow descent.