Detroit Lions: 10 Keys to the Game Against Philadelphia
Leon Halip/Getty Images
This pretty much symbolizes the Detroit Lions right now: knocked down.
Not knocked out, or seriously damaged, but definitely down.
The team is a last-second touchdown pass from having pretty much the worst start to a season imaginable. They have one win and three losses in the same span of time that they posted five wins last season.
It's not that everything has gone wrong, but not much has gone right.
Simply put, the Lions have been flat for four games, and their record reflects it. Now, they get to try recovering against a stretch of three teams with a combined record of 10-5, with the first two (and likely the toughest) of those games both on the road.
The Lions don't necessarily need to win all three of those games, but they need to win their next one against the Eagles. At 2-3, the Lions are a team in the mix that has fallen on some hard luck. At 1-4, they are a cellar dweller that should start thinking "draft."
That's what's at stake in this game, and here's what the Lions need to do to win it.
Force Michael Vick into Mistakes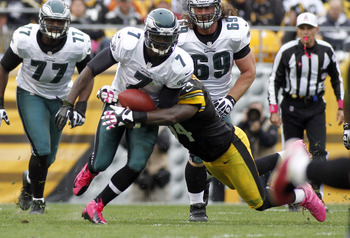 Justin K. Aller/Getty Images
The Detroit Lions have struggled to force turnovers at the rate they are accustomed to.
Michael Vick carries the football like a briefcase, and generally throws the football like it is still a briefcase.
Vick could have led his team to a win over the Pittsburgh Steelers last week, but he fumbled the ball three times, including once on the goal line.
The Lions have been unable to force opposing offenses into mistakes all season, and the Eagles, with a sloppy offensive line and the erratic Vick at the helm, could help the Lions even out their season's turnover margin.
Play with the Lead for Once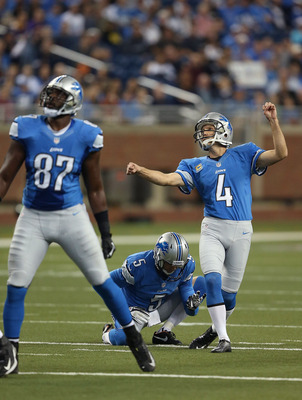 Leon Halip/Getty Images
Everybody knows the Lions can score. They prove it every fourth quarter.
Maybe for once, they can prove it in the first.
The Lions have not led a single game at halftime this year, and the need to play catchup doesn't just hamstring the Lions' playcalling ability late, it keeps the playbook wide open for the opposing offense.
The reason the Lions haven't forced many offensive mistakes this year is because they haven't been able to force their opponents into a "pass or die" situation. If they could do that, they could zero in on the quarterback and put extra focus on applying pressure.
Instead, opposing quarterbacks are feeling all the pressure of a lazy summer afternoon. They may as well be throwing out of a hammock between sips of lemonade. Not only are they under no physical pressure, they're under very little mental pressure, knowing they don't need to score to maintain the lead.
That has to change. The Lions can't be the only team under pressure during games, otherwise the result will be—well, really, about what the results have been up to this point.
Come Back with Attitude
Leon Halip/Getty Images
What you've seen in the Lions' last few weeks is, in a nutshell, why Jim Schwartz wasn't terribly concerned with the discipline last season, no matter how bad it got.
Because often times, what you gain in discipline, you lose in attitude. And through four games, the Lions have done a good job of controlling penalties, but they have played listless, uninspired football.
That's not to say it's impossible to play mean without getting penalized, but there certainly appears to have been a correlation here.
The Lions have plenty of whiteboard material for this week, with fans, media, and GMs not confident enough to stand by their assertions all putting forth the possibility that the Lions are an overrated team that overachieved last year.
This week, the Lions are either going to prove them right, or start shutting them up. But they need to come out with the attitude and intention of shutting people up.
Just Kick It out of Bounds
DeSean Jackson may be a headcase, and he may not be the most dangerous kick and punt returner in the game today, but ask (former) Giants punter Matt Dodge whether or not it's a good idea to punt to him.
Right now, it's not a good idea for the Lions to kick or punt the ball to anyone, much less a guy with actual return skills.
Granted, the Lions can't just cover up their special teams play by kicking away from everybody for the rest of the season. But the Lions face Jackson and Devin Hester in the next two weeks, and those are guys who can beat anyone in the return game.
In this case, it's best to suck up slightly comprised field position and turn it over to the (surprisingly competent) defense than take the chance of letting the whole game blow up on one play.
Don't Be Afraid to Pass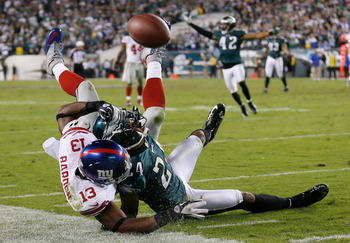 Rob Carr/Getty Images
Yes, the Eagles' secondary is full of brand-name cornerbacks, and yes, they can rush the passer, and yes, they are ninth in passing defense, and yes, some semblance of offensive balance is important.
All that being said, the Lions are a passing team, and they need to pass the ball. Probably a lot. And preferably before they go down by two touchdowns.
We are at a point where that is okay in the NFL, and the Lions have built their entire offense around their ability to score early, quickly and often, through the air. If they can actually do that, maybe they can start focusing on...
Find the Pass Rush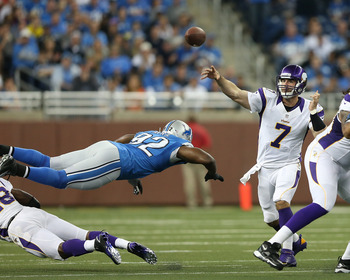 Leon Halip/Getty Images
Simply put, the Lions' defensive foundation is failing.
This is a team that has, under the current regime, sunk all of their most valuable resources into building the defensive line, and then telling that line that their primary job is to rush the passer.
The most money, the highest draft picks, and the most attention has gone into that defensive line, more so than any other unit on the team.
The result, at least this year, is a middling unit that fails to bring consistent pressure on the quarterback. If the Lions defense is going to be effective, the unit that is expected to be the key unit needs to start playing like it.
Let Joique Bell Do His Thing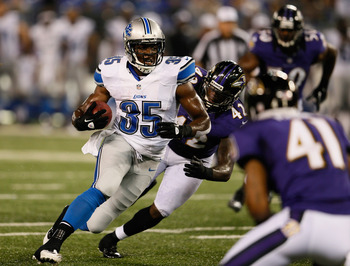 Rob Carr/Getty Images
Quietly, Joique Bell is among the league leaders in receiving yards for running backs.
This, despite the fact that Bell rarely gets to touch the ball before the fourth quarter.
Getting Mikel Leshoure going is important, and Kevin Smith appears to be irrelevant in terms of the offense. Those roles are set.
Bell's is the role that could use an expansion. He's effective catching passes out of the backfield, so why not use him more often, and for all four quarters?
He may not be the fastest guy on the field, but he runs hard and breaks tackles, and he makes things happen with the ball in his hands. That's the kind of player the Lions need to get the ball to right now.
Keep Shady McCoy Away from Daylight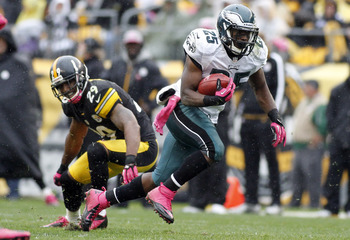 Justin K. Aller/Getty Images
Contrary to popular belief, Michael Vick is not the threat on the football field he once was.
Sure, he can run, and yes, he completes about 60 percent of his passes most of the time, but nobody is afraid of him anymore. The mystique is gone, and some (myself included) would claim he was never that good in the first place.
That's not to say Vick can't pad the stat sheet, especially against a middling defense like Detroit's. But Vick is not the most critical offensive component for the Lions to stop.
That honor goes to Eagles running back LeSean McCoy, whose mixture of power and lateral quickness matches up very favorably with the Lions' tendency to miss arm tackles. McCoy has the kind of breakout ability that will carry the Eagles' entire offense, if the Lions let him.
It's actually a better call at this point to limit McCoy, and put the game in the unsure hands of Vick, who is perhaps more of a target for the defense than a threat.
When the Ball Hits You in the Hands, Maybe Try Keeping It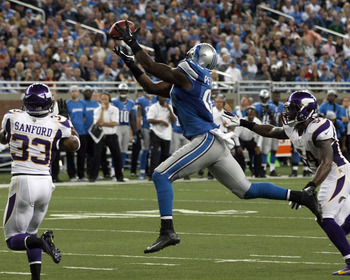 Dave Reginek/Getty Images
This one has a lot to do with Brandon Pettigrew, but nobody is exempt from this, not even Calvin Johnson.
Lions receivers coach Shawn Jefferson has hopefully taken the bye week to do some work with every potential receiver (including the running backs and tight ends), going back to basics on just catching, securing, and protecting the ball.
Matthew Stafford isn't exactly as sharp as he could be in terms of ball placement, but he's getting the ball where it needs to be more times than not, and receivers can't hold onto it.
If that continues, especially in the red zone, the Lions may as well pack it in. Passing the ball doesn't matter if catching it is a problem.
Louis Delmas: Get on the Field and Stay There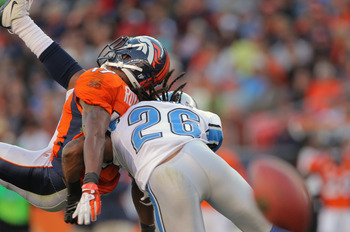 Doug Pensinger/Getty Images
It is naive to think that the addition of one player is enough to change the face of an entire defense.
I'm not expecting that, because Louis Delmas is not Troy Polamalu or Ed Reed or even Eric Berry.
But he could be. Delmas has all the physical tools to be a truly great safety, and a leader in the Lions' defense. What he doesn't have is the durability to prove it for more than a few games at a time.
Delmas, for basically his entire career, has either been out with injury or limited by injury.
Realistically, perhaps that's why it took him so long to return from his knee surgery. Maybe he didn't want to come back until he was sure to be ready.
If that's the case, maybe it's finally time for Delmas to meet those high expectations he came into the league with. If not, maybe it's time to drastically lower those expectations.
Keep Reading

Detroit Lions: Like this team?