Pittsburgh Steelers vs. Tennessee Titans: Live Score, Highlights and Analysis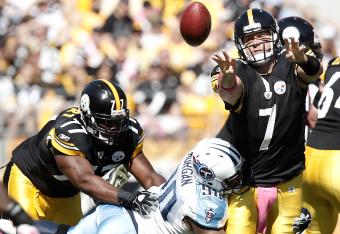 Jared Wickerham/Getty Images
Final Score: Tennessee 26, Pittsburgh 23
The Pittsburgh Steelers (3-2) were beaten the Tennessee Titans (1-4) at Nashville's LP Field. The game was televised on the NFL Network
It pits two teams seemingly headed in very different directions against one another. The Steelers are coming off a last-minute victory over the Philadelphia Eagles on Sunday. The Titans are coming off a 30-7 loss to the Minnesota Vikings.
Pittsburgh is hoping to build off their win last Sunday and start a winning streak for the first time this season. The Steelers looked much improved on defense last week after struggling badly against the Oakland Raiders before the bye week. They returned linebacker James Harrison and running back Rashard Mendenhall to the starting lineup and both are slated to start tonight.
Unfortunately, the Steelers lost both linebacker LaMarr Woodley and safety Troy Polamalu for at least this week's contest. How well they replace them will be a big story line in this game.
The Titans are reeling and have lost young starting quarterback Jake Locker among others. Veteran Matt Hasselbeck is under center tonight, but his history against the Steelers isn't very good. The Titans are hoping to get runner Chris Johnson going again, but that may be tough against a staunch Pittsburgh front.
Keep tuned into this blog for live thoughts and analysis during the game!
Mike Tomlin has a lot of explaining to do. Injuries or not, his team failed to show up tonight. They have a long week ahead to figure this out, but they cannot go into their next game without some answers.
The defense is particularly disappointing and Dick LeBeau's job is on life support at this point. The defense has let the team down in every single game this season and has wasted some great offensive efforts.
The Steelers defense fails on third down once again. This is ridiculous. I've never seen a Pittsburgh defense this bad ever before. Dick LeBeau is going to have to explain this after the Steelers lose the game.
Suisham was on target but just short. That was just a bit beyond his range. Now the Titans get a chance to go on their own game-winning drive. That loss by Baron Batch earlier in the sequence really hurts because that kick is only short by a yard at the most.
That might be the most exciting incompletion of the entire season.
This would likely be a good time for a screen pass since the Titans are probably going to be very wary with how they approach third down.
That flag for offsides was bad for Tennessee, but the Steelers got a ton of yardage from Ben Roethlisberger on that run so they have to decline it. Once again, the Steelers get some third down magic.
I'm not the least bit surprised to the Steelers slowing the pace a little here. They want as much of that clock to be gone as possible so that the Titans don't get another chance with the football before overtime. Their preference is to win the game before that, but they don't want Tennessee getting a game-winning drive against their defense.
This tweet wins for funniest I've seen tonight about a game that has been very stressful for both teams.
Preview of Tomlin postgame... Mike, are you concerned about late game defense? "No"

— Ken Laird (@Ken_Laird) October 12, 2012
As much as I hesitate to say this after recent history, this is about where the Steelers want it to be for the offense. They have four minutes to untie a game with either a field goal or a touchdown. The Steelers just have to get it done.
Ben Roethlisberger can win his record game if he can lead a game-winning drive. He's almost got a record there too you'd think. He's lead 25 such drives in his career. It's time for number 26 or the Steelers will have to hope their defense can pull it together again.
Kenny Britt drops another one there and this one is the tying touchdown. Hasselbeck couldn't hit him any better with that play.
Ike Taylor has killed the Steelers this year with stupid penalties and that's another one there. Now the Titans, who were all set to head off the field, will have a first and goal. Taylor needs to get his head in the game.
That was good coverage by Ike Taylor to break up that pass. Otherwise this game would be tied up.
The Steelers dropped almost everyone into a prevent coverage and still gave up a huge pass play to Wright. That's inexcusable and one more reason that teams should abandon a prevent defense. The Titans are now in position to tie the game up if they can get one in the end zone.
Johnson has been able to create all night, but that play just wasn't going to happen. That took too long to develop into anything but a mess.
Keenan Lewis looked a lot like a Titans receiver there. Fittingly he dropped the ball. That was still a nice play.
Andrew Fillipponi makes no bones about who his favorite recent Pittsburgh kicker is with this tweet:
It's nice to have a kicker who can make a long field goal, who doesn't dye his hair and, who doesn't try to fight cops.

— Andrew Fillipponi (@ThePoniExpress) October 12, 2012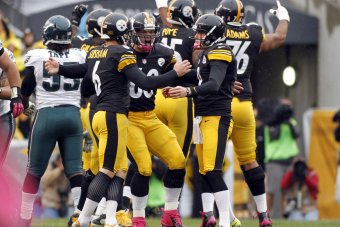 Justin K. Aller/Getty Images
Shaun Suisham has really put himself on the map this year. What a season he's having and that 52-yard attempt to tie his career long is an exclamation point on it! The Steelers now have a seven point lead and will play defense to try to keep the Titans from tying up.
My gut feeling is to go for it here. The distance is just too far for a field goal attempt but really short for a punt.
The Steelers offense isn't so much concerned with scoring here. They want to run clock too. They will try to get it in the end zone, but Haley is going to dial back the plays so that it doesn't happen too quickly.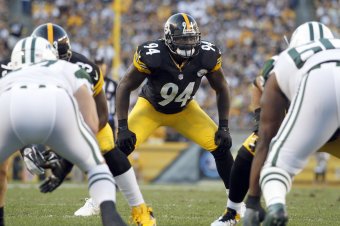 Justin K. Aller/Getty Images
Lawrence Timmons finally gets a turnover for the Steelers. It seems like it's been about a year since that happened, but Timmons snuffs out what was looking like a good drive with that interception.
It was a great play design by Dick LeBeau. The pressure forced Hasselbeck to throw quickly and slightly off target. Timmons had been laying low in the middle near the receiver and jumps up and forward to block the path of the ball. It ends up landing right in his arms.
Now the Steelers must extend the lead so that Tennessee can't win this one with a touchdown. A touchdown here for Pittsburgh would really put pressure on the Titans.
This time, the Titans are running the slant to Nate Washington instead of Kenny Britt. It works with Washington because he doesn't drop the ball. Britt was having a terrible night.
The last year and six games for Pittsburgh has seen such a sharp decline in the effectiveness of their run defense. Never has that been as evident as tonight where they can't seem to keep Chris Johnson hemmed in.
After a 15-play drive put the Steelers back in front, the defense has to answer for the Steelers. They've ha plenty of time to rest and get ready for a big stand. If they can cut down the Titans here, the offense might be able to put the game away.
It all starts with how the defense does while pressuring Matt Hasselbeck and shutting down Chris Johnson. Let's see if Dick LeBeau made his adjustments.
Baron Batch powered in on third down to put the Steelers back in front and the blocking was excellent from the tight ends and from the right side of the line. That's probably the best blocking we've seen in the running game all night.
One upside of the backfield injuries is that we are finally going to get a look at what Chris Rainey and Baron Batch bring to the table. Both were great in the preseason but got almost no shot once the real games began.
Now they'll be part of the attempt to win this game.
This article is
What is the duplicate article?
Why is this article offensive?
Where is this article plagiarized from?
Why is this article poorly edited?