Why Sir Alex Has Planned a Few More Years at the Top with Manchester United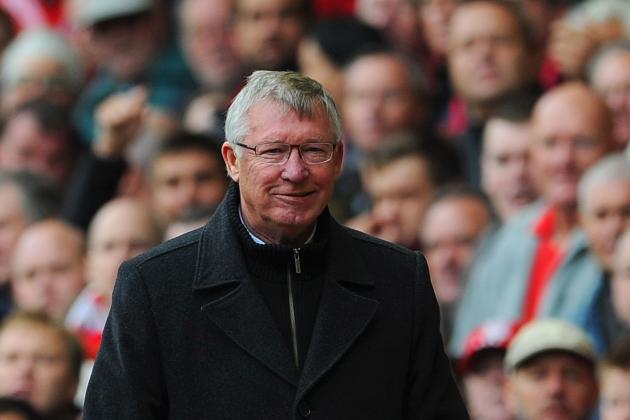 Michael Regan/Getty Images

Terry Carroll has written a great piece here about signs that Sir Alex Ferguson may step down from the Manchester United managerial hot-seat at the end of this season.
Among the signs suggested are changes at Old Trafford, Sir Alex's desire to go out on top, the increasing competition in the Premier League, his age, the slow departure of his fledglings and an emergence of possible successors such as Jose Mourinho and Pep Guardiola.
Recent developments have led to increased speculation about how much longer Ferguson has at United. There were renewed reports of a meeting between him and Guardiola in New York, where one of the topics of discussion apparently centered around the succession at United.
Even though Manchester United were quick to quash these rumors, all the talk of signs is valid and hard to argue against. After all, no one—not even Old Trafford's Scottish knight—can stop the march of time. One day, Ferguson will retire and United will be left with the momentous task of replacing the most successful manager in its history.
However, that time might well be two or three years into the future rather than around the corner. Ferguson himself admitted that he expects to be the manager at United till 2014, at the very least.
This article tries to explore the reasons why the flame of Ferguson's enthusiasm might remain undimmed for longer than it may appear.
Begin Slideshow

»
Alex Livesey/Getty Images

Combativeness has been a huge part of Sir Alex's nature from the beginning. In his excellent 2010 biography called Football - Bloody Hell, Patrick Barclay writes,
Ferguson has been involved in more controversy than any famous manager since Brian Clough. From the start, his belligerent nature was visited on Scottish referees sheltering from the thunder outside their dressing-room door.
Since his beginnings in football, he has fought everyone—rival teams, players, referees, the footballing establishment. Everything has been aimed towards establishing the supremacy of his team and winning trophies.
At Aberdeen, he viewed deposing the Old Firm of Celtic and Rangers as his greatest challenge. In his first years at Manchester United, he set his sights on knocking Liverpool off their perch. This was followed by defeating Arsenal's challenge. Then came the turn of Roman Abramovich and his millions at Chelsea.
Ferguson has risen to his greatest heights, every time his supremacy has been challenged. Nothing brings out the best in him that the prospect of a fight for trophies.
Ferguson has talked about retirement on two major occasions. The first was in 2001, when he announced he was going to retire at the end of the season. The second was in the aftermath of the Champions League triumph of 2008, when he said he didn't see himself continuing as the manager at United for more than three years from that date.
It is no coincidence that both these times came during periods when United were enjoying prolonged success. They had won three consecutive Premier League titles in 2001 (including the treble in 1999). In 2008, they had followed up a second consecutive Premier League title with Ferguson's second Champions League winner's medal.
Adversity has always brought out the fighter in Ferguson. So, it is difficult to envisage Ferguson retiring from United at a time when the club's hegemony has come under threat, both domestically and in Europe.
Manchester City have emerged as the new domestic power, while Chelsea and Arsenal have also re-invented themselves into credible threats to United's chances of silverware.
If there is something clear about Ferguson's character, it is his unwillingness to ever shy away from a fight. He might not consider the current situation his greatest challenge at United, but there can be no doubt that he wishes to stamp his dominance on the new challengers to United's supremacy before deciding to call it a day.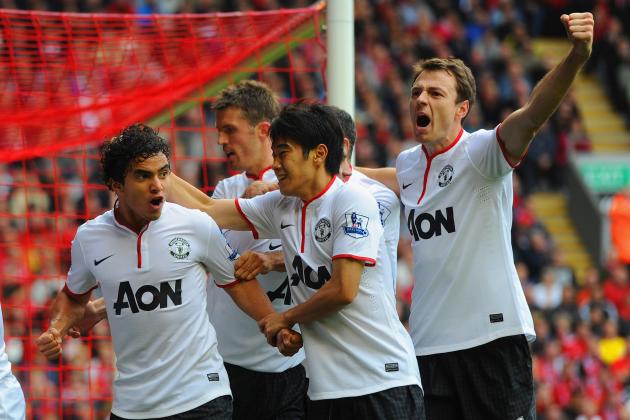 Michael Regan/Getty Images

Ferguson has been a master of evolution during his time at United, having built three truly great teams in that period. He has managed some great players like Eric Cantona, Bryan Robson, Mark Hughes, Peter Schmeichel and Roy Keane. Even more impressively, he oversaw the development of the likes of Ryan Giggs, Paul Scholes, Cristiano Ronaldo and David Beckham into the legends they are now.
It has been a popular belief that the presence of all these young talents around him keeps Ferguson young and enthused about his work. The sight of young players working hard to win trophies is something that he revels in.
Right now, Ferguson is working on building a new great team to conquer all. The likes of Tom Cleverley, Phil Jones, Danny Welbeck, Javier Hernandez, Rafael da Silva, David De Gea, Chris Smalling and Shinji Kagawa are all in their early 20s. Furthermore, there is a new crop of talented youngsters such as Ryan Tunnicliffe, Will Keane, Michael Keane, Scott Wootton and Jesse Lingard coming up through the youth team.
It would tie in well with Ferguson's own hunger for glory for him to want to supervise the development of these players into world beaters. Interviews over the past few months have indicated how strongly he feels about the ability of these players. The most revealing interview of all was given to MUTV, in which he was asked if he was still motivated by the challenge of new achievements. In reply, Ferguson said (quote via manutd.com):
Yes. There are new players that have come in, like (Phil) Jones, (Chris) Smalling, Ashley Young, (Danny) Welbeck… and they haven't won any league medals yet.
Ferguson's desire for this team to succeed is seen in his own evolution as a manager and coach. His ability to adapt to changing tactics in football has always been in evidence. Even the latest switch to a diamond formation for United paints the picture of a manager who is constantly looking to improve the performance of his team.
With the current situation at United, Ferguson probably considers delivering success with this team of mostly young, inexperienced players as his last, great project at United. It won't come as any surprise, then, if he decides to stay on for a few more years and supervise the success of these players, who he has carefully nurtured and cultivated.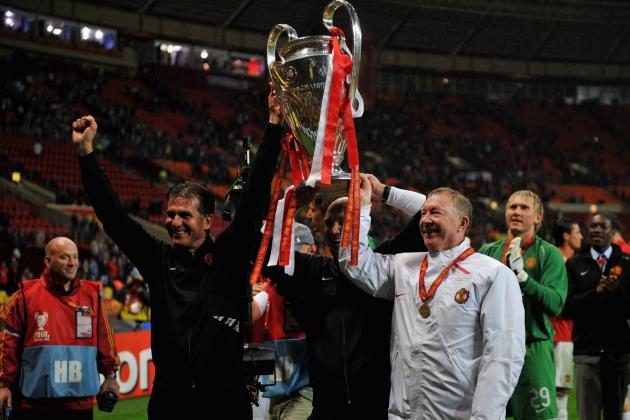 Shaun Botterill/Getty Images

Ferguson has repeatedly stated that Manchester United should have won more than the two Champions League trophies they have won during his tenure. In an interview with MUTV to mark his 70th birthday in 2011, this is what he had to say about Europe (quote via manutd.com):
Winning a European Cup is important at this club. We should have been in at least another three finals. But you can't be greedy, I suppose, and having won two in my time is an achievement. They were special, it was terrific to win them. I think I'd be very keen to do that (again).
Two European Cups in the last decade and a half is by no means a small achievement, especially considering how competitive the Champions League has been. In fact, in the Champions League era, only Real Madrid, Barcelona and AC Milan have won more Champions League titles (three) than Manchester United.
However, the thought of winning at least one more European Cup drives Ferguson on. The two losses to Barcelona in the finals in 2009 and 2011, seem to have stoked this fire further.
Ferguson has stated that we probably won't see United overtake Liverpool's tally of five European Cups before the end of his tenure. However, it is likely that he would want one more winners medal before retiring, to bring him equal with Bob Paisley's achievement of three European Cups as manager.
A team's performance in Europe, according to Ferguson, has always been a cyclical event. He has, on occasion, talked about four-year cycles for all great teams in Europe. By that reckoning, it might be a couple of years before the current United team emerge as genuine contenders for the Champions League crown. And it would be in Ferguson's nature to want to be there at the helm, when that happens.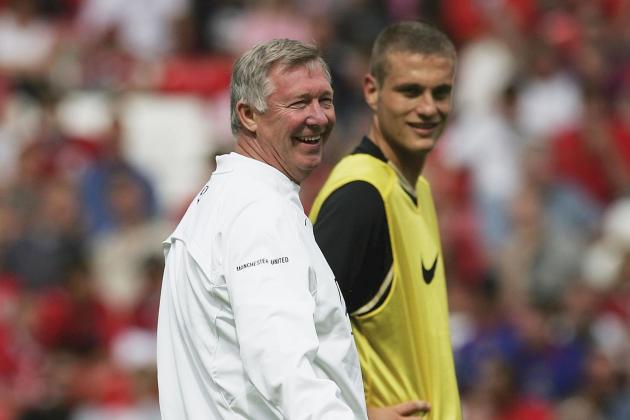 Alex Livesey/Getty Images

Ferguson has repeatedly said that he will continue to manage as long as his health remains fine. He has followed the same routine for years at United, always being the first person into work at the club's training base. Despite a couple of health scares in 2004 and in 2012, his fury and enthusiasm for management remained undimmed.
Behind Ferguson's aversion to retirement is another story, that of his father. Patrick Barclay recalls Ferguson's own words in Football, Bloody Hell:
I remember when my dad had his sixty-fifth birthday. The Fairfields shipyard gave him a big dinner in Glasgow. There were three or four hundred of his fellow employees there and the bosses. It was a big night and I came down from Aberdeen.

The following week, my mother phoned and said, "Your dad's going for an X-ray. He's got pains in his chest."

I said, "It'll be the emotion." It was cancer. One week after his retirement. One week.
The passing of his father so soon after his retirement seems to have created an even strong urge in Sir Alex to continue in management as long as he can. He obviously knows that the Manchester United job is the last one he will ever take up. And his desire to continue for as long as possible in the hot-seat could very well be ascribed to this mental correlation between retirement and death.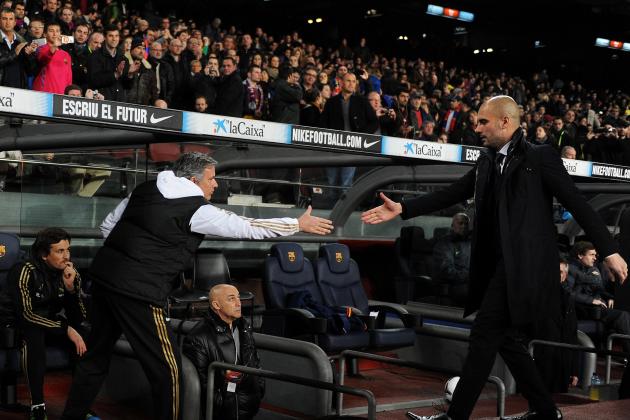 Jasper Juinen/Getty Images

One of the reasons why speculation has grown recently about the successor to Ferguson has been the emergence of two outstanding coaches in world football: Pep Guardiola and Jose Mourinho. Both share cordial relationships with Ferguson and are synonymous with wins and trophies.
The availability of Guardiola after his all-conquering tenure at Barcelona and Mourinho's desire to return to England have both stoked the fire of media rumors. A widely held belief is that United would miss the opportunity of appointing one of these managers if Ferguson stays on for a couple of more years. Appointing one of these managers would also reduce the turbulence the club would experience in the post-Ferguson era.
But the fact is that managers like Mourinho and Guardiola will still view the United position as attractive, as and when it becomes available. The prospect of sustaining the success of the most successful manager in English football will be too tempting for all prospective candidates to pass up. The history of the club and its mystique will be a powerful draw for the most outstanding candidates, and this will ensure that United will get the man they want for the job.
What is inescapable though, is that any change at the helm (no matter when it happens) will create turbulence, no matter who the chosen manager is. Ferguson's continued presence would mean a stable United team, which will keep on functioning and winning under someone who even at 70, is one of the best football managers around.