Juventus January Transfer Window: 5 Realistic Striker Options for the Bianconeri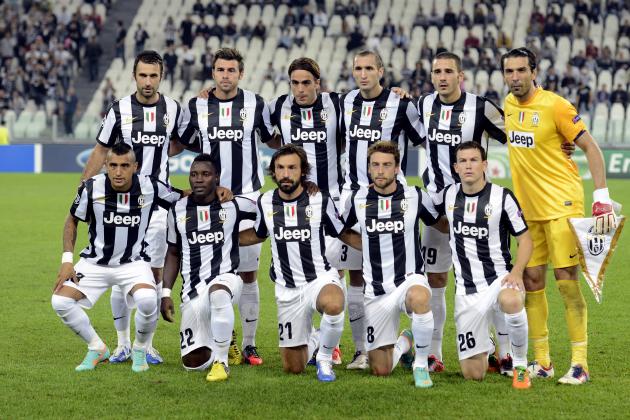 Claudio Villa/Getty Images
Will we be seeing new faces in January?
Antonio Conte and Juventus are in dire need of a new striker, and the Bianconeri faithful will be looking to the January transfer window as the perfect opportunity for the club to add one or two players that could help the team retain the Serie A crown and achieve success in the Champions League.
But Juventus are not a team that likes to spend big on players that might not fit Conte's system, and team president Andrea Agnelli is always looking for a bargain. Here are five options the team should consider.
Begin Slideshow

»
The Russian hitman is a proven commodity and has been instrumental to his team's success in recent years, but he's made himself unpopular with Zenit-coach Luciano Spalletti by not supporting the acquisition of Brazilian star Hulk. With the Russian champions going through a bit of a slump and Kerzhakov no longer being Spalletti's primary choice, Kerzhakov could be available in January.
Kerzhakov is a striker that likes to drop back into the midfield and create space for his teammates, much like current Juventus player Mirko Vucinic. But Kerzhakov is far more prolific in front of goal and should be able to give Juventus at least 20 goals per season.
His experience on the European stage would be invaluable, and in turn Juventus would offer Kerzhakov the chance to be the number one striker on a world class team. It won't be easy to persuade the Russian to leave his motherland (the joke had to be made), but is definitely worth checking into nonetheless.
The Colombian poacher has been on fire recently, scoring 11 goals in 10 games for Belgian side Club Brugge. He is the definition of consistency, having scored in all but one game this season. Bacca is desperately trying to play his way back into the Colombian national team and could use the exposure that comes with playing for a global superpower like Juventus.
Bacca might not have the experience of playing at the highest level, but he's a lethal finisher. He is incredibly strong and has very good quickness that allows him to create space for himself and teammates. He's also not selfish in front of goal, recognising when a teammate is in better position to score.
Playing for a small side like Brugge, he'd be a cheap option that could turn out to be a huge bargain (see: Andrea Barzagli).
I had lost track of Aubameyang's once-promising career until fellow Bleacher Report writer Allan Jiang made me aware of the success he was having for French side Saint-Étienne. A former member of AC Milan's youth side, the Gabonese striker failed to impress the Rossoneri during loan spells with Dijon, Lille, RC Lens and Saint-Étienne.
Now playing in France on a permanent basis, Aubameyang is starting to find his groove. He's managed to score six goals so far this season, playing in just 11 games. He's also a key member of his country's national side, scoring three goals during the African Cup of Nations to finish the tournament as one of the top scorers.
Aubameyang is an exciting young prospect that could already feature for the Bianconeri and would love the opportunity to show rivals AC Milan they were wrong to give up on him.
Dubbed "The New Falcao," Luciano Vietto is an exciting young prospect playing for Racing Club de Avellaneda in the Argentine First Division. Already on the Bianconeri's radar, Vietto shows a lot of promise, evidenced by his perfect hattrick he scored against Club Atletico San Martin a few weeks back.
More of an attacking midfielder than a centre forward, Vietto would be a very good pickup for the Bianconeri, who will have to fight off English side Liverpool for the rights to the young Argentinian.
However, he might not be the player Juventus need right now and would likely be yet another body added to the dozens of young prospects waiting for their chance.
No article on Italian football is complete without mentioning "Super Mario." Growing up as an AC Milan fan, Balotelli made his debut for Internazionale at the age of 17 and quickly showed everyone why he was such a special talent. Not exactly the most popular player in Turin, it seems like a stretch to say Balotelli would be the ideal pickup for the Bianconeri.
But after yet another falling out with Manchester City boss Roberto Mancini, the English media are reporting the Mancunians are finally giving up on Balotelli. Super Mario needs a transfer back to his native country of Italy almost as badly as Juventus needs someone who can score goals.
Whatever bad blood there is between Balotelli and the Bianconeri faithful, it will quickly evaporate once the goals start falling. Juventus would give Mario the chance to be at the centre of attention on the pitch, as their main and most talented striker. His chemistry with players like Andrea Pirlo and Leonardo Bonucci was very clear during the Euro 2012 tournament, and while Balotelli is perhaps the biggest locker room cancer in modern football, Antonio Conte's side has enough of a veteran presence to put the young Italian in his place and help him mature.
With Manchester City looking to unload Super Mario as soon as they can, Juventus should be ready to bring Balotelli back to the Italian Peninsula.