Big Ten Football: Game by Game Picks for Week 7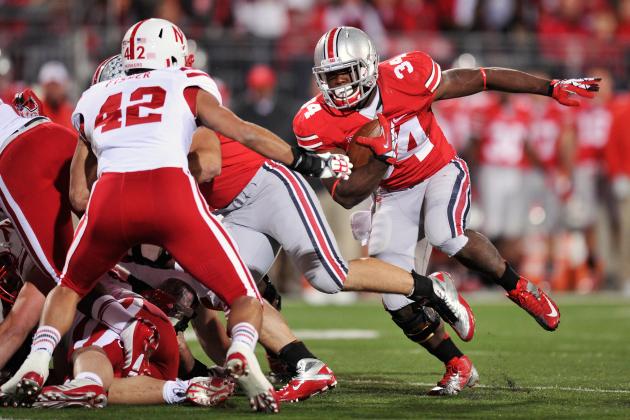 Jamie Sabau/Getty Images

Week 6 was quite the slate of games, wasn't it? We started off with Indiana putting the Michigan State season on the brink of collapse before the Spartans stormed back for the win, then we saw Michigan play its first good game of the year (or Purdue play its first horrible game, or maybe probably both) in a 44-13 demolition, then we topped it all off with Ohio State planting its flag atop the Big Ten and daring anyone to make a run at it with a final of 63-38. That was a hell of a game.
Suffice it to say, there's no Ohio State-Nebraska this week. Nothing even remotely equivalent. Good for your blood pressure, bad for shaking up the conference. Or so we think, anyway—next thing you know, Indiana's dropping 50 on Ohio State and Illinois picks off 10 straight Denard Robinson passes. Hey, it's college football. Weird stuff happens all the time.
At any rate, Penn State and Nebraska have the week off. Nice for Penn State as the team continues to work back from injuries during its four-game winning streak, while Nebraska can take the extra time to just sit in its room and think about what it did last week. Giving up 63 points? To another Big Ten team? Horrible, just horrible.
So let's take a look at this week's slate of five games.
Begin Slideshow

»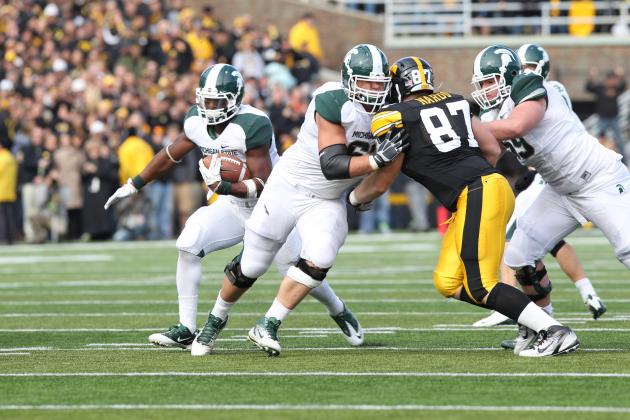 Reese Strickland/Getty Images

Quick, name the two co-leaders of the Legends Division as of right now. It's Michigan and Iowa, both of whom have taken advantage of an early bye week to sit atop the division with 1-0 conference records.
Iowa's reign of terror isn't likely to last long, as the Hawkeyes travel to East Lansing to face Michigan State. The Spartans are coming off a surprising 31-27 struggle with Indiana, so expect Michigan State to come out extra focused in an effort to not relive the first-half woes it dealt with last week.
Meanwhile, this game doesn't bode well for an Iowa upset, despite what Indiana showed last week. When asked at his Monday press conference about whether Indiana's success meant anything for Iowa's preparation, here's what Kirk Ferentz said, per the Cedar Rapids Gazette:
"What Indiana has success with, we really don't do. So congratulations to them, but it didn't help us an awful lot. They're very different in terms of their structure. But they did a nice job."
Have fun with that, Iowa fans!
Final score: Michigan State 30, Iowa 10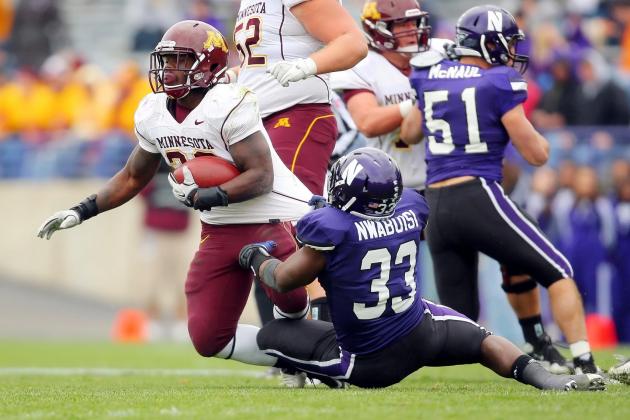 Dennis Wierzbicki-US PRESSWIRE

The two surprise teams of the Legends Division, each starting the season 4-0, square off in a contest that's going to be crucial for bowl positioning down the road.
Northwestern probably won't struggle to get to six wins this season, but a win here gives the Wildcats eligibility, and there aren't many games left on the schedule where Northwestern should be favored.
Meanwhile, Minnesota has had two weeks to lick its wounds after Iowa whipped the Gophers up and down the field in the Big Ten opener. MarQueis Gray has finally returned to practice, but Minnesota doesn't know if he'll be able to go against Northwestern as his ankle continues to heal.
This one's going to be a struggle. Northwestern's a beast on rush defense this year, but that's partially because it's so easy to throw on the Wildcats' secondary—and even if Gray can't play, Minnesota shouldn't have much trouble moving the ball through the air.
But Northwestern looks like the more physical team on both sides of the ball, and even though the game's at TCF Bank Stadium, the 'Cats should come away with a win.
Final score: Northwestern 27, Minnesota 20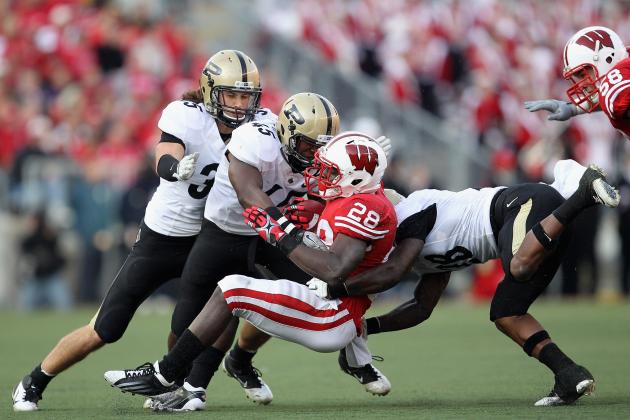 Jonathan Daniel/Getty Images

In a two-team race for the Leaders Division (sorry, Indiana and Illinois), no game is as crucial as the head-to-head, and that's exactly what we've got here. Purdue and Wisconsin are locking horns in a game that will probably decide who represents the division in the Big Ten Championship.
Purdue's at a crossroads right now. The team looked positively competent through its first five games, if not anywhere near elite. And in this year's wretched Leaders Division, "positively competent" probably gets you to Indianapolis.
Then Michigan dropped the hammer on the Boilermakers last week, and if Purdue's not careful, Wisconsin could do the exact same with its power run game (stilted as it may be this year). A loss pushes Purdue to 3-3 (0-2) on the season, and being that far behind 5-2 (2-1) Wisconsin without the tiebreaker could be enough to have Purdue fans wondering when basketball season starts.
The answer is soon. Very soon.
Final score: Wisconsin 23, Purdue 17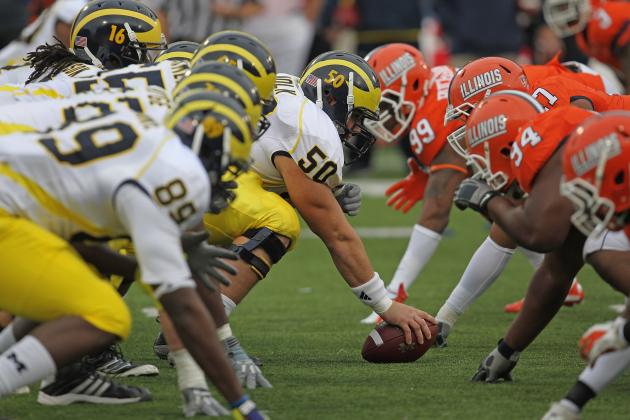 Jonathan Daniel/Getty Images

The sole late afternoon game of the week for the Big Ten pits a resurgent Michigan squad against arguably the worst team in the Big Ten, Illinois. It's in Ann Arbor, too.
In other words, this is going to be a bloodbath.
Illinois' offense is a mess. It hasn't topped 24 points against FBS competition yet this season, and now that Nathan Scheelhaase is healthy it's still unclear whether he's the best quarterback for the job.
The defense, meanwhile, is fine. It's not great, but it's good, especially against the run: Illinois gives up just 124 yards per game on the ground, and the trio of DT Akeem Spence, DE Michael Buchanan and LB/DE Jonathan Brown is good enough to give Michigan fits in its rushing attack.
And yet Wisconsin averaged over five yards a pop on the ground just last week in its 31-14 victory, and Michigan should be an equally difficult challenge for the Illini defense—especially since the offense won't be providing much help.
Final score: Michigan 31, Illinois 3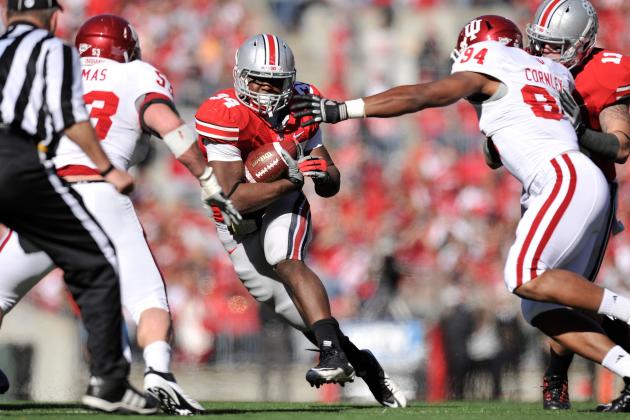 Jamie Sabau/Getty Images

The Week 7 finale is yet another Indiana night game—the third of the year, inexplicably—and it should be a rockin' time in Bloomington as Ohio State comes to town.
Indiana isn't going to any bowl games this year, and it's not about to upset Ohio State in this contest (um, spoiler alert), but this is going to be a good opportunity for the rest of the conference to see the progress that's already being made under Kevin Wilson. Indiana was an absolute joke of a team last year. Now? Now it's at least a competitive team.
Watch for how well Ohio State's interior linemen handle DT Adam Replogle, who's having a remarkable season as he leads the Hoosiers in tackles, sacks and tackles for loss. Yeah, at defensive tackle. Ohio State's strong up front so this won't be a mismatch, but it's a key matchup.
Unfortunately for the Hoosiers, there's just no answer on that defense for Braxton Miller. The secondary's not disciplined enough to keep him under wraps, the linebackers aren't fast enough to catch him and the line's going to have its hands full with Ohio State's blockers to begin with.
This game's going to be closer than people think—for two or three quarters. Indiana's fast-paced spread offense can put up points while you blink, and Ohio State's going to see a stiffer test from the defensive front than it did last year. But the talent disparity's too great for any serious drama here.
Final score: Ohio State 44, Indiana 20