Nationals vs. Cardinals: Team Grades from NLDS Game 3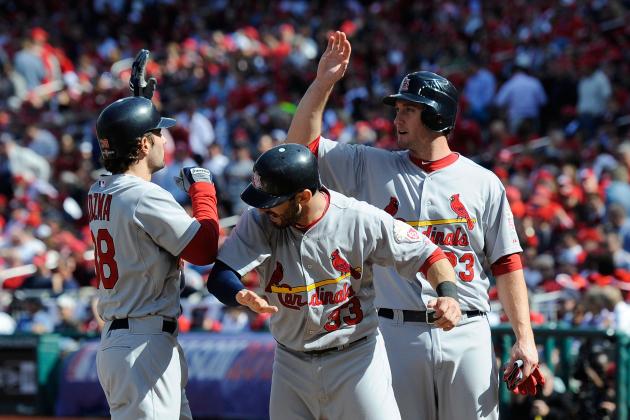 Patrick McDermott/Getty Images
Shortstop Pete Kozma's three-run homer in the top of the first inning set the tone early for the St. Louis Cardinals.
With the NLDS between the St. Louis Cardinals and Washington Nationals tied at one game apiece heading back to Washington, Game 3 promised to be a pivotal matchup.
Chris Carpenter and Edwin Jackson, teammates on last year's championship team, were on opposite sides of the field in this one.
For Carpenter, pitching in a pivotal game has become old-hat. He did that no less than three times last season alone.
For Jackson, beating his old mates is just part of the equation. He's hoping that a solid postseason can pay off in a long-term contract, not to mention the opportunity to earn a World Series ring with two teams in two years.
Unfortunately for Jackson, he was fooling no one through his first two innings, with the big blow coming from shortstop Pete Kozma—a three-run blast to give the Cardinals an early 4-0 lead.
Kozma's blast was all the offense the Cardinals needed, as Carpenter and three relievers combined for a seven-hit shutout to give the Cardinals a commanding 2-1 series lead.
Here are grades for each team's starting lineups, starting pitchers, bullpen and bench.
Begin Slideshow

»
Patrick McDermott/Getty Images

St. Louis Cardinals starting pitcher Chris Carpenter's first start of the postseason was certainly not expected after undergoing shoulder surgery in July. However, here he was once again, faced with another impact start in the playoffs.
Carpenter wasn't helped in the first inning. Third baseman David Freese's fielding error with one out extended the inning for Carpenter. Carpenter stranded two runners, but not before throwing 25 pitches to escape unscathed.
Carpenter followed up with a 15-pitch second inning and an 11-pitch third. Considering that Lance Lynn was already deemed unavailable by manager Mike Matheny, an efficient outing by Carpenter would be a plus for the bullpen.
Despite a one-out double by Ian Desmond in the fourth, Carpenter again delivered economically, stranding Demsond by following with two quick fly-ball outs in an eight-pitch inning.
Carpenter loaded the bases in the fifth with a single by Ryan Zimmerman and walks to Jayson Werth and Adam LaRoche. However, Carpenter showed his gritty side once again, retiring Michael Morse on a fly ball to right field.
Five scoreless innings that included a 25-pitch inning and a 30-pitch inning. That's a master working his craft.
Carpenter went back to the bump in the sixth and allowed a leadoff single to the hot-hitting Ian Desmond (7-for-11 in the series). Carpenter retired Danny Espinosa and Kurt Suzuki before allowing a single to pinch-hitter Steve Lombardozzi.
Manager Mike Matheny replaced Carpenter with reliever Trevor Rosenthal.
Carpenter's line on the day: 5.2 innings, no runs, seven hits, two walks, two strikeouts, 106 pitches, 69 strikes.
It was the first time Carpenter had thrown 100 pitches this season, and considering it was just his fourth start of the year, it was a gritty, gutsy and superlative effort.
Grade: A-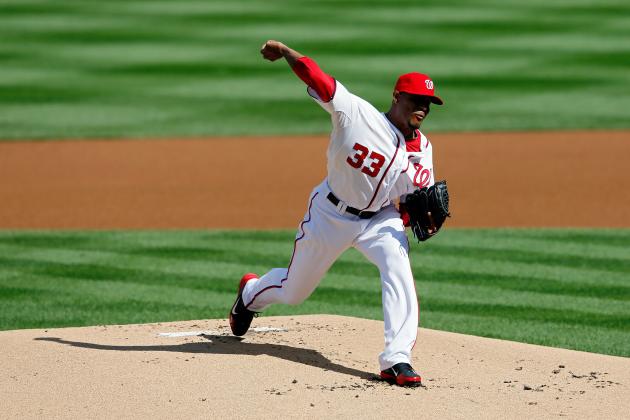 Rob Carr/Getty Images

Washington Nationals starter Edwin Jackson was bidding to give his team a commanding 2-1 series lead and put the Cardinals on the ropes early.
However, it was the Cards who put Jackson on the ropes early. After two quick outs in the top of the first inning, Jackson gave up a single to Matt Holliday—his first hit of the series—and a run-scoring double to Allen Craig to give the Cardinals a quick 1-0 lead.
Jackson made things worse in the second, giving up a leadoff double to David Freese, a single to Daniel Descalso and a three-run homer to shortstop Pete Kozma. He even gave up a single to opposing pitcher Carpenter before finally getting out of the inning down 4-0.
Jackson got through the third relatively unscathed—an inning-ending double play wiped out a leadoff single by Holliday.
In the fifth, Jackson was again victimized by the opposing pitcher, with Carpenter lacing a double off the left field wall to start the inning. John Jay followed with a sacrifice bunt to move Carpenter to third and Carlos Beltran walked, putting runners at first and third with one out.
Holliday followed with a fielders' choice that failed to plate Carpenter. Jackson deftly worked out of the inning by striking out the dangerous Allen Craig to keep the score at 4-0 Cardinals.
Jackson was done after five, being lifted for a pinch-hitter after allowing four runs on eight hits. The first two innings were clearly Jackson's undoing, allowing the Cardinals to get off to an early lead and silencing the hometown crowd.
Grade: D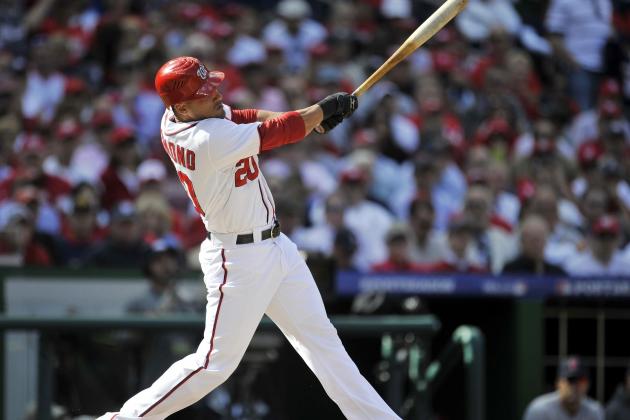 Joy R. Absalon-US PRESSWIRE
Shortstop Ian Desmond's three hits weren't enough for the struggling Nationals offense.
The Nationals came into Game 3 hitting .257 in their first two games, but stars Bryce Harper and Adam LaRoche had yet to make an impact. For a lineup loaded with right-handed hitting, it was important for Harper and LaRoche to offset that with their offense.
LaRoche continued to struggle, bouncing into a fielder's choice in the first inning, moving leadoff hitter Jayson Werth to third. Werth was stranded, however, as Michael Morse struck out with runners on first and third to end the first. Those are the missed opportunities that can, at times, have a major impact later in the game.
Ian Desmond was stranded in the fourth after a one-out double, and Nationals hitters were failing to capitalize on getting Carpenter stretched out after a 25-pitch first inning. That made Nats 0-for-6 with runners in scoring positing through four innings and 3-for-22 in the series.
Make that 0-for-7 with runners in scoring position through five. Michael Morse left the bases loaded with a harmless fly ball to Carlos Beltran to end the bottom of the fifth.
The Nationals got Carpenter out of the game in the sixth inning, but left another two runners stranded after Cardinals reliever Trevor Rosenthal retired Jayson Werth to end yet another threat. The Nats went quietly in the seventh against Rosenthal as well.
The Nationals never got untracked, bowing meekly in the final frames to lose 8-0 and give the Cardinals a commanding 2-1 series lead.
As for Harper and LaRoche, mentioned in the first paragraph? A combined 0-for-8 with one walk and six men left on base.
Grade: D-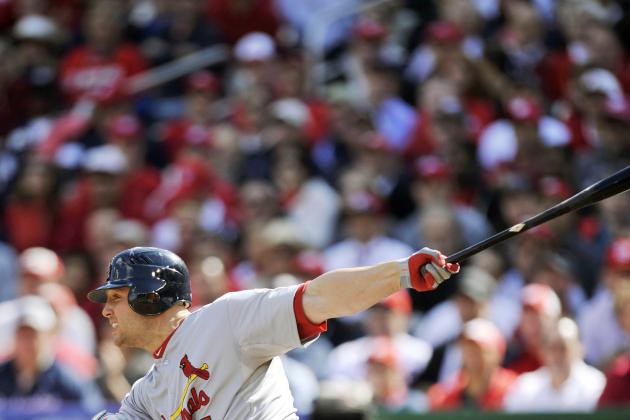 Joy R. Absalon-US PRESSWIRE
Matt Holliday's bat came alive in Game 3, leading the charge with three hits.
The Cardinals were coming off a 12-run outburst on Monday, with right fielder Carlos Beltran leading the way with two home runs.
They got to Nationals starter Edwin Jackson early, with Matt Holliday collecting his first hit of the series and scoring all the way from the first on a double by Allen Craig.
Third baseman David Freese quickly made up for his fielding error in the first inning, doubling off Jackson to start the top of the second. Jackson was on the ropes again after allowing a single to Daniel Descalso, putting runners on first and third with no one out. Jackson then grooved a fastball down the middle to shortstop Pete Kozma, who put it into the seats for a three-run homer.
Cardinals pitcher Chris Carpenter even got into the act, following Kozma's blast with a single to right field.
Jackson wasn't fooling anyone in the Cardinals offense for sure. At least not early.
He settled down with two scoreless innings in the third and fourth. The Cardinals put runners on first and third with one out in the top of the fifth, but failed to capitalize, keeping the Nationals at least within striking distance.
With Jackson out of the game after five innings, the Cardinals offense again went to work, plating a run off reliever Craig Stammen in the sixth. Freese's double to center gave him a .500 average for the series thus far.
The Cards continued putting pressure on the Nationals bullpen, greeting Nats reliever Christian Garcia with consecutive singles by John Jay and Beltran. Molina walked with the bases loaded to give the Cardinals a 6-0 lead. Cardinals hitters have owned the Nationals bullpen thus far in this series.
Two more runs on three hits by the Cardinals in the eighth inning off reliever Ryan Mattheus officially turned Game 3 into a rout.
Certainly not much wrong with the effort put forth by the Cardinals lineup in Game 3. With 14 hits on the day, the Cardinals now have 27 hits in the last two games.
Grade: A+. The Cardinals did everything they needed to do when they needed to do it.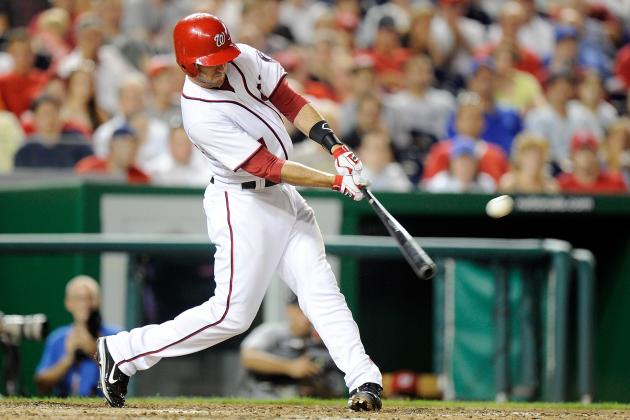 Greg Fiume/Getty Images

The bench for the Washington Nationals has been a major factor all season long—leading the majors with a .288 batting average. They pitched in again in the Game 1 victory with Tyler Moore's key two-run single that eventually proved to be the game-winner.
In Game 3, manager Davey Johnson was forced to go to his bench, calling on Roger Bernadina to pinch-hit for starter Edwin Jackson in the bottom of the fifth. Bernadina was retired on a fly ball to Carlos Beltran, but not before working a seven-pitch at-bat.
Johnson went back to the bench in the bottom of the sixth, calling on Steve Lombardozzi to pinch-hit for reliever Craig Stammen. Lombardozzi delivered with a single to right field, putting runners on first and second with two outs and knocking starter Chris Carpenter out of the game.
Johnson went to his bench in the ninth as well, inserting Chad Tracy as a pinch-hitter for Drew Storen. Tracy grounded out to third baseman Matt Carpenter.
Bench Line: 1-for-3.
Grade: B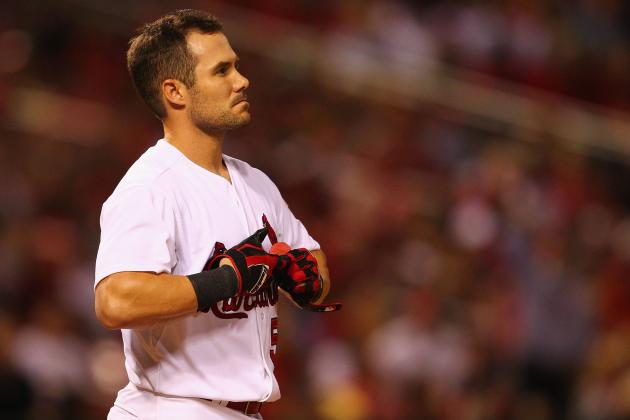 Dilip Vishwanat/Getty Images

St. Louis Cardinals manager Mike Matheny went to his bench in the top of the eighth, inserting Skip Schumaker to pinch-hit for relief pitcher Trevor Rosenthal. Schumaker was first-pitch swinging, flying out to right fielder Jayson Werth.
Shane Robinson pinch-ran for Matt Holliday following Holliday's two-run single in the eighth as well. Robinson remained in the game, taking over in left field.
In the ninth, Matheny pulled a double-switch, with third baseman Matt Carpenter on to replace David Freese at third and hitting in the pitcher's spot.
The bench wasn't really needed in this one, as the starting lineup raked all day long.
Grade: C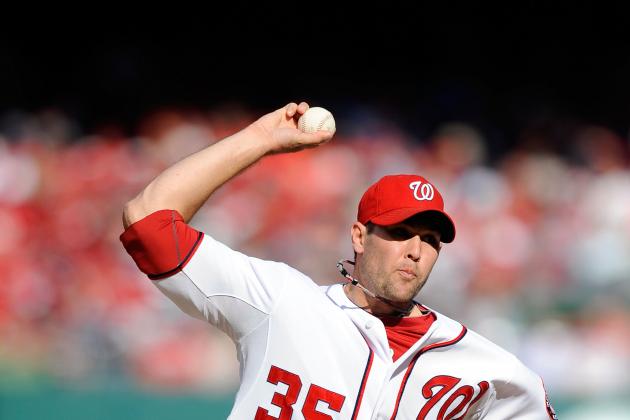 Patrick McDermott/Getty Images
Nationals reliever Craig Stammen now has an 11.57 ERA in the NLDS.
The Washington Nationals bullpen was looking to rebound from a poor showing in Game 2. After Jackson allowed four runs in five innings, manager Davey Johnson called on reliever Craig Stammen to start the sixth.
Stammen was completely ineffective in Game 2, walking two and giving up a solo home run to Daniel Descalso before exiting after recording just one out.
He didn't start out in Game 3 on a winning note either, hitting catcher Yadier Molina to start the sixth. After giving up a double to David Freese, Stammen was victimized once again by Descalso, who hit a sacrifice fly to Jayson Werth to plate the Cardinals' fifth run. Stammen limited the damage by striking out Pete Kozma and Chris Carpenter.
Christian Garcia replaced Stammen to start the seventh. Much like Stammen the prior inning, Garcia got into trouble right away, giving up consecutive singles to John Jay and Carlos Beltran. Garcia got Matt Holliday on a ground-out, moving runners to second and third. Garcia then intentionally walked Allen Craig to load the bases with just one out.
That plan backfired, as Garcia walked Yadier Molina to force in the Cardinals' sixth run of the game.
Garcia struck out Freese and Descalso to end the inning. But another run given up by the bullpen makes the Nationals' uphill climb even more challenging.
Johnson again went to his bullpen to start the eighth, bringing on Ryan Mattheus to replace Garcia. After recording two quick outs, Mattheus too found trouble, giving up a single to Jay and a ground-rule double to Beltran, putting runners on second and third with two outs.
The rout was then on, as Mattheus gave up a single to Holliday, scoring both Jay and Beltran and giving the Cardinals an 8-0 lead. Craig then worked a terrific 11-pitch at-bat, fouling off four pitches before drawing a walk.
Matteus retired Molina to end the inning, but not before allowing two runs on three hits with a walk.
Drew Storen came on in the night, essentially in a mop-up role at this point.
Maybe Johnson should have gone to Storen first on this day—he turned in the only scoreless inning by a Nationals reliever.
Grade: D-. The bullpen again struggled mightily, giving up four runs in four innings. Storen was the only effective one of the bunch, and the game was already out of reach by then.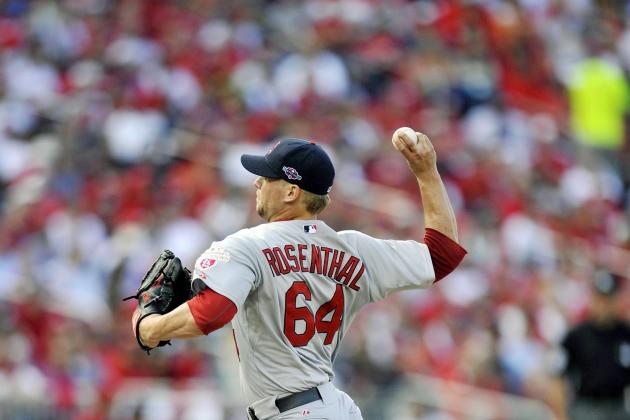 Joy R. Absalon-US PRESSWIRE

The bullpen for the St. Louis Cardinals had been taxed in Game 2 with the injury to starter Jaime Garcia, and manager Mike Matheny had already stated that Lance Lynn would not be available for Game 3.
After starter Chris Carpenter delivered 106 pitches through 5.2 innings, Matheny brought in Trevor Rosenthal. Rosenthal retired Jayson Werth on a foul pop-up to Allen Craig to strand two runners.
Rosenthal was back out to start the seventh to face the heart of the Nationals batting order. No problem for Rosenthal, who retired the side in order. Stellar effort for Rosenthal—four batters, four outs. Can't ask for much better than that.
Fernando Salas replaced Rosenthal to start the eighth for the Cardinals. Salas followed Rosenthal's example with a perfect inning as well, even retiring the hot-hitting Ian Desmond.
Joe Kelly came on in the ninth to finish things up for the Cardinals. Kelly sealed the deal, giving up just a walk to Werth before retiring Harper on a fly ball to center field to end it.
Grade: A+. The bullpen backed Carpenter up with 3.1 innings of hitless relief, allowing just one walk.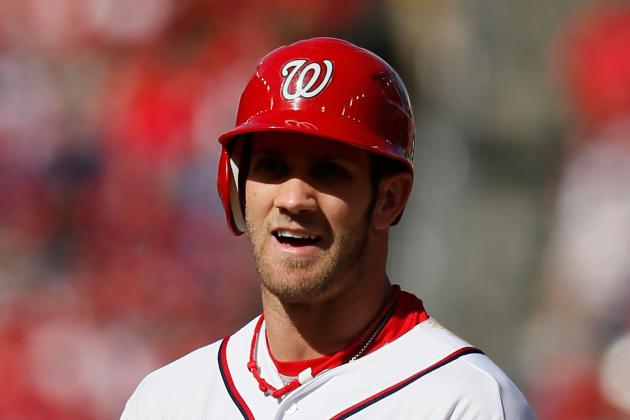 Rob Carr/Getty Images

Washington Nationals manager Davey Johnson has to be frustrated at this point—a lineup that has failed to deliver with runners in scoring position, a starting rotation that has clearly struggled and a bullpen that can't keep his team within striking distance.
Overall, the Nationals were 0-for-8 with runners in scoring position, leaving 11 runners on base. The opportunities were there—but the clutch hitting wasn't.
Grade: D-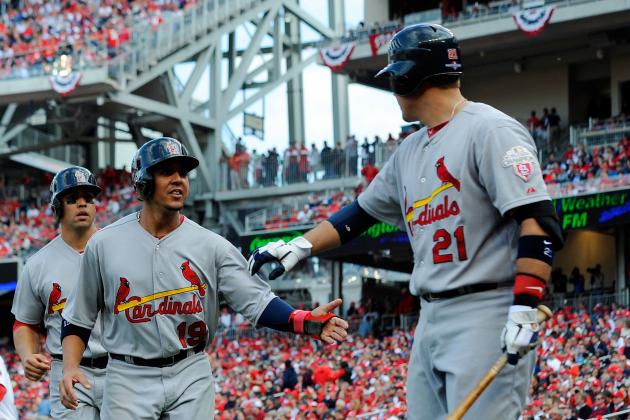 Patrick McDermott/Getty Images

The Cardinals put forth an outstanding effort in every phase of the game.
The offense provided the punch early and kept the pressure on throughout.
Starter Chris Carpenter gutted it out through 106 pitches and 5.2 scoreless innings, and the bullpen backed him up with 3.1 hitless innings of their own.
A 14-hit attack with a combined shutout is a perfect recipe for success.
Grade: A+