San Francisco Giants vs. Cincinnati Reds Game 4: Live Score, NLDS Analysis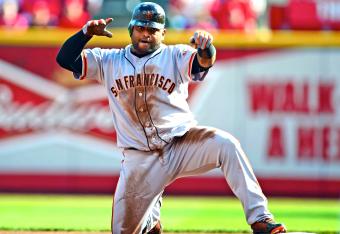 The San Francisco Giants will continue to try to stay alive as they battle the Cincinnati Reds in Game 4 of the 2012 NLDS at Great American Ball Park. The Giants won Tuesday night 2-1 in 10 innings, but they need to win today in order force a Game 5. Cincinnati leads the series 2-1.
Final:
San Francisco Giants 8 - Cincinnati Reds 3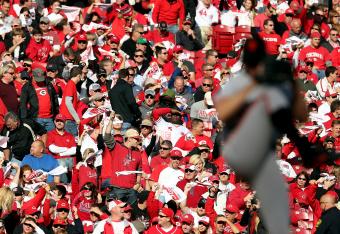 Cain vs. Latos is what October baseball is all about.
Feel free to continue to talk about Game 4 or even Game 5. I hope everyone is enjoying this series because it has been great baseball.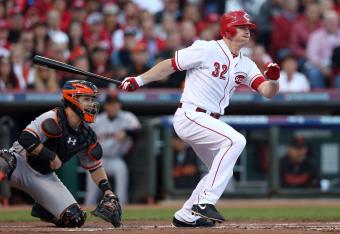 Giants came to play today, and the Reds looked flat after the first inning.
Rolen will probably get the nod at third tomorrow. The Reds will probably use the same lineup they used the first three games. Personally, I'd prefer to swap Hanigan and Stubbs in the order.
Jay Bruce will look to get on base for the seventh straight postseason game.
Final: San Francisco 8, Cincinnati 3
A popup by Ludwick ends the game.
Biggest reasons the Reds lost:
1. Jose Arredondo
2. Joey Votto
3. Mike Leake
Before fans go crazy, Votto missed a few plays early in the game on defense that hurt Leake. He also failed to come through at the plate in clutch situations. Leake was not sharp, but the game is totally different if Votto makes a play or drives the ball.
Reds have life after a Votto single with Ludwick coming up. All of Votto's hits this series have been singles.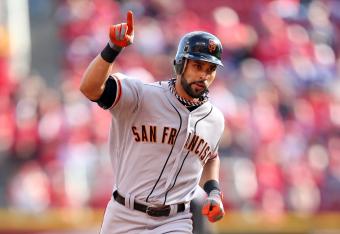 Biggest reasons San Francisco won:
1. Angel Pagan
2. Tim Lincecum
3. Pablo Sandoval
Reds are down to their final out. It would be a good sign if Votto could drive the ball.
Two outs to go for San Francisco. Cozart and Votto are due up for Cincinnati.
No way anybody can take anything away from the Giants. They came to play today. Top 9th: 8-3 SF
So the new postseason format hurt the Reds more than any other team. By eliminating an off-day and Cueto getting hurt, the Reds top two pitchers were barely used. The normal off-day would have allowed Latos to go Game 4 and Arroyo in Game 5.
Reds fans would prefer Latos vs. Cain and Arroyo vs. Bumgarner over Leake vs. Zito. Easy to say that now though.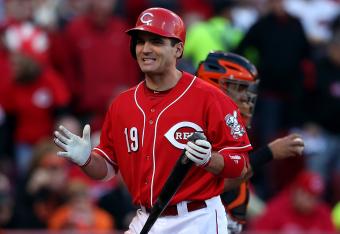 Turning point: Joey Votto strikes out with runners on 1st and 2nd with one out in the fourth. Lincecum came in after Votto's at-bat and has allowed only 2 hits in 4.2 innings.
Lincecum has gone as long as Leake went and longer than Zito; he's also allowed fewer runs than either of the two starting pitchers.
Good news for Giants fans: Lincecum has been outstanding.
Bad news: He won't be available tomorrow.
Cincinnati fans need to show up strong tomorrow. This crowd was out of it after the 1st inning. Matt Cain vs. Mat Latos is a good enough reason to get loud.
After going down 0-2 and being no-hit through 5.2 innings in Game 3, the Giants are six outs away from forcing Game 5.
Before Reds fans go and blame Rolen for the past two games, there is no guarantee that the Reds would have won yesterday even if he had made the play. They had not scored since the 1st inning.
Votto needs to figure things out before tomorrow. Reds need a No. 3 hitter who produces consistently. He has not been reliable since the knee injury (besides all of the walks).
So if the Giants make it to the NLCS, Lincecum has earned a start, right?
Before Arredondo came in, this was going to be Cincinnati's best chance to tie the game. Votto, Ludwick, and Bruce due up in the bottom of the seventh.
Why waste J.J. Hoover in this situation? Let Arredondo get hit around at this point. Use Simon before Hoover, who should be used in close games.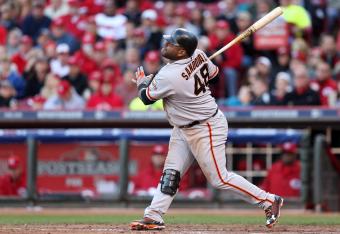 Scoring update: Pablo Sandoval with a mammoth 2-run shot, 8-3 Giants.
Every batter Arredondo has faced has drilled the ball. He got hit around in Game 2 as well.
How did Arredondo make the roster over Mike Leake and Logan Ondrusek?
It took until the 7th inning but here comes the "woooos" from the crowd. Please stop.
Scoring update: Scutaro doubles to make it 6-3 Giants.
Even when he gets out, Pagan drills the ball to the wall. Arias moves to third on it, and Arredondo continues to hurt the team.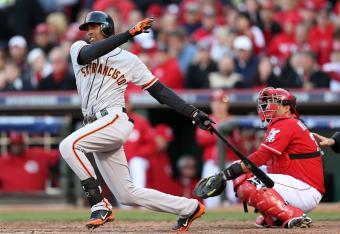 Just like that, Arias doubles again. He is killing the Reds in his last three at-bats.
This article is
What is the duplicate article?
Why is this article offensive?
Where is this article plagiarized from?
Why is this article poorly edited?