10 Great Goals in Southampton's History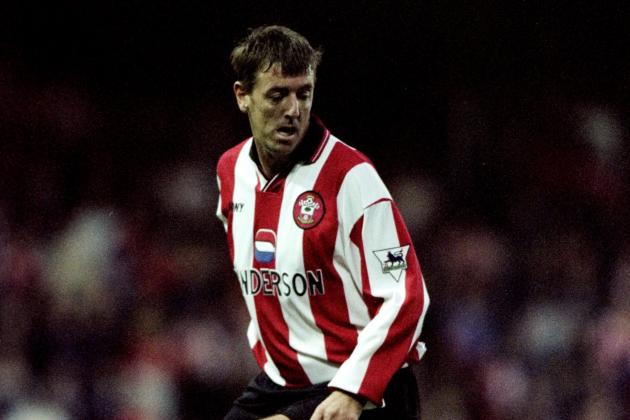 Phil Cole/Getty Images
"Le God" has scored several legendary goals for Southampton.
The great thing about YouTube is that it gives one access to hundreds of great goals with just a few keywords in the search.
Now in their 127th season, Southampton Football Club (founded as St. Mary's Church of England Young Men's Association F.C.) have scored thousands of goals in their history. While only a small percentage of those goals can be found on YouTube, some high-quality ones can be.
While no one can say these are the 10 greatest goals in Southampton's history, these are 10 great goals that you can watch over and over again, thanks to YouTube.
Begin Slideshow

»
While this isn't the most creative or skillful goal, it is possibly the most important goal in Southampton's history.
In the 83rd minute of the 1976 FA Cup Final, Bobby Stokes collected a Jim McCalliog looping through ball and slotted it past Alex Stepney to give Southampton the winning goal in a 1-0 victory over Manchester United.
To date, it is Southampton's only major trophy victory.
The most recent of the 10 great goals in this slideshow, current Saints star Rickie Lambert makes an appearance.
This lob from 45 yards came direct off a Kelvin Davis goal kick (click here to skip to :40 mark in video). Lambert takes one touch with his chest, then promptly half-vollies the ball over Willy Gueret's head in the 76th minute.
This goal capped off a Lambert hat trick and 3-0 Southampton victory.
Marian Pahars will never have to buy a drink in Southampton again after this performance in the final match of the season against Everton in 1999. Pahars scored both goals in Southampton's 2-0 victory which capped off Saints' great escape from relegation and kept them in the Premier League.
The sequence started when Chris Marsden won the ball in the midfield and found James Beattie on the right wing. (Click here to skip to 6:42 mark of video.)
Beattie then crossed the ball to Pahars, who was making a sharp diagonal run to the near post. The "Little Latvian" took advantage of his small stature to score with a diving header on a ball that was only a foot or so from the ground.
Matt Le Tissier fittingly makes his first appearance in this countdown at No. 7.
"Le God" was known to have a flair for the dramatic and the ability to see things in a way few could. In this goal from Southampton's 6-3 victory over Manchester United in 1996 at The Dell, Le Tissier weaves his way through two Manchester United defenders with a V-cut and manages to chip the legendary Peter Schmeichel.
Most strikers can chip a keeper with enough time and space. To do it to a world-class keeper like Schmeichel, with limited time and space like Le Tissier does, makes it extra-special.
The title of the video says it all.
This Rory Delap strike is stunning for many reasons. First, as the description of the video states, it's the one decent thing Delap did during his career up to that point. The former Southampton record signing only scored five goals during his five-year, 152-appearance career for the Saints.
Possibly even more stunning than the overhead kick is the source of the setup. Claus Lundekvam, a center-back who scored all of two goals for Southampton in 357 appearances, found himself forward.
Lundekvam's original pass was deflected, but the tall Norwegian recovered and headed the ball across to Delap, who fired over American international keeper Kasey Keller.
Normally free-kick goals are a dime a dozen. There are some great benders for sure, but nothing that really stands out over the others.
Don't tell that to Matt Le Tissier. Le Tissier's second appearance in the list isn't the run-of-the-mill free-kick goal.
The native of the Channel Islands receives a short pass from a teammate, and deciding that a normal strike wouldn't suffice, flicks the ball up to himself for a full volley from 25 yards out into the upper corner.
Marian Pahars makes his second appearance in the list with this goal against Manchester United at Old Trafford.
Pahars, who scored 43 goals for Southampton, receives a pass from Mark Hughes and goes to work beating Jaap Stam, who was considered the best defender in Europe at the time.
Pahars takes a wide step left, then does a stepover and uses the outside of his right foot to nutmeg Stam. Pahars then composes himself to beat Massimo Taibi near post in a match that ended up a 3-3 draw.
The hat trick of Matt Le Tissier appearances in the list, something Le Tissier accomplished four times in his Premier League career, is this cracker from distance against Blackburn.
Le Tissier weaves through the midfield and runs a defender in circles before firing from 40 yards into the upper 90 past Tim Flowers.
The goal left enough of an impression to earn a nomination for the best goal in the 20-year history of the Premier League.
It wouldn't seem right not to have Southampton's all-time leading scorer somewhere on this list.
Most people forget that Mick Channon is actually Southampton's all-time leading scorer not Matt Le Tissier. In one of the best team goals you'll ever see, a total of 14 passes work the ball up the pitch, with Kevin Keegan taking the most touches of any player at one time with four.
Everyone else is one or two-touch football. The variety of passes is breathtaking, short passes, one long ball, a few headers and an overhead kick.
Sadly, this goal came in a losing effort. Liverpool won this match at The Dell 3-2.
C'mon, like there was any chance a list of Southampton great goals wouldn't end with Matt Le Tissier.
This goal was also nominated for best goal in Premier League history, making Le Tissier the only player to have two different goals nominated.
At first, it looks like a nothing situation, with the initial headed pass to Le Tissier behind him. But Le Tissier's flair and creativity take over. His first touch is a backheel flick over his head. While the ball is still in the air from the first touch, Le Tissier then flicks the ball over one defender's outstretched leg with a volley.
The ball then takes one bounce before Le Tissier dispatches another defender by flicking the ball over the defender's head with a half-volley. Before the ball touches the pitch again, Le Tissier slots the ball past the helpless Mike Hooper, who could only sit on the ground in disbelief after Le Tissier's magic.
No offense to Mr. Wayne Rooney, whose overhead kick goal against Manchester City ended up winning best goal in Premier League history, but this should have been the winner.