Minnesota Twins: 3 Reasons Ron Gardenhire Should Be Manager in 2013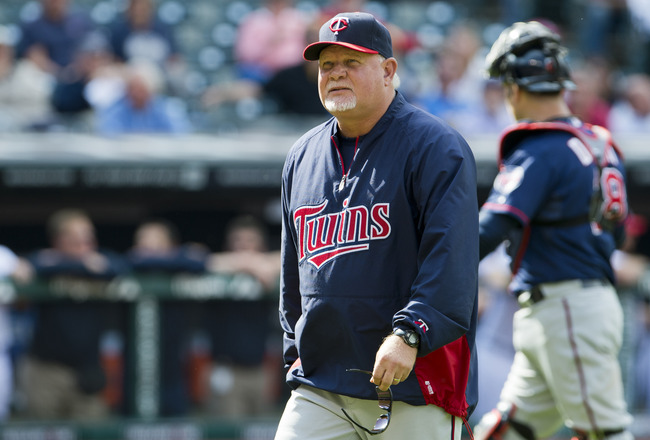 Gardenhire is the man for the job once again in 2013.
Jason Miller/Getty Images
Minnesota Twins fans are in quite the conundrum regarding how they feel about their manager, Ron Gardenhire.
With a record of 129-195 over the past two seasons, could we really blame them if they opt for the glass-half-empty mentality?
For perspective, the Twins have not suffered consecutive losing seasons since Gardenhire's arrival in 2002. They had lost 80-plus games just once before 2010.
But now they are mired in a two-year funk that seems entirely too attracted to the dishonor of 100-loss campaigns. Respective seasons of 99 and 96 are much too close for comfort.
Then again, could these unfortunate win-loss records be attributed completely to Gardenhire's managing? What about the personnel, injuries and perhaps other unforeseen circumstances?
Take the Boston Red Sox. This franchise had an astronomical $175 million payroll and still lost 93 games. Sometimes a collection of talent just doesn't generate productive chemistry.
Conversely, Minnesota spent $75 million less than Boston and lost just three more games, despite an overwhelming dearth of talent.
On which manager do you think this season's losses reflect worse?
Let's now provide the three reasons why Gardenhire should remain at the helm of the Minnesota Twins in 2013.
That Thing Called a Contract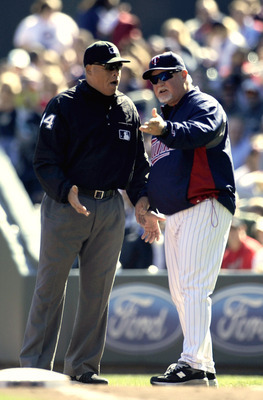 Like negotiating a call with an umpire, Gardenhire needs to ensure he remains with the Twins in 2013.
Hannah Foslien/Getty Images
Contracts in professional sports are tossed aside as if they were IOUs all too often.
Owners remain on the hook for millions, while they still go and search for the purported next best thing.
The problem, though, is that successful managers don't just grow on trees.
The good ones have a very particular set of skills—skills that they have acquired over a lengthy baseball career and ones that make them that much better than they guy sitting next to them (Liam Neeson from Taken, courtesy of YouTube).
(The wisdom in Liam Neeson's words extend beyond the Hollywood screen.)
Such a manager is Ron Gardenhire. He is quietly one of the best in the business and deserves the honor of the fulfillment of his contract.
His extension runs through 2013.
Knowing all his sustained success through the years, there isn't any reason to believe someone better will come along.
It is time for the Twins to fully honor his contributions and let him live out his contract.
Franchise Turnarounds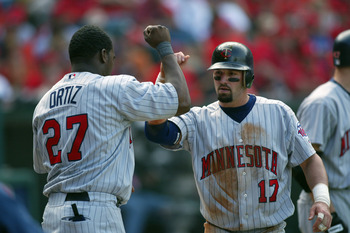 Remember when David Ortiz played for the Twins? 2002...
Donald Miralle/Getty Images
So, what does all this "sustained success through the years" amount to anyways?
To be clear, this is no such instance of passive resistance to change—change just isn't necessary.
The Twins fell off the baseball grid after winning the World Series in 1991. Following their historic Series win over the Braves, the Twins missed out on October baseball for a decade.
Literally.
Enter: Ron Gardenhire.
Beginning in 2002, Minnesota won three consecutive AL Central titles under Gardenhire. The team that finished dead last in two of the previous three seasons was now the class of the division.
After a brief hiatus in 2005, the Twins won the division three out of the next five years. They were a team-best 30 games over .500 (96-36) under the Gardenhire regime in 1996.
All told, the Twins found themselves in first place in six of 11 seasons with Gardy (as he is often affectionately called) leading the charge. He pushed them to a .500-plus record in eight of nine seasons before 2010 as well.
Gardenhire was the heart and soul of the Minnesota Twins for the better part of a decade—plain and simple.
Some things, though, are just out of a manager's control.
Another Chance to Make Something out of Nothing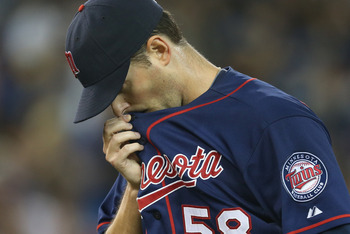 Hopefully Scott Diamond can help lead the charge from nothing to something.
Tom Szczerbowski/Getty Images
Sometimes that "nothing" is an all-time ghastly nothing.
For the past two seasons, there has been an insurmountable baseball famine when it comes to starting pitching for the Minnesota Twins.
In 2011, only one pitcher—Carl Pavano—qualified for the pitching title. Pavano—the lone qualifier—and three out of the five total starters finished the year below .500.
Jumping forward to this recently completed regular season, once again a sole pitcher qualified for statistical relevance. Scott Diamond, at least, put up a laudable 12-9 record and 3.54 ERA.
That said, 11 pitchers started a game for the Twins—yes, 11. Of that overly extensive contingent, only one other than Diamond finished with a record above .500.
Even the state of the relief corps has been a veritable mess for the past two years.
If not for the Twins' respectable collection of bats in 2012, this team would have been utterly hopeless for the better part of 324 games. Worse yet, it would have been entirely unmanageable.
That is exactly why Ron Gardenhire deserves another chance in 2013. Despite the void in talent and extensive losses, he has kept his team relatively afloat.
The AL Central is the least competitive division in baseball, and Gardenhire has routinely made something out of the proverbial nothing in previous seasons.
The man with 932 wins in 11 MLB seasons warrants another shot at turning this team around. If not, let him move on to greener pastures.
Just give him that final year.
Follow me on Twitter @jlevitt16
Keep Reading

Minnesota Twins: Like this team?