3 Ways the Los Angeles Clippers Could Make a Deep Playoff Run in 2012-13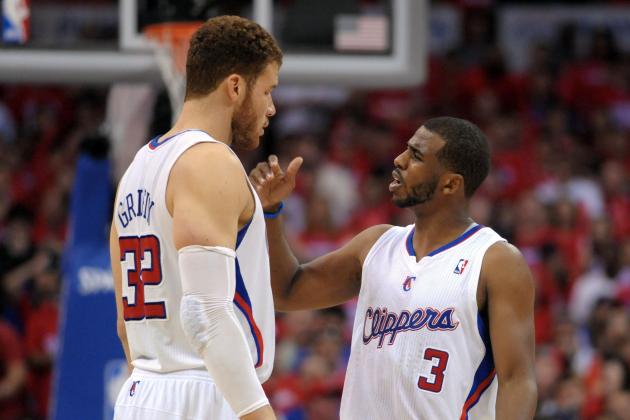 Kirby Lee-US PRESSWIRE
Chris Paul and Blake Griffin continue to play key roles for a refined Clippers' team.
The Los Angeles Clippers' metamorphosis from laughing stock to contender last season was incredible for a franchise mired in mediocrity. After it was announced that Chris Paul was coming to the Clippers, the expectations for L.A.'s oft-forgotten basketball team had changed overnight.
For the first time in many years, it could be seriously argued that the Clippers were the best team in L.A. The Clippers were set to prove that they were not second fiddle anymore to a Los Angeles Lakers that often dominated the lowly Clippers' squads of years past.
Ultimately, the Clippers wanted to prove they were serious about a title run.
The underdog spirit that culminated that entire team made them an exciting squad to watch, but at times, their tremendous hope was stymied by tremendous inconsistency. The newly christened, "Lob City" Clippers team—despite their improvements—was still flawed and far from a legit title run.
At times, the Clippers had more style than substance.The Blake Griffin dunks and Chris Paul dimes were daily fixtures on ESPN, but as it still stands, Clippers' fans want more than highlights—they want titles.
As a new season approaches, so does a new opportunity for a Clippers' unit that has matured after tough playoff battles against the Grizzlies and Spurs. Will the Clippers' offseason additions, collective experience and talented roster be enough to seriously contend in an ultra-competitive Western Conference?
Only time will tell.
Here are three reasons why the Clippers could make a deep playoff run this season.
Begin Slideshow

»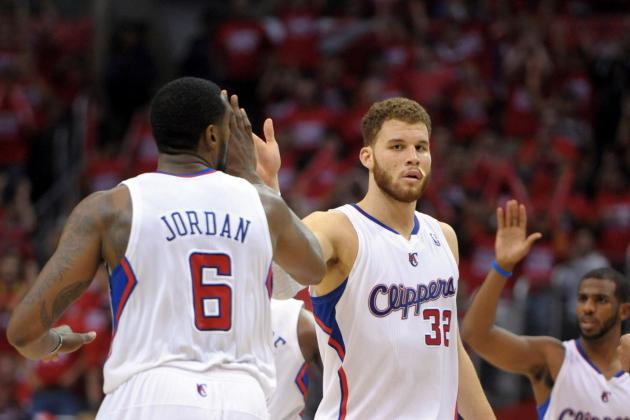 Kirby Lee-US PRESSWIRE

After having successful offseason knee surgery, the Clippers hope an improved Blake Griffin will greatly improve their chances at a title.
Last year, Griffin shot around 55 percent from the field—a solid number considering almost 75 percent of all of his made baskets were dunks or layups at the rim.
Despite his solid efficiency in terms of scoring, his constant struggles at the free-throw line (Griffin shot 52 percent at the stripe) were frustrating for a Clippers team that was second worst in the league as far as overall free-throw shooting was concerned.
Teams would often hack Griffin (or his frontcourt counterpart, DeAndre Jordan) and force them to make critical free throws in close games. This quandary often forced head coach Vinny Del Negro to swap them in key moments for better shooters. Clearly, free-throw shooting is something the entire team needs to refine, but Griffin especially, considering his game down low garners tremendous opportunities at the line.
If Blake Griffin comes into this season sporting a mechanically-sound jumper and brand new post game, Griffin could blossom into a scoring machine that would alleviate Chris Paul of a lot of the scoring duties.
DeAndre Jordan will also prove vital for the Clippers considering his shot-blocking and athleticism are rare to find, especially in a seven-footer.
If Jordan can also improve his free-throw shooting and reduce his fouls, he would greatly improve a frontcourt that at times is its own worst enemy when it failed to get stops or miss vital free throws. Jordan has tremendous potential, but the Clippers' need him to be a force to give them an edge.
When the Clippers' tandem of Jordan and Griffin are catching lobs, crashing boards and crushing opposing shots into the stands, they are a formidable matchup for most of the league's big men to deal with.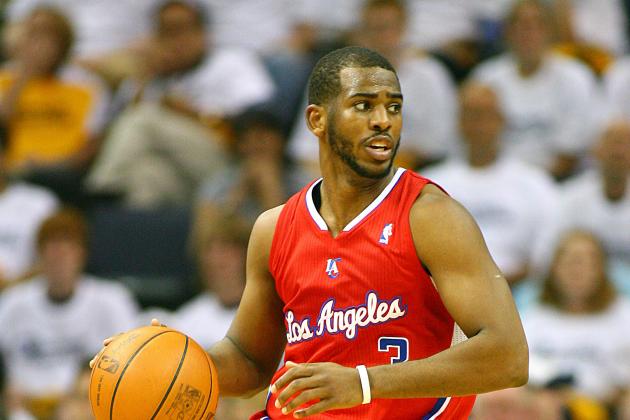 Spruce Derden-US PRESSWIRE

Chris Paul's game is fierce, physical and frenetic. Because of how he plays the game, a season's worth of nicks and bruises can take its toll come playoff time.
Last year against the Spurs, Chris Paul did not seem to be 100 percent (the Spurs also did a great job of trapping him and forcing others to make plays), and much of it was likely related to how much the Clippers' demanded of him throughout the season.
If the Clippers needed a basket in the clutch, often a Chris Paul isolation was the Clippers' play of choice. Considering Blake Griffin lacked a solid post game and the rest of his team (aside from maybe Mo Williams or Nick Young) could create their own shots, Chris Paul was forced to either get his jump-shooters open, or put his big-men in a position to score.
Oftentimes, however, Paul scored the Clippers' biggest baskets all by himself.
Paul did the latter by utilizing his dazzling array of dribble-moves, his penchant for drawing fouls, and his overall ability in the clutch to knock down big shots— all of which require an incredible amount of skill and stamina on a consistent basis.
Factor in that effort over an 82-game season, a seven-game war against the Grizzlies, and by the time the Clippers faced the Spurs, Paul was certainly worn down.
If the Clippers want to have a chance at a title, they need a healthy Chris Paul in the playoffs, and hopefully, their improved bench will give Paul a hand.
Jayne Kamin-Oncea-US PRESSWIRE

Last year, when the Clippers' starting five hit the bench after building leads, it wouldn't be surprising to see their second unit quickly blow it. Hopefully for the Clippers, their offseason moves will make that an occurrence of the past.
This season, the Clippers will sport a new-look bench that includes two former Sixth Man of the Year Award winners in Lamar Odom and Jamal Crawford. Odom is a versatile point forward, and Crawford is one of the league's best shooters off-the-dribble.
Assuming Odom is in better spirits than he was with Dallas last season, he'll be an invaluable asset, and Crawford can eviscerate opposing defenses all by himself if he gets hot.
Additional pickups that will make a difference for the Clippers include Grant Hill— a veteran swingman who can make an impact on both sides of the ball, and Ronny Turiaf, an off-the-bench energizer and hustle player.
Willie Green, Ryan Hollins and Matt Barnes include other additions that will likely see some reserve minutes, and this type of depth will allow for Coach Del Negro to mix and match lineups to find out what works best.
Barnes and Turiaf will also bring an added edge to a Clippers team that will need intimidation and grit come playoff time. The Clippers also welcome back veteran point guard Chauncey Billups now that he's full recovered following his untimely Achilles injury last season.
A solidified bench and diverse roster of players will ensure the Clippers reduce the pressure on Chris Paul and the rest of the starters to maintain or regain lost leads, which will do wonders for their overall success and health as the season progresses.