Grading the New Orleans Hornets' Current Two-Deep Depth Chart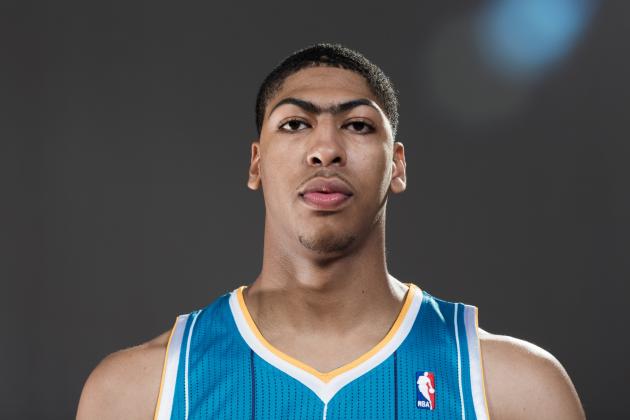 Nick Laham/Getty Images

The New Orleans Hornets spent the offseason building a young team with extraordinary depth at each position. They are a collection of talent with versatile moving parts and they will be able to attack teams with any number of different lineups.
The team's newfound versatility makes it tough to get a consistent read on who will be playing where when the season starts. Will No. 1 overall pick Anthony Davis be playing center (like he did in college) or power forward (where he's more naturally suited)? What about prized acquisition Ryan Anderson? The sweet-shooting big man can play either forward spot or center in a pinch.
Then, there's the team's other exciting rookie, Austin Rivers. Rivers played shooting guard at Duke, but the team will like to see if he can be a viable option at point guard. When you throw in newcomers such as Robin Lopez and Hakim Warrick, it would appear the Hornets have an answer for any look opponents choose to throw at them.
The depth chart picture will become clearer once preseason ends and the games actually count. As it stands, the Hornets are 2-0 in the preseason so far. They edged out Orlando in Mexico City in the preseason opener and then, most recently, throttled the Charlotte Bobcats.
While the Hornets' lineup continues to take shape, we're going to break down the depth chart by position and hand out grades. The grades are based on both preseason performance as well as in-season expectations.
Also, since the starting lineup can go in any number of directions, the grades are based on how I believe the depth chart will inevitably fall into place. For example, Anthony Davis might be listed on some depth charts as the team's starting center. I have him grouped with the power forwards. Austin Rivers, meanwhile, will be factored into both guard position grades.
Here is a look at the 2012-13 New Orleans Hornets' revamped depth chart.
Begin Slideshow

»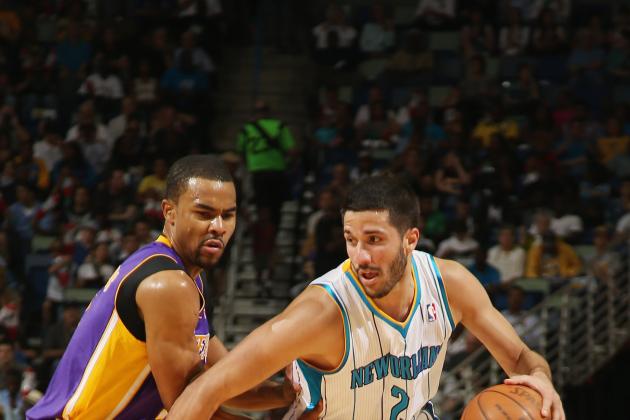 Chris Graythen/Getty Images

Starter: Greivis Vasquez
Reserves: Brian Roberts, Austin Rivers
Grade: C
The Hornets' depth chart at point guard is one filled with talent, but low on experience. Former Maryland standout Greivis Vasquez is the incumbent starter, but he has all of 27 career starts under his belt. Vasquez has great size for a point guard at 6'6" and he'll be a tough matchup for typically smaller opposing point guards.
Vasquez needs to develop consistency on his jump shot as well as cut down on turnovers. He has solid court vision and he's a willing facilitator. Vasquez is also an average defender and his height gives him a rebounding advantage over most point guards.
While Vasquez will open the season as the starter, the team hopes that the job will one day belong to Austin Rivers. Rivers, the No. 10 overall pick in June's NBA Draft, will be making the transition from college shooting guard to NBA point guard. So far, the move to the new position has been a bit rocky.
Rivers is a talented scorer, but he is still learning how to create offense for someone other than himself. Rivers needs to learn how to get others involved instead of calling his own number. He also needs to work on his shooting behind the arc. He is currently 0-for-6 from the three-point line this preseason, and didn't shoot the ball particularly well in the Summer League.
While Rivers is adjusting to his new job, the Hornets also have undrafted point guard Brian Roberts on the roster. Roberts had a solid stint in Vegas in the Summer League, averaging 13.8 points per game. He led all scorers in the preseason opener with 17 points in the win over Orlando.
Ultimately, this position will become more of a strength as time passes. Vasquez is an adequate starter, but the hope is that Rivers can speed up his learning curve and take over at point guard. Roberts is a good story of a kid with heart who made an NBA roster through perseverance, but he'd be an afterthought on most rosters.
Time will tell for this Hornets' group of point guards. For now, they are a talented trio hindered by their inexperience.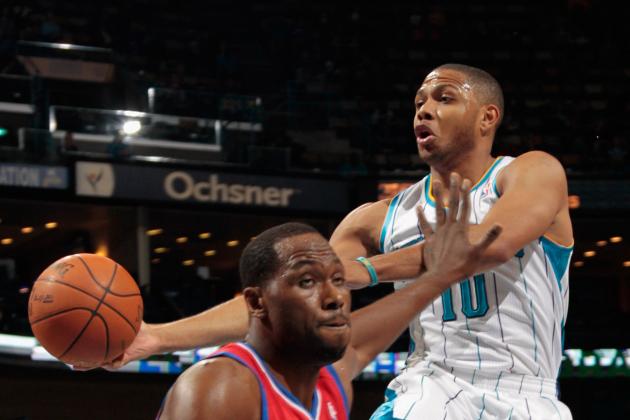 Chris Graythen/Getty Images

Starter: Eric Gordon
Reserves: Xavier Henry, Austin Rivers, Roger Mason
Grade: B-
When healthy, Eric Gordon is one of the best young guards in the NBA. The problem is that Gordon continues to be a victim of the injury bug. Gordon has already been limited in camp as he continues to recover from knee surgery, and it will be at least another week before he returns to practice, according to NOLA.com.
When Gordon returns, he will lead a position that is one of the strengths for this Hornets team. Gordon is a dynamic scorer and lethal shooter. He is the team's best offensive weapon and de facto leader. In nine games last season, Gordon averaged 21.5 points per game while also netting a little more than a steal per game.
With Gordon hobbled, rookie Austin Rivers will probably see a bump in playing time at his more natural position. Former Memphis lottery pick Xavier Henry will also be in the mix. Henry has looked good in spurts since coming over to New Orleans via trade, but is still a work in progress.
Like Rivers and Gordon, Henry was known for his ability to light up the scoreboard during his college days at Kansas. Also like Gordon and Rivers, Henry has only one year of college ball under his belt and is still coming along as a pro. He could develop into a decent backup and spot starter if he becomes more consistent offensively.
Rounding out the group is the team's elder statesmen, Roger Mason. Mason was signed over the summer to provide some veteran wisdom as well as give the team another scorer off the bench. Barring an injury, Mason won't see a ton of playing time, but could see minutes at either guard position. When on the court, Mason is one of the league's better three-point shooters.
This group, as well as the Hornets as a whole, will only go as far as Gordon takes them. If he can stay healthy for at least a bulk of the season, he's good enough to give New Orleans a fighting chance at a playoff spot this season. That's a big if though. Gordon has never played a full season in his short career, and his troublesome knee can't help but make the Hornets' faithful concerned.
Given the importance of a healthy Gordon to this team, it wouldn't be a surprise if we don't see Gordon on the court until the Hornets' regular season opener on Halloween. New Orleans is playing well this preseason without him, and it isn't worth rushing him back before he's ready.
Until Gordon comes back, the rest of the group are feasible options. However, none of them have the ability to carry this team to new heights quite like Gordon can.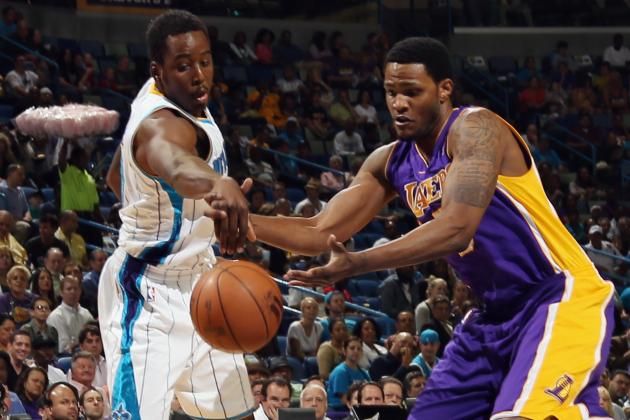 Chris Graythen/Getty Images

Starter: Al-Farouq Aminu
Reserves: Hakim Warrick, Darius Miller
Grade: C-
This is by far the Hornets' weakest position. In fact, the only thing that kept this grade from being a D is the fact that Ryan Anderson may play a few minutes at the position. Anderson's versatility, height and shooting touch make him an intriguing option at small forward.
The rest of this group has potential, but they aren't much to get excited over. Al-Farouq Aminu will open the season as the starter and the team's best perimeter defender. Aminu took over for Trevor Ariza late last season, and his play down the stretch led to Ariza being shipped to Washington over the summer.
Defense is Aminu's calling card. His length and athleticism make him a tough draw for opposing scorers. He showed the world what he can do on the defensive end with an impressive showing in London representing Nigeria in the Olympics.
Offensively, however, Aminu has a long way to go. Aminu's jumper needs some work, and it is hard to fathom him finding ways to score beyond in transition. He's a solid athlete, so the bulk of his points will probably come on dunks and layups.
The chief backup to Aminu will be journeyman Hakim Warrick. Warrick has bounced around a bit in the NBA, as he's a 'tweener forward whose game is based on hustle and athleticism. Like Aminu, Warrick isn't much of a shooter. Warrick's game is mainly in the paint, where he uses his speed to get past bigger forwards.
Warrick will probably split time at both forward positions. He doesn't have the bulk to be a true power forward nor does he have the shooting acumen to play too many minutes at small forward. Still, he's a decent veteran backup.
Another guy who will factor into the mix at small forward is rookie Darius Miller. Miller is the team's second-round pick and he could develop into a solid backup. Miller isn't strong in any one particular area, but he's a hustler who can fill in the cracks where needed. With the more proven Warrick and Anderson lurking as options behind Aminu, playing time might be sparse for Miller early on.
With the way Aminu developed down the stretch and over the summer, this could be a breakout year for him. At just 22, he's still young enough to grow into a solid starting small forward. For right now though, his main role on the team will be a defensive stopper. He'll be responsible for shutting down the league's best perimeter scorers and, eventually, his offensive game will materialize.
The other options are rather ho-hum, which is why Anderson will probably see some time at the three throughout the season. On a team brimming with talent, the small forward would appear to be New Orleans' Achilles' heel.
Derick E. Hingle-US PRESSWIRE

Starter: Anthony Davis
Reserves: Ryan Anderson, Lance Thomas
Grade: B+
Everything we have seen from Anthony Davis over the last year suggests he's going to be a star in the NBA. He was the catalyst to a Kentucky team that won it all. He was a contributor to the gold medal-winning Olympic basketball team, and he's been impressive in his two preseason games so far.
Davis flashed his potential against the Bobcats, scoring 22 points and grabbing nine rebounds. He even blocked a shot for good measure. He will be the face of the Hornets franchise for years to come. His rare combination of athleticism, wingspan, ball-handling and defensive acumen could turn him into something special.
That being said, he's still only a 19-year-old rookie. While the sky may be the limit for this kid, he is still very raw. Offensively, he has some strengths, but his game needs more work. He has a sneaky jumper for a big man and he's going to get his share of points in the paint. He still needs to add bulk to his skinny frame to become more of a factor in the post.
Behind Davis lies the NBA's reigning Most Improved Player in Ryan Anderson. Anderson was the Hornets' big acquisition over the summer, so there's a good chance he finds a way of playing somewhere in the starting lineup. He could take over the power forward spot and move Davis to center or vice versa. He could also see action at small forward.
As of right now, he's a talented big man without a defined role. Anderson led the NBA in three-point attempts last year, and he has emerged as one of the best shooting big men in the game. He raised his scoring average from 10.6 to 16.1 last season, mainly off being able to stroke the long ball.
That was in Orlando, however. It remains to be seen what Anderson can do now that he doesn't have Dwight Howard taking up so much attention in the paint. As great as Davis can be, he isn't yet a proven commodity who can give teams a reason to slack off of Anderson. It will be interesting to see if Anderson's numbers slip now that his offensive game is less of a surprise.
The last guy of the group is Lance Thomas. I like everything about Thomas' game except for the fact that he's about two inches too short to be a viable backup. Thomas is generously listed at 6'8", but he's more like 6'7". He's a little undersized to play power forward, but doesn't have the shooting range to play small forward.
Thomas won't see a ton of playing time with so much size on the roster, but he played well at times last season. He had a solid stint in the Summer League and isn't a terrible option as the 12th man on a young Hornets team. He can rebound and score on the inside. He just doesn't have the size to be a consistent factor.
Power forward and shooting guard are New Orleans' two biggest strength positions. Davis is looking more and more like a franchise cornerstone as time passes. Once his offensive game becomes more steady, he'll be an elite talent on both ends of the court. If he stays healthy, he can develop into the type of big man that title contenders are built around.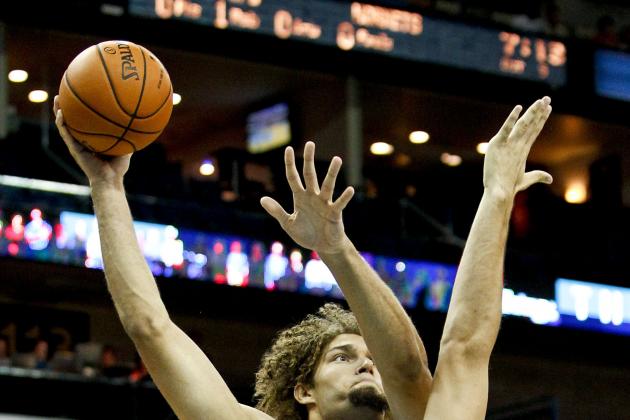 Derick E. Hingle-US PRESSWIRE

Starter: Robin Lopez
Reserve: Jason Smith
Grade: C+
Depending on whether it's Anthony Davis, Ryan Anderson or Robin Lopez starting at center, this grade could be subject to change. I'm assuming here that Lopez gets the nod. After all, why swing a deal for a young center like Lopez if not to protect Davis from the pounding of playing center before he's ready?
The grade may seem a little high, but that's mainly because of my belief that Lopez can be a viable starting center. At Stanford, Lopez was overshadowed by his twin brother, Brook, but was still a solid rebounder and defender in college. In reality, that's all he'll be asked to do for the Hornets.
Lopez doesn't need to be a double-digit scorer or command double teams in the paint. If he can work the glass and hold his own on the defensive end, he's worth having as the starting center. Success in the NBA is about protecting the rim, and Lopez is a capable shot-blocker. He didn't get much playing time to showcase his skills in Phoenix behind Marcin Gortat, but he has potential.
The same can be said for Jason Smith. Smith isn't an All-Star by any stretch of the imagination, but he does a few things well. He has a big body and can bang on the inside. He can put up points in the post and he has a nice touch on his outside jumper. Is he a potential star? No, but he can become more of a household name the more of an opportunity he gets to play.
It will be interesting to see what Lopez can do now if he gets the nod as the starting center. Lopez has averaged more than 15 minutes per game once in his career and oddly enough, that turned out to be his statistical season. His career numbers, when projected over an average of 36 minutes per game, come out to around 14 points, 8 rebounds and two blocks per game.
Those numbers might be far-fetched to achieve this season, but he can put up decent numbers if given solid playing time. Smith has also proven to be a decent spot starter over his career with the Hornets, averaging around 10 points and five rebounds last season while making 29 starts.
Smith and Lopez are adequate centers who can rebound and defend. Their presence inside will make life easier for Anthony Davis and Davis' presence will open up things for them. Lopez gets a second chance to prove he's worthy of being a starting center. Smith, at the very least, is a solid backup.
They aren't proven commodities, but they have the talent to be serviceable and keep the seat warm for when Anthony Davis is physically ready to take over.