10 Veterans Looking to Go out in Glory at World Cup 2014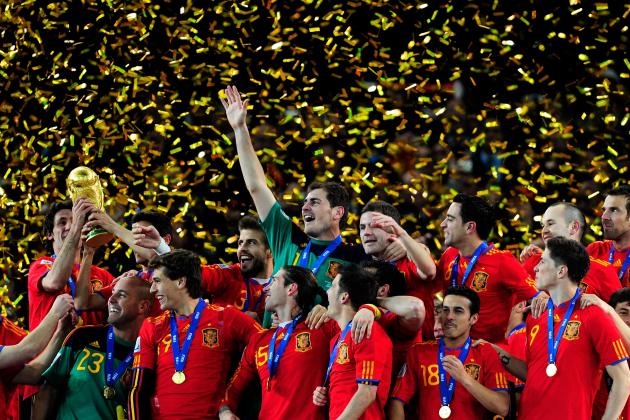 Jamie McDonald/Getty Images

Nearly every nation on earth participates in World Cup qualifying, bringing life to the notion that soccer is "the global game." Each country has its stories, legendary players and memorable moments that become part of timeless lore within and beyond borders, even if the teams never make it to the final tournament.
The 2014 World Cup in Brazil will take place in a little less than two years from now but we can already anticipate that the world's greatest sporting event will produce indelible memories. Undoubtedly, the world will watch in awe and anticipation of the latest exploits from established stars like Lionel Messi, Neymar and Cristiano Ronaldo. A relatively unknown player will emerge from obscurity to lift not only his own profile but that of his country.
And the curtains will close on the international careers of some of the greats from their respective generations. So who will go out in glory, possibly with the trophy in hand, down in Brazil in the summer of 2014?
Begin Slideshow

»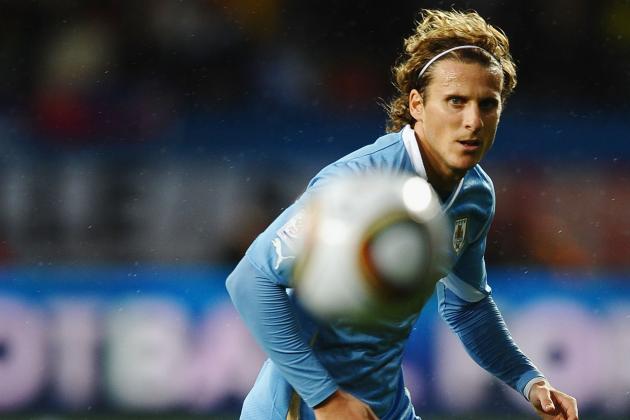 Laurence Griffiths/Getty Images

Plays for: Uruguay
Age: 33
Accomplishments
The Ballon d'Or (best player) winner from the 2010 World Cup who led his team to an unlikely semifinal run before falling short against the Dutch. Forlan didn't dwell on the World Cup too long as Uruguay went on to win the Copa America in 2011.
Already revered by his tiny, overachieving South American nation, what if Forlan could lead his team to a repeat of Uruguay's famous 1950 triumph in neighboring Brazil?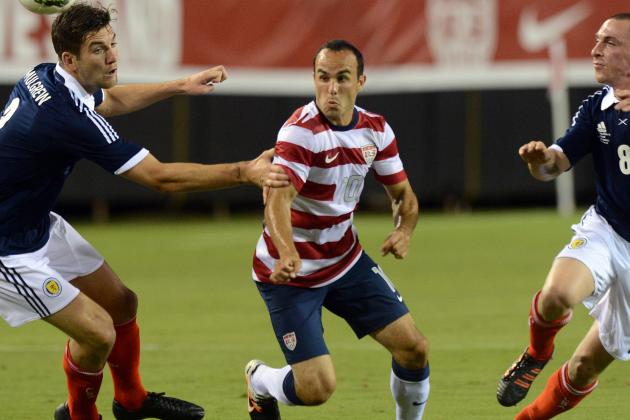 Gary Bogdon/Getty Images

Plays for: USA
Age: 30
Accomplishments
It's not difficult to declare Donovan the greatest American player of his generation and he may be worthy of more accolades when his international career comes to a close. In ways even more significant than the 1994 World Cup team, Donovan almost single-handedly put U.S. Soccer on the map.
By thrillingly putting the Americans through to the second round at the 2010 World Cup, Donovan instantly converted millions to the game domestically and also raised the attention of a skeptical international crowd that now recognizes the Yanks as competitive rivals.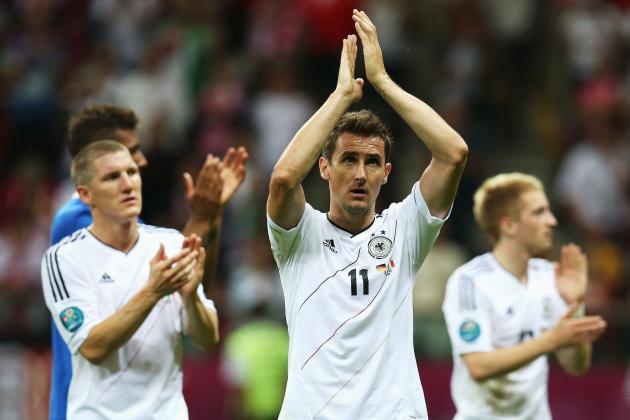 Alex Grimm/Getty Images

Plays for: Germany
Age: 34
Accomplishments
Klose is Germany's modern-day goal-scoring king. His 64 goals for Die Mannschaft is second only to Gerd Muller's 68. Scoring five goals in two World Cup's is a record he shares with only one other man, Teofilo Cubillas of Peru. The fact that he scored five in back-to-back World Cup's is a record on its own.
And he stands only one goal away from tying Ronaldo's 15 goals at "No. 1" on the all-time World Cup list. The Germans are almost always a lock to make the finals, the only question is whether or not Klose will get another chance in two years time, with a national squad that is constantly reinforced by an impressive youth movement.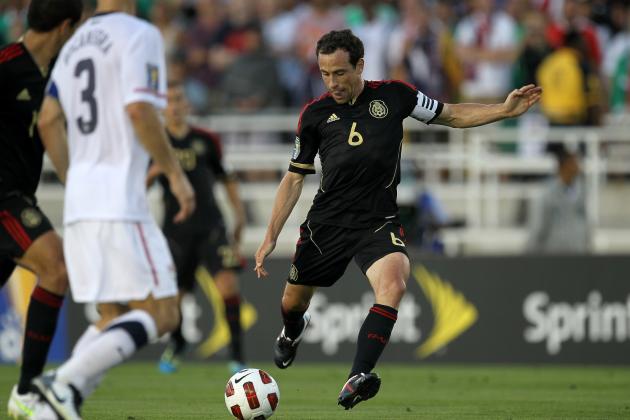 Stephen Dunn/Getty Images

Plays for: Mexico
Age: 33
Accomplishments
With 136 appearances (third on the all-time list) for El Tri it's hardly surprising that Torrado has become an embodiment of the the fighting spirit and stubborn character of the team. Over the course of three decades, now the defensive midfielder has been a staple of Mexican teams from the U-20 level up to the senior squad at almost every international tournament.
Unfortunately, Mexico's record, while dominant in the region, is disappointing at World Cups. They have only reached the quarterfinals twice (both times when they hosted the tournament) and not progressed passed the second round in the last five attempts.
With a current crop of very talented young players and Torrado's continued presence guiding the ship Mexico would be well served to send out one of the nation's greatest with a major breakthrough at the World Cup in 2014.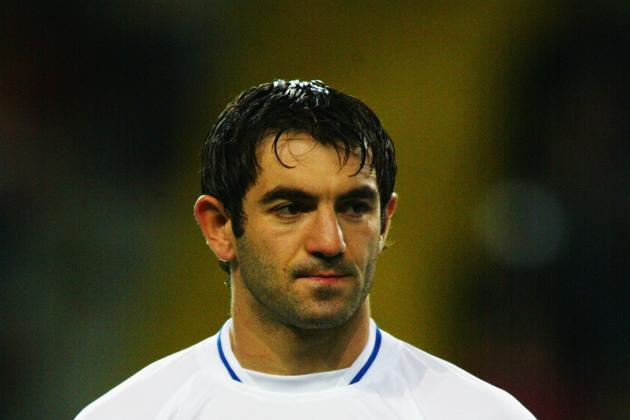 Ben Radford/Getty Images

Plays for: Greece
Age: 35
Accomplishments
The only ones who might have expected Greece to make the run to the 2004 European title were the ones who saw the 1998 European U-21 final when Greece lost narrowly to Spain and Giorgios Karagounis emerged on the international scene.
Since then, Karagounis has been the heart of a team that shocked the world in 2004 and continues to climb in soccer stature. Recently at this past summer's European championships, Karagounis scored the only goal in Greece's final group game win over favored Russia to send the team into the second round.
If the Greeks make it to South America, Karagounis will want to finish off a stellar career in the style that befits a national hero, perhaps by surprising us all once again.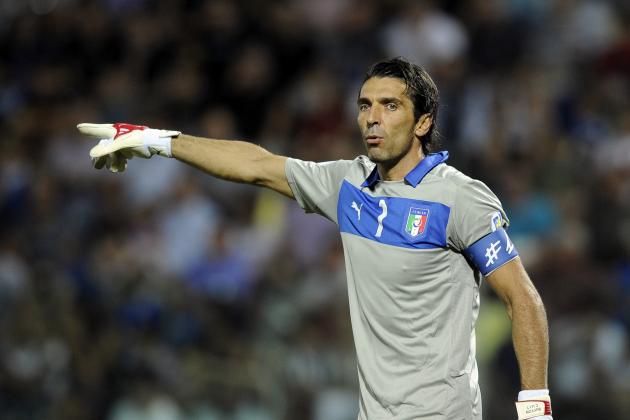 Claudio Villa/Getty Images

Plays for: Italy
Age: 34
Accomplishments
There's little Gianluigi Buffon hasn't accomplished. He's won numerous Serie A titles with Juventus, international awards and, of course, the World Cup in 2006. His legacy as one of the best goalkeepers to play between the posts is pretty well cemented.
But still his form continues to amaze. Italy unexpectedly got to the final of Euro 2012 based in large part on Buffon's performances. Who knows if the next World Cup would be Buffon's last? Goalkeepers can play at a high level well into their 30s. Dino Zoff, another fine Azzuri goalkeeper, won the 1982 World Cup at the age of 40, a feat Buffon would love to replicate.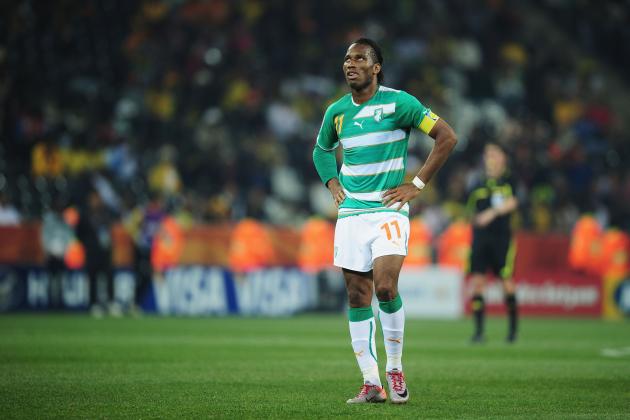 Clive Mason/Getty Images

Plays for: Ivory Coast
Age: 34
Accomplishments
No player has better represented African soccer than Didier Drogba. If Roger Milla set the standard for Cameroon (he was playing at the age of 42 in the 1990 World Cup by the way), Drogba perfected it. His immense success in the Premier League with Chelsea is but a small part of a charitable, humanitarian and dedicated individual.
Drogba is widely credited with halting the civil war in Ivory Coast in 2006 when he appealed for both sides to put down their arms in the months leading up to that summer's World Cup. Leading his nation to two African Cup of Nations finals and their first qualification for the World Cup during his captaincy seem trivial in comparison.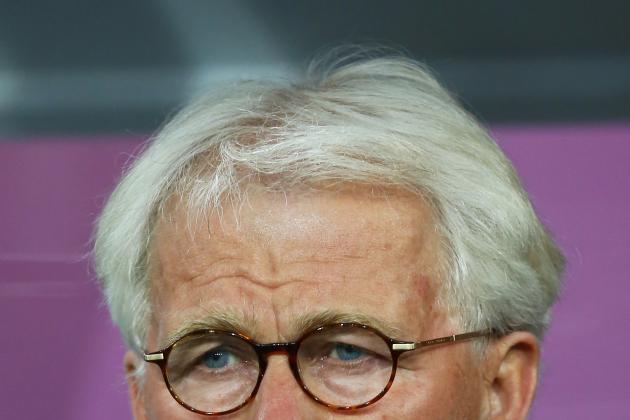 Martin Rose/Getty Images

Played for and now coaches for: Denmark
Accomplishments
Morten Olsen's stamp on the Danish national team spans nearly 30 years.
First as a player, when he was twice named Danish player of the year in 1983 and 1986 and was a key member of the teams that played in two European Championships and one World Cup.
Secondly, coaching the national team since 2000, a team that's become colloquially known as "Olsen's Gang." Denmark's relentless running and attacking style and the consistency with which they get results comes straight from the top. Olsen's place in history is secure as he's the only person to play in 100 games and coach 100 games for their national team.
Having groomed such professional talents as Dennis Rommedahl, Jon Dahl Tomasson, Daniel Agger and the man who's tipped to replace him as coach, Michael Laudrup.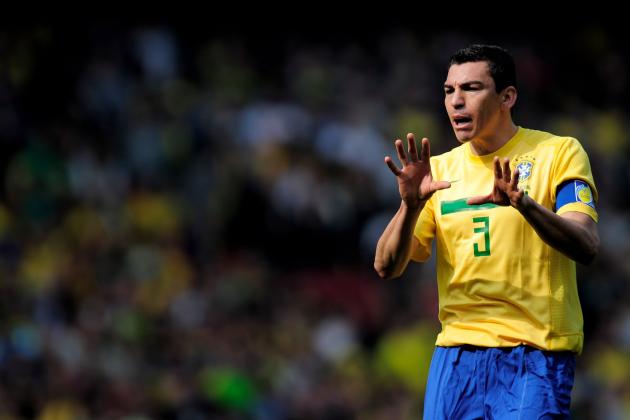 Jamie McDonald/Getty Images

Plays for: Brazil
Age: 34
Accomplishments
Lucio deserves to be mentioned in the pantheon of Brazil's great defenders. While he may have lacked the flair of Roberto Carlos or the presence of Cafu, he's made his own mark with the Selecao in his reign.
Additionally, his physical style and aerial presence has clearly influenced Thiago Silva, David Luiz and Lucas Moura, the world-class talents among Brazilian's current crop of young defenders.
At 36, when the home World Cup will take place, Lucio's legs and form may not be good enough to earn him a starting place in Brazil's lineup, but the stalwart center back would love to contribute to a sixth World Cup title on home soil.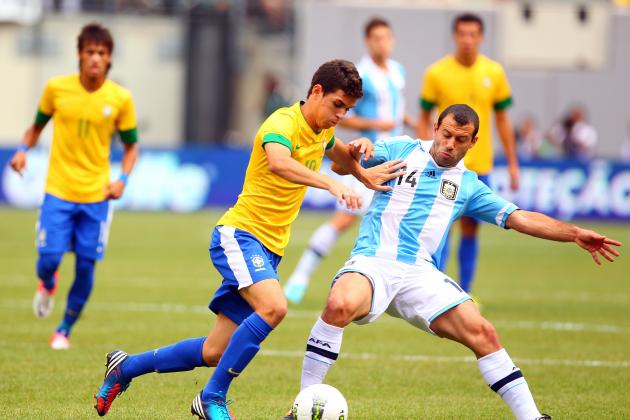 Rich Schultz/Getty Images

Plays for: Argentina
Age: 28
Accomplishments
The only representative under the age of 30 in this group mainly because Argentina's squad is so deep and talented that it will be tough for Mascherano to find a regular spot moving forward.
But looking back, Mascherano should be recognized as the class of a fine, albeit underachieving, group of Argentine players.
However, nothing would ease the pain of international retirement quite like a World Cup trophy—especially in the backyard of your nation's most hated soccer rival.