Rangers Prospect Core Still Strong Despite Loss of Alexei Cherepanov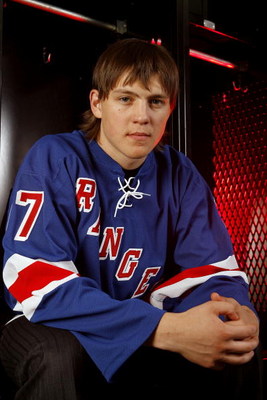 Above is a picture of then-Ranger prospect Alexei Cherepanov, leader of the forward core and ranked No. 1 in the Rangers prospect system at the time.
Cherepanov passed away during a KHL game between the Avangard Omsk, whom he played for, and Vityav Chekhov on Oct. 13, 2008.
Though the mourning of his death is still occurring and ultimately just as strong, the Rangers have rebounded in a strong prospect core due to the play of some other young stars that are currently under development. Some of which are stationed on the next few pages.
Artem Anisimov
Artem Anisimov has taken over being ranked No. 1 in the Rangers system following Cherepanov's death. A native of Yaroslavl, Russia, he entered North American hockey just last year when he played a full season for the Rangers' AHL affiliate, the Hartford Wolf Pack. Although he had impressive numbers in his first season (16-27-43 in 74 games played), he's surpassed those numbers in great lengths and is having himself a breakout year for the Hartford Wolf Pack.
His numbers (27-39-66 in 65 games played) have warranted him a lead-role as the top forward for the Hartford Wolf Pack. His impressive size and prodigious work ethic, along with a strong two-way game have crowned this young forward a key role in the organization.
Anisimov stands at 6'4", 205 pounds, and has already been rewarded with a call-up to the big club, playing one game. Expect him to again be called up barring any injuries.
Bobby Sanguinetti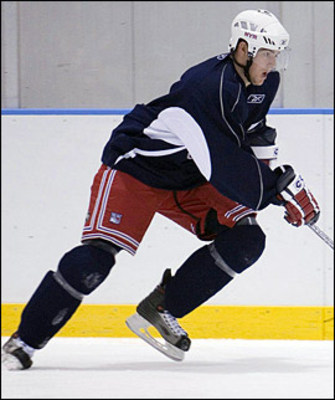 Bobby Sanguinetti, ranked No. 2 on the Rangers prospect list by Hockey's Future, has also turned heads in the organization. Though his defensive play may not be up to par just yet, he is close to entering the NHL and will soon be provided that opportunity, we think.
His offensive game is very strong, and he's enjoying a nice season with the Hartford Wolf Pack this year in his first full pro season. He has recorded five goals and 30 assists for 35 points in 63 games thus far.
His future as a power play quarterback makes him another key figure in the Ranger organization, who are hoping to utilize his body stature, heavy shot and puck moving skills next season.
Michael Del Zotto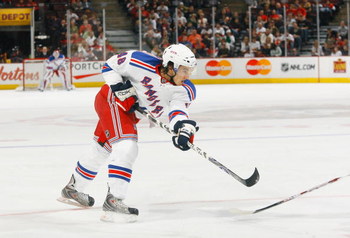 A native of Stouffville, Ontario, Michael Del Zotto had the privilege of being drafted by the New York Rangers, 20th overall in the 1st round in the 2008 NHL entry draft, and so did the Rangers.
Del Zotto, another strong offensive defenseman, has been commented on his defensive play in lapses as being quite poor, but his training camp this year was undoubtedly impressing.
He shed over 25 pounds, down to 188, before the 2008 NHL entry draft, making him more attractable as a young kid with work ethic who is willing to do whatever it takes to produce more and climb up the ranks of a prospect system. He's doing just that for the Rangers.
Lauri Korpikoski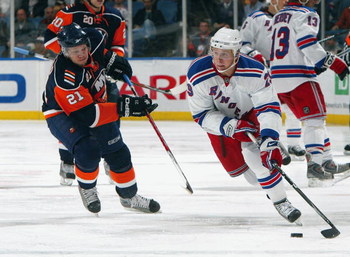 Lauri Korpikoski, although already playing for the Rangers this season, is still considered a prospect in the system.
Korpikoski, a well-bodied, impressive two-way forward has climbed from solid seasons in the AHL with the Hartford Wolf Pack to the New York Rangers. While he hasn't produced much on the offensive side of things (6-8-14 in 52 games played), he has been good defensively and has shown signs of a flawless physical game. Under coach John Tortorella, he has been improving his ice time, mainly on the penalty kill, gaining more responsibility as a player.
Korpikoski will be counted upon in the Rangers system as either highly regarded trade bait or continuing solid play for the Rangers for years to come.
Evgeny Grachev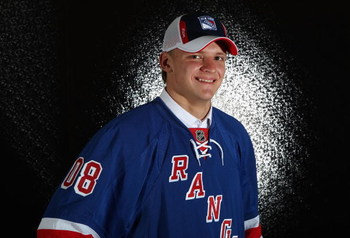 Yet another highly-touted Russian forward in the Rangers system, Evgeny Grachev has been tearing it up offensively for his OHL team, Brampton Battalion, with 39 goals and 34 assists, good for 73 points in 57 games played.
Grachev, known again for his impressive size, standing tall at 6'3" and 212 pounds, is also a native of Yaroslavl, Russia, like Anisimov.
Expectations are high for this young kid, who speaks English well and is getting better and better every game. Word is around that this gem, chosen in the 2nd round of the 2009 NHL entry draft by Glen Sather and co., is quite untouchable on the trade front for the New York Ranger organization.
Keep Reading

New York Rangers: Like this team?