Miami Dolphins: 3 Reasons the 'Phins Won't Be Winners Right Away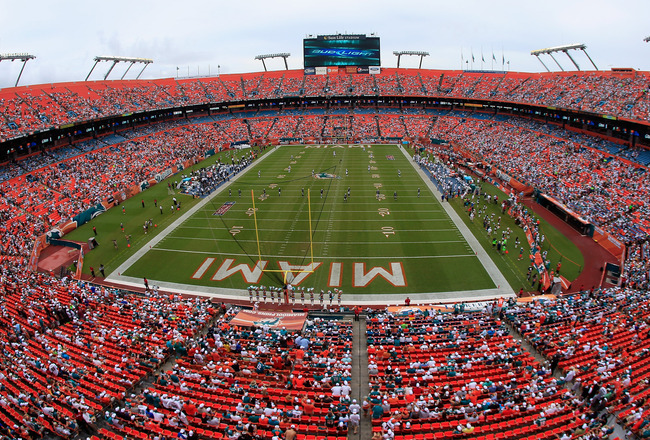 The Miami Dolphins are looking to move past their on-field struggles of the past few years and give fans a reason to fill the seats at Sun Life Stadium.
Chris Trotman/Getty Images
The Miami Dolphins are very talented, and on the precipice of potentially being good—if not great, but they are not there yet.
Miami is four years removed from an 11-5 AFC East division-winning season. Unfortunately, a few untimely injuries and a few poor personnel and coaching decisions later, and the Dolphins have three years of competitive mediocrity to look back on.
Miami is currently tied for second in the division with a 2-3 record. This also puts them in a tie for eighth in the AFC conference standings. And, as can be expected of a team that has been mired in mediocrity, two of their losses were overtime defeats by field goals.
Miami is a team that elicits both hope and confusion from its fanbase and (sometimes) even its players.
Don't believe me? Ask a diehard "Dol-fan" or a "Phinatic" what their thoughts are about the Brandon Marshall trade. Sure, Marshall was a bit enigmatic, but he was a top five-caliber wide receiver. Not exactly the kind of thing you trade away for only a couple third-round picks.
Why didn't they try to get more in the trade? Who knows? That's a topic for another day.
With the talent that Miami has amassed on both offense and defense, they are good enough to make a run at the playoffs, they're just not ready yet to make a run in the playoffs.
Here's a look at some of the reasons why.
Passing Game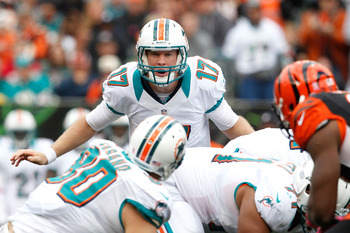 Ryan Tannehill has the Miami Dolphins offense under control.
Tyler Barrick/Getty Images
The Miami Dolphins have a lot of room to grow in the passing game, but at least it looks promising right now, thanks in large part to rookie QB Ryan Tannehill.
Five games into the season, and Tannehill is looking like he might be worth the eighth pick of the 2012 NFL Draft and then some.
Among the five starting rookie quarterbacks, Ryan has the most yards, the second-highest yards per attempt average and a higher completion percentage than first overall pick Andrew Luck.
He has been getting progressively better each week. He's beginning to make adjustments at the line, and showing poise under pressure. As Omar Kelly reports [via Pro Football Focus]:
"Dolphins rookie QB Ryan Tannehill is the top rated QB when under pressure from blitzes according to PFF. He's sacked 14.6 percent of the time, and there are only 11 quarterback who have a lower percentage. He's been sacked seven times when blitzed and thrown two interceptions. Still, he's completing 81.3 percent of his passes when blitzed..."
Through Week 5, Tannehill and wide receiver Brian Hartline have connected through the air for 514 yards. This not only places Hartline atop all NFL wideouts in yardage, but it also signifies that Tannehill has found a receiver that he trusts in Hartline.
While this doesn't negate the loss of Brandon Marshall, it does help. Tannehill and Hartline have been productive, but the offense still has plenty of room to grow.
Tannehill ranks among the worst starting quarterbacks in completion percentage and total QBR.
Running Game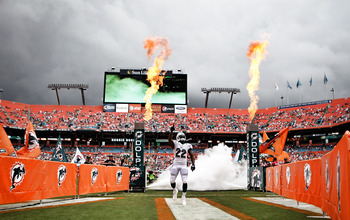 Reggie Bush of the Miami Dolphins is thirteenth in the NFL in all-purpose yards.
Marc Serota/Getty Images
The Miami Dolphins were 11th in the NFL last season in total rushing yards and 15th in yards per attempt, led mostly by the efforts of Reggie Bush, who completed his first 1,000-yard season.
This year, Bush is on pace to repeat with another 1,000-yard performance.
While that may be encouraging news, Bush isn't getting any younger and is in the final year of his contract. Coincidentally, second-year running back Daniel Thomas, who was drafted to be the heir apparent and the power back to compliment Reggie's speed and versatility out of the backfield, has been a disappointment.
For his career, Thomas has 201 attempts for 694 yards and only two touchdowns. That's only an average of 3.5 yards per carry. Below average.
During training camp, Dolphins beat writer Armando Salguero wrote in the Miami Herald a telling description of Thomas' lack of running instinct.
"On Monday I was standing on the sideline watching the Dolphins practice. On what is just a routine run play into the A-gap, Daniel Thomas took the handoff and this happened when there was no apparent hole:

"The Dolphins running back took the handoff and turned his back to the line of scrimmage and backpedalled into the pile of offensive and defensive linemen facing the wrong direction."
Additionally, as seen in HBO's "Hard Knocks" and reported by Salguero, Thomas has problems with being on time. Compound all of that with his recent concussion woes and previous injury problems, and his future doesn't seem very promising.
Pass Defense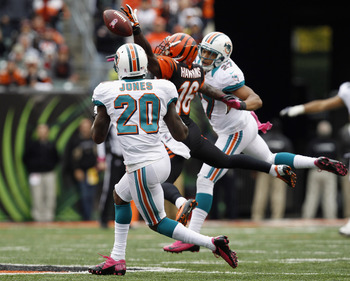 Matt Sullivan/Getty Images
When the Miami Dolphins traded Vontae Davis to the Indianapolis Colts in late August, the move seemed to border on lunacy. A talented shutdown corner traded for two draft picks (one second-round pick and a conditional sixth-round pick).
The Dolphins players were stumped. A couple of them were even kind enough to address the media about it.
"I don't know what the situation was or what occurred to cause the trade...He's a great player, one of the best corners in the game. I'm not sure about the direction of the team."
- Karlos Dansby

"None of us saw this coming. I don't know how to take it."
- Richard Marshall
Five weeks into the season, and the Dolphins may just be smarter than their fans. The trade has thus far proven to be what the 'Phins needed.
Cornerback Sean Smith, after being thrust into the starting CB role, has been given the opportunity to grow and has made the best of it.
In consecutive weeks, Smith faced off against top-tier receivers Larry Fitzgerald and A.J. Green. In those matchups, his assignments were targeted by their QBs 28 times. Sean allowed just 17 catches for 129 yards and two touchdowns. Of the 11 targets that weren't completed, Smith caught two interceptions.
Defensive coordinator Kevin Coyle, when asked about Smith's performances, had this to say:
"He's tackled, he's done the things he needs to do in coverage, he's playing with awareness. You can see him communicating out on the field. Right from the very first play of the game, he's alerting people with certain things that we had talked about in the practices and, right out the box, he was on it. I've been pleased with his last couple of outings, and hopefully he'll continue to build on those."
In contrast, things haven't been so great for Vontae Davis. He has played poorly through four weeks of the season and sat out Week 5 with an ankle injury.
Throwing at Vontae Davis is giving QBs a 155.4 QB rating through 4 games.Worst mark in the league

— Pro Football Focus (@PFF) October 2, 2012
While the Dolphins pass coverage is not yet Super Bowl ready, with a couple more key additions, they have the potential to be something great. Added to their impressive front seven and in another year, Miami could have an elite-level defense.
Keep Reading

Miami Dolphins: Like this team?