Predicting Which BCS Title Contenders Will Still Be Standing After October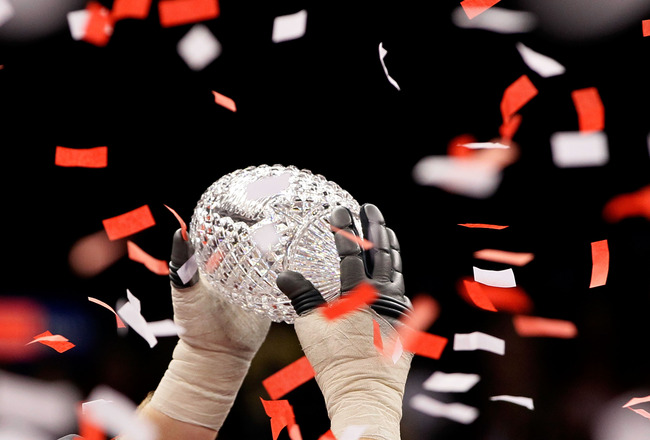 Kevin C. Cox/Getty Images
October is a great month for college football. Well, every month is a great month for college football.
October is especially great because it is when the meaningful games are finally played. No more games against the East Manchester Fighting Giraffes.
It is games against your hated rivals. October is when the real BCS contenders get separated from the pretenders.
On Sunday, the first BCS rankings of the 2012 college football season will be revealed on ESPN. Some fans will undoubtedly be upset, and others will be quite pleased.
Could we be headed for yet another SEC vs. SEC showdown in the BCS championship game in Miami? Or is this the year that the Oregon Ducks or the Notre Dame Fighting Irish finally put a flag on top of the BCS Championship mountain?
Week 1 in October was already full of crazy games and upsets (come on, Florida State. How are you going to lose to N.C. State?). Some teams also showed that they plan on being involved in the BCS talk all the way until the end.
Our friends at bcsknowhow.com published their simulated rankings on Monday.
Which of the Top 10 in the simulation will still be standing after taking their opponents' best punches in the month of October?
10. Georgia Bulldogs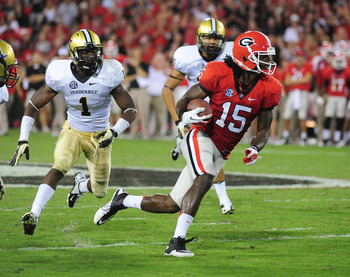 Scott Cunningham/Getty Images
October Slate: Oct. 13 — Bye, Oct. 20 — Kentucky, Oct. 27 — vs. Florida (Jacksonville)
Prediction: (1-1). Knocked out of BCS title contention
The Georgia Bulldogs did not get the month of October off to the start that they wanted when they lost to South Carolina 35-7 last weekend in Columbia.
Still, the Bulldogs remain in the hunt for their second consecutive SEC East crown in 2012. South Carolina still has to play LSU, Florida and Tennessee.
If Georgia can get by Florida on October 27, the hardest part of its schedule is a road trip to rival Auburn, a team the Bulldogs have defeated five out of the past six years.
Georgia's weaknesses along the offensive front were exposed against the Gamecocks, and Florida plays much of the same style of football on defense.
Georgia is a better team than it showed against South Carolina, but it isn't good enough to get the win in Jacksonville over the much-improved Gators.
9. Oregon State Beavers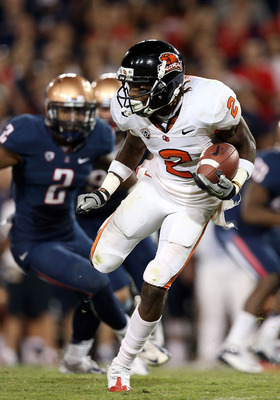 Christian Petersen/Getty Images
October slate: Oct. 13 — at Brigham Young, Oct. 20 — vs Utah, Oct. 27 — at Washington
Prediction: (1-2). Knocked out of BCS title consideration.
Oregon State has been one of the surprises in college football in 2012. It has moved up to 10th in the latest AP Poll.
The Beavers were able to overcome a poor outing by quarterback Sean Mannion last weekend. The Oregon State defense saved the day by not allowing the Cougars into the end zone, as the Beavers prevailed 19-6.
Oregon State faces a stout BYU defense on the road this weekend before coming home to face Utah. Following that, it goes on the road again to play Washington.
With Mannion out this week (and maybe longer), Oregon State will be out of BCS title consideration after being upset by BYU this weekend.
8. LSU Tigers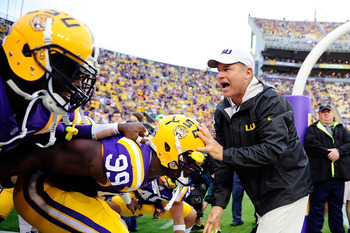 Stacy Revere/Getty Images
October slate: Oct. 13 — vs. South Carolina, Oct. 20 — at Texas A&M
Prediction: (2-0). Still in BCS title contention
We keep saying that this is the week the LSU offense will wake up. It keeps making us look like fools.
LSU is coming off of its first loss of the season last week against Florida. Will that be the wake-up call that Les Miles needs to open the Bayou Bengals' eyes?
South Carolina played nearly perfect against UGA last Saturday, and it will be extremely hard replicate that type of performance in Baton Rouge Saturday night. In fact, it won't be able to.
South Carolina has not been in this sort of national spotlight very much in its history. When it has been, it has fallen flat on its face.
LSU travels to College Station on the 20th to play a surprising Texas A&M team. It won't catch LSU looking ahead to the big matchup against Alabama two weeks later.
LSU will win its remaining games in October before taking its bye week on October 27 prior to playing Alabama.
7. Kansas State Wildcats
Brett Deering/Getty Images
October slate: Oct. 13 — at Iowa State, Oct. 20th — at West Virginia, Oct. 27th — vs. Texas Tech
Prediction: (3-0). Remains in BCS title contention.
Kansas State has scored no less than 24 points in a game this season. It achieved that low number against Oklahoma. In four other games, it has scored 50 or more points three times. The scoreboard may get broken in Morgantown in two weeks.
Iowa State could set up as a perfect trap game for Kansas State this weekend. The Cyclones probably took away some of the surprise when they upset TCU last weekend, though.
Kansas State has a stout defense to go along with its ninth-ranked rushing offense. Because of that, the Wildcats will upset the Mountaineers en route to staying perfect through October.
6. Notre Dame Fighting Irish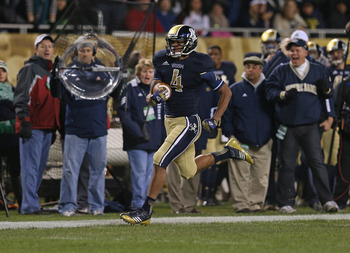 Jonathan Daniel/Getty Images
October slate: Oct. 13 — vs. Stanford, Oct. 20 — vs. BYU, Oct. 27 — at Oklahoma
Prediction: (2-1). Knocked out of BCS title contention.
Lou Holtz was finally right! Brian Kelly has turned Notre Dame around and into a respectable program again.
The Fighting Irish defense has been fantastic. It has allowed an average of 7.8 points per game in 2012.
It should be a great matchup this weekend when No. 17 Stanford visits South Bend. The Irish will get by Stanford and BYU.
Notre Dame's luck will run out when it goes on the road to face Oklahoma in the last weekend of October.
5. Florida Gators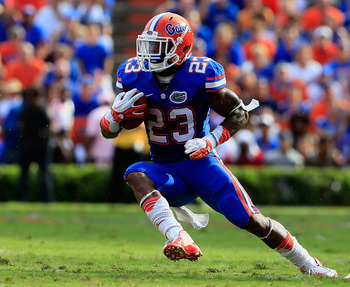 Sam Greenwood/Getty Images
October slate: Oct. 13 — at Vanderbilt, Oct. 20 — vs. South Carolina, Oct. 27 — vs. Georgia (Jacksonville)
Prediction: (3-0). Remains in BCS Title contention.
Florida's struggles in 2011 seem a lot farther away than only one season.
Will Muschamp has caught a little of that second-year magic that coaches in the SEC seem to have a bottle of in their office.
Mark Richt, Nick Saban and Gene Chizik all had the second-year bump when they went to their programs.
It is happening again at Florida.
The Gators will grab control of the SEC East and have a spot in Atlanta locked up by the end of the month.
4. West Virginia Mountaineers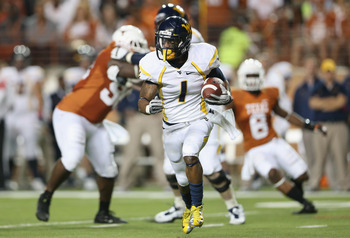 Ronald Martinez/Getty Images
October slate: Oct. 13 — at Texas Tech, Oct. 20 — Kansas State, Oct. 27 — TCU
Prediction: (2-1). Knocked out of BCS title contention.
West Virginia should not even have a punter. This offense can score at will. The offense was never the problem, though.
West Virginia is 102nd in the nation in scoring defense. That defense has no chance to stop Kansas State. The Wildcats will be able to play a ball-control style of offense with their powerful rushing attack.
The Wildcats defense will be able to slow down the West Virginia offense just enough to spring the upset of the Mountaineers in two weeks.
3. South Carolina Gamecocks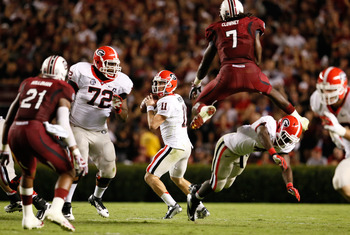 Kevin C. Cox/Getty Images
October slate: Oct. 13 — at LSU, Oct. 20 — at Florida, Oct. 27 — Tennessee
Prediction: (1-2). Knocked out of BCS title contention.
Steve Spurrier has taken the South Carolina football program to never-before-seen heights in the last three years.
South Carolina is a good, no, great football team. Give it a schedule like UGA's or Alabama's, and Gamecock fans can book themselves hotel rooms in Miami.
South Carolina was not blessed by the schedule-makers in 2012, though. After beating UGA, the Gamecocks have to go on the road to face two Top 10 teams in consecutive weeks.
It's hard to pick the Gamecocks this week when the memory of South Carolina knocking off Alabama in 2010, only to go to Kentucky the next week and lose, is still fresh.
South Carolina does not have enough gas in the tank to go on the road the next two weeks, after a very emotional win against rival UGA, and get even one victory.
The Gamecocks had a nice run, but the BCS Trophy is not coming to Columbia this year.
2. Oregon Ducks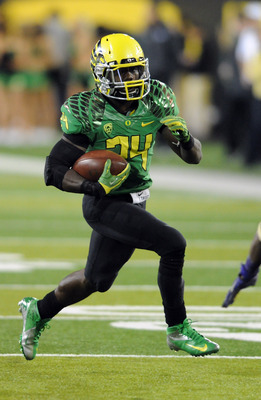 Steve Dykes/Getty Images
October slate: Thur, Oct. 18 — Arizona State, Oct. 27 — Colorado
Prediction: (2-0). Still in BCS title contention
Chip Kelly has his Oregon Ducks squad running like a well-oiled machine once again.
The Ducks have a bye week this weekend before returning against Arizona State on Thursday night next week.
This team is not a far cry from the team that met (and nearly beat) Auburn in the BCS championship game in 2010.
Arizona State does have the Pac-12's best defense, allowing an average of 276 yards a game. However, the best offense it has faced is Northern Arizona, which is ranked 57th in the country in total offense.
Oregon may match that average of 276 yards of offense by halftime.
Oregon and Alabama are on a collision course for Miami.
1. Alabama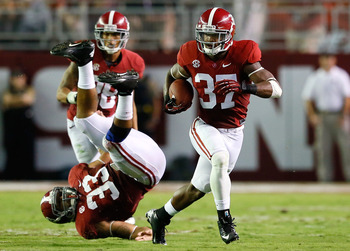 Kevin C. Cox/Getty Images
October slate: Oct. 13 — at Missouri, Oct. 20 — at Tennessee, Oct. 27 — vs. Mississippi State
Prediction: (3-0). Crimson Tide remain in BCS title consideration.
Alabama once again is the odds-on favorite to win the 2012 BCS title. We will know a little more about the Crimson Tide after October, though. To this point, Alabama's best win came in Week 1 against then eighth-ranked Michigan.
No matter the competition, this is a team that is loaded and could very well win its second consecutive national championship.
In each of their past two championship seasons, the Crimson Tide has had a squeaker or two of a win (or loss) in which they just didn't appear to show up and play up to their potential.
In 2009, it was against Tennessee and Auburn. In 2011, it was against LSU.
Who will it be this year? Tennessee will give the Alabama secondary a challenge on Oct. 20 in a rivalry game where anything could happen.
Mississippi State could be 7-0 when it comes to Tuscaloosa on the 27th. It's very unlikely that Nick Saban will allow the Tide to overlook Mississippi State while looking forward to LSU, but the Bulldogs will come in hungry to upset the top team in the country.
The Tide will stay perfect in October.
Keep Reading