How Carmelo Anthony Can Be Selfish and Selfless Simultaneously for NY Knicks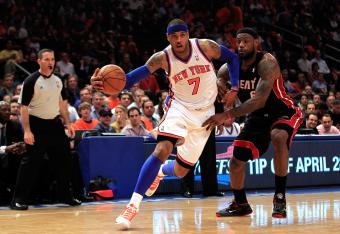 Chris Trotman/Getty Images
There is no worse thing to be branded in the NBA than selfish. The term permeates every aspect of the player's public persona and affects their image, relationship with teammates and ability to perform on the court. This label has hung with the New York Knicks' Carmelo Anthony through the brunt of his highly successful NBA career, and the 2011-2012 season was no exception.
However, a lack of aggression on the court can be equally damning. LeBron James struggled with a reputation of deferring to teammates too often and not looking for his own shot enough, which he was finally able to shake on the Miami Heat's stellar run to a championship.

In one of the more surprising quotes of the 2012 offseason, Anthony told the Wall Street Journal that he "[is] tired of scoring 30 or 40 points a night" every night, and that he believes that for the team to be successful, they must have a far more balanced offense than they had in the past.
While his intentions are noble, the Knicks do not need Anthony to be constantly looking to dish out the ball to his teammates; in order for the team to live up to their potential, he must strike a balance between being selfish and selfless.
Carmelo Anthony's 2011-2012 season highlights.
There is no doubting that with Mike Woodson at the helm and with the kind of team the New York front office has assembled, the offense will live and die by Anthony. He did not mesh with the brisk, up-and-down pace of Mike D'Antoni's "Seven Seconds or Less" offense, and it showed as he averaged a mundane 22.6 points on 43 percent shooting from the field (33.5 percent from three-point territory).
At times he simply did not look engaged, but now the team's slower, half-court style perfectly fits the stud small forward's skill set. He should still be taking the lion's share of the Knicks' shots, although not quite the 24.8 attempts from the floor he was taking during New York's first-round postseason series against Miami.
With Amar'e Stoudemire improving his post moves, and the team having capable scorers in Raymond Felton, J.R. Smith, Tyson Chandler and Iman Shumpert, the Knicks should not struggle to score without 'Melo as mightily as they did during the lockout-shortened season.
Carmelo should be looking to keep his star frontcourt teammate involved by using his shooting to draw big men away from the post. This will effectively open up room for Stat to showcase what Hakeem Olajuwon taught him.
Therefore, Anthony should be seeking to cut some of the more questionable shots out of his arsenal. The long-two, or the dribble-up three are not going to win the team many games in an improving Eastern Conference, but he should still be calling for the ball in the post and using his strength and quickness to get the better of his man.
Despite his fairly unimpressive assist totals, there is no denying the passing talent Anthony has, and he had one of his best campaigns dishing the ball during last season. With the attention opposing defenses will put on him, he needs to be willing to give up the ball to someone with a quality look at the basket.
There is no reason, given how much time he will have the ball in his hands and the talented cutters the Knicks have, that he cannot average a career high in assists and be one of the main facilitators for the squad.
New York also has a pretty murky point-guard situation with Felton and Jason Kidd splitting time at the 1, which means having another playmaker on offense would certainly not hurt during the course of the season. Both Felton and Kidd have already played their best basketball and will spend more time working without the ball alongside Stoudemire and Anthony.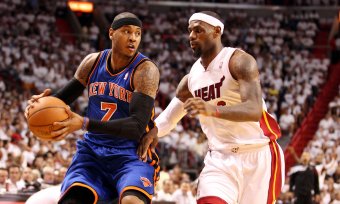 Marc Serota/Getty Images
Anthony can initiate the team's offense in half-court sets, but he can also serve as a bailout option on broken plays thanks to his ability to create his own offense out of nothing and bully his way to the rim.
The trick for both Anthony and the Knicks is to strike up a balance. Trying to make Anthony anything less than the first option offensively would be a waste of his tremendous talent and stifle him as a player, but having him jack up ill-advised shots and wind down the shot clock to the last few seconds is equally detrimental to the success of the team.
Working with him off of the ball, and trying to involve him more in screens and the pick-and-roll game with dynamic finishers like Tyson Chandler, will give him an opportunity to utilize his versatile skill set.
Anthony thrived as a scoring sixth man during the 2012 Olympics, and perhaps giving him a stretch or two in the game of being the old 'Melo will make it easier for him to subjugate himself and focus more on defense, rebounding and passing.
It will not necessarily be easy and will require significant adjustments from the perennial All-Star, but with time, it is certainly possible for Anthony to find the spot between scoring 30 points on 25 shots and playing outside of himself.
Playing both selfishly and unselfishly is a difficult practice, but Carmelo Anthony finally seems primed to take that step.
This article is
What is the duplicate article?
Why is this article offensive?
Where is this article plagiarized from?
Why is this article poorly edited?

New York Knicks: Like this team?