Detroit Tigers vs. Oakland A's Game 3 Live Chat from the Press Box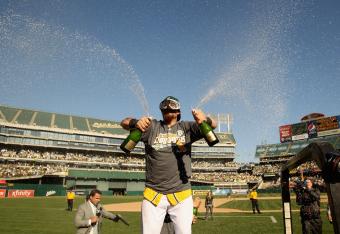 Ezra Shaw/Getty Images
Greetings from Oakland, California.
There's a fairly important game going on at O.co Coliseum on Tuesday night, as the Oakland A's are looking to stave off elimination in Game 3 of their ALDS matchup against the Detroit Tigers. One more loss will end their season, and that would be quite the anticlimactic bummer after what they went through in the regular season.
On the flip-side, one more win will send the Tigers to the ALCS for the second straight year. With Anibal Sanchez—he of the 2.43 September ERA—on the mound in Game 3, the Tigers have to like their chances.
I'm lucky enough to be taking in Game 3 of the ALDS between the Tigers and A's from the press box among other knights of the keyboard. It's kind of like taking in a game from a luxury box, except with more laptops.
It crossed my mind to do a live blog of the game, but a live chat seems like a better idea. If you have questions you want to ask about the Tigers vs. A's game, you can leave them in the comments section below or you can send them to me via Twitter.
If you have questions about any other baseball topics, by all means feel free to ask them. We can talk about the other playoff series in action, and I'm down to answer some early Hot Stove questions if you have those as well.
Basically, whatever you want to ask, I'm all ears.
Here's a Tigers question from B/R's Eric Ball:
@zachrymer who would the Tigers rather face...Orioles or Yanks?

— Eric Ball (@BigLeagueEball) October 10, 2012
First off, let's not get ahead of ourselves here. The A's look alive and well.
That said...
The Orioles are problematic for the Tigers because the Tigers can't match up with their bullpen. Few teams can. However, Detroit would clearly have the starting pitching edge in a matchup against Baltimore, and its starters could definitely take advantage of the tendency Orioles hitters have to strike out.
The Yankees are a tough matchup for the Tigers because CC Sabathia can match up against Justin Verlander. I'd also say that New York's offense is more dangerous than Baltimore's, and the Yankees would also have the home-field advantage in a matchup against the Tigers.
So between the two of them, I'd say the Tigers are better off facing the Yankees.
B/R FC Robert Knapel has a Brett Anderson question:
@zachrymer With Brett Anderson only having thrown 67 pitches through 5 innings, how much longer do you think Melvin leaves him out there?

— Robert Knapel (@RobertKnapel_BR) October 10, 2012
Since you ask, Bob Melvin said in his pregame presser that they were going to approach this start as if it was a "normal" start for Anderson.
So I'd say 100 pitches is in play. I'm thinking Melvin will ride Anderson as long as he can given the way he's throwing the ball. And at this rate, that could mean as many as seven or eight innings out of Anderson.
Just what the doctor ordered for the A's, but they need more runs than just one.
Check that, two. Seth Smith just went deep.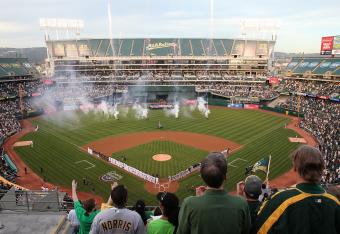 Here's a pretty good question from prolific B/R reader Julian Zuzarte:
Zach, what do you think of the A's management's decision not to take the tarp of the upper decks in O.co Coliseum to keep an intimate environment?
Well, first of all, I'm glad the tarp on Mt. Davis is still there. Actually makes it slightly tolerable in my opinion.
As for the other tarps, I don't really get it. Why not try and get the extra revenue? Worried those seats wouldn't sell? Don't want to hire the extra staff to deal with it? All-around laziness?
I think you can chalk it up to a combination of all of the above. Feels like the A's decided to play things as safe as they possibly could, for good or ill.
B/R Pop Culture Lead Writer Gabe Zaldivar has a question about the 2013 Dodgers:
@zachrymer 2013 #Dodgers will be: Awesome, Very Awesome or AC Slater dance moves awesome?

— Gabe Zaldivar(@gabezal) October 10, 2012
Hmmm...I'll go with the middle one, but only because I don't know who this Slater character is.
Give them a healthy Kershaw, a healthy Kemp, a healthy Ethier and full years from A-Gon, Hanley, Beckett and Crawford and yeah, they'll be pretty good.
I'm not too sure what the 2013 Giants are going to look like, so I'll go ahead and assume the Dodgers are the team to beat in the NL West for next season.
Courtesy of Ryan J G, this is what Coco's catch would have sounded like if Ian Darke was doing play-by-play:
@zachrymer Great skill tracking the ball on the run before gleefully pillaging the hr from Prince.

— Ryan J G (@Rgogo123) October 10, 2012
"Gleefully" isn't a word you hear too often anymore.
For that, I blame Glee.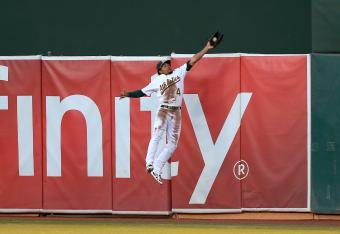 Behold this awesome picture of Coco's catch.
A picture is worth a thousand words...unless one of the words is "Cocomongous."
P Shields has two words to describe Coco's catch:
@zachrymer coconcentrated and ludacrisp

— P Shields (@PShieldssports) October 10, 2012
Pretty good, but I think Ludacris is about to sue somebody.
Zack Dupuis came up with a word to describe Coco's catch that not everyone will agree with:
@zachrymer NotasgoodasMikeTrout

— Zack Dupuis (@ztiberiusd) October 10, 2012
Oh yeah, he went there.
And he's right, you know.
Anybody got any words to describe the catch Coco Crisp made in the top of the second to rob Prince Fielder?
Best words get shoutouts.
Yes, you can make up words. Just keep it PG-13.
Dave Barr has a question about Oakland's stadium saga:
@zachrymer are there any fan led movements in Oakland to try to keep A's, or are they resigned to losing them?

— Dave Barr (@davebarr34) October 10, 2012
The fans definitely aren't letting their team go without a fight. There are all sorts of websites and Facebook pages dedicated to keeping the A's in town.
Will any of it make a difference?
Shoot, not if the A's find a way to get down to San Jose. If they do, there won't be too much outrage. It's a short drive.
Worth noting: Bleacher Report's Matt King sang the national anthem for Game 3 tonight. Score one for B/R!
I would say score two since I'm here as well, but let's face it, all the talented people are down on the field.
Adam Hirshfield has a tongue-in-cheek question about the A's and Giants:
@zachrymer How many innings will it take for the A's to accumulate more hits than the Giants have had so far tonight? Over/under of 1 1/2.

— Adam Hirshfield (@ahirshfield) October 10, 2012
More than two hits?
I suppose I'll take the over. It won't be that easy against Sanchez.
But yeah, all I can say about the Giants is "Oy..."
Stephen Meyer left a question about Game 3 in the comments section:
Do you think Brett Anderson is capable of shutting down Prince Fielder tonight? This would allow him to pitch around Miggy whenever he wanted and essentially take him out of the game entirely.
It bodes well for Anderson that Fielder only has one hit in eight at-bats in this series. Unless one figures Fielder is due, of course, in which case Anderson is clearly screwed.
Fielder only has one career at-bat against Anderson, so there's not much to go off of in terms of their history against one another. Anderson is holding lefties to a .219 batting average, though.
The downside? Fielder hit a solid .289 against lefties this season. He also just saw a lefty in Tommy Milone in Game 2, so he doesn't have to get used to a different arm slot in this game.
My gut feeling is that Fielder is due. If I'm the A's, I'm just hoping that his hits are soft.
Either way, I doubt the A's are about to start pitching around Miggy to take their chances with Fielder. They'll be asking for trouble if they do.
Max Ratliff has a question about the Red Sox, and it's not "On a scale of one to 10, how much did they suck this year?"
No, his question is about next season:
@zachrymer Can the Red Sox win 75 games next year?

— Max Ratliff (@maxratliff13) October 10, 2012
My gut feeling: Yes.
Not that winning 75 games constitutes a great season, of course. That's only six more games than they won this year, when they were one of the very worst teams in the American League.
I don't think the Red Sox will be or even want to be a 95-win team in 2013. They're rebuilding for the long haul, and that's not a mission that can be accomplished in a single offseason.
But they will go out and patch up their starting rotation and their bullpen, and I expect them to bring in at least one impact hitter (most likely at first base). With Bobby Valentine out of the picture, I just can't see how things could possibly be worse in 2013.
If I was a better man, I'd put my money on 78 wins.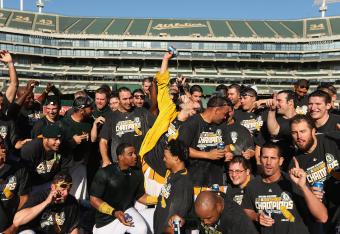 Theo DeRosa cut right to the chase with his question about Game 3:
@zachrymer will the A's continue a magical 2012, coming back to take the series from Miggy and the Tigers here in Oakland?

— Theo DeRosa (@Phisportsfan11) October 10, 2012
In other words, do I think the A's are going to win three straight games to take this series?
In all honesty, no.
I should know by now never to count the A's out of anything, especially after I counted them out of quite a few things throughout the course of the season (contention, the AL West race, etc.). I'm also well aware that they have a pretty significant home-field advantage in Oakland.
But I don't see it because of Detroit's pitching. Even if they beat Sanchez and Scherzer, they still have to beat Verlander. He owned them in Game 1.
As a whole, Detroit's starting rotation is a bad matchup for the A's because they're all strikeout pitchers. I just can't see the A's winning three straight against them.
This article is
What is the duplicate article?
Why is this article offensive?
Where is this article plagiarized from?
Why is this article poorly edited?