Kansas Basketball: 3 2014 Recruits Jayhawk Fans Should Keep Their Eye on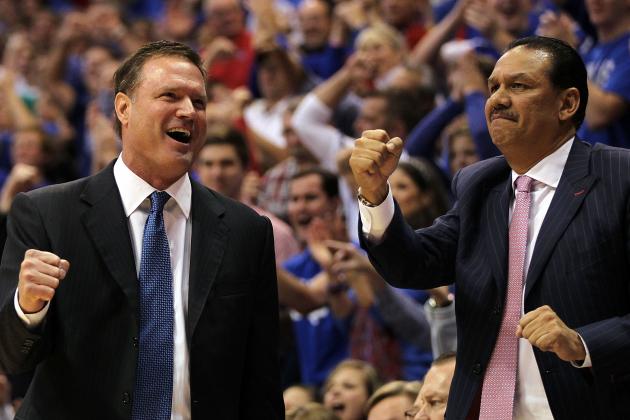 Jamie Squire/Getty Images

After compiling one of the most complete and impressive recruiting classes during his time at the University of Kansas, Bill Self and the Jayhawks will begin their road back to the Final Four during Friday's Late Night in the Phog.
However, the coach with a fat new contract always has his eye on the future.
With three veteran upperclassmen and nearly a dozen unproven youngsters with little or no previous playing time on the roster, the future of Jayhawk basketball rests on the shoulders of Self's excellent ability to attract elite talent to Lawrence.
With Conner Frankamp, Brannen Greene and Frank Mason as verbal commits for 2013, the KU coaching staff now has their eyes on kids in the classes of 2014 and 2015.
Begin Slideshow

»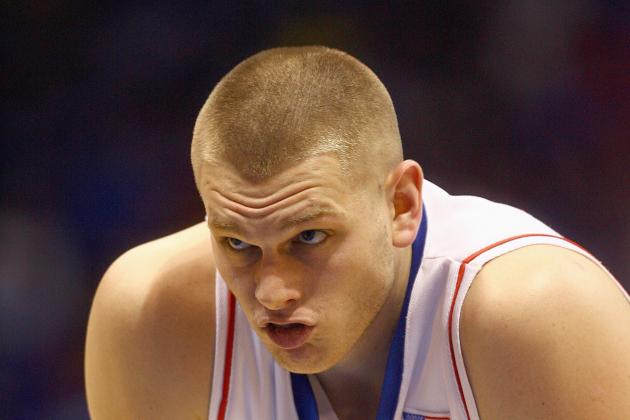 Jamie Squire/Getty Images
Cole Aldrich was Self's last recruit from Minnesota.
Rashad Vaughn - SG
6'6", 200 pounds
Minneapolis, Minnesota
The Minnesota prep ranks rarely produce the elite blue-chip prospects that have Bill Self, Tom Izzo, Roy Williams and others drooling, but Robbinsdale Cooper junior shooting guard Rashad Vaughn is one of three all-world recruits (Tyus Jones and Reid Travis being the others) from the Land of 10,000 Lakes.
Earlier this week, Self visited Vaughn's high school in an attempt to lure the lightning quick and sweet-stroking 2-guard to Lawrence for 2014-15. As one of the best spot-up shooters in his class with arguably the most college-ready body at his position, he and Tyus Jones have generated the biggest buzz in the state's prep ranks since former Jayhawk Cole Aldrich.
Vaughn took an unofficial visit to Iowa State over the summer and has developed a good relationship with Minnesota assistant Vince Taylor during several unofficial visits, but has not yet named any finalists—something he does not plan to do until after the high school season.
Rashad Vaughn has the exact same body and frame as Brandon Rush, with a very similar slashing game that allows him to create space on the perimeter and pairs nicely with an impressive three-point shot.
Dilip Vishwanat/Getty Images
Cliff Alexander could develop similarly to Thomas Robinson.
Cliff Alexander - PF/C
6'9", 240 pounds
Chicago, IL
Cliff Alexander, a bruising big man from Chicago's Curie High School, has stated that Kentucky and Michigan State are his favorites but has also reiterated that his recruitment remains wide open, with no plans to make a decision soon.
He has an impressively developed rebounding game and is nearly always in perfect position to dominate similarly sized centers down low.
It is no secret that Kansas has developed some of the country's best power forwards in the 6'8"-to-6'10" range. However, big-man guru Danny Manning has moved on to Tulsa, leaving Self with Norm Roberts and long-time assistant Kurtis Townsend to grow the next wave of low-post scorers and rebounders.
Alexander's shot-blocking ability has been compared to Kentucky recruit Nerlens Noel and even former Jayhawk Thomas Robinson because of his dynamic versatility. He hopes to add a couple inches to his current 6'9" frame before dominating opposing college forwards.
A longer recruitment favors Self as he looks to snatch up a late project for 2014.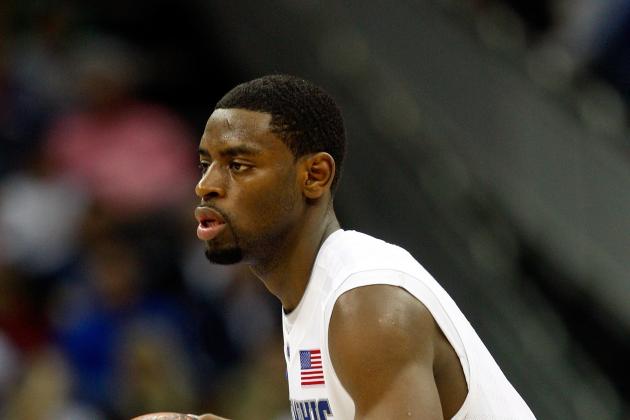 Jamie Squire/Getty Images
Emmanuel Mudiay has been compared to Tyreke Evans.
Emmanuel Mudiay
6'4", 190 pounds
Arlington, Texas
Emmanuel Mudiay, a true combo guard with a versatile inside game, developed a great relationship with Danny Manning prior to his departure last Spring, but has repeatedly stated his continued interest in Kansas.
He has mentioned Self's ability to get the most out his players, especially his expectation for KU guards to develop into premier perimeter defenders. With a game comparable to Tyreke Evans or even Mario Chalmers, Mudiay would give the Jayhawks an excellent option at the 2 if they expect Conner Frankamp to be running the point.
With primarily Big 12 schools on his list, it appears Mudiay will either stay close to home in Texas or venture up north to Oklahoma, Kansas or new SEC member Missouri.