Ranking the Top 5 Power Pitching Prospects at Every Minor League Level in 2012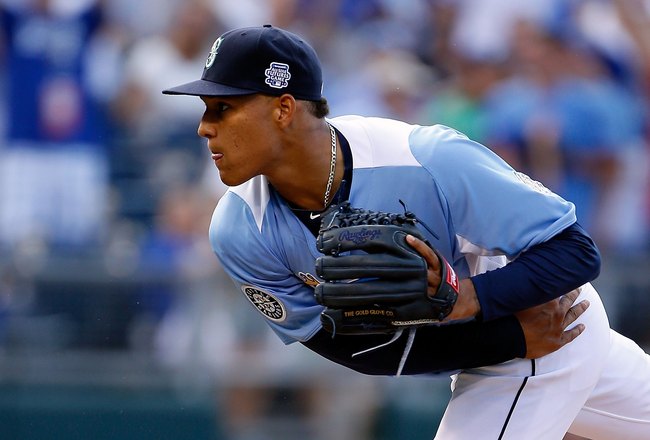 Jamie Squire/Getty Images
Continuing with some more season-in-review coverage, today, I'm taking a look at some of top power pitchers in the minor leagues. Guys who not only have the frame and durability, but the arsenal and command to match.
Many of the players in this article will ultimately become frontline starters in the major leagues, some within a few years. For some of the prospects housed in the basement of the minors, there's still time to gauge their true upside.
So, here's a look at five of the top power pitchers from every minor league's level. (I qualified players based on where they finished their season. So for someone such as Chris Archer, who finished the season in the major leagues but retained prospect status, I've included him in Triple-A.)
Triple-A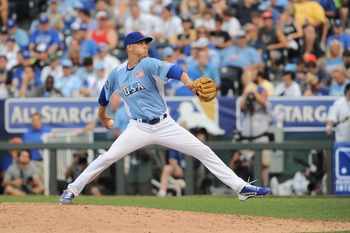 Denny Medley-US PRESSWIRE
Gerrit Cole, RHP, Pittsburgh Pirates
No. 1 overall draft pick in 2011 has lethal three-pitch mix, all electric. I still think the Pirates should have considered calling him up late in the season.
Zack Wheeler, RHP, New York Mets
One of the hottest and liveliest fastballs in the game in addition to a hammer breaking ball; change up continues to progress and he's not far away from the major leagues.
Trevor Bauer, RHP, Arizona Diamondbacks
Was excellent in the minors, but struggled in four big league starts; still a great prospect, but there's some issues about command and makeup.
Shelby Miller, RHP, St. Louis Cardinals
Just added to the ALDS roster in conjunction with removal of Jaime Garcia thanks to a strong start in game 162. Excellent overall second half could have him vying for rotation spot in 2013.
Chris Archer, RHP, Tampa Bay Rays
It was hard to find room for Archer this season in the major leagues, but the right-hander pitched well in his opportunities. Could be potential trade bait this offseason or could make another Rays' starter trade bait.
Double-A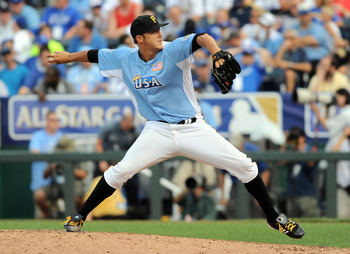 Denny Medley-US PRESSWIRE
Jameson Taillon, RHP, Pittsburgh Pirates
One of top pitching prospects in the game along with teammate Gerrit Cole, Taillon is a 6'6" right-hander with an excellent mix of power and off-speed.
Trevor May, RHP, Philadelphia Phillies
He struggled with his command and was inconsistent this season, his first at Double-A, but the power frame and progressing arsenal is still plenty to be excited about.
Dylan Bundy, RHP, Baltimore Orioles
From Low-A to the big leagues in his first professional season—a testament to the 19-year-old's upside. He's a superstar prospect, and it'll be interesting to see what the Orioles do with him next season.
Taijuan Walker, RHP, Seattle Mariners
Walker pitched the entire year as a 19-year-old in Double-A, and for the most part, fared well. He has a highly athletic frame at 6'4", 215 pounds and will enter the 2013 season as one of the top pitching prospects in the game.
Yordano Ventura, RHP, Kansas City Royals
Although he's undersized at 5'11", 140 pounds, the 21-year-old boasts a fastball that reaches triple digits, though his secondary stuff needs refinement.
High-A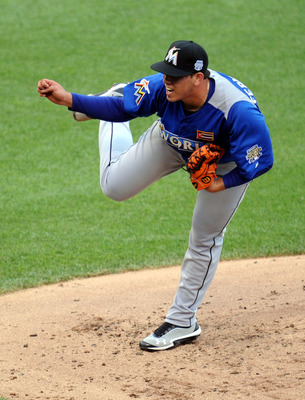 Peter G. Aiken-US PRESSWIRE
Jose Fernandez, RHP, Miami Marlins
One of the top pitchers in the minors this season, Fernandez has everything one looks for in a future No. 1. He has size, durability, velocity, command and an advanced feel for the strike zone.
Alex Meyer, RHP, Washington Nationals
The 6'9" right-hander enjoyed an excellent professional debut this season and adjusted quickly to High-A following a midseason promotion. Given his college experience, the 22-year-old could be on the fast track for the major leagues given the Nats' lack of pitching prospects.
Matt Barnes, RHP, Boston Red Sox
The 2011 first-rounder enjoyed a ridiculous start to his season, posting a 42/4 K/BB over his first 26.2 innings, a very pleasant surprise for the Red Sox this season.
Jesse Biddle, LHP, Philadelphia Phillies
Biddle emerged as the Phillies' top prospect with a strong season as a 20-year-old in High-A. It's always nice to see a young left-hander improving across the board at an advanced level.
Andrew Chafin, LHP, Arizona Diamondbacks
While Chafin didn't exactly improve across the board like Biddle, he did reaffirm that he's nasty by striking out 150 batters in 122.1 innings.
Low-A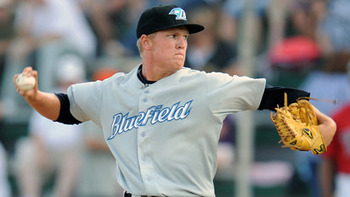 Courtesy of MiLB.com
Noah Syndergaard, RHP, Toronto Blue Jays
One of the more impressive pitchers in the minors this season, the 6'5" right-hander registered 122/31 K/BB over 103.2 innings this season.
Kyle Crick, RHP, San Francisco Giants
Another top prospect with a great arm but control issues (5.4 BB/9), Crick had an overall strong full-season debut with 10.3 K/9 and 6.1 H/9 and 0.1 HR/9 in 111.1 innings.
Archie Bradley, RHP, Arizona Diamondbacks
Bradley was his own worst enemy this past season, with a 5.8 H/9, 10.1 K/9 and ugly 5.6 BB/9 in 136 innings.

A.J. Cole, RHP, Oakland Athletics
Opening the season at High-A, Cole was roughed up early on and subsequently demoted to Low-A, where the 20-year-old thrived to the tune of a 2.07 ERA, 9.6 K/9 and 1.8 BB/9 in 95.2 innings.
Henry Owens, LHP, Boston Red Sox
Although the 6'6" left-hander posted a 4.87 ERA and 4.2 BB/9, he showed dominant stuff with a 11.5 K/9 in 101.2 innings.
Class-A Short Season; Rookie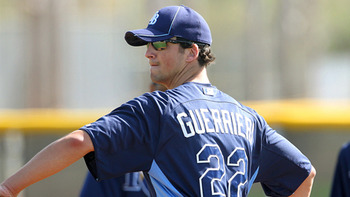 Courtesy of MiLB.com
Taylor Guerrieri, RHP, Tampa Bay Rays
The 6'3" right-hander has a mid-90s fastball as well as a plus, sharp-breaking curveball. The 19-year-old also possesses a solid-average cutter and changeup that continues to improve.
Lucas Giolito, RHP, Washington Nationals
Although he'll miss nearly all of the 2013 recovering from Tommy John surgery, Giolito still possesses a No. 1 overall-caliber arm that should dominate once he's healthy.
Ty Hensley, RHP, New York Yankees
The Yankees' first-round selection this past June, Hensley has a power frame and three pitches with plus potential. He's arguably the Yankees' top pitching prospect with Manny Banuelos out for the 2013 season following Tommy John surgery.
Roberto Osuna, RHP, Toronto Blue Jays
In his age-17 season, the highly talented right-hander posted a 25/9 K/BB mark for Class-A Short Season Vancouver. He already has three strong offerings and will conceivably reach the major leagues before his 21st birthday.
Blake Snell, LHP, Tampa Bay Rays
A wiry, 6'4" left-hander, Snell throws everything on a downward plane and is aggressive with his fastball, a pitch that induces plenty of weak contact.
Keep Reading