MLB's Craziest Statistical Splits of 2012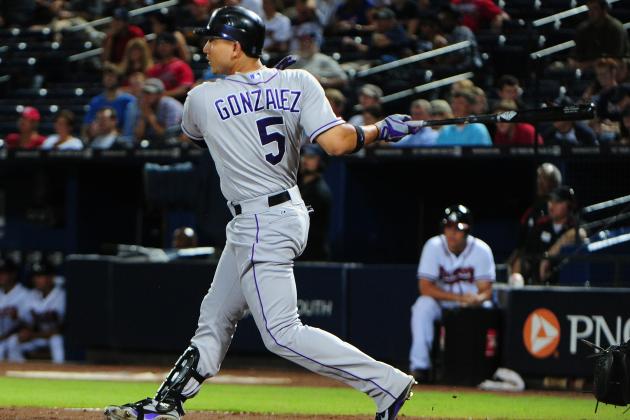 Scott Cunningham/Getty Images

Statistical anomalies occur in every single sport, but in Major League Baseball they abound throughout its long history.
Statistical splits—home vs. road, day vs. night, right-handers vs. left-handers—can often be misleading. For instance, a left-handed platoon hitter isn't going to be matching up against a left-handed pitcher most of the time, so the splits would naturally be skewed.
Often times, a full season of even splits can show a marked difference in performance.
Bleacher Report will take a look at some of the statistical splits for both MLB players and teams in the 2012 season that would definitely be considered extreme.
Begin Slideshow

»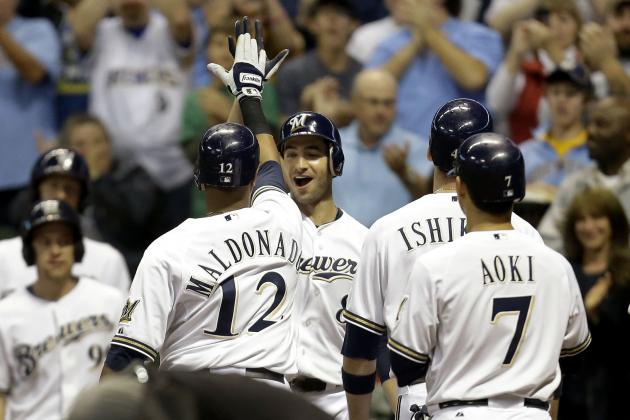 Mike McGinnis/Getty Images

The Milwaukee Brewers made a surge starting in late August, allowing them to get back into the chase for one of the Wild Card slots in the National League.
They ultimately fell short of their goal, and a quick look at one glaring statistic could be the reason why.
At Miller Park, the Brewers enjoyed a major advantage, posting a 49-32 record at home. However, the Brewers were a markedly different team on the road, winning just 34 games.
If Milwaukee had simply played .500 ball on the road, they would have finished two games above the St. Louis Cardinals for the second Wild Card slot.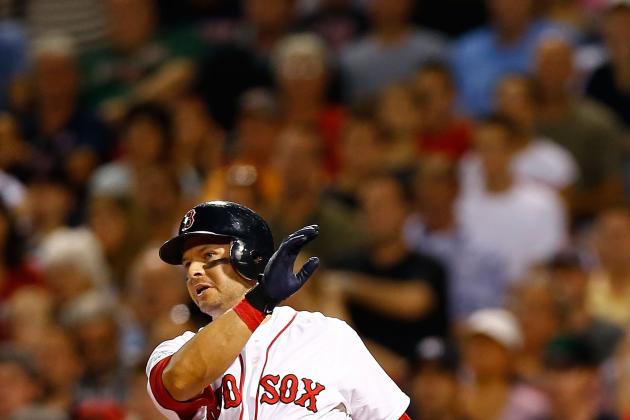 Jared Wickerham/Getty Images

Boston Red Sox outfielder Cody Ross certainly found Fenway Park to his liking in the 2012 season.
Ross hit .298 at home with 13 HR, 49 RBI and a .921 OPS.
However, away from Fenway, Ross hit just .232 with a .684 OPS.
Ross will be looking for a new contract this offseason. Based on the above numbers, he has more value to the Red Sox than anyone else.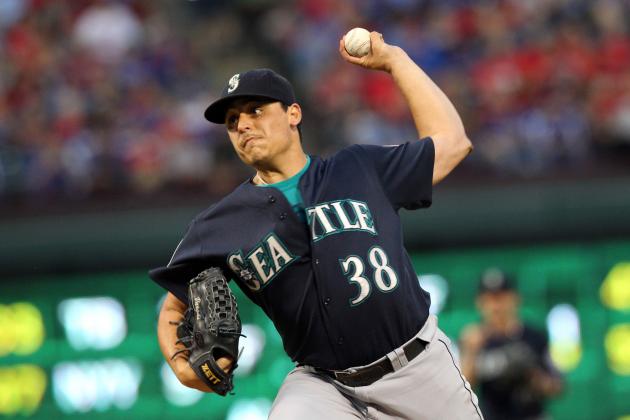 Layne Murdoch/Getty Images

Seattle Mariners starting pitcher Jason Vargas put together a solid season, posting a 14-11 record and 3.85 ERA.
Vargas also gave up 35 home runs during the season, the second-most among qualified pitchers in all of baseball.
Vargas only gave up nine home runs in the comfort of Safeco Field. Away from home, gopher balls were much more the norm—Vargas surrendered 26 home runs on the road, the most in the majors.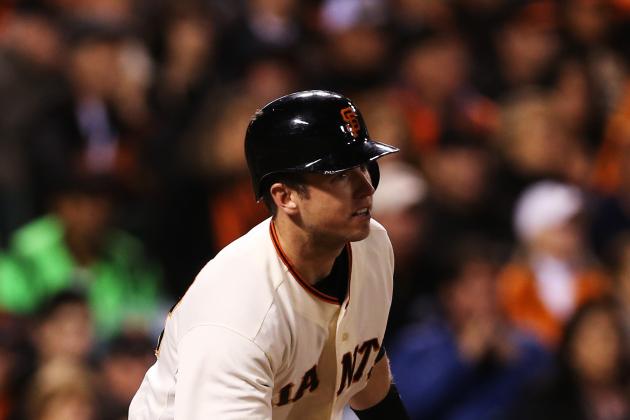 Jeff Gross/Getty Images
Catcher Buster Posey led the San Francisco Giants in home runs at home with seven.
It's certainly clear that the strength of the San Francisco Giants over the past three seasons has been their pitching. It's even more of an advantage at home in the cavernous confines of AT&T Park.
It also works against their offense as well.
In 2012, the Giants hit only 31 home runs at home. Contrast that against the New York Yankees, who hit over four times as many long balls at home in Yankee Stadium (138).
The Giants' total represents the fewest home runs at home in a season by any team in the 2000s.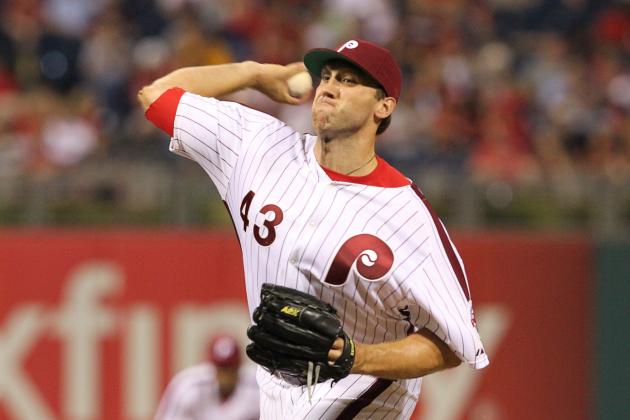 Hunter Martin/Getty Images

Reliever Josh Lindblom was part of the package of players that the Philadelphia Phillies received from the Los Angeles Dodgers for outfielder Shane Victorino on July 31.
Lindblom's home/road splits weren't just stark, they were extreme.
Consider this: at home for the Dodgers, Lindblom posted a sterling 1.05 ERA in 26 appearances. Following his trade, Lindblom posted a 2.70 ERA at Citizens Bank Park in 18 appearances.
Away from both home parks, Lindblom posted a 5.87 ERA as opposed to 1.79 at home—a difference of over four runs per game.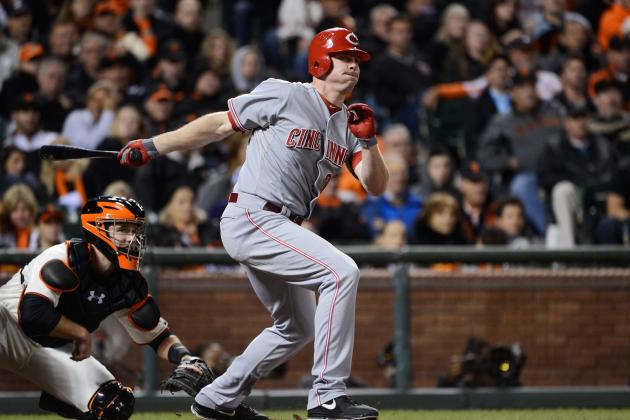 Thearon W. Henderson/Getty Images

In his six-year MLB career, Cincinnati Reds first baseman Joey Votto has already developed a reputation as one of the game's great hitters.
He's also a road warrior as well.
Votto's numbers at home this year were better than on the road, but for his career, Votto actually fares better away from Great American Ball Park.
During his career, Votto has a slash line of .329/.425/.556/.981 on the road. At home, Votto's slash line is .303/.405/.549/.954.
While not a huge difference, Votto is clearly a threat no matter where he plays.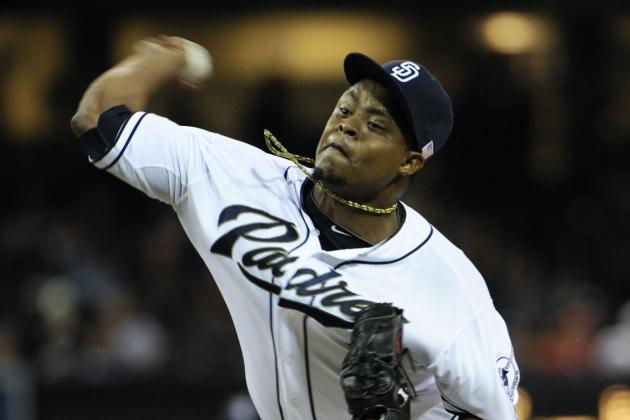 Denis Poroy/Getty Images

Petco Park is certainly a pitcher's paradise. For San Diego Padres pitcher Edinson Volquez, it was an absolute haven.
In his first season at his new home, Volquez pitched like a man comfortable in his new surroundings—a 2.95 ERA and 1.291 WHIP in 17 starts.
However, once Volquez was on the road, he morphed into a stranger with a 5.60 ERA and 1.646 WHIP in 15 starts.
Home is where the heart is. Apparently for Volquez, it's where his comfort level is as well.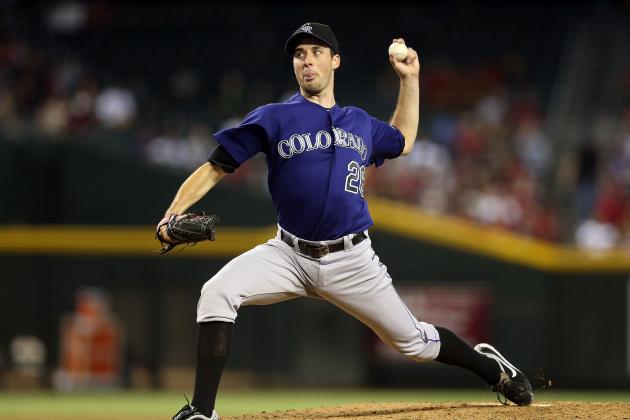 Christian Petersen/Getty Images

This particular slide doesn't contain a split, but it does contain an extreme statistical anomaly.
Jeff Francis saved the day, or the year, for the Colorado Rockies.
Thanks to Project 5,183, the Rockies came dangerously close to setting an all-time record for futility.
Fortunately, Francis saved that from happening.
Francis compiled a total of 113 innings pitched, meaning that the Rockies did not become the first team in MLB history without one pitcher logging at least 100 innings.
Even so, Francis' 113 innings is the lowest total for a team workhorse since Glenn Abbott threw 130.1 innings for the Seattle Mariners in 1981.
Mind you, the Mariners only played 109 games that season—a strike-shortened year.
No one else in the modern era threw fewer innings as a workhorse than Francis.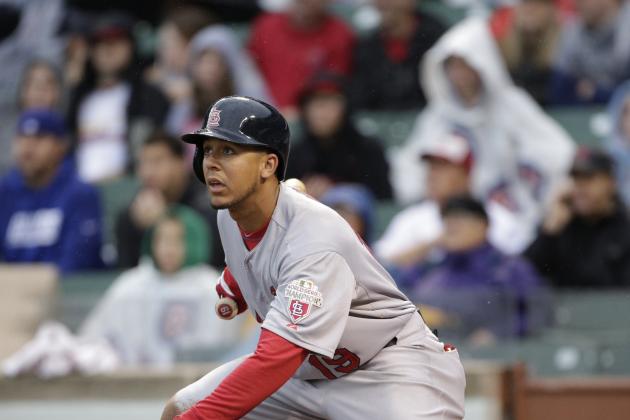 John Gress/Getty Images

On Monday, St. Louis Cardinals center fielder John Jay added another clip to his rapidly expanding highlight reel, robbing Danny Espinosa of extra bases with a leaping catch at the wall in the sixth inning.
Jay's defense is certainly a plus. However, what isn't a plus is his offense on the road.
The home/road splits for Jay in 2012 was a tale of two players.
At Busch Stadium, Jay hit a robust .389 with a .453 on-base percentage and .948 OPS. On the road, Jay hit just .224 with a .289 on-base percentage and .590 OPS.
That's not a split. It's a gap you can drive a monster truck through.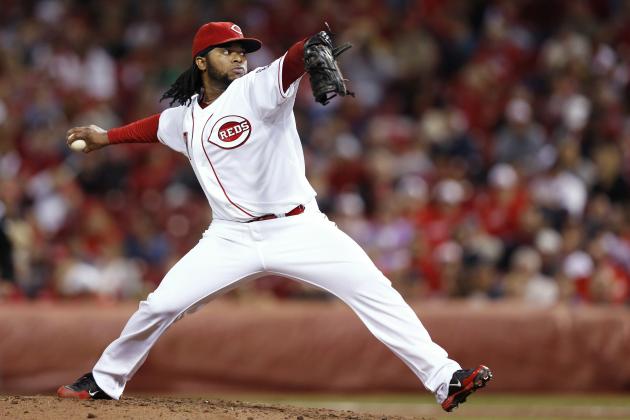 Joe Robbins/Getty Images

Johnny Cueto was lifted after throwing only eight pitches on Saturday night in Game 1 of the NLDS between the Cincinnati Reds and San Francisco Giants. It was revealed that Cueto had suffered a mild oblique strain.
Looking at his day/night splits, maybe that wasn't such a bad thing.
Cueto absolutely excelled during the daylight hours in 2012, posting a 12-2 record and 1.99 ERA. At night, however, Cueto was a more pedestrian 7-7 with a 3.65 ERA.
The day/night difference plays out over Cueto's career as well—23-15 with a 2.71 ERA by day, 37-31 with a 4.08 ERA by night.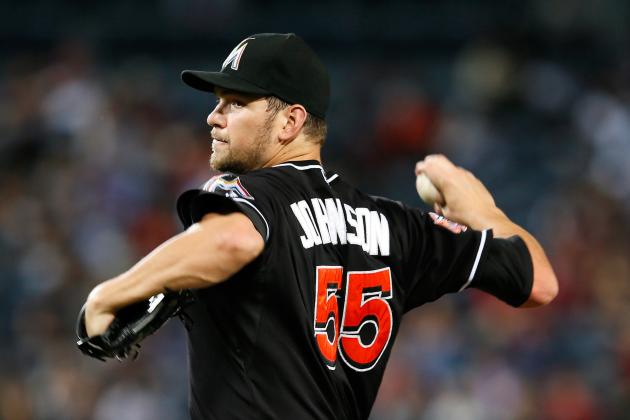 Kevin C. Cox/Getty Images

The Miami Marlins opened Marlins Park this season and it quickly proved to favor pitchers.
According to ESPN, Marlins Park ranked 26th in all of baseball in terms of park factor—dangerously close to well-known pitcher friendly venues like Petco Park, Safeco Field and AT&T Park.
Marlins pitcher Josh Johnson was definitely a beneficiary of the pitcher-friendly confines at home. Johnson posted a 6-6 record with a 2.96 ERA in 17 starts at Marlins Park.
On the road, Johnson was anything but elite with a 2-8 record and 4.94 ERA in 14 away starts.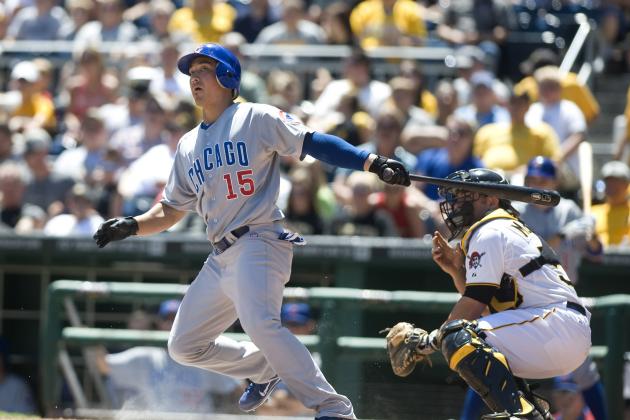 Vincent Pugliese-US PRESSWIRE

In taking a look at some of these crazy splits, it's a wonder why some players even bother to travel.
Chicago Cubs second baseman Darwin Barney is a prime example.
At Wrigley Field, Barney plays like an All-Star posting a .303 average with seven HR, 32 RBI and a .799 OPS.
On the road, Barney plays more like Mario Mendoza.
He hit just .206 with a .246 on-base percentage and zero home runs away from home.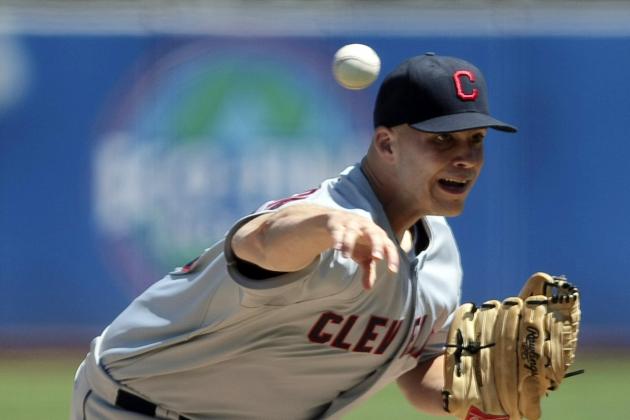 Kelley L Cox-US PRESSWIRE

No matter how you slice and dice the 2012 season for Cleveland Indians pitcher Justin Masterson, the numbers aren't pretty.
Masterson appeared to take a step forward in 2011, posting a 12-10 record and 3.21 ERA in 33 starts. It certainly looked a like a corner had been turned.
Unfortunately, Masterson didn't straighten out the car at the end of the corner, so to speak.
In 2012, Masterson was 11-15 with a 4.93 ERA in 34 starts. The home/road splits were even uglier. At Progessive Field, Masterson was at least adequate—a 6-6 record with a 3.62 ERA.
On the road, Masterson was positively putrid—a 5-9 record and 6.40 ERA.
If you thought that was bad, our next presentation displays an even more outrageous split.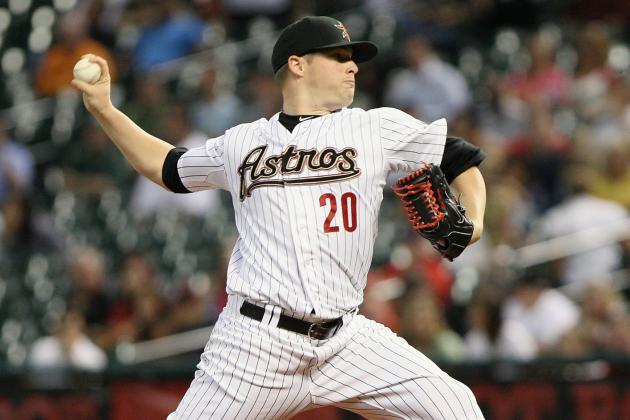 Troy Taormina-US PRESSWIRE

At first glance, Houston Astros pitcher Bud Norris didn't have a successful 2012 season—a 7-13 record with a 4.65 ERA. Norris certainly isn't alone, the entire Astros team suffered along with him.
However, a closer look reveals a glaring split.
At home in Minute Maid Park, Norris was 4-1 with a 1.71 ERA in 11 starts. That would be All-Star worthy.
On the road, All-Stink worthy was more like it. Norris was 3-12 with a 6.94 ERA in 18 starts.
At home, Norris' K/BB ratio was 4.82. On the road, it was 1.69. His WHIP at home? 0.964. On the road? 1.690.
Should I go on?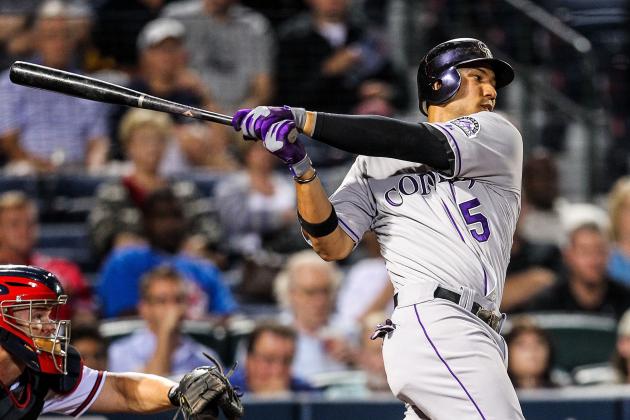 Daniel Shirey-US PRESSWIRE

Finally, we present the case of Colorado Rockies outfielder Carlos Gonzalez.
If Gonzalez played all his games at home, he would be worthy of inclusion in baseball's Hall of Fame.
On the road, he would be worthy of Hall of Has Beens.
Gonzalez clearly plays well in rarefied air. At Coors Field this season, Gonzalez hit .368 with 13 HR, 58 RBI and a 1.046 OPS.
On the road, Gonzalez hit .234 with nine HR, 27 RBI and a .706 OPS.
His season numbers fall in step with his overall career marks as well. Gonzalez has a .338 lifetime average at home with a 1.003 OPS. Away from Coors Field, Gonzalez has hit just .258 with a .735 OPS.
Proof positive that a field can in fact make a player look much better than he really is.
Doug Mead is a featured columnist with Bleacher Report. His work has been featured on the Seattle Post-Intelligencer, SF Gate, CBS Sports, the Los Angeles Times and the Houston Chronicle.