Texans vs. Jets: Houston's Biggest Winners and Losers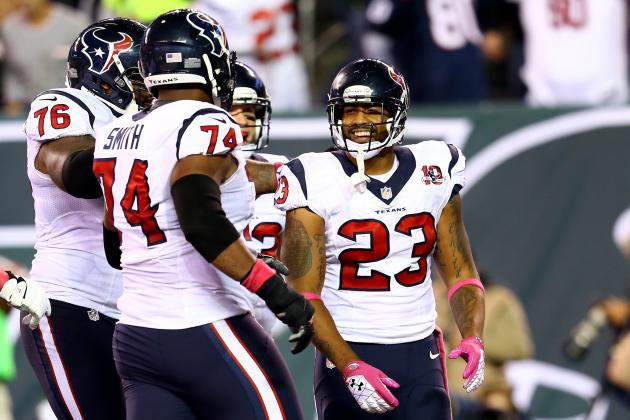 Al Bello/Getty Images

I, for one, believed that the Jets were going to be competitive on Monday Night Football.
They were blown out at home the week before, and it's rare in the NFL for a team to let itself get embarrassed two weeks in a row, especially in front of a national audience.
The Jets came to play and gave their best effort. The Texans, however, did not play up to their potential.
It is a testimony to the talent of this football team that they were able to come away with a win despite performing so dismally.
Here are the Texans' biggest winners and losers from their nail-biting Monday Night Football game against the Jets.
Begin Slideshow

»
Elsa/Getty Images

Throughout the season, we have been talking about how amazing it is that J.J. Watt can influence the outcomes of games so greatly.
Now, however, Watt took it to a whole new level.
Watt single-handedly won the game for the Texans. Aside from being dominant against the run for the majority of the game, Watt made his first major impact felt right before halftime.
The Jets were driving and were about to score a touchdown. Watt, however, read Mark Sanchez's eyes, tipped the pass, and set up a Brice McCain interception that nearly went to the house.
Watt significantly influenced the outcome of the game twice more after that incredible play. He swatted down a pass that would have gone for a touchdown, and then he later sacked Sanchez to put the Jets out of field goal position.
Maybe Wade Phillips wasn't so far off that Hall of Fame prediction after all.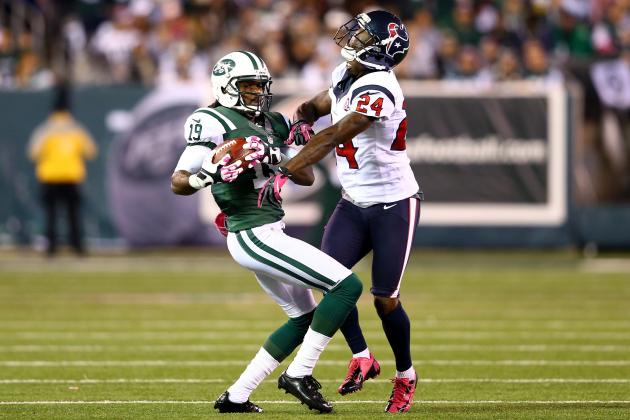 Al Bello/Getty Images

Yes, a cornerback struggled heavily for the Texans on Monday. No, it was not Kareem Jackson or Brice McCain.
Johnathan Joseph, the Texans' shutdown Pro Bowl cornerback, did not look like himself against the weak Jets' receivers. It is true that he has been dealing with some injury issues recently, but it looked like he could not cover anyone out there.
Jeremy Kerley repeatedly broke free from Joseph's grasp, and the young receiver had a monster of a game. Chaz Schilens and Jason Hill—yes Jason Hill, the awful receiver who played on the Jaguars last season—also both managed to get receptions while playing against Joseph.
Also, early on in the game, Antonio Cromartie, the Jets' starting cornerback, nearly got a huge catch while being guarded by Joseph. The speedy and tall corner burned Joseph, but he was unable to get both feet in on the right sideline.
This should not be a weekly thing with Joseph, and hopefully he gets back to form against the Packers next week.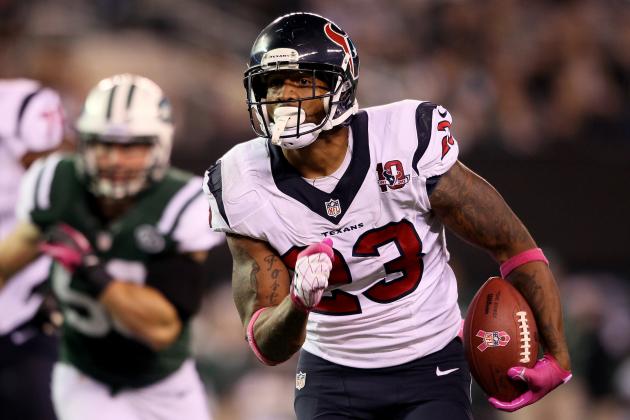 Alex Trautwig/Getty Images

Finally, a convincing performance by Arian Foster.
The going started out rough, but after Foster's breakaway run on the Texans' fourth offensive drive that went for 46 yards, it looked like the Texans' running game of last season.
Foster and the offensive line were able to constantly churn out yardage and allow the Texans to burn time off the clock.
Foster hit the hole hard, and his tough running allowed him to pick up yardage after the first hit. The Jets struggled to bring him down right away, and it seemed like he was constantly picking up little bits of extra yardage.
Overall, a great performance by Foster.
If the Texans can continue to run the ball well, there will not be many teams that can beat them.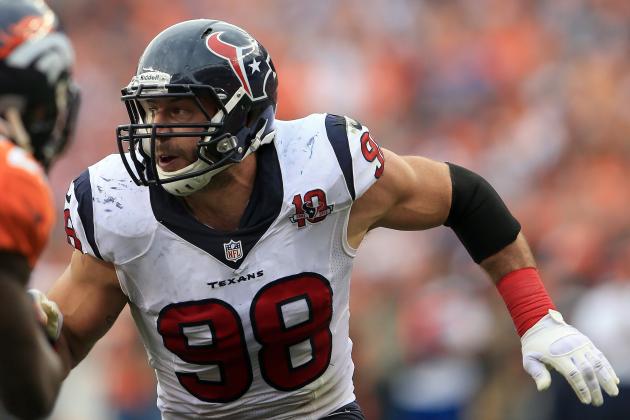 Doug Pensinger/Getty Images

Week after week we have been hearing from Gary Kubiak and the rest of the coaching staff that Connor Barwin has been playing great, but it's just now showing up on the stat sheet.
Well, now, after five weeks of the regular season, it's time to start reassessing the situation.
Though Barwin had an impressively-defended pass late in the game, he is just now rushing the passer like he was last season.
He has yet to record a sack so far, and, correct me if I'm wrong, but I don't even remember him getting close to the quarterback.
Barwin is going to be a free agent after this season, but right now, he is not deserving of the money that premium pass rushers demand.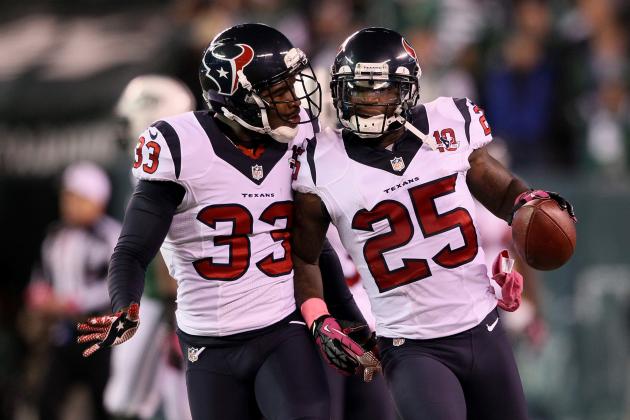 Alex Trautwig/Getty Images

It seems that Kareem Jackson is getting better each and every week.
His coverage has been surprisingly great, and it appears that receivers are struggling to break away from him. This is clearly not the Jackson of old, and he stepped up for the Texans against the Jets, especially since Johnathan Joseph was struggling.
There were a few plays where Jackson did not rotate his head, but the throw was either errant or he was close enough to the receiver that it did not hurt the Texans.
Jackson also grabbed the interception that bounced off the hands of Jeff Cumberland on the Jets' final drive.
Jackson's second consecutive game with an interception effectively guaranteed the Texans a victory.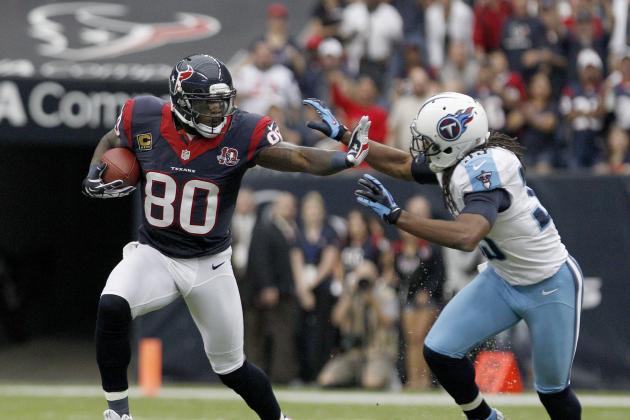 Thomas B. Shea/Getty Images

Like Connor Barwin, it's time to recognize that Andre Johnson has not been great so far this season.
Johnson started off the season hot with a great performance against the Miami Dolphins, but he has simmered down since then.
He had a long touchdown against the Denver Broncos, but he has simply not been consistent. He is picking one to two catches per game, and it has not been an encouraging season so far from the Texans' superstar.
He had two drops against the Jets. One was acceptable. The other was a softly-thrown ball that a high school football player could have caught.
Johnson is essential to the Texans' passing attack, and he must step up against the Packers next week.