College Football Recruiting 2013: Top Recruiting Battles Being Waged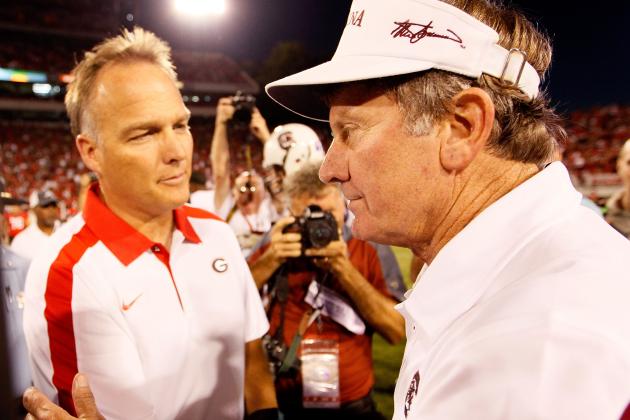 Kevin C. Cox/Getty Images

For all of the top college football programs in the nation, there is plenty of stiff competition on the recruiting trail. Battles are fiercely competitive for every recruit, and can even involve face-offs between bitter rivals.
Of course, this 2013 recruiting cycle has seen some unbelievable recruiting battles already, and many more are still being waged.
This piece will look at some of the top recruiting battles happening right now for uncommitted recruits.
Here we go.
Begin Slideshow

»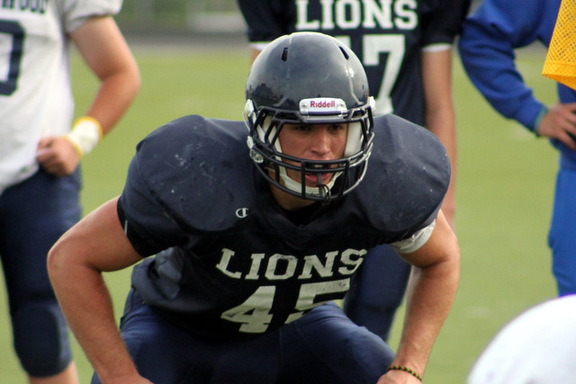 247Sports.com
Mike Mitchell is a freak linebacker from Texas that stands 6'4" and over 220 pounds. With his speed, length, strength, range and instincts, this is a 'backer that a program can be built around.
Which is why, per 247Sports.com, schools like Florida State, Ohio State, Oregon, Texas A&M and Oklahoma are in the middle of a last man standing battle for him. This one could go any of the five ways, and things will only heat up moving forward.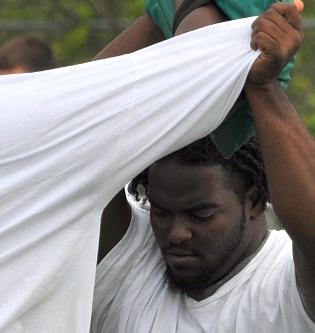 247Sports.com
One of the nation's best offensive linemen, Tyrone Crowder, has narrowed down his list. The 6''2", 330-pound mammoth guard prospect is down to Clemson, Georgia and North Carolina, reports 247Sports.com.
Being from the Tar Heel State, UNC could have the inside track for Crowder. However, Clemson and Georgia will do all that they can to land his signed letter of intent in February.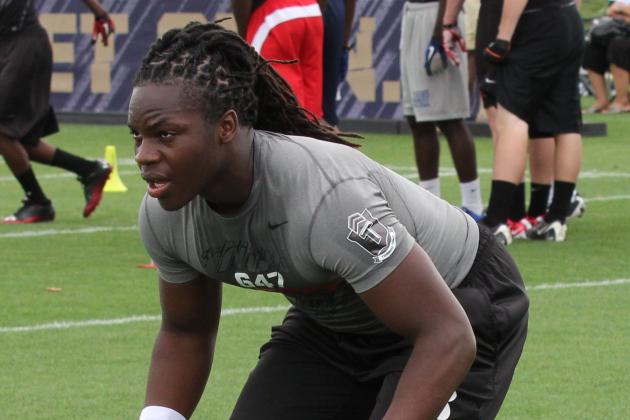 247Sports.com
Texas almost never goes out of the Lone Star State for prospects. If it does, then that means it feels you have elite, All-American potential.
Well, that must be how it perceives safety prospect Marcell Harris, because he plays in Florida. Speaking of the Sunshine State, I believe the Gators are a major option for him.
Sure, other schools may also be in the mix, but if you ask me, this is Texas vs. Florida showdown.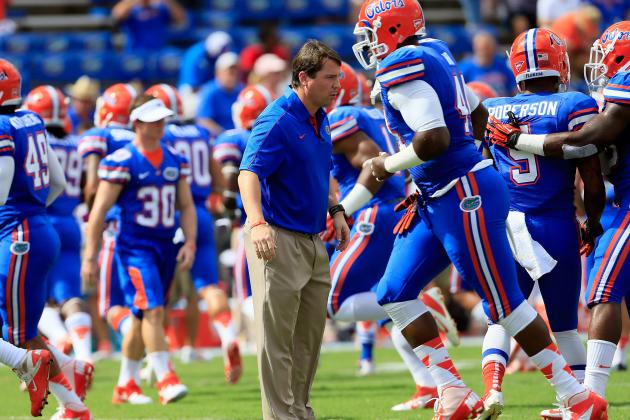 Sam Greenwood/Getty Images

A 6'3" defensive tackle that has beefed up to over 300 pounds, Adams is a fine prospect. From Georgia, he has great snap quickness, strength and playmaking ability as a trench man.
His scholarship offer list is as impressive as they come. For months, I've been calling this an Auburn vs. Clemson race, but it appears other schools have gotten themselves thick in the mix too.
Scout.com reports Florida made up a ton of ground this past weekend during Adams' trip for the LSU upset win. Tennessee will also get an unofficial visit next weekend.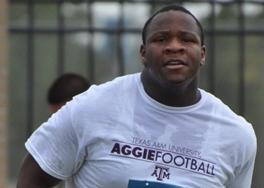 247Sports.com
Justin Manning is a great defensive tackle from the Dallas area in Texas, and many schools want him. Jason Howell of Rivals.com lists Oklahoma, TCU, Texas A&M, LSU and USC his top suitors.
Some feel due to family ties to the Sooners that he will end up there, but TCU made a strong impression on him last weekend during his visit there. LSU could also get a visit, and the Aggies will definitely make a strong pitch to him frequently until the end.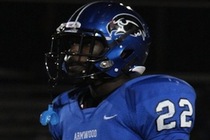 247Sports.com
Leon McQuay III is a 6'2", 185-pound safety prospect from Florida that has handled his recruitment extremely well. He does his research on schools, studies their academics and closely examines their football rosters.
247Sports.com shows that the prime five for McQuay includes USC, Florida State, Vanderbilt, Oregon and Michigan. All five want the talented safety very badly, with USC being the believed front runner.
The Seminoles don't want him to get away, Vanderbilt would love him to headline its class, and both Oregon and Michigan will get trips too.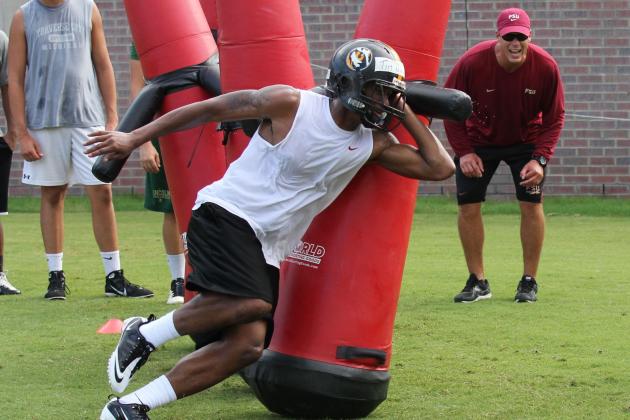 247Sports.com
Tim Williams is a stud defensive end from Baton Rouge, La. If you've been on Mars and just coming to Earth, then just to let you know, Baton Rouge is also home to Louisiana State University.
The Tigers rarely let any elite prospect out of the clutches of their recruiting paws, and they don't want Williams to escape like Landon Collins did last year.
Florida State and Miami are the two biggest threats to LSU, and 247Sports.com lists all three schools as Williams' top programs.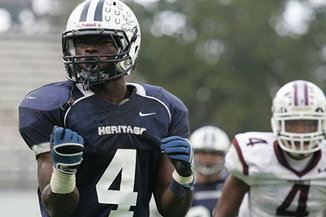 247Sports.com
Greg Bryant is one the nation's top 10 running back prospects and has many offers. He once committed to Oklahoma, but has re-opened his recruitment.
247Sports.com reports that Auburn, South Carolina, Georgia, Florida State and Alabama are the main programs he is looking at. With all of those schools being recruiting powers, then you know a fierce battle is being held for the talented running back.
Also, don't count Oklahoma out just yet.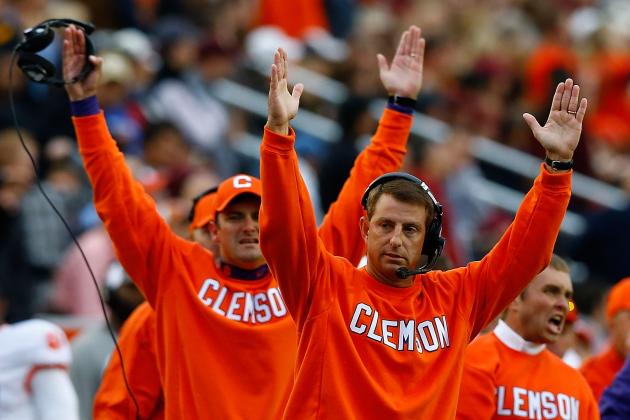 Jared Wickerham/Getty Images

Robert Nkemdiche is the top-rated recruit on my board, and he is welcome on any campus in the country. The 6'4", 270-pound defensive end is just basically a man-child on the field.
He is committed to Clemson, but for some reason, speculation just won't die down about Nkemdiche decommitting. I think he is a man of his word, but I also feel family pressure will continue to mount in regards to joining his brother Denzel at Ole Miss.
Tack that notion onto the one that schools like Alabama, LSU and Florida don't take no for answer, and you see why Clemson will have to fend off some serious foes to get Nkemdiche's signed letter of intent.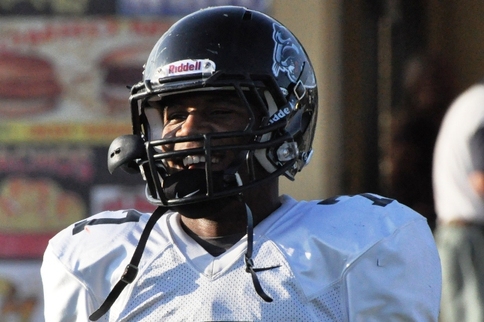 247Sports.com
A prospect that I really like is Vonn Bell, a Tennessee-born safety that plays in Georgia. The 6'0", 190-pound defender has excellent speed, instincts, ball skills and also hits well.
Bell has whittled his list down to a final three of Ohio State, Tennessee and Alabama, with 247Sports.com showing the Buckeyes and Vols leading.
Alabama will not stop coming and definitely will put its charm on for Bell. Urban Meyer is one of the best recruiters ever, so you know he isn't giving up anytime soon, and Derek Dooley badly needs a prospect like Bell to put Tennessee recruiting back on the map.
This is surely to be a big-time battle.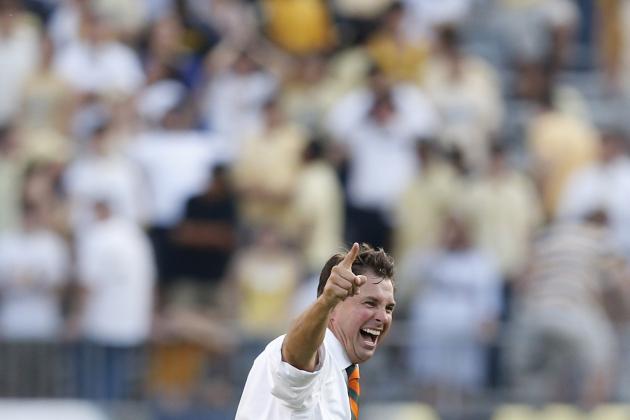 Joe Robbins/Getty Images

Al Golden knows he must keep elite talent around the Miami-area home. It's been tough, but Golden has done a solid job for the Canes thus far.
Matthew Thomas is the top OLB prospect on my board and one of my top 15 players in the country. He's got the potential to be a cornerstone player for a defense in college.
Golden, being a linebackers coach at heart, wants Thomas so bad that he can taste it. The only thing is, so does everyone else, and especially Florida State and Alabama, reports 247Sports.com. All three schools are locked in a competitive recruiting battle for him right now.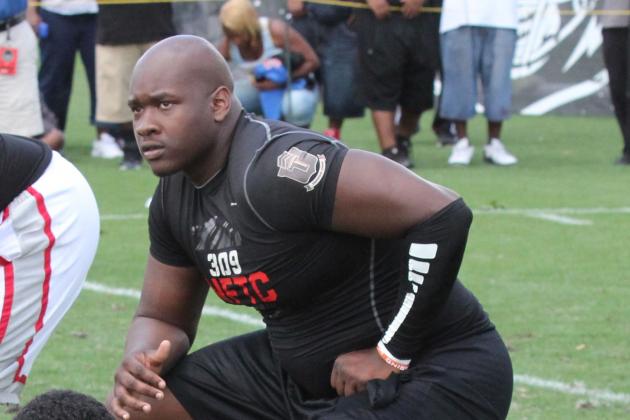 247Sports.com
Laremy Tunsil is the top offensive tackle in the country, and the 6'6", 295-pounder pretty much has a core four schools he is looking at.
247Sports.com lists those four schools as Alabama, Georgia, Florida State and Florida. At one point, Florida and Georgia led, but now it looks like Alabama is a major player, with Florida State also coming on strong.
I think Tunsil could end up at any of the four schools, so with things being even, you can only imagine what each school is telling Tunsil to gain an advantage.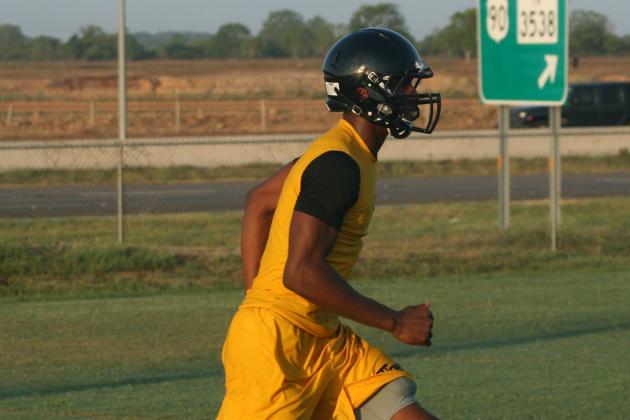 247Sports.com
A 6'5", 230-pound pass-catcher with athleticism, ball skills, solid speed, quickness and leaping ability? I think any program in the country would enter battle to sign a prospect like that.
Well, many did, and only two are left standing in Texas A&M and LSU for Ricky Seals-Jones. The Aggies can pitch that he can stay in his home state and still play in the SEC in an offense that passes the ball a lot.
LSU can pitch that it wins a lot of games, are always in both the SEC and BCS hunt and have several stud quarterbacks in the stables to toss Seals-Jones the rock.
This will be a battle that everyone will be watching.
Edwin Weathersby has worked in scouting/player personnel departments for three professional football teams, including the New York Giants, Cleveland Browns and the Las Vegas Gladiators of the Arena League. He spent a year evaluating prep prospects and writing specific recruiting and scouting content articles for Student Sports Football (now ESPN Rise-HS). A syndicated scout and writer, he's also contributed to WeAreSC.com, GatorBait.net and Diamonds in the Rough Inc., a College Football and NFL Draft magazine.