NFL Speculation: 5 Coaches on the Hot Seat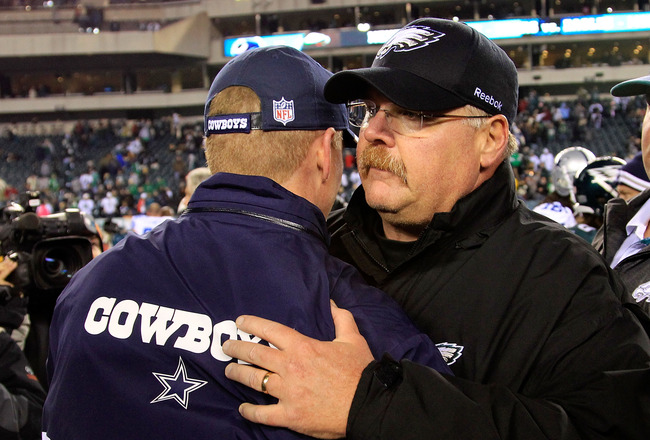 The seats are getting hotter for a couple NFC East rivals.
Chris Trotman/Getty Images
The 2012 NFL season is just five weeks old, but a handful of head coaches are already on the hot seat.
Some inexperienced coaches have failed to put their stamp on their team, while some veteran coaches may have worn out their welcome. The season may be young, but significant changes could be on the horizon.
Let's take a look at five NFL coaches who are on the hot seat.
Mike Munchak (TEN)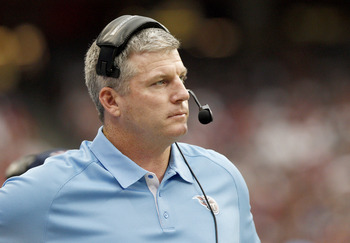 The Titans have gotten off to an awful start in 2012, and Munchak's job is in jeopardy.
Thomas B. Shea/Getty Images
2012 Record: 1-4
Through five weeks of the NFL season, perhaps no team in the NFL has looked worse than the Tennessee Titans. Running back Chris Johnson has rushed for 24 yards or fewer in four out of five games, while quarterback Jake Locker is averaging fewer than 200 yards per outing.
The Titans defense hasn't been any better than the offense, allowing 423.8 yards per game, which ranks fourth-worst in the NFL. When a team struggles in every area like the Titans are, much of the blame falls on the head coach. And if Tennessee can't turn things around soon, Mike Munchak will find himself without a job.
Rex Ryan (NYJ)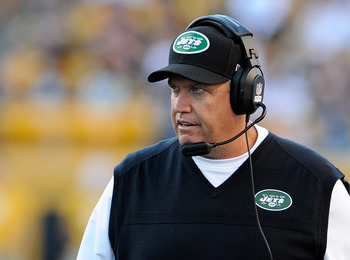 The Jets' season appears to be headed down the drain, and Rex may be on his way out.
Joe Sargent/Getty Images
2012 Record: 2-3
The Jets currently sit at 2-3, but they've already lost two of their best players (Darrelle Revis and Santonio Holmes) for the entire season. As the cries for Tim Tebow grow louder, the forecast for the Jets' season goes downhill.
Head coach Rex Ryan is one of the most outspoken coaches in the NFL, but his team isn't giving him much reason to bask this season. If the Jets continue their downward spiral as the season goes on, the front office and coaching staff could be on their way out.
Jason Garrett (DAL)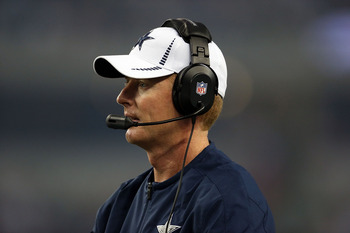 Garrett has always had Jerry Jones in his corner, but now, he faces an uphill battle to keep his job.
Ronald Martinez/Getty Images
2012 Record: 2-2
The Cowboys started out the 2012 season on the right foot by defeating the New York Giants in Week 1. However, Dallas quickly fell off its high horse after suffering a disappointing 27-7 loss in Week 2 at Seattle.
Jerry Jones has continually had Garrett's back, but after an atrocious performance at home against the Chicago Bears last Monday night, Garrett's seat is now dangerously hot. At 2-2, it's much to early to dismiss the Cowboys as a potential playoff team, so Garrett still has time to protect his job. But if his team continues to underperform, he'll certainly be on his way out.
Romeo Crennel (KC)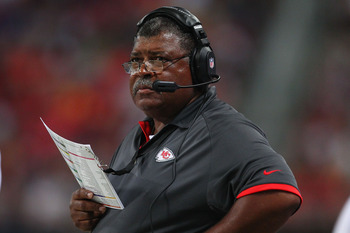 Romeo Crennel was promoted to head coach this offseason, but his tenure may be short-lived.
Dilip Vishwanat/Getty Images
2012 Record: 1-4
After a brief stint as the Chiefs' interim head coach last season, Romeo Crennel was promoted to head coach this offseason. However, Crennel's first season hasn't gone as he might have hoped, as Kansas City is currently giving up an average of 29 points per game, which ranks sixth-worst in the NFL.
As poorly as the defense has fared in 2012, Kansas City's offense has been just as bad. The Chiefs have a combined passer rating of 67.3, which ranks 30th in the NFL ahead of only Cleveland and the New York Jets. Every time the Chiefs lose, Crennel's seat gets a little warmer.
Andy Reid (PHI)
Although he's one of the most accomplished coaches in the NFL, Andy Reid always seems to be on the hot seat.
Rob Carr/Getty Images
2012 Record: 3-2
No 3-2 coach in the NFL currently sits on a hotter seat than Eagles head coach Andy Reid. After taking the head coaching job in 1999, Reid has led the Eagles to five NFC Championships and advanced to one Super Bowl.
During his 13-plus years as coach, Reid has more regular-season wins, playoff wins and a better winning percentage than any coach in team history. However, the fact still remains that Reid could be on his way out of Philadelphia if the Eagles don't do some serious damage in this year's playoffs.
Eagles owner Jeffrey Lurie has already said that Reid's future will be re-evaluated following the 2012 season. Whether he's back for 2013 depends entirely on the Eagles' final 11 games this year.
Keep Reading