Oklahoma State vs. Kansas: Complete Game Preview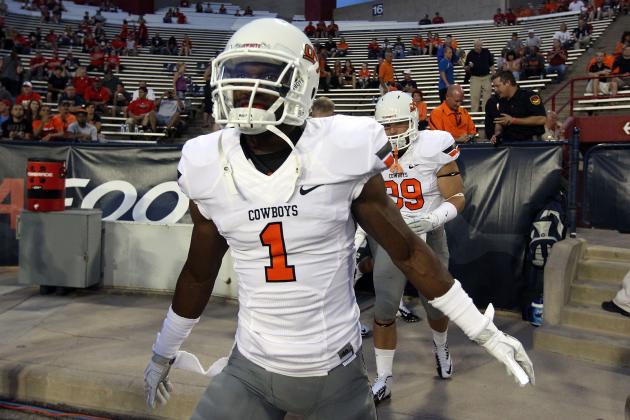 Christian Petersen/Getty Images

The Oklahoma State Cowboys will travel to Lawrence, Kansas on Saturday to face the Kansas Jayhawks. The Cowboys have beaten the Jayhawks two years in a row by a combined score of 118-42.
They have been dominant, but with new players at key positions, the series may be ready to turn in the Jayhawks' favor. The overall series has been very close, with Oklahoma State holding a narrow 31-29-2 edge, but they have gone 7-1 against Kansas in the Big 12 era. As a player and coach, Mike Gundy has never lost to the Jayhawks in Lawrence.
That is a solid trend, but all trends must end at some point. This Saturday could be the end of that one. New Jayhawk head coach Charlie Weis has the Jayhawks playing solid football, and they are no longer the pushovers that they have been in years past.
Each team is looking for its first Big 12 win of the 2012 season, and each will be fighting tooth and nail to get that win. Following is everything you need to know about this matchup.
Begin Slideshow

»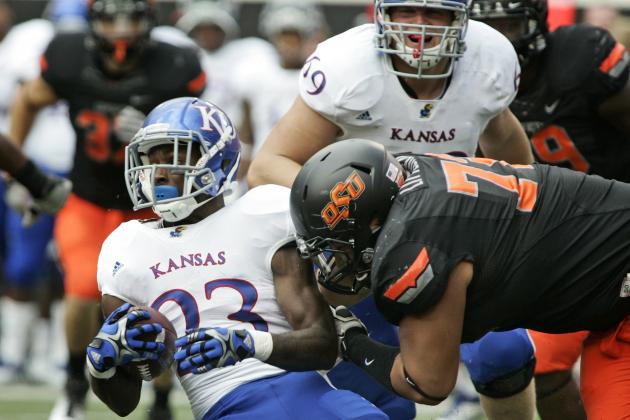 Brett Deering/Getty Images

Who: Oklahoma State at Kansas
When: Saturday, 2:30 p.m. CT
Where: Lawrence, Kansas
Stadium: Memorial Stadium (50,071 capacity)
Series History: 31-29-2, Oklahoma State
TV: FSN
Radio: Cowboy Radio Network, Sirius Channel 112, XM Channel 196
Internet Stream: OkState.com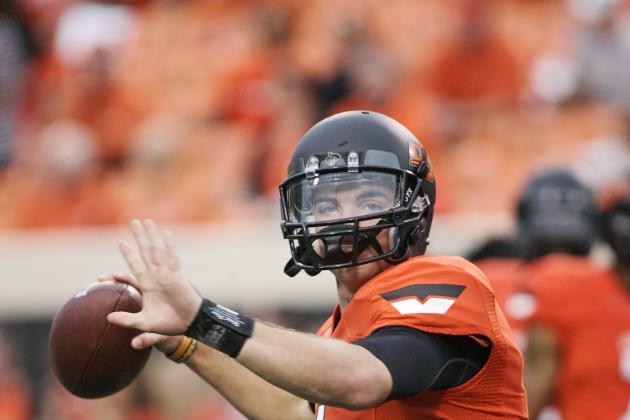 Brett Deering/Getty Images

Offense
Position Number Name Height Weight Class
Quarterback 4 J.W. Walsh 6'2" 205 Fr.
Or
Quarterback 11 Wes Lunt 6'4" 211 Fr.
Running Back 1 Joseph Randle 6'1" 194 Jr.
Fullback 9 Kye Staley 5'10" 236 Sr.
Wide Receiver 82 Isaiah Anderson 5'10" 175 Sr.
Wide Receiver 87 Tracy Moore 6'2" 220 Sr.
Wide Receiver 5 Josh Stewart 5'10" 170 So.
Wide Receiver 18 Blake Jackson 6'3" 238 Jr.
Offensive Tackle 71 Parker Graham 6'7" 292 Jr.
Offensive Tackle 58 Daniel Koenig 6'6" 295 So.
Offensive Guard 70 Jonathan Rush 6'4" 284 Sr.
Offensive Guard 68 Lane Taylor 6'3" 328 Sr.
Center 60 Evan Epstein 6'3" 291 Sr.
Defense
Position Number Name Height Weight Class
Defensive End 80 Cooper Bassett 6'5" 270 Sr.
Defensive End 96 Ryan Robinson 6'4" 246 Sr.
Defensive Tackle 91 James Castleman 6'2" 296 So.
Defensive Tackle 99 Calvin Barnett 6'2" 299 Jr.
Linebacker 11 Shaun Lewis 5'11" 222 Jr.
Linebacker 37 Alex Elkins 6'3" 222 Sr.
Linebacker 45 Caleb Lavey 6'3" 240 Jr.
Cornerback 19 Brodrick Brown 5'8" 185 Sr.
Cornerback 4 Justin Gilbert 6'0" 194 Jr.
Safety 7 Shamiel Gary 6'0" 205 Jr.
Safety 8 Daytawion Lowe 5'11" 198 Jr.
Special Teams
Position Number Name Height Weight Class
Punter/Kicker 13 Quinn Sharp 6'1" 205 Sr.
Punter Returner 6 David Glidden 5'7" 171 Fr.
Kick Returner 4 Justin Gilbert 6'0" 194 Jr.
Long Snapper 53 Andrew Suter 6'2" 268 Jr.
Holder 39 Wes Harlan 5'7" 178 Sr.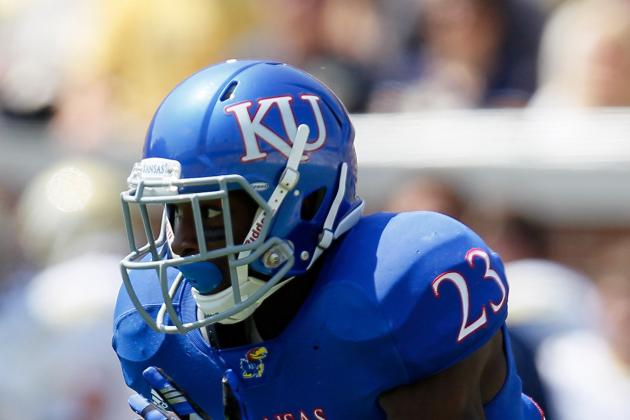 Kevin C. Cox/Getty Images

Offense
Position Number Name Height Weight Class
Quarterback 10 Dayne Crist 6'4" 235 Sr.
Running Back 3 Tony Pierson 5'10" 170 So.
Fullback 85 Trent Smiley 6'4" 245 So.
Wide Receiver 7 Kale Pick 6'1" 205 Sr.
Wide Receiver 15 Daymond Patterson 5'8" 180 Sr.
Wide Receiver 82 Andrew Turzilli 6'3" 193 So.
Tight End 84 Mike Ragone 6'4" 255 Sr.
Offensive Tackle 72 Tanner Hawkinson 6'5" 300 Sr.
Offensive Tackle 70 Gavin Howard 6'4" 300 Jr.
Offensive Guard 67 Duane Zlatnik 6'4" 306 Sr.
Offensive Guard 64 Randall Dent 6'4" 300 Jr.
Center 69 Trevor Marrongelli 6'3" 303 Sr.
Defense
Defensive End 95 Josh Williams 6'4" 255 Sr.
Nose Tackle 90 Kevin Young 6'3" 285 Jr
Defensive Tackle 9 Jordan Tavai 6'3" 290 Jr.
End/Linebacker 35 Toben Opurum 6'1" 250 Sr.
Linebacker 17 Tunde Bakare 5'10" 205 Sr.
Linebacker 31 Ben Heeney 6'0" 225 So.
Linebacker 34 Huldon Tharp 6'0" 227 Jr.
Cornerback 5 Greg Brown 5'10" 185 Sr.
Cornerback 33 Tyler Patmon 5'11" 180 Jr.
Strong Safety 1 Lubbock Smith 5'10" 200 Sr.
Free Safety 24 Bradley McDougald 6'1" 209 Sr.
Special Teams
Kicker 13 Ron Doherty 5'11" 209 Jr.
Or
Kicker 99 Austin Barone 5'11" 170 Fr.
Punter 13 Ron Doherty 5'11" 209 Jr.
Short/Long Snapper 54 Justin Carnes 6'1" 250 Jr.
Holder 17 Blake Jablonski 6'1" 208 So.
Kick Returner 11 Tre' Parmalee 5'10" 168 Fr.
Punt Returner 15 Daymond Patterson 5'8" 180 Sr.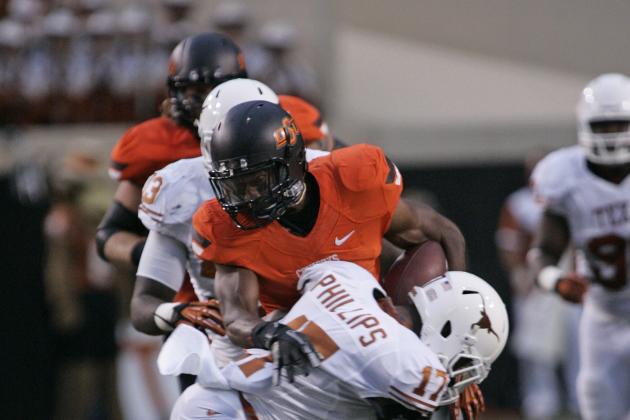 Brett Deering/Getty Images

Nothing happened to Oklahoma State last week because it had a bye week. However, a week before that, it suffered its second loss of the season at the hands of the Texas Longhorns.
In that game, this Cowboy team proved on national television that they have the talent and coaching to compete with anyone in the Big 12. Texas has the most on-paper talent in the conference by far, and the Cowboys narrowly lost to it. They did all of this with their backup quarterback.
A week of preparation and recovery following that loss has to bode well for Oklahoma State, especially since it is going into a venue where Mike Gundy has never lost. That loss was a confidence-builder as much as a loss can be.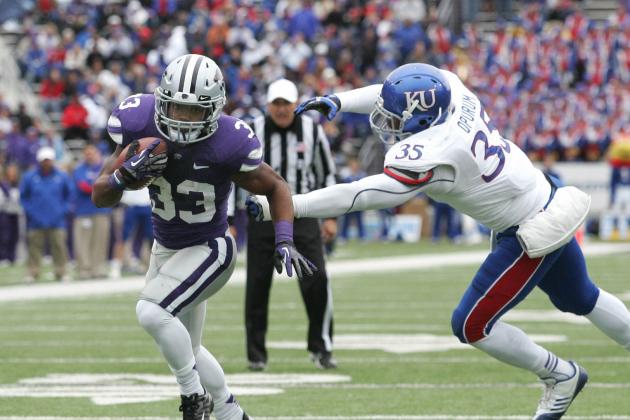 Scott Sewell-US PRESSWIRE

Last week is probably something that Jayhawks fans would like to forget. Unfortunately, it did happen, and we have to go over it.
A 40-point loss is never good, and it is even worse when it is to your in-state rival. Now that Missouri is gone, Kansas State is the Jayhawks' chief rival, and it is clear that the Wildcats are the better team right now.
The most alarming thing from last week that relates to the Oklahoma State game this week is the amount of rushing yards the Kansas defense gave up. Giving up 346 rushing yards to Kansas State is bad, especially when the Jayhawks will face the best running back in the Big 12 in Joseph Randle this week against the Cowboys.
The Kansas offense played pretty well against Kansas State, other than quarterback Dayne Crist's three interceptions. They accumulated 388 yards of total offense, which is pretty good, but their five total turnovers really killed them. If they do that against Oklahoma State, it will be another long day for Kansas.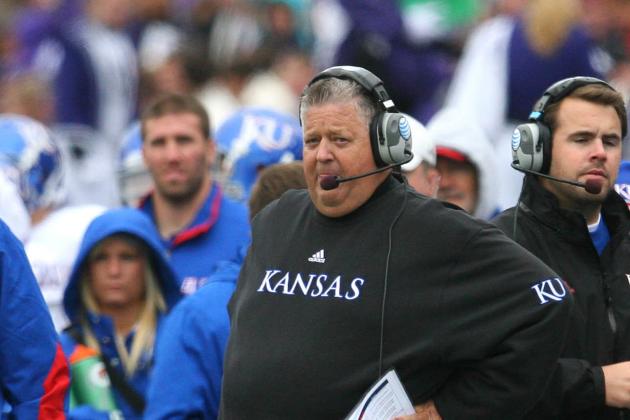 Scott Sewell-US PRESSWIRE

This is a huge game for both Oklahoma State and Kansas.
The Cowboys need this win to avoid falling below .500 for the first time since 2005, Mike Gundy's first year as head coach. If they fail to get this win, it will be a very long season for the Cowboys, as this is one of the more winnable games on their schedule. It is also important for Gundy, as it will be his 62nd win, tying him for the most all-time with Pat Jones in Oklahoma State history.
The Jayhawks need this win to just attempt to avoid getting buried under a mountain of losses. Bowl contention is already nearly impossible for Kansas, and a loss this week pretty much guarantees not going to a bowl, especially with games vs. Oklahoma, Texas and West Virginia remaining. Charlie Weis is not in any trouble, since it is his first year, but a win over Oklahoma State would give him a signature win for his first season.
Each team needs this win. The Jayhawks need it more, but Oklahoma State probably has more on the line.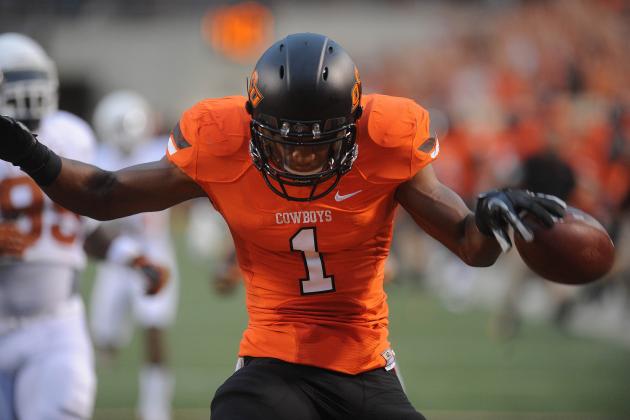 Mark D. Smith-US PRESSWIRE

Joseph Randle
Despite what the Jayhawks faced last week in the Kansas State Wildcats, they will face the No. 1 rushing team in the Big 12 this week in Oklahoma State. They are averaging 300 rushing yards per game, which is astounding for a pass-heavy team. That vaunted rushing attack is led by junior running back Joseph Randle.
So far this season, Kansas has the worst rushing defense in the Big 12, so stopping Randle will be a tall order. Randle is leading the Big 12 in rushing by two yards over John Hubert of Kansas State despite playing in one less game than Hubert has.
Randle is averaging 7.1 yards per carry and 133 yards per game. He is the biggest piece of this Oklahoma State offense right now, and he ran all over what is considered the best defense in the Big 12 in Texas two weeks ago. He is a powerful runner who will run through defenders and smash his way through defensive lines.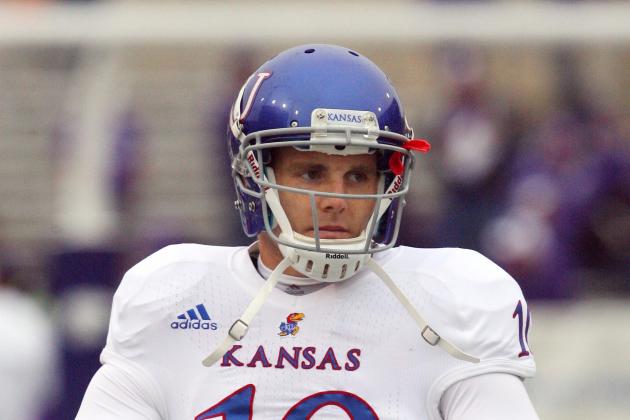 Scott Sewell-US PRESSWIRE

Dayne Crist
If the Kansas Jayhawks have any hope of winning this game, Dayne Crist has got to play better than he has thus far this season. He has completed exactly 50 percent of his passes while throwing seven interceptions to just three touchdowns.
The running game has been pretty solid for the Jayhawks, who have three players with more than 200 rushing yards so far this season. The passing game has not been good, and the blame lies with Crist. He played in Charlie Weis' system at Notre Dame, and it is alarming how much trouble he is having with it now.
Crist must lead this team. He does not have to throw for a ton of yards, but he must be efficient and not turn the ball over. If he can play efficiently, the Jayhawks may have a chance to win. If he can't, they have no chance.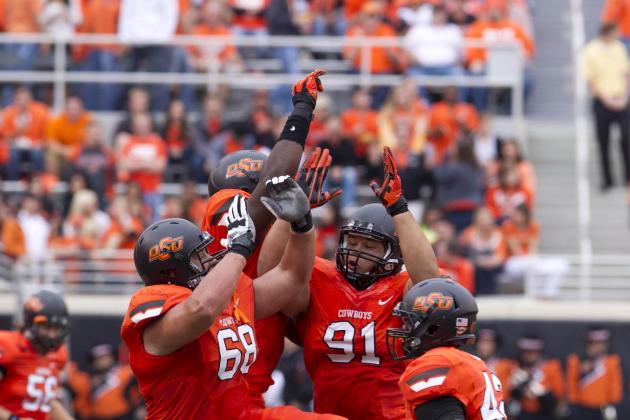 Richard Rowe-US PRESSWIRE

The Cowboys need to do two things to really ensure that this game goes their way. They are the more talented team in this matchup, but these two things will decide this game for the Cowboys.
The first thing is that they must run the ball. Kansas has been the worst defense in the Big 12 against the rushing game, while Oklahoma State has been the best rushing offense. If the Cowboys can move the ball on the ground as they have all season, that will just make things easier for whichever freshman quarterback actually plays.
The second thing they need to do is win the turnover battle. They are the worst in the conference at turnover margin this season after leading the nation in that statistic last season. They have to force turnovers and limit their own, especially for the sake of their defense. If they can do that, they will have a relatively easy game on their hands.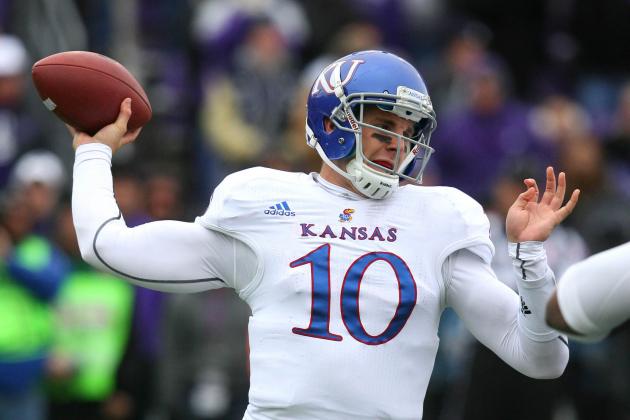 Scott Sewell-US PRESSWIRE

The Kansas Jayhawks are facing an uphill battle in this game. Oklahoma State is clearly more talented on both sides of the ball. In such matchups, there is one thing the underdog can do to even the odds.
That one thing is force turnovers. Turnovers give the offense shorter fields to score and help the defense get off the field. Oklahoma State plays faster than almost anyone in the country. The only way to keep it from doing so is to get them off the field. The best way to get it off the field is to force turnovers.
It does have young quarterbacks and a running back in Joseph Randle who has shown a propensity to fumble at times. If Kansas can force turnovers, it will have a much better shot at winning the game.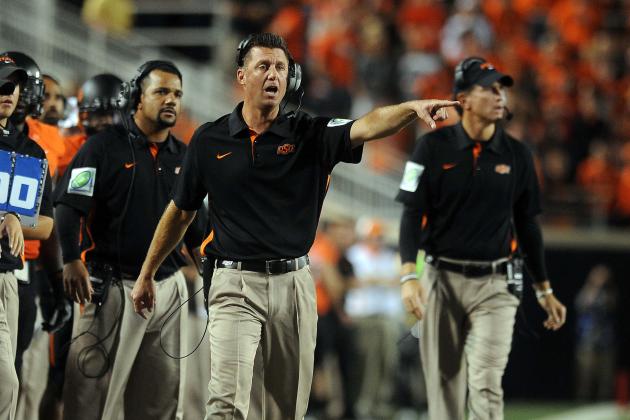 Mark D. Smith-US PRESSWIRE

This is a game that is much bigger than it might seem at first glance. Both of these teams need a win, and both are experiencing a down year compared to years past.
Kansas must try to force turnovers to stop the Cowboys, and if it cannot, the Cowboys will walk all over it. Unfortunately for it, it is doubtful that the Jayhawks will be able to stop the Cowboys at all.
The Cowboy defense has not been great, and the Jayhawks should be able to score some points on them. However, outscoring the Cowboys will be extremely difficult.
Ultimately, the talent difference and game pace is just too much for the Jayhawks. Mike Gundy has never lost in Lawrence, and that streak does not end here. The Cowboys will prove to be too much for the Jayhawks, and this game will probably be over by halftime.
Oklahoma State 45, Kansas 21