UFC 153: Antonio Rodrigo Nogueira vs Dave Herman Head to Toe Breakdown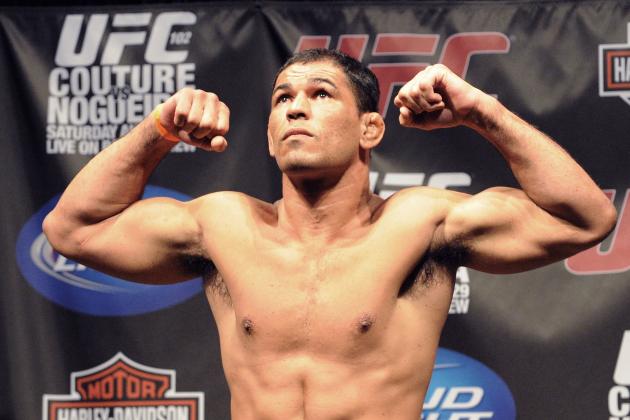 Jon Kopaloff/Getty Images

Antonio Rodrigo Nogueira returns to the cage for the first time since Frank Mir broke his arm with a Kimura at UFC 140, and he will be taking on Dave Herman in the co-main event of the evening.
Herman will try to end his two-fight slide with a victory over the former PRIDE and Interim UFC Heavyweight Champion.
The last time Nogueira competed at the HSBC Arena, he got his first career knockout against Brendan Schaub. Can he replicate his success against Herman, or will "Pee Wee" take out the legend in front of his home crowd?
Here is how the two heavyweights stack up against one another for this Saturday's contest.
Begin Slideshow

»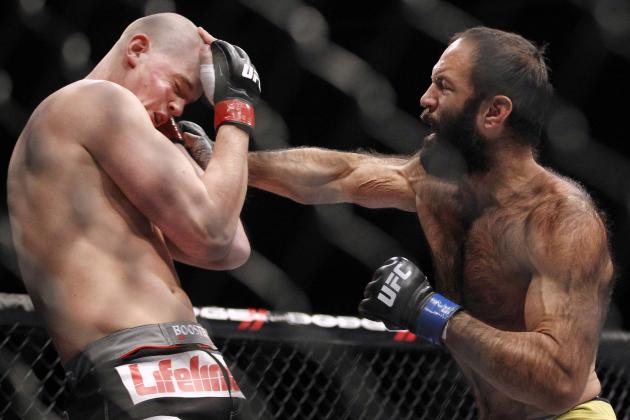 Matt Ryerson-US PRESSWIRE

Nogueira is beloved, and it was awesome to watch him get his first ever knockout, but he is not a great striker. He is slow and plodding.
Herman has the decided advantage standing, but he has to be careful Nogueira doesn't land a shot on the button. Herman has lost his two previous fights by knockout. Stefan Struve won by TKO, and Roy Nelson sat Herman down with a powerful overhand right.
Nogueira does not have that kind of power.
The Team Quest member is more versatile and athletic. He has the clear advantage on the feet.
Edge: Herman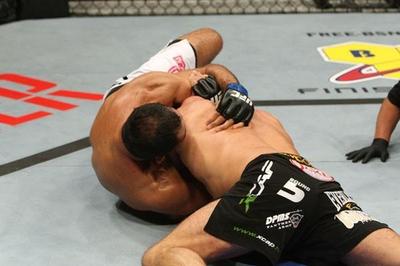 Photo Credit: UFC.com/Getty Images
The submission category swings in favor of one fighter more than any other area. Nogueira has the advantage.
His jiu-jitsu is excellent—good for 20 submission finishes throughout his MMA career.
Herman's best opponent to date in the submission department was Roy Nelson, but that did not need to go to the ground as Nelson knocked him out in under a minute. Herman has never been on the mat with someone of Nogueira's caliber.
If the fight goes to the ground, then Herman may be in trouble. Getting the fight to the ground is something else entirely.
Edge: Nogueira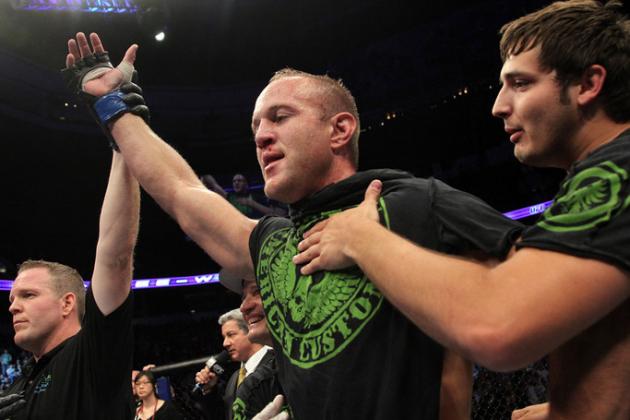 Photo Credit: UFC.com/Getty Images
Nogueira is excellent on the ground. That we know. However, he is not the best at getting it to the ground, and Herman has the skills to keep it on their feet.
Herman never wrestled in high school, but he worked his way on to the Indiana Hoosiers wrestling squad, and no doubt his wrestling continued to improve once he joined Team Quest in Temecula, Ca.
Nogueira will want to close the distance and clinch with Herman in an effort to bring him down, but Herman's speed and athleticism should be able to stymie the great heavyweight. If a clinch were to happen, his wrestling abilities should keep him on his feet as well.
Nogueira may have to try pulling guard to get the fight to the mat.
Edge: Herman
Matt Ryerson-US PRESSWIRE

Herman: Durability
After being pummeled by Stefan Struve and suffering a brutal KO to Roy Nelson, one has to question how durable Herman will be.
He will hold the advantage on the feet, but at some point, it is likely he will get hit by Nogueira. It is the nature of the fight game.
It has been less than five months since he was on the wrong end of a Nelson overhand right. Is that enough time to fully recuperate?
Nogueira: Durability
It is rare that a fight has the same X-factor, but in this case, it does hold true.
Nogueira's durability has been legendary, but over recent years, it has come into question inside the Octagon. Tim Sylvia was on the brink of stopping Nogueira. Frank Mir did, and Cain Velasquez knocked him out cold. Even Brendan Schaub was able to land repeated strikes that hurt the former champion.
His style relies on his ability to take a punch, but can the weathered 36-year-old continue to take that punishment?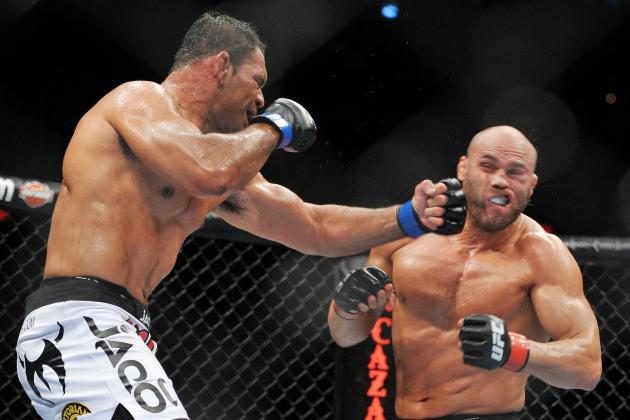 Jon Kopaloff/Getty Images

As of right now, Herman is a 2-to-1 underdog in the fight, and that could be a great bet for someone who certainly is capable of taking this fight.
However, Herman has yet to claim a big-time victory. I don't think he gets it done in Rio either.
If Herman is not able to damage Nogueira early in the fight, he will be in trouble. Nogueira will have to walk through his punches to get a hold of him.
Nogueira will find a way to win once again. He will bait Herman and find a way to hit some submission for the finish. He is incredible that way. Nogueira has stunned better fighters with his submission acumen, and he'll get it done one more time.
Look out for a vintage Nogueira performance.
Prediction: Nogueira defeats Herman via submission in the second round.