NFL Power Rankings: 3 Teams That Will Make a Huge Comeback to Get into Playoffs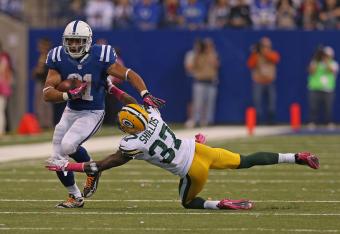 The Indianaplis Colts have a very favorable schedule the rest of the season.
Jonathan Daniel/Getty Images
Each week, teams shuffle up and down the NFL power rankings.
Those at the top hope to stay there. Those at the bottom, hope they can turn their seasons around and at least make the playoffs.
While many will say some teams have just been hard on their luck to start the season, it's hard to dispute certain performances.
However, there are some teams who are fully expected to make comebacks and make the playoffs. After all, there are only 14 teams with winning records, giving those below .500 a chance to improve.
Here's a look at three at or below .500 teams who will improve and make the playoffs.
Which of these teams is more likely to make the playoffs?
Pittsburgh Steelers
The Steelers are one of the more obvious choices at 2-2. After suffering losses to Denver and Oakland in two of the first three weeks, the Steelers have had a bye and a win over Philadelphia.
Rashard Mendenhall is back after missing the first three games, making an immediate impact against the Eagles.
While there are still question marks concerning the health of the defense, it's hard to dispute the numbers they have put up. The defense is currently allowing only 184.8 passing yards per game (third in NFL) and 95.3 rushing yards (11th).
As long as the Steelers continue to have success on defense, they'll win games. Although the next month is tough for Pittsburgh, they still have two games with Cleveland, and one game with Tennessee, Kansas City and Dallas.
This week, the Titans welcome Pittsburgh into Nashville. With the Titans struggling on offense, the Steeler defense should put up monster numbers.
Most NFL fans hope this call doesn't cost Green Bay a playoff spot.
Green Bay Packers
The Packers are just too good of a team to continue to struggle. Although the Packers are 2-3, they're still a threat to make the playoffs.
One of Green Bay's wins came against Chicago (4-1), while their three losses came by a combined 13 points.
Keep in mind the controversial call at the end of the Seattle game. Had it not been for the call, the Packers would be 3-2 right now.
Aaron Rodgers is still one of the best quarterbacks in the league with multiple weapons at his disposal. The key for him will be the continued development of the running game. The more two-dimensional the Packers can be, the more time Rodgers will get in the pocket on pass plays.
Sunday night will give the Packers a chance to prove they're still contenders as they face the undefeated Houston Texans.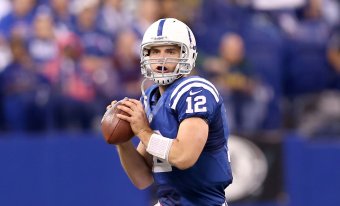 Andy Lyons/Getty Images
Indianapolis Colts
A year after going 2-14, the Colts seem to have a good thing going with Andrew Luck.
The Colts are currently 2-2 and there's nothing real exciting outside of Luck. He's just putting up ridiculous passing numbers for a rookie (286.3 per game).
So, why are the Colts expected to turn it around and make the playoffs? The answer is the next five weeks.
Over the next five weeks, the Colts will face the Jets, Browns, Titans, Dolphins and Jaguars. Those teams have a combined record of 6-19.
While the Jaguars did garner their only win against the Colts, it's hard to believe they'll do it again.
Until Blaine Gabbert found Cecil Shorts for an 80-yard touchdown pass with 45 seconds to go, Indianapolis had allowed him 75 yards passing. Where Jacksonville had done its damage on the day was on the ground with Maurice Jones-Drew, who rushed for 177 yards.
If the game were to be played again, which it will, it will be no contest. The Colts are much better than they were two weeks ago.
If those five games go according to plan, the Colts will be sitting at 7-2. After that, only three of their remaining seven games are against teams with winning records. Now that's a recipe of how to make the playoffs.
Week 6 Power Rankings
1. Houston Texans
2. Atlanta Falcons
3. Baltimore Ravens
4. San Francisco 49ers
5. New England Patriots
6. New York Giants
7. Minnesota Vikings
8. Chicago Bears
9. Cincinnati Bengals
10. Green Bay Packers
11. Arizona Cardinals
12. Pittsburgh Steelers
13. St. Louis Rams
14. Seattle Seahawks
15. San Diego Chargers
16. Denver Broncos
17. Indianapolis Colts
18. Washington Redskins
19. Philadelphia Eagles
20. New Orleans Saints
21. Miami Dolphins
22. Buffalo Bills
23. Dallas Cowboys
24. New York Jets
25. Detroit Lions
26. Kansas City Chiefs
27. Carolina Panthers
28. Oakland Raiders
29. Tennessee Titans
30. Jacksonville Jaguars
31. Tampa Bay Buccaneers
32. Cleveland Browns
This article is
What is the duplicate article?
Why is this article offensive?
Where is this article plagiarized from?
Why is this article poorly edited?