Week 6 NFL Picks: Game-by-Game Predictions & More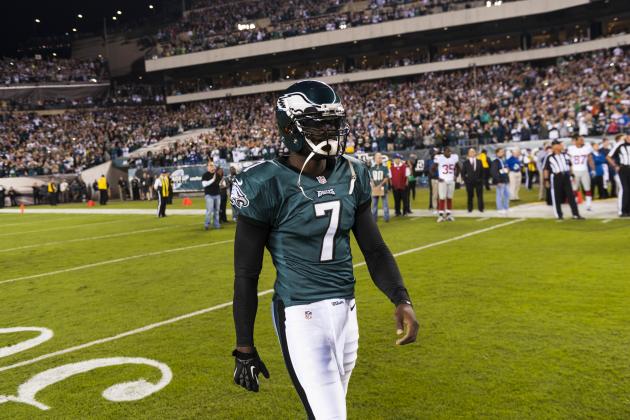 Howard Smith-US PRESSWIRE

Boy, are NFL fans in for an assortment of treats in Week 6.
Aaron Rodgers on the road against the Houston Texans. Tom Brady in front of the always raucous Seattle crowd.
Eli Manning in the Bay Area to face the 49ers.
Even the Detroit Lions against the Philadelphia Eagles carries vast intrigue.
Picks won't be easy this time around, but here's my best shot.
Begin Slideshow

»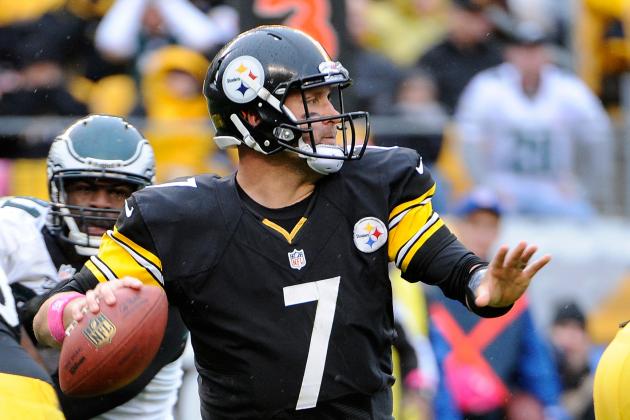 Joe Sargent/Getty Images

The Steelers played in an old-school slugfest against the Philadelphia Eagles in Week 5, and they won it in classic style.
They allowed only 246 yards and 14 points to what many believe is one of the more dynamic offenses in football, and Rashard Mendenhall triumphantly returned by rushing for 5.8 yards per carry with a touchdown.
Ben Roethlisberger and his boys will travel to Tennessee in the Thursday night game to face a Titans club that has drastically underwhelmed this season.
Mendenhall will see more carries as he's slowly reacclimated to the offense. He will have a big night against a run defense that allows 144.2 yards on the ground per game.
Matt Hasselbeck provides good stability as a backup, but the Titans offense will sputter against a Steelers defense that's hitting its stride.
Troy Polamalu has already been listed as "OUT," and Lamarr Woodley likely won't suit up, either (h/t Ed Bouchette).
Still, the Titans, thanks to Chris Johnson's disappointment, have become a one-dimensional team. Not good when you're playing a Dick Lebeau defense.
Steelers 31, Titans 17
Noteworthy Statistic: The Titans are averaging 65.4 points per game in 2012.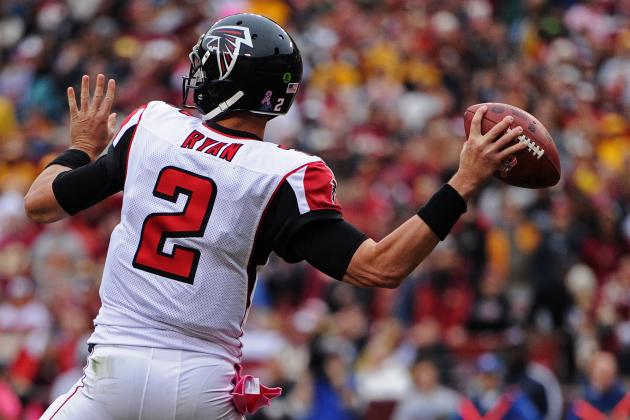 Patrick Smith/Getty Images

The best thing the Oakland Raiders have going for them into this game in Atlanta?
They're coming off the bye week.
Not much else makes this a favorable matchup for the Raiders.
Julio Jones has a mere five catches for 44 yards at home, but his receiving counterpart Roddy White has all three of his touchdown catches in the Georgia Dome.
Matt Ryan is the MVP front-runner, and he faces an Oakland secondary that is allowing the highest average QB rating this season (113.4).
The Raiders do have some offense talent, but the zone-blocking scheme has hindered Darren McFadden's numbers and Carson Palmer's consistency.
Ryan builds on his MVP candidacy, and a Falcons secondary that already had nine interceptions adds a few more in victory.
Falcons 35, Raiders 20
Noteworthy statistic: Tony Gonzalez leads the NFL with 39 receptions. Ageless.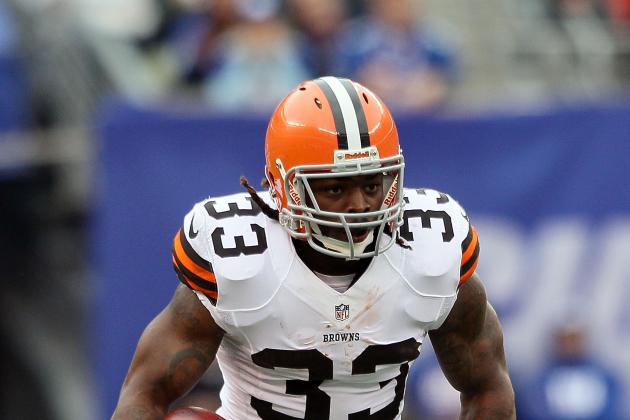 Alex Trautwig/Getty Images

The Browns get into the win column this week.
Sorry for the spoiler.
Joe Haden returns and draws the difficult matchup with A.J. Green.
While I believe Green will get the better of the duel between two up-and-comers at their respective positions, Haden will keep the former University of Georgia star from going bonkers on the Browns defense.
The Browns defense hasn't shown much improvement from a year ago, as it is allowing an average of 142.4 yards on the ground per game.
Andy Dalton came back to Earth last week against the Dolphins, and though I believe he'll be better than his 26-of-43, 234-yard, one-touchdown and two-interception performance, it won't be enough to get the divisional road win.
Trent Richardson battles his way to 70-80 yards on the ground and will have five receptions with a two touchdowns sprinkled into another workman-like effort.
Noteworthy Statistic: A.J. Green is on pace for a 115-catch, 1,577-yard season.
Browns 27, Bengals 24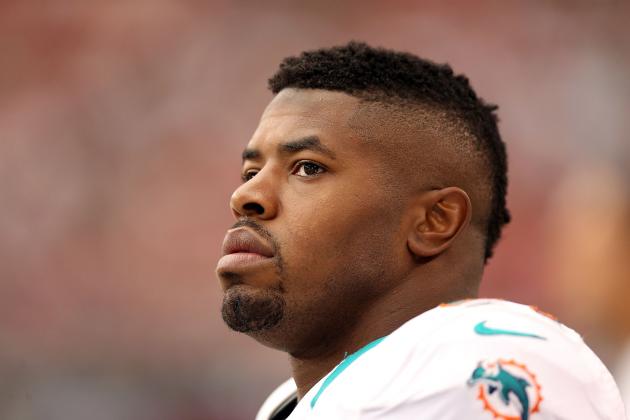 Christian Petersen/Getty Images

Even with the talk surrounding Ryan Tannehill's steady improvement each week, the real story is the Miami Dolphins defense.
Opposing quarterbacks have averaged a 75 QB rating this season against the Dolphins. The defense has a respectable 15 sacks. It doesn't stop there.
Miami is leading the league in yards per carry allowed at a stingy 2.7.
That's how the Dolphins are staying in football games.
The St. Louis Rams are vastly improved from last year, but their offense lacks truly explosive players. Sam Bradford will be flustered on the road, and Tannehill will be efficient again.
Dolphins 24, Rams 14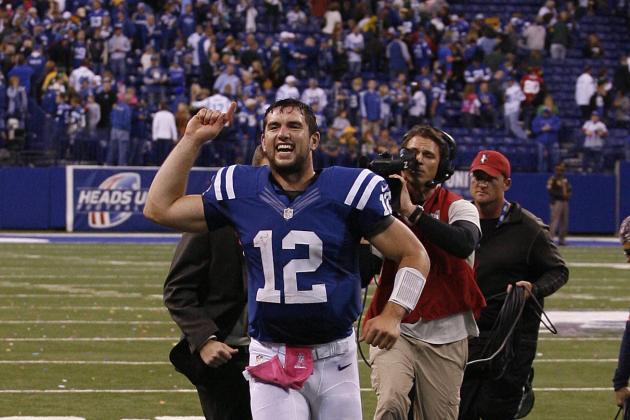 Brian Spurlock-US PRESSWIRE

Andrew Luck has arrived.
No, he's not nearly in as many commercials as Robert Griffin III and he's certainly not as flashy, but the No. 1 overall pick's memorable comeback effort against Aaron Rodgers made us realize why many believed he was the best quarterback prospect since Peyton Manning.
How does he respond?
The New York Jets may be an absolute mess on offense, but their defense isn't atrocious. Far from.
Dwight Freeney and Robert Mathis still pose formidable edge-rushing threats and will force Mark Sanchez into a fair share of hurried decisions.
In a closely contested battle against two decent, but clearly flawed teams, I'll take the better quarterback, which is Mr. Luck.
Colts 27, Jets 20
Noteworthy Statistic: Andrew Luck (54.2) and Mark Sanchez (48.4) have the two lowest completion percentages in the NFL. Expect a few balls to hit the turf.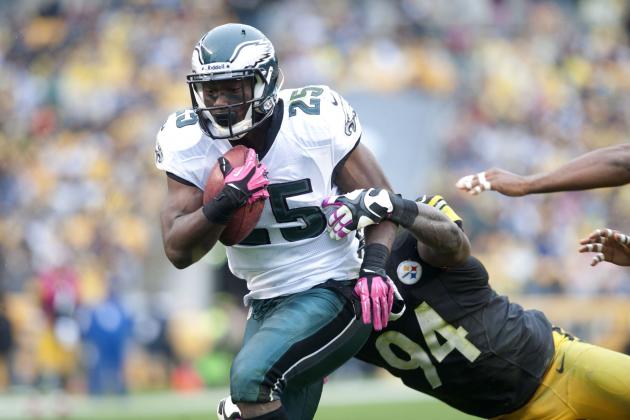 Vincent Pugliese-US PRESSWIRE

The two most enigmatic teams in the NFC square off in a game that's nearly impossible to predict.
What do we make of the Lions? Are they an offensively dynamic club that can win with a relatively porous defense? Or are they overhyped?
Better yet, what do we make of the Eagles? Really, I have many of the same questions for Andy Reid's club that I have for Mike Schwartz's.
Michael Vick can be a truly transcendent player, but he is so careless and sometimes incredible foolish with the football. The defense appears to be stout, but it did allow a 127.4 QB-rating to Kevin Kolb a few weeks ago.
At home, Reid gets LeSean McCoy involved (please do it, Andy) against Detroit's run defense that allows over four yards per carry, and Vick doesn't have any exceptionally stupid turnovers.
Matt Stafford and Calvin Johnson have big games, as usual, but it isn't enough on the road. Philly's defense is legit.
Eagles 31, Lions 27
Noteworthy statistic: Since 2009, the Eagles are 10-1 when LeSean McCoy gets at least 20 carries.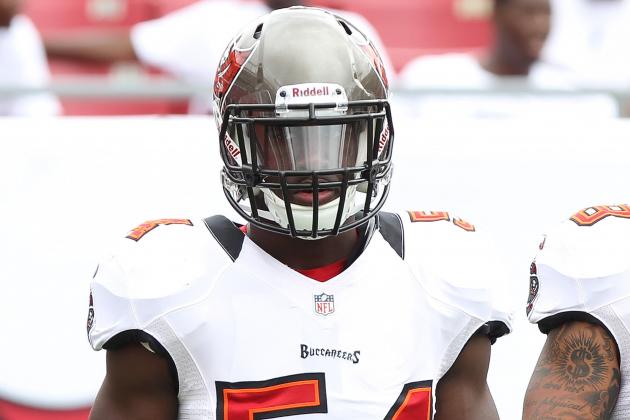 Kim Klement-US PRESSWIRE

Pedestrian offense, meet matador defense.
The Kansas City Chiefs will be without maligned starter Matt Cassel for this one, so Brady Quinn will get the start.
While Jamaal Charles has returned to 2010 form—yeah, he's been that explosive—KC is still having problems scoring points.
On the other side of the ball, the Buccaneers have had their fair share of problems stopping their opponents.
I commend their points allowed average–a decent 22.8—but they're allowing a league-high 345 yards per game.
Sure, Eli Manning's 510-yard outburst doesn't help the average, but Robert Griffin threw for 323 before the bye week.
The time off will help Greg Schiano's defense in its preparation for Charles.
At home, they take care of the one-dimensional Chiefs.
Buccaneers 30 Chiefs 17
Noteworthy Statistic: Opposing quarterbacks are averaging 9.0 yards per attempt against the Bucs this season, the highest number in the NFL.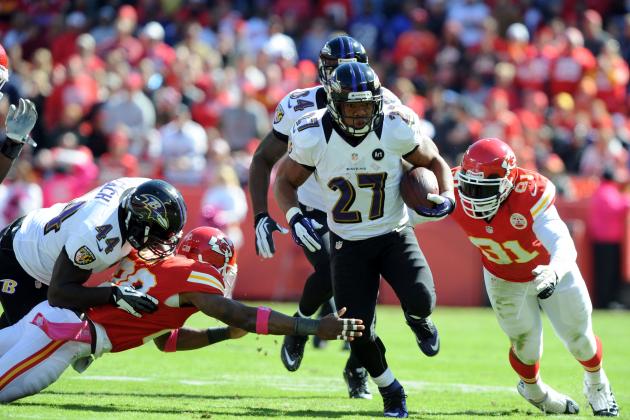 John Rieger-US PRESSWIRE

Tony Romo is fresh off a confidence-shattering five-interception performance in front of the home crowd in Dallas, and frankly, the Cowboys are on the verge of implosion.
Though the extra week to prepare for the Baltimore Ravens will help, will it be enough to upend Ray Rice and Co. on the road?
Eh.
I expect a somewhat desperate Cowboys team to come out flying, and they could even pick off Joe Flacco early.
But the offensive line will struggle against the Ravens defense that seemingly gets up for games in Baltimore.
Right now, who do you trust more?
Flacco or Romo?
Rice or DeMarco Murray?
Ravens 31, Cowboys 21
Noteworthy Statistic: In the Ravens' five losses since the start of the 2011 season, Ray Rice has a 10.4 carry per game average.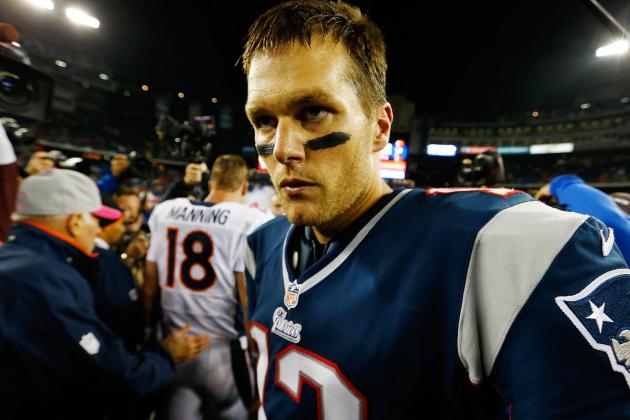 Jared Wickerham/Getty Images

The Patriots offense is Oregon-like.
Hyper speed.
The super up-tempo attack will get Seattle's stout defense on its heels, and it will hinder the underrating pass rush.
Russell Wilson has struggled mightily since getting off to a hot start in his career, and the 12th man can carry the Seahawks.
Tom Brady turns in another masterfully efficient performance.
Patriots 28, Seahawks 17
Noteworthy Statistic: There is a 27.5-point difference in Tom Brady's and Russell Wilson's QB rating.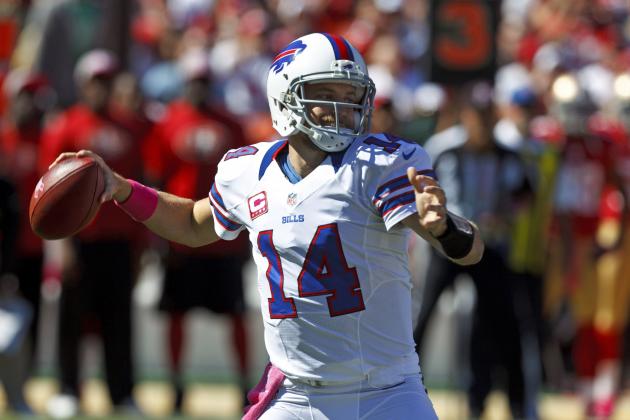 Jason O. Watson/Getty Images

Well, it can't get any worse for the Buffalo Bills.
After playing historically bad in the last five quarters, the drastically underwhelming defense gets a break with a Kevin Kolb-led Arizona Cardinals club with an atrocious offensive line that's down to its third-string running back.
Chan Gailey's group is dealing with some injuries along its offensive front as well, and the backups will have their hands full with Calais Campbell and his powerful defensive line mates.
After witnessing how horribly atrocious the Bills were the last two weeks, it's not easy to pick them to win.
But Mario Williams, Kyle Williams and Marcell Dareus will get revenge on easily the worst offensive line in the NFL, which could lead to a few turnovers from Kolb.
More importantly, the run defense shouldn't be as tested, either.
In an ugly, offensively-challenged outing, the Bills get what many would call an improbable road win.
Bills 17, Cardinals 13
Noteworthy Statistic: The Cardinals have allowed 127 sacks since the start of the 2010 season.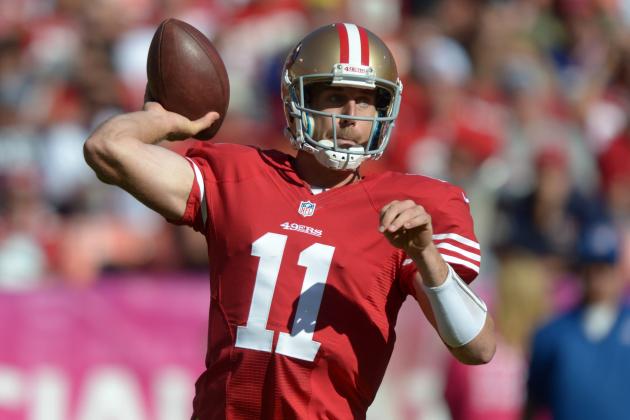 US PRESSWIRE

Can Eli Manning go into San Francisco and get another huge win?
He split with the 49ers last year, but the win came in the NFC Championship game, and you'd have to think Jim Harbaugh's group will undoubtedly be up for this one.
New York has cruised over the last three weeks, but the Giants are in for a physical affair with Patrick Willis, NaVorro Bowman and Justin Smith.
Quick, who's leading the NFL in QB rating?
Not Aaron Rodgers, Tom Brady or Peyton Manning.
Alex Smith.
San Francisco's offense has finally caught up to its defense in terms of consistent balance, and it won't have trouble moving the ball against the G-Men.
Eli gets a chance to lead his club on yet another comeback victory, but this time, it falls short.
49ers 27, Giants 21
Noteworthy Statistic: Alex Smith's QB rating is nearly 13 points higher than Eli Manning's (108.7 to 96).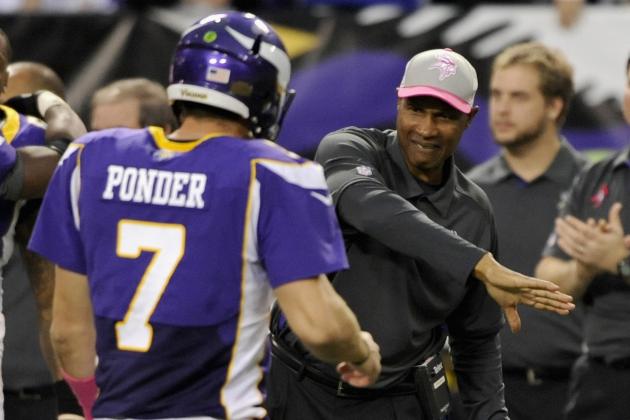 Hannah Foslien/Getty Images

Clearly, the availability of Robert Griffin III has a major implication on this game of surprising upstarts.
If he can't go, the Minnesota Vikings defense should have its way with Kirk Cousins, although the rookie signal-caller appears to be rather comfortable in the pocket.
Christian Ponder, who has demonstrated encouraging development this season, will be effective against a Redskins secondary that's allowing 329 yards per game in 2012.
Though it'll be a tightly contested battle, the Vikings offensive and defensive attack leads Minnesota to another victory.
Leslie Frazier, Coach of the Year?
Vikings 30, Redskins 24
Noteworthy Statistic: The Vikings' defense is allowing 3.2 yards per carry, the second-lowest average in the NFL.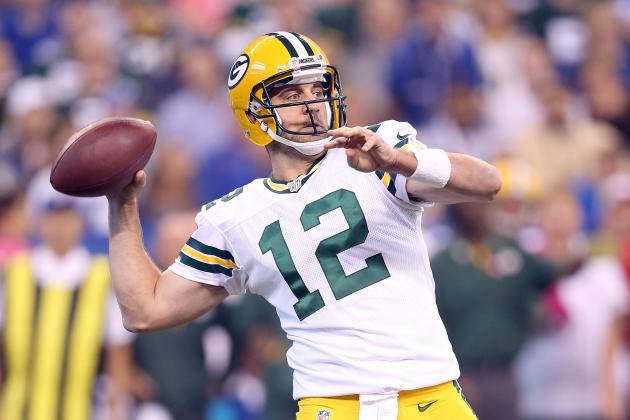 Andy Lyons/Getty Images

The Texans weren't as dominant as everyone expected them to be against the downward spiraling New York Jets, and Matt Schaub wasn't as efficient with the football as normal.
But Arian Foster calmly carried the rock 29 times for 152 yards with a score, and the Texans' defense held when needed.
Aaron Rodgers and his Green Bay Packers are stunningly 2-3, and the defense gave up a huge lead on the road to some kid named Luck last week.
The reigning MVP won't have significant trouble moving the football, and with Foster as the league's most productive zone-blocking scheme runner, Rodgers has to lead his club on many scoring drives in this one.
With the odds stacked against him, something we weren't expecting prior to the start of the season, Rodgers puts on a virtuoso display of quarterbacking, and the Packers escape Houston with a huge statement win.
Packers 24, Texans 21
Noteworthy Statistic: The Packers have allowed only two rushing touchdowns this season.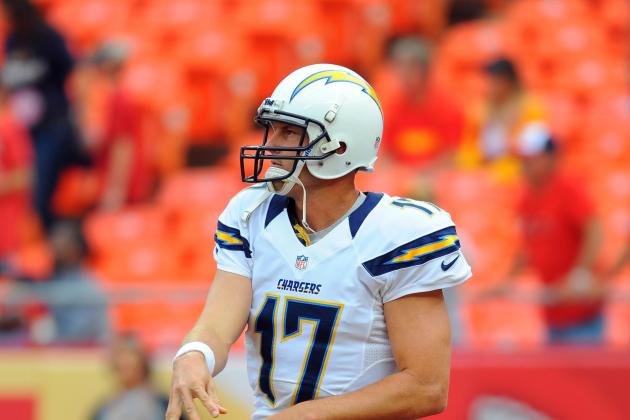 Denny Medley-US PRESSWIRE

Peyton Manning's first battle with Philip Rivers and the San Diego Chargers.
Another game that, on paper, appears to have great shootout potential.
After five games, it's pretty obvious—Manning is back to form.
It's also obvious that the Broncos defense needs work.
At home, Rivers shouldn't have any problem airing it out against a defense that's allowing a 94.7 QB rating to opposing signal-callers this season.
This game will come down to the final minutes, and Rivers leads his club on a game-winning drive as time expires.
Chargers 34, Broncos 31
Noteworthy Statistic: The Broncos have intercepted only two passes this season.