2013 NFL Draft: Ranking the 10 Best Available Pass-Rushers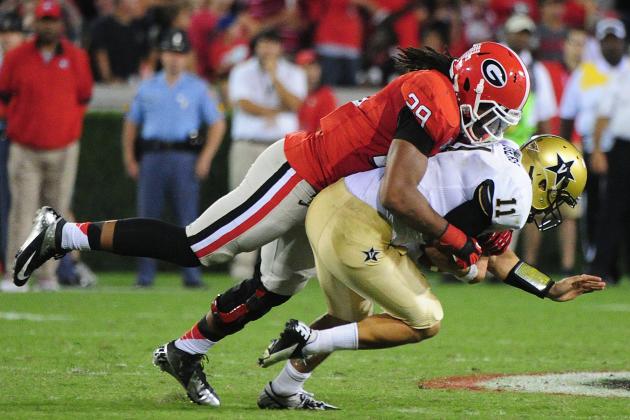 Scott Cunningham/Getty Images

Here are the top pass-rushers eligible for the 2013 draft. These rankings don't take into account overall ability, just each player's ability to generate pressure on the quarterback.
This means you will see someone who's a better all-around player ranked lower than those who are just pure pass-rushers.
It's also important to keep in mind that we aren't even halfway through the college football season. I'm still in the process of evaluating each prospect. As a result, these rankings are fluid and could change.
Begin Slideshow

»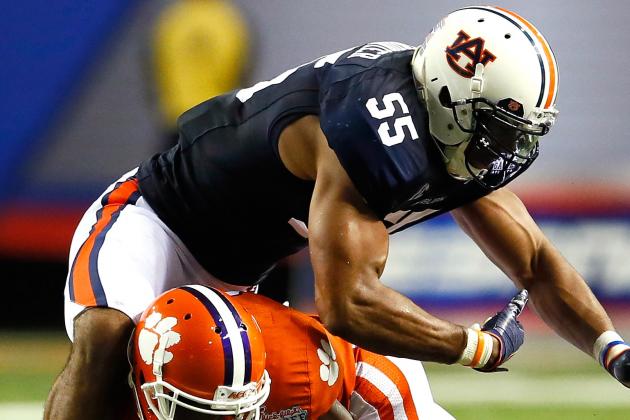 Kevin C. Cox/Getty Images

Corey Lemonier, Auburn
He is a talented and developing pass-rusher. However, he's more of an all-around player than a pure pass-rusher. His high motor and work ethic mean that his best football is still ahead. At this point, Lemonier only needs to improve his technique to move up the rankings.
Cornellius Carradine, Florida State
He has emerged this season as an up-and-coming pass-rusher. He needs to refine his technique and add bulk. However, his quickness and tenacity give him a huge upside. Carridine's long arms also help him generate pressure. He is especially effective using a swim move.
Jackson Jeffcoat, Texas
Those mentioning him as as a lock for the first round are overstating his talent. He doesn't have the explosive first step needed to consistently generate pressure on the quarterback. His most effective move is the power rush. Jeffcoat has some upside, but not nearly as much as others on this list.
Sharrif Floyd, Florida
He gets consideration here because of his versatility. He's able to generate pressure from the defensive end and tackle spots. His combination of size and quickness is what allows him to play multiple positions. For his size, Floyd possesses a quick first step and change-of-direction ability.
Anthony Barr, UCLA
He is a raw prospect who needs more time to develop. He boasts excellent length, quickness and a high motor. However, Barr must develop better hand usage and more pass-rush moves.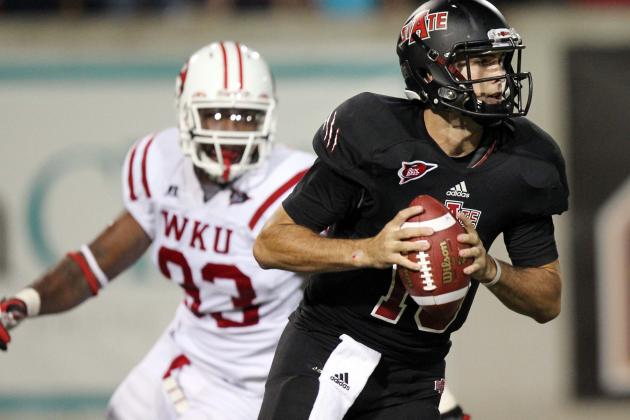 Nelson Chenault-US PRESSWIRE

Projected Pick: Third Round
Quanterus Smith is an underrated player who does a good job generating pressure on the quarterback. He's a very good athlete with the quickness and balance to employ a wide range of pass-rush moves. At Western Kentucky, Smith typically lines up at defensive end, but he's too small to play that position in the NFL.
This means he'll need to make a transition to outside linebacker. Luckily, Smith possesses the fluid movements needed to make the move. His best fit would be as an attacking outside linebacker in a 3-4 alignment. In this scheme, he'll be able to use his speed and suddenness to rush the passer.
Outside of his quickness, Smith boasts good change-of-direction ability which allows him to counter his edge rush. More importantly, he knows how to set up the lineman and take the inside route.
Smith is still a bit raw and needs time to develop. However, it's apparent he has tons of upside as a pass-rusher.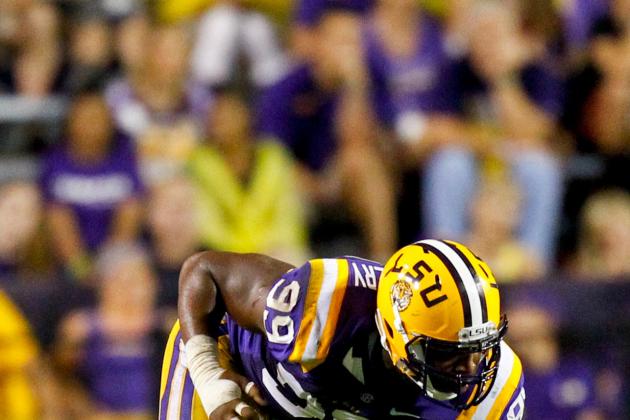 Derick E. Hingle-US PRESSWIRE

Projected Pick: First Round
The general notion that LSU's Sam Montgomery is a speed rusher is incorrect. Montgomery generates most of his pressure on the quarterback with a power move. He does a good job firing off the ball and delivering a strong initial jolt.
This jolt creates space and allows him to gain inside hand placement. It's at this point that Montgomery uses a strong leg drive and leverage to get a push on the pocket.
His motor and tenacity also help him get after the quarterback. Montgomery is always in pursuit of the football, which means he can't be counted out of a play.
The biggest issue with Montgomery is his poor snap awareness. He's routinely the last guy off the line of scrimmage. This is the main reason he struggles to consistently generate edge pressure. That Montgomery doesn't have an elite first step hinders him as well.
He has a good closing burst, but the first step out of his stance doesn't stack up with the other elite pass-rusher. And that, combined with his poor snap awareness, limits his potential as a pass-rusher.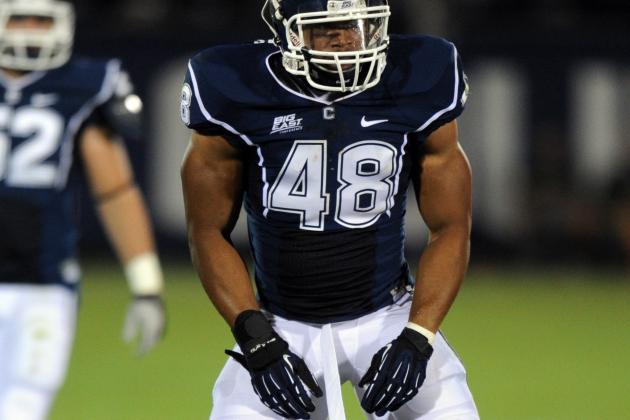 Michael Ivins-US Presswire

Projected Pick: Late Second Round
Connecticut's Trevardo Williams is a hybrid defensive end/linebacker prospect. He has the athleticism to play linebacker and the technique to hold his own at defensive end. However, his best fit will be at outside linebacker in a 3-4 system.
Williams excels at generating pressure on the quarterback because of his excellent initial burst, quick hands and top-end closing speed. His snap awareness allows him to quickly get off the line and work his way toward the quarterback.
If he's able to get the edge, Williams uses a balanced shoulder dip to flatten out and pursue the quarterback. His quick hands help him stay clean if the lineman is able to seal off the edge. This is the starting point for his ability to change direction and counter inside.
Williams is another one of those prospects who isn't a finished product. He'll need good coaching and the right fit to reach his full potential.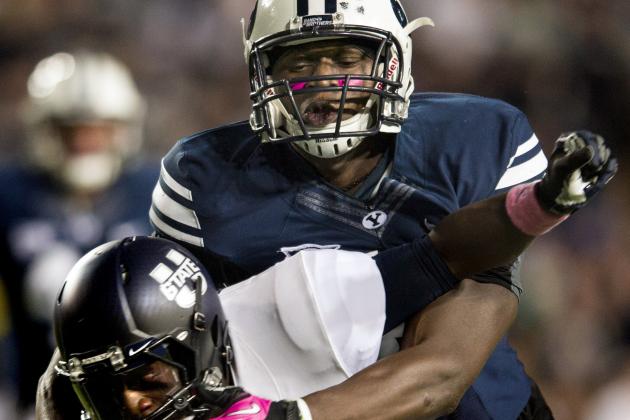 Douglas C. Pizac-US PRESSWIRE

Projected Pick: Early Second Round
BYU's Ezekiel Ansah is flying under the radar, but he'll be someone who draws attention during the draft process. His combination of size and athleticism will turn heads at the combine and individual workouts.
However, Ansah isn't just an athlete. He's a well-rounded player who does a good job getting after the quarterback. His snap awareness and initial burst make him a threat to generate pressure off the edge. He counters that speed rush by using leverage and inside hand placement to employ a bull rush.
Ansah's long arms and strength give him the ability to remain clean and utilize those different rush moves. This wide range of skills makes Ansah a very versatile player. The way BYU uses him also contributes to his versatility.
BYU runs a lot of three-man fronts that give Ansah experience at different spots along the line. He's used to dealing with double-teams, as he typically lines up at either the 5-technique or nose tackle. Despite dealing with extra blockers, Ansah is still able to generate a consistent pass rush.
While he's use to playing in a 3-4 system, he has the potential to play defensive end in a 4-3 alignment.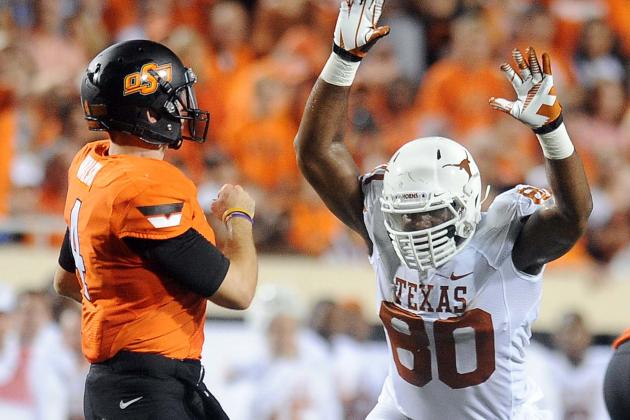 Mark D. Smith-US PRESSWIRE

Projected Pick: Mid-to-Late First Round
Texas' Alex Okafor is an interesting prospect because he's a tweener without much versatility. He's one of the few who's more of a defensive end prospect than outside linebacker. This is because he does a much better job rushing the passer from a three-point stance.
With his hand on the ground, Okafor is able to get a better read on the ball and jump off the snap. He also does a good job exploding out of his stance, rolling his hips and delivering an initial jolt. Starting off at that lower point helps him gain and maintain leverage.
Outside of good positioning, Okafor possesses the quickness to consistently threaten the edge. He also has the balance to flatten out and pursue the quarterback. His high motor and tenacity ensure that Okafor is always a threat to make a play.
When watching Okafor, be sure to notice the difference in his play from a two-point and three-point stance. He's a step slower when standing up, doesn't anticipate the snap quickly enough and plays with too high of a pad level.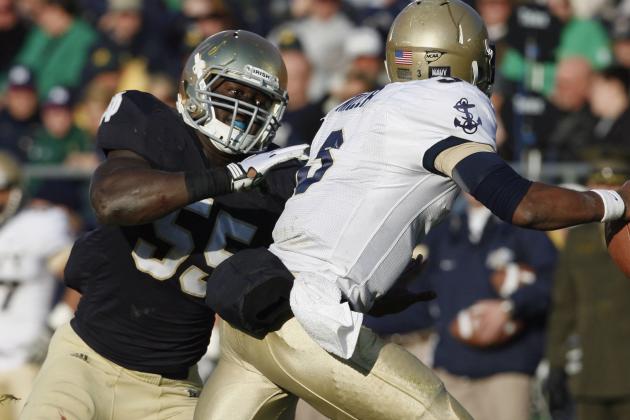 Brian Spurlock-US PRESSWIRE

Projected Pick: Second Round
Like the rest of the Notre Dame defense, Prince Shembo's emergence is taking a lot of people by surprise. He's an explosive athlete who plays with a high motor and a lot of tenacity. Shembo's future in the NFL is at outside linebacker, as he's too undersized to play defensive end.
He's able to generate pressure on the quarterback mainly because of his aggressive style and athleticism. Shembo always fires off the ball and attacks the offensive line. His initial jolt allows him to knock the blocker off balance and create space.
That space is the main reason he's able to employ a wide range of pass-rush moves. His most lethal move is his ability to dip his shoulder and turn the corner. This move is so effective because Shembo also has the elite closing speed to catch the quarterback.
Shembo's ability to quickly change direction helps him counter his speed rush. If a lineman over-commits to the edge, Shembo is able to step inside and generate pressure.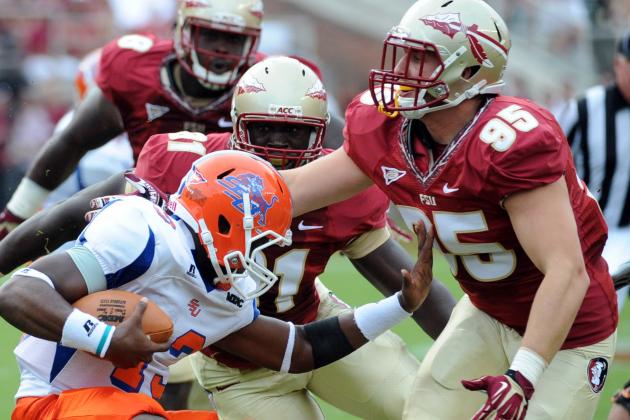 Melina Vastola-US PRESSWIRE

Projected Pick: Top 15
Florida State's Bjoern Werner is quickly moving up everyone's draft board. He's a terrific athlete and a hard worker. His ability to generate pressure on the quarterback is something every team in the NFL covets. He has the potential to finish his NFL career as the top pass-rusher of this class.
Werner's most important skill is his ability to use his hands. This is the catalyst to his game, as it lets him employ both a power and speed rush. He uses his inside hands and initial jolt to create space between him and the blocker.
Once that space is created, Werner can either attack the edge, step inside or continue to push the pocket. Having such a deep pass-rush arsenal helps Werner keep his opponents off balance.
Werner isn't just a technically sound player, as he is also very explosive. He uses good snap awareness and an excellent burst to explode off the line. This allows him to gain the edge, dip his shoulder and flatten out.
His ability to dip that shoulder and seal off the blocker with his balance is a very effective move. This is a player who will command double-teams and still generate pressure on the quarterback.
Don't be surprised if Werner is able to work his way into the top 10 of the 2013 draft.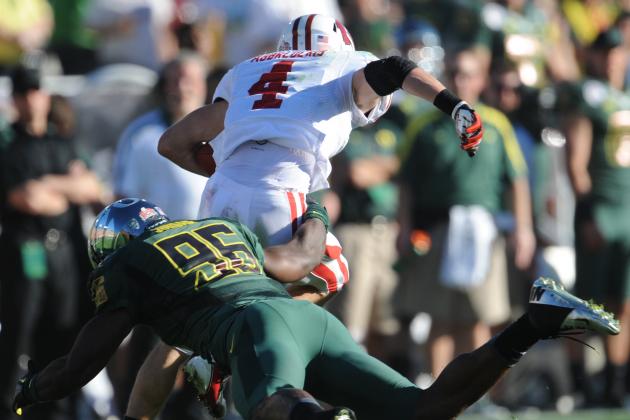 Jayne Kamin-Oncea-US PRESSWIRE

Projected Pick: Mid-to-Late First Round
Oregon's Dion Jordan has as much upside as any prospect eligible for the 2013 draft. He's a long and athletic outside linebacker prospect who excels at generating pressure on the quarterback. His length is what makes him such an intriguing player.
Jordan uses that length to keep clean as he rushes the passer. Offensive linemen are at his mercy, as his reach allows him to dictate his path to the quarterback.
Because of his excellent quickness and closing speed, Jordan only needs a little bit of space to generate pressure. He uses his good snap awareness and burst to attack the edge and close on the quarterback. Even the most athletic offensive linemen struggle protecting the edge against Jordan.
Jordan separates himself from other speed rushers with his quick hands and suddenness. That suddenness helps him counter when a blocker beats him to the edge. It's almost impossible to mirror him in space.
The one concern about Jordan is his lack of bulk. He's thin through the hips, which limits his ability to play defensive end. However, Jordan's length and ability to gain leverage give him a chance to develop.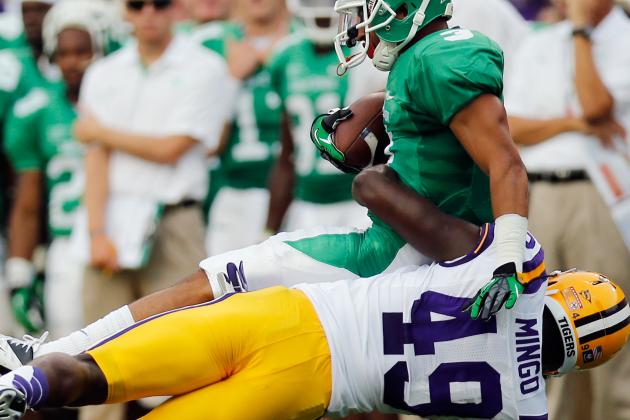 Chris Graythen/Getty Images

Projected Pick: Top 10
It's quite possible that LSU's Barkevious Mingo is one of the 10 most explosive players in college football. He possesses an elite first step and even better closing burst. This is why Mingo is such a dangerous pass-rusher.
However, he isn't just a speed rusher. Mingo also does a good job using leverage and inside hand placement to push the pocket. Despite some size limitations, he is a very powerful and aggressive defender. His high motor and tenacity also play a major role in Mingo's ability to generate pressure.
Still, it's that elite first step that allows him to consistently get after the quarterback. There just aren't many pass-rushers that can match Mingo's explosiveness.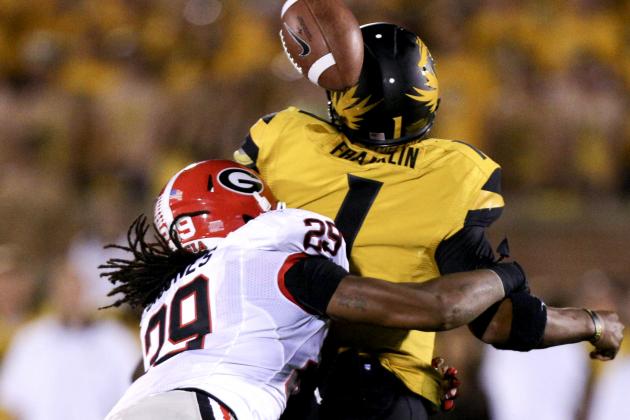 Ed Zurga/Getty Images

Projected Pick: Top 5
Georgia's Jarvis Jones is widely regarded as the top pass-rushing prospect in college football. He's an edge rusher who's also a power player. That Georgia plays a pro-style 3-4 defense elevates Jones' draft stock.
Typically, NFL teams must try to project an undersized defensive end into a 3-4 system. With Jones, they know he can excel in that scheme.
What separates Jones from the rest of the class is his large arsenal of pass-rush moves. While he has the speed to attack the edge, it's his power move that generates the most pressure.
Jones is committed to gaining inside hand placement and keeping his pads low. This allows him to gain leverage and deliver a powerful jolt. His ability to roll his hips into the blocker creates a lot of space off the snap. It's at this point Jones can decide to go with a power or speed rush.
There might be more explosive pass-rushers in this class, but nobody can match Jones' versatility.