Texas A&M Aggies vs. Louisiana Tech Bulldogs: Complete Game Preview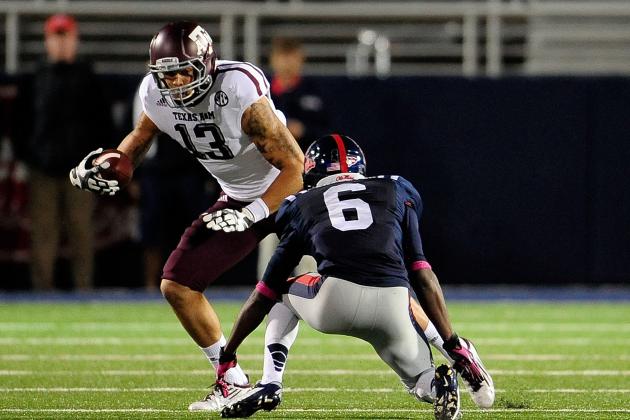 Stacy Revere/Getty Images

The Texas A&M football team will take on the Louisiana Tech Bulldogs on Saturday, in Shreveport. The Aggies are 4-1 with a 2-1 record in the Southeastern Conference and are ranked No. 21 in the Coaches Poll.
The Bulldogs enter the game with a perfect 5-0 record and are ranked No. 23 in the AP poll. The game is a makeup of the game suspended from August 30th because of the threat of Hurricane Ida.
This is the biggest game of the season for Louisiana Tech. If the Bulldogs can pull off a win against the Aggies, then they will likely finish the season undefeated. Louisiana Tech is trying to be a BCS buster and A&M is the biggest hurdle in its path.
This is a complete look at the A&M versus Louisiana Tech game.
Begin Slideshow

»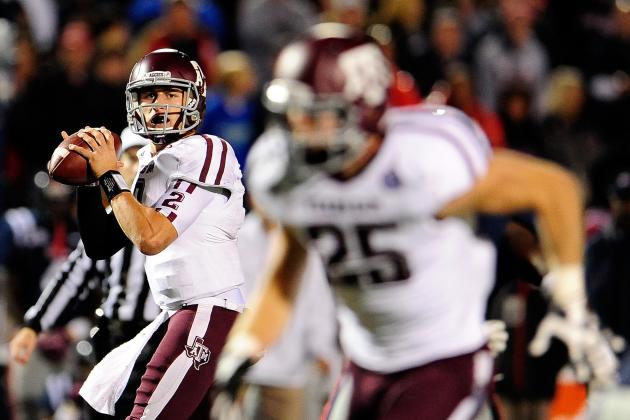 Stacy Revere/Getty Images

Who: Texas A&M Aggies vs. Louisiana Tech Bulldogs
When: 8 PM CDT
Where: Shreveport, LA
Stadium: Independence Bowl
TV: ESPNU
Radio: WTAW 1620 XM 201 Sirius 139
Rankings: Texas A&M No. 22 AP, No. 21 Coaches, Louisiana Tech No. 24 AP, No. 23 Coaches
Records: Texas A&M 4-1, 2-1, Louisiana Tech 5-0, 0-0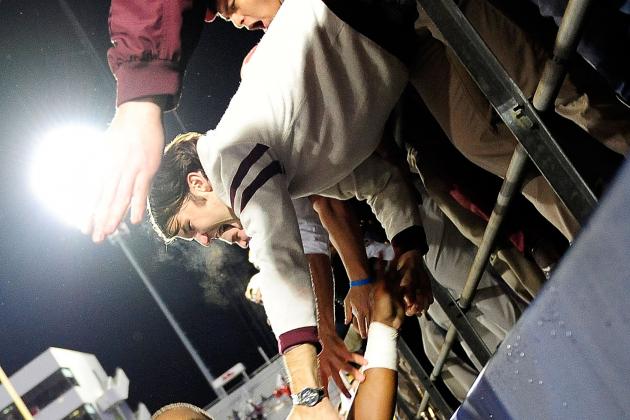 Stacy Revere/Getty Images

OFFENSE
QB: Johnny Manziel
Backup: Matt Joeckel
WR: Mike Evans
Backup: Derel Walker
LT: Luke Joeckel
Backup: Germain Ifedi
LG: Jarvis Harrison
Backup: Shep Klinke
C: Patrick Lewis
Backup: Mike Matthews
RG: Cedric Ogbuehi
Backup: Ben Compton
RT: Jake Matthews
Backup: Joseph Cheek
TE: Michael Lamothe
Backup: Nehemiah Hicks
WR: Uzoma Nwachukwu
Backup: Sabian Holmes
WR: Ryan Swope
Backup: Malcome Kennedy
WR: Kenric McNeal
Backup: Thomas Johnson
TB: Ben Malena

Backup: Christine Michael
DEFENSE
DE: Gavin Stansbury
Backup: Julien Obioha
NG: Kirby Ennis
Backup: Jonathan Mathis
DT: Spencer Nealy
Backup: Ivan Robinson
Rush: Damontre Moore
Backup: Tyrone Taylor
WLB: Donnie Baggs

Backup: Michael Richardson
MLB: Jonathan Stewart
Backup: Justin Bass
SLB: Sean Porter
Backup: Michael Richardson
CB: Deshazor Everett
Backup: Dustin Harris
CB: De'Vante Harris
Backup: Tremaine Jacobs
BS: Steven Campbell
Backup: Johntel Franklin
FS: Steven Terrell
Backup: Toney Hurd Jr.
Bob Levey/Getty Images

QB 10 Colby Cameron 6-2 205 Jr.
9 Zach Griffith 6-3 185 So.

F 36 Hunter Lee 5-10 200 So.
32 Ray Holley 5-9 200 Sr.

X 8 Jacarri Jackson 6-2 185 Jr.
5 D.J. Banks 5-9 185 Jr.

H 19 Andrew Guillot 5-10 180 Sr.
38 Malon Lee 6-0 210 Sr.

Y 7 Myles White 6-1 185 Sr.
85 David Gru 6-0 185 Jr.

Z 4 Quinton Patton 6-1 195 Sr.
18 D.J. St. Julien 6-0 185 So.

LT 67 Oscar Johnson 6-7 350 Sr.
74 Larry Banks 6-4 325 Jr.

LG 57 Kevin Saia 6-2 305 Sr.
73 Josh Parrish 6-3 290 Sr.

C 63 Stephen Warner 6-0 315 Sr.
69 Vincent Cano 6-2 305 Jr.

RG 66 Matthew Shepperd 6-2 305 Jr.
68 Josh Robinson 6-4 300 RFr.

RT 78 Jordan Mills 6-6 315 Jr.
77 Jens Danielson 6-5 290 So.

Defense Returning Starters: 6

LE 42 Kendrick James 6-1 240 Jr.
La. 98 Vontarrius Dora 6-4 250 RFr.

DT 70 Justin Ellis 6-2 340 Jr.
95 Jon'al White 6-1 300 Sr.

DT 94 Shakeil Lucas 6-2 280 Jr.
84 Andre Taylor 6-5 250 So.

RE 41 IK Enemkpali 6-2 245 Jr.
40 Kevin Kisseberth 6-1 225 So.

SLB 46 Rufus Porter 6-1 210 Jr.
55 Antonio Mitchum 6-1 245 Sr.

MLB 56 Solomon Randle 5-11 230 Sr.
50 Ches Morrison 5-11 240 So.

LCB 24 Dave Clark 6-2 190 Sr.
30 Ahmad Wallace 5-8 170 Jr.

FS 20 Jamel Johnson 6-1 200 Sr.
34 Mike Schrang 6-1 205 So.

SS 31 Chad Boyd 5-10 200 Sr.
27 Quinn Giles 5-10 195 Sr.

NB 47 Javontay Crowe 5-11 185 Sr.
14 Craig Johnson 5-8 175 Sr.

RCB 15 Bryson Abraham 5-11 175 RFr. OR
13 Levander Liggins 5-11 185 So.
The Aggies beat the Ole Miss Rebels 30-27 in Oxford, MS. The Texas A&M offense committed six turnovers to help spot Mississippi to a 27-17 lead. In the fourth quarter with the Ags facing a 3rd-and-18 from their own four yard line, freshman receiver Mike Evans reached over a Rebel defender to make a 32 yard reception and continue the drive.
The Aggies scored two plays later on a Johnny Manziel run to silence the Ole Miss crowd. Manziel completed a 20 yard touchdown on the Aggies' next drive to take the lead for good.
The Ags showed a lot of heart in coming back, in a game in which they turned the ball over six times. A&M stole an SEC game on the road. It is a great lesson for a team with a new coaching staff, in the value of never giving up.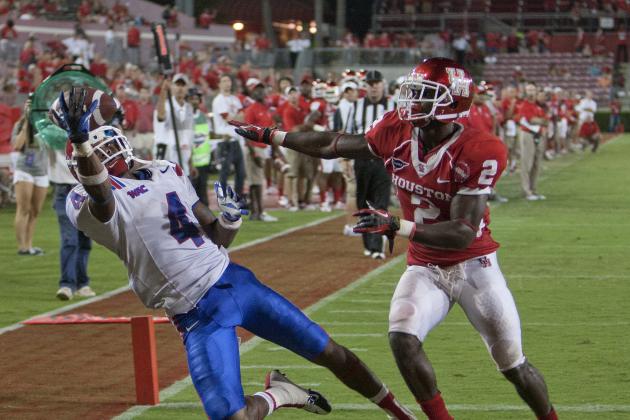 Bob Levey/Getty Images

Louisiana Tech defeated the UNLV Rebels 58-31 in Ruston, LA. The win propelled the Bulldogs to their first 5-0 start since 1975. It also extended Tech's winning streak to 12 games which now leads the nation.
The Bulldogs rushed for 306 yards and passed for 316 yards in the victory. Kenneth Dixon and Ray Holley both rushed for over 100 yards for the Bulldogs.
Quinton Patton had a typically strong game with nine receptions for 116 yards and a touchdown.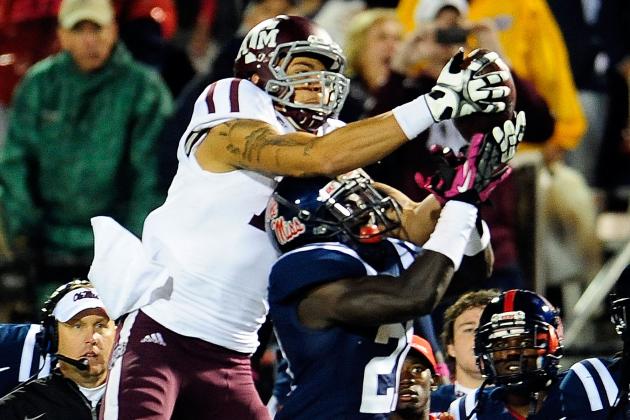 Stacy Revere/Getty Images

The Aggies need to win this game in order to qualify for a bowl game. The Ags need to win seven games to qualify for a bowl. If the Aggies win all of their non-conference games then they only need to win three SEC game to qualify.
It is important that the A&M football team wins this game so they can stay on schedule to qualify for a bowl.
For Louisiana Tech, this is the most important game of the season. If they beat A&M then they have a legitimate shot at finishing the season undefeated. If they do that, then they can make an argument that they should be in a BCS game.
Texas A&M is the best team on Tech's schedule. They must win this game in order to have any kind of argument for a BCS bowl game.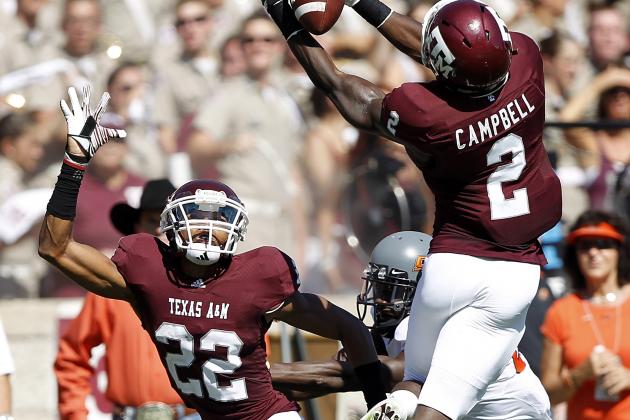 Bob Levey/Getty Images

Senior cornerback and punt returner Dustin Harris will be key to the Ags winning against Louisiana Tech. With the status of sophomore defensive back Deshazor Everett unknown, Harris is likely to line up against Tech's star wide receiver Quinton Patton.
Harris had an inconsistent game against Ole Miss. On one play, he lost the ball during a double move and allowed a long reception. On the next play, the Rebels went after Harris again and he had a great pass break up.
Harris has the best pure cover skills of any defensive back on the Aggies' roster, but he's also the most inconsistent. If he plays well in the secondary and consistently catches the ball on punt returns, the Aggies will have a great shot at winning this game.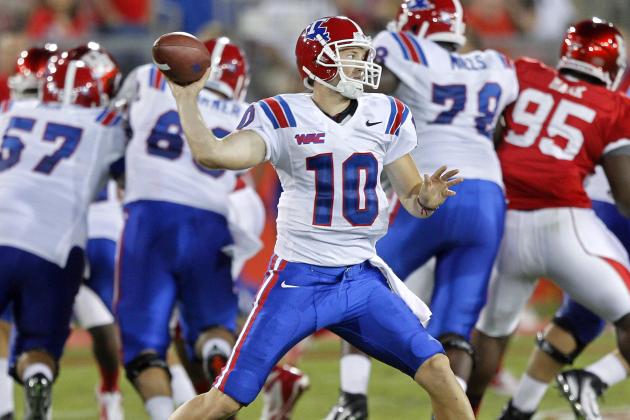 Bob Levey/Getty Images

Louisiana Tech senior quarterback Cameron Colby has been playing exceptional football. Colby has completed 68 percent of his passes for 291 yards per game and 13 touchdowns with zero interceptions this season.
If he is given time, he will be able to pick apart the Aggie secondary. The Ags will need to consistently pressure Cameron into incompletions in order to have a chance to win the game.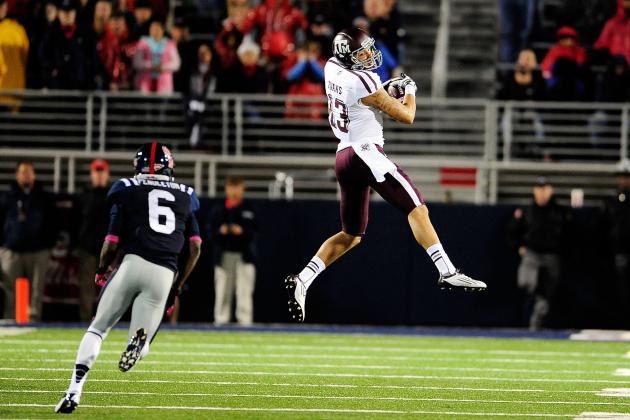 Stacy Revere/Getty Images

The Aggies will win the game if they protect the football and they tackle well. Louisiana Tech has one of the best offenses and the worst defense in the country. While the Bulldogs put up 523 yards per game, they allow 531 total yards per game.
The Aggie should be able to move the ball and score on the Tech defense. If the A&M defense tackles well, they will be able to limit the Bulldog receivers to short gains and get the Aggies offense back on the field.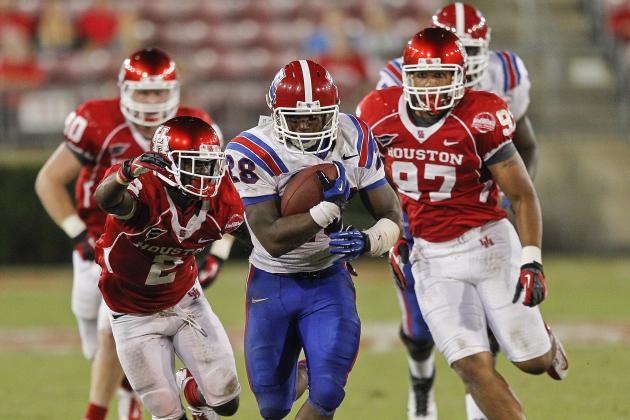 Bob Levey/Getty Images

Louisiana Tech will win the game if they have a plus two turnover margin in the game. If the Bulldogs force two more turnovers than they commit against the Aggies, then they will win the game.
Louisiana Tech will not be able to stop the Aggie offense. The Aggies defense will get some stops against Tech. If the Bulldogs are able to create a few extra possessions through turnovers, then they can win the game.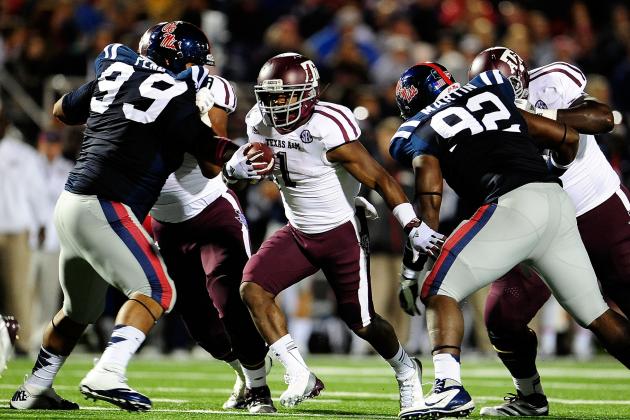 Stacy Revere/Getty Images

Prediction: Texas A&M 56 Louisiana Tech 38
Louisiana Tech will be the most prolific offense that the Aggies face in 2012. This is one of the biggest games in the history of the Tech program. However, the Bulldogs just do not have the defense to stop A&M.
Even without the suspended Steven Jenkins and Howard Matthews, the Aggie defense will get some stops against Louisiana Tech. The Aggie offense will be the only people on the field who can stop the Aggie offense.
If Manziel goes through his reads and protects the football, the Aggies should win going away.