Breaking Down the 7 Worst Starters in the NBA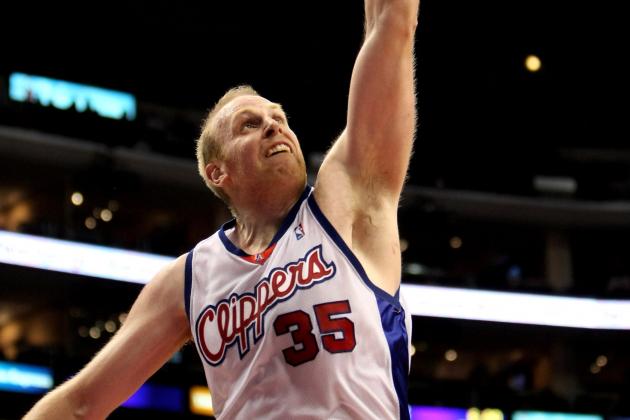 Stephen Dunn/Getty Images
Kaman can't stay healthy but will start at center for Dallas.
Who's the weakest link on your favorite team?
You know. That guy in the starting lineup who just shouldn't be there. The one coasting by because of his draft status or his ridiculously big contract. The guy who used to be really good, but now can't get out of his own way.
There aren't too many of those guys in the NBA these days. Most starters in this league have done more than enough to warrant their places on the depth chart.
But there are still some. A handful. Players who would serve their teams so much better playing a more reduced role.
Here's a look at a group of those very guys.
Begin Slideshow

»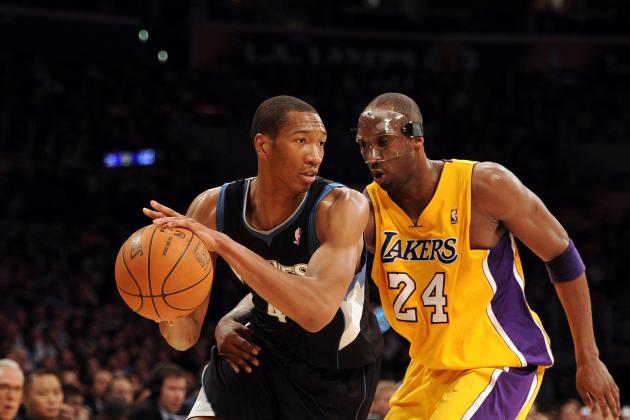 Harry How/Getty Images
Um, mismatch?
Johnson went fourth overall to Minnesota in the 2010 draft, but the Syracuse product wasn't who the Wolves thought they were getting.
He didn't do anything particularly well, starting 63 of 79 games as a rookie. Nine points, three rebounds, two assists and a field-goal percentage under 40 marked that first-year campaign and are pretty mundane numbers, even for a rookie.
But Johnson actually regressed in his second year, as the Wolves were becoming a borderline playoff team around him. All of his numbers decreased except for his 39.7 percent from the field (which increased a whopping .001 percentage points), none more drastically than his scoring average, which fell to six points per game.
Sure, the Wolves had Kevin Love and Michael Beasley and Ricky Rubio and another high lottery pick in Derrick Williams. There weren't a lot of shots left over. But Johnson was pretty much invisible in starting 64 of Minnesota's 65 games.
ESPN's John Hollinger called the 6'5" Johnson, "a spot-up shooter who can't shoot," and "a poor ball handler with weak offensive instincts." And that wasn't even close to the worst Hollinger had to say about him.
Johnson, 25, was traded to Phoenix over the summer, so maybe the change of scenery will help him. But he's listed at the top of the Suns' depth chart at shooting guard. Which means he'll be starting come opening night.
Haven't they been paying attention?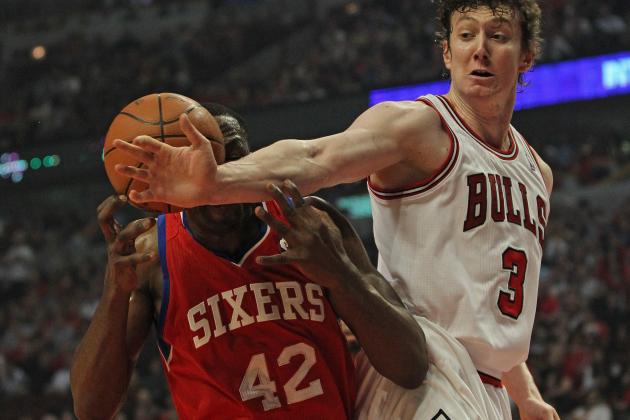 Jonathan Daniel/Getty Images
The Rockets have to hope Asik's size will block out any and all opponents.
Somehow, some way, Omer Asik got himself a three-year, $25.1 million contract from the Houston Rockets.
What a country.
Asik may be a seven-footer. But he's also already 26 years old with just two years of NBA experience in which he's started two of 148 games and averaged 2.9 points, 4.4 rebounds and less than one full block.
Maybe with the playing time starters are normally allotted, he'll improve on those numbers greatly. After all, in his two seasons with the Bulls, he played an average of 13.2 minutes per game. And with that increase in playing time, maybe he'll see his numbers and impact increase as well.
Or maybe the Rockets, who will be lucky to win 20 games this season, just flushed $25 million down the toilet.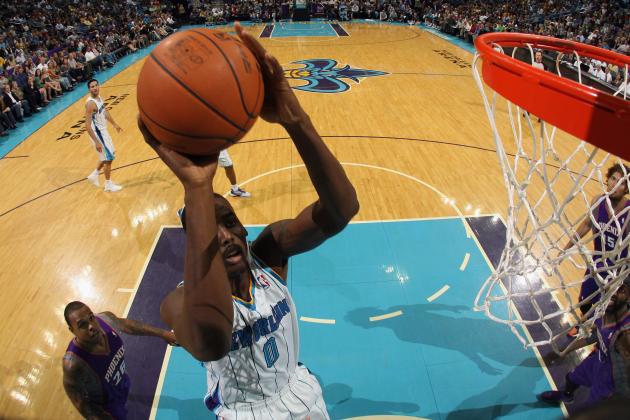 Chris Graythen/Getty Images
This is about the only place on the court from which Aminu can score.
One of the players to go the other way in the Chris Paul trade from last year, Aminu hasn't done much to justify being a lottery pick out of Wake Forest in the 2010 draft.
And while the Hornets are very young, have a couple of very heralded, talented players in Ben Gordon and No. 1 overall pick Anthony Davis and can therefore afford to be patient, it stands to reason that Aminu won't do them any good in the starting lineup.
Aminu is a spindly small forward, a 6'9", 215-pounder who could be a star on defense but doesn't yet know how to play at the other end. If the Hornets can get out on the break enough, he could be a highlight-reel finisher thanks to his size, speed and leaping ability.
But when the ball is in the half court, opposing defenses would be foolish to ever contest a mid-range jumper.
Again, the Hornets aren't going anywhere anytime soon, so they have the luxury of being able to wait for Aminu to continue his development.
In the meanwhile, it could get ugly.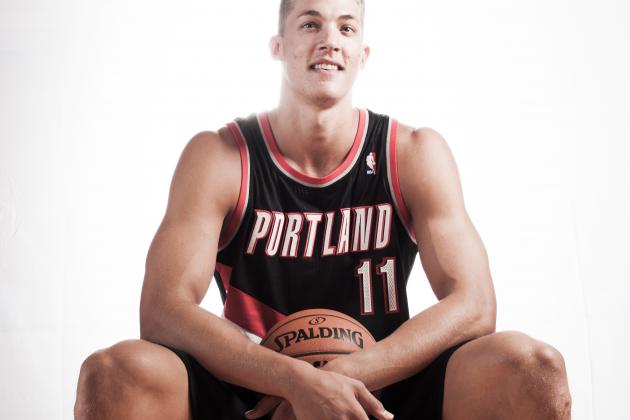 Nick Laham/Getty Images
Leonard should be the 11th man, but he'll start for the Blazers.
It's tough to have a rookie on this list, but Leonard, who went 11th overall to the Blazers in June's draft, looks like one of the more ill-equipped players to head up any position on any team's current depth chart.
Leonard is a project through and through. But the Blazers don't have anyone else remotely capable of starting in the pivot unless they want to move LaMarcus Aldridge (they don't) or think the 6'9" J.J. Hickson is able to succeed there (he isn't).
So in steps the raw, not remotely ready Leonard, who will receive a trial by fire as a 20-year-old. The fact that he's 7'1" helps, but this is a guy who didn't have much of a post game and wasn't a great rebounder or shot-blocker in college and will now be expected to learn all of that on the fly in the NBA.
Leonard is a very good athlete for his size and is a pretty good shooter for a big man, so maybe Portland will stash him around the perimeter on offense and pray he doesn't get the crap kicked out of him on defense.
Whatever the Blazers do, expect plenty of growing pains for Leonard.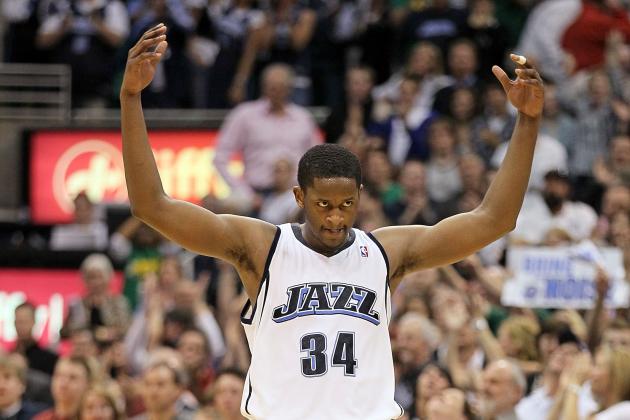 Andy Lyons/Getty Images
Miles should provide veteran leadership for the Cavs from the bench.
This one may not stick. After seeing him through the preseason, the Cavs may decide to start rookie, No. 3 pick Dion Waiters at the 2 instead of the veteran Miles.
And really, why shouldn't they? Cleveland is a painfully young team in the midst of a massive rebuilding project. Kyrie Irving starting and playing big minutes is a no-brainer, but if the Cavs are going to start Tristan Thompson and Alonzo Gee, why not start Waiters too?
Do they think it could hurt their playoff chances? This team isn't going to even sniff the postseason for at least another year after this one.
Miles is a stop gap, a journeyman who is pretty good at a few things but really good at nothing. He's a poor shooter (under 30 percent from deep and between 15 to 20 feet for Utah last year) playing shooting guard and isn't a particularly good defender either.
Waiters made his name at Syracuse coming off the bench, so perhaps that's why the Cavs don't currently have him at the top of their depth chart.
But he has to be a better option than Miles, especially on a young team that needs to learn how to play together.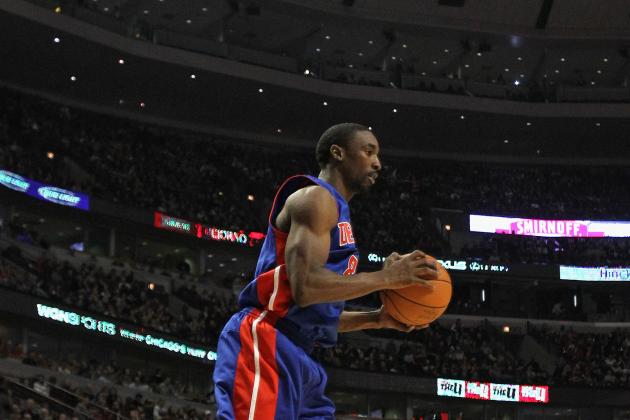 Jonathan Daniel/Getty Images
Gordon can still shoot but shouldn't start in Charlotte.
For starters, neither of these guys are bad players at all. Sessions was a terrific pickup at the point for the Lakers last season until dropping off in the playoffs. And Gordon, while never even remotely living up to the silly contract he got from the Pistons, is still a very good, very dangerous shooter.
But if the Bobcats start these two over youngsters Gerald Henderson and Kemba Walker, they are certifiably insane.
This is a team that recorded the worst winning percentage in NBA history last year. They won seven, count 'em, seven games.
Charlotte needs to allow their young players to play, to screw up and to grow together. Sitting any of them in favor of stop gaps or journeymen or anyone who will be gone after a year is absurd.
Walker and Henderson were each lottery picks. They, along with Bismack Biyombo and this year's No. 2 pick Michael Kidd-Gilchrist, are the future of this franchise. Those players represent the core of the team.
Gordon and Sessions have nothing to do with it.
The Bobcats will probably win between 15 and 20 games this year no matter who starts. They must play Henderson and Walker 35 minutes per game or more.
Gordon and Sessions will do nothing to help their win total, but they may well do plenty to hinder the development of the team's young, talented players.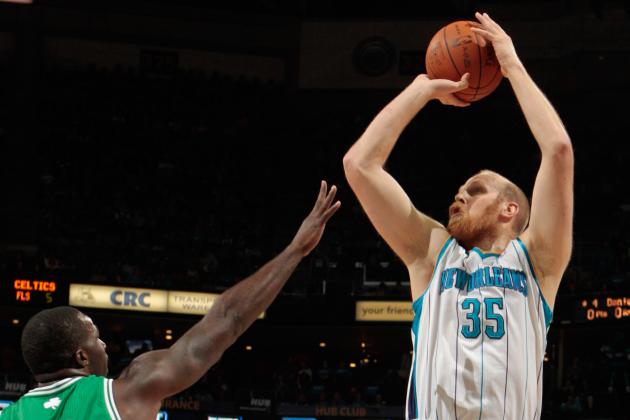 Chris Graythen/Getty Images
The Mavs are praying Kaman can stay healthy.
The Mavs never really got into the Dwight Howard sweepstakes this summer. Instead, they chose to give $8 million to a center who has played 33 games once in the past four years.
It's only a one-year deal and Howard will be a free agent at year's end. The Mavs can still make a big run at him then and will have the cap space to do it.
But Chris Kaman? This is a team that won a championship two years ago with Tyson Chandler, the current reigning Defensive Player of the Year, so it knows how crucial having a healthy, athletic, two-way pivot is, especially as Dirk Nowitzki's window continues to close.
Kaman can score to an extent in the post and is a very good shot-blocker even though he's hardly an athletic specimen. But he just can't stay on the court.
So, for $8 million, Mavs fans should get excited to see an Elton Brand/Bernard James combo in the paint for at least half the season.
Wonder what Dirk thinks?