Power Ranking the Most Devastating Injuries of 2012 NFL Season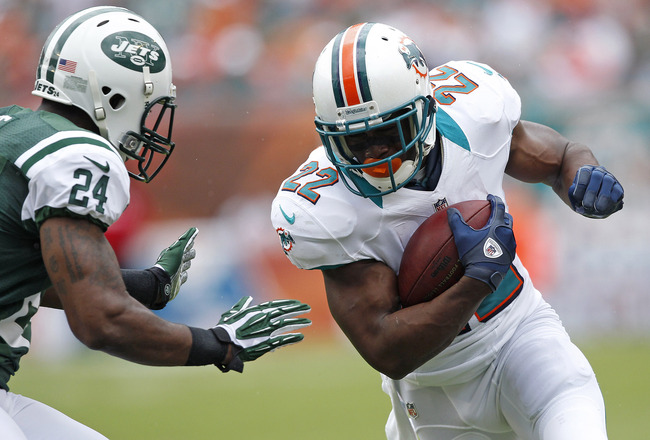 Joel Auerbach/Getty Images
Every NFL season has a host of devastating injuries.
In the last few years, star quarterbacks such as Tom Brady and Peyton Manning have missed entire seasons, as have some of the league's biggest stars on defense.
Last year, the Texans' All-Pro defensive end Mario Williams was lost in Week 5 to a torn pectoral muscle and the Chargers' defensive end Luis Castillo was lost for the year in Week 1.
Sometimes a team rises above the adversity, sometimes it's just too much to overcome.
The 2012 campaign has been no different. Here we rank the most devastating injuries of the year.
Redskins' Adam Carriker/Brian Orakpo a Double Doozy for Washington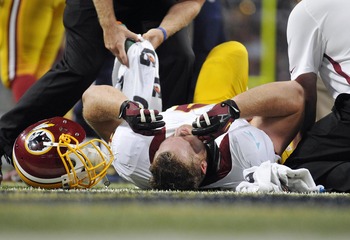 Jeff Curry-US PRESSWIRE
Defensive end Adam Carriker, a rising star for the Redskins, saw his season come to an early end with a torn quadriceps muscle in Week 2 against the St. Louis Rams.
Carriker will miss the remainder of the 2012 season due to the injury.
But that's not the worst news for the Redskins.
Linebacker Brian Orakpo's season is also over, due to a torn pectoral muscle which ended the star's season early.
The Redskins rank 27th in total defense and dead last in passing defense, not surprising since they can't put any pressure on the quarterback.
Ryan Williams: Solid Running Game Not in the Cards for Arizona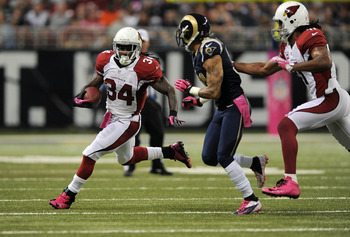 Jeff Curry-US PRESSWIRE
The Arizona Cardinals already have struggled to cobble together a running game without Beanie Wells, who is not expected back until at least Thanksgiving weekend.
Now the Cards must cope with a season-ending injury to Ryan Williams, who missed his entire rookie season with a torn patella tendon.
Williams went down Thursday with an injured shoulder and Arizona coach Ken Wisenhunt informed the media today that he is expected to miss at least 12 weeks, making him possibly eligible to play should the Cards, now 4-1, make the postseason.
Without Wells and Williams, the Cards must turn to running backs William Powell, Alfonso Smith and LaRod Stephens-Howling, who is returning after missing the last two games.
The Cardinals rank No. 31 in rushing in the NFL.
Brent Grimes Loss Will Haunt Falcons as the Year Wears on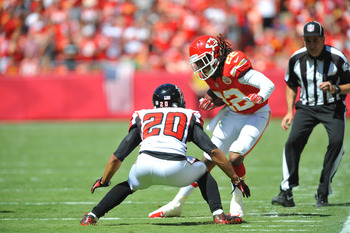 Denny Medley-US PRESSWIRE
The Atlanta Falcons have fared well sans cornerback Brent Grimes the last couple of weeks.
But the NFL season is indeed a marathon not a sprint and Grimes will be missed when the Falcons line up against Drew Brees, Eli Manning and Matthew Stafford later this season.
Grimes, playing this season under the franchise tag, is now gone for the year with a torn Achilles tendon.
He had a stellar 2011 campaign with 49 tackles and one interception. Over his five-year career, Grimes collected 254 tackles, 13 interceptions and 56 passes defended.
All that after being signed as an undrafted free agent out of Shippensburg College in 2007.
He will be missed as the season wears on and the Falcons play more high-powered offensive units.
Darrelle Revis Is Sorely Missed in New York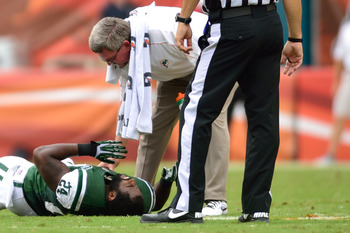 Steve Mitchell-US PRESSWIRE
Of all the season-ending and long-term injuries this NFL season, none means more to a team than the torn ACL suffered by the New York Jets' Darrelle Revis.
Revis, "the" shutdown corner of the NFL, will likely miss the rest of the season, dooming a Jets secondary to mediocrity.
So, with no run defense and (this isn't the first time you're going to hear this) no offense to speak of, that spells trouble for a Jets team that struggled to go 8-8 last year.
Revis gave the Jets what few teams have, a cornerback who you can trust in man coverage no matter who he's covering.
That kind of loss is not easily overcome.
Keep Reading