The Baltimore Orioles had their backs against the wall headed into Game 2 of the ALDS, but they showed they weren't going to be pushed around by the New York Yankees on Monday, coming away with a tight 3-2 victory at Camden Yards and evening the series at one game apiece.
The Yankees got off to quick start in the top of the first inning when Robinson Cano's double plated Ichiro Suzuki. The relay from the outfield was well executed, but Suzuki avoided the tag from catcher Matt Wieters and twisted his way for a score.
Orioles starter Wei-Yin Chen settled down after that, though, pitching 6.1 innings of two-run ball (one earned).
Chris Davis had a big hit when he knocked in Robert Andino and Nate McClouth with two out in the bottom of the third inning. But it was Mark Reynolds who had the game-deciding single in the bottom of the sixth, giving the Orioles much-needed breathing room going into the seventh inning.
Here's a look at the world of Twitter during the game, as well as grades of each team's key players.
Twitter Reaction
When Ichiro avoided Matt Wieters' tag at home plate to score the first run of the game, Jeff Bradley of the Star-Ledger may have said it best:
Ichiro was a Twister champion in his grade school years.

— Jeff Bradley (@JerseyJBradley) October 9, 2012
Orioles shortstop J.J. Hardy almost made a costly mental error when Baltimore was rallying in the third inning, stopping at third base when third-base coach DeMarlo Hale was waving him home. Steve Berthiaume of ESPN tweeted:
If the #Yankees win this by 1, that was the 1. #Orioles missed a sure run there when Hardy stopped at 3rd. #BUCKleup

— Steve Berthiaume (@SBerthiaumeESPN) October 9, 2012
Orioles first baseman Chris Davis tweeted before Game 1 on Sunday:
I tell you, you can pray for anything, and if you believe that you've received it, it will be yours.Mark 11:24

— Chris Davis (@ChrisDavis_19) October 7, 2012
I'm guessing he prayed to knock in two runs with his clutch single in the sixth.
In the top of the fourth inning, Yankees infielder Eduardo Nunez hit a popup to shortstop with runners on first and second and one out.
Buster Olney of ESPN couldn't contain himself in light of the controversial call in the NL wild-card game between the Atlanta Braves and St. Louis Cardinals:
For the record: All 6 umpires called an infield fly on that looper.

— Buster Olney (@Buster_ESPN) October 9, 2012
When Mark Reynolds singled home Matt Wieters for what turned out to be a critical run in the bottom of the sixth inning, Jeffrey Paternostro of Mets Minors Review was beside himself:
I steadfastly refuse to believe Mark Reynolds has ever, very consciously gone the other way with the baseball.

— Jeffrey Paternostro (@jeffpaternostro) October 9, 2012
In the end, the Orioles continued their dominating play late in games, a characteristic that was supposed to belong to the Yankees. MLB Public Relations tweeted:
#Orioles are 75-0 when leading after 7 innings this year (including #Postseason).

— MLB Public Relations (@MLB_PR) October 9, 2012
Grades for Key Yankees Players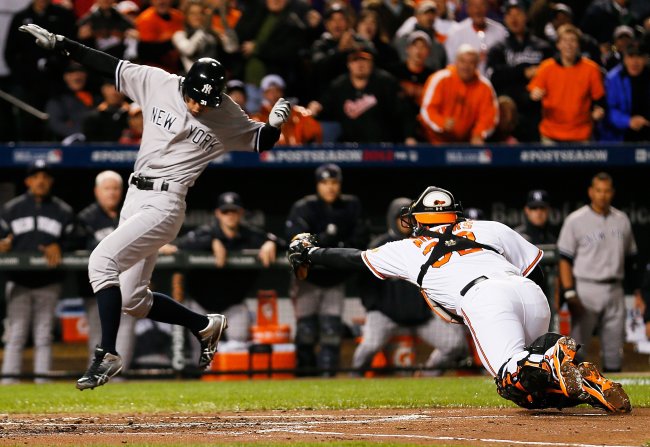 Rob Carr/Getty Images
Derek Jeter: B
Jeter went 2-for-5 with an RBI that cut the Orioles lead to 3-2 in the top of the seventh inning, proving that age is just a mirage when you're a legend. He did have a throwing error in the bottom of the fourth, but it didn't lead to a run.
Ichiro Suzuki: B
Ichiro scored on his spectacular slide in the first, but he wasn't much of a factor after that, going 1-for-5 in the game. He also missed an opportunity to move Jeter to second base in the top of the seventh inning when he flubbed a sacrifice bunt attempt. He instead grounded into a fielders' choice, with Jeter getting forced out at second.
Andy Pettitte: B+
Pettitte did a solid job against the Orioles offense in Baltimore, throwing seven innings of three-run ball while notching five strikeouts.
Nothing out of this world, but the main thing is that the 40-year-old kept the Yankees in the game and lasted seven innings so manager Joe Girardi didn't have to go to the bullpen too early.
Grades for Key Orioles Players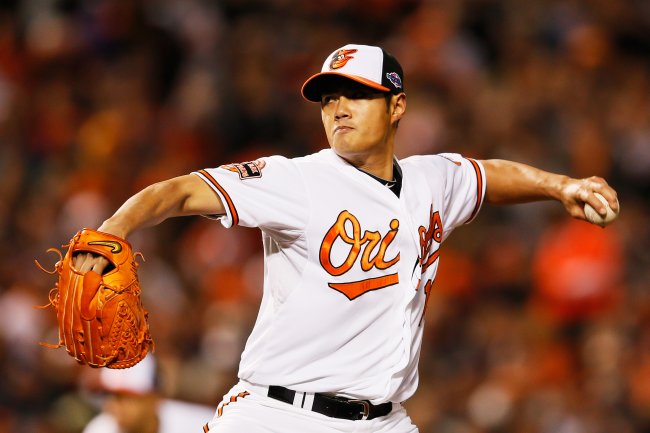 Rob Carr/Getty Images
Chris Davis: A
Not only did Chris Davis knock in the first two runs for the Orioles, he knocked Pettitte out of the game with a single in the bottom of the eighth. He went 2-for-4 with two RBI on the night.
This was after Davis went 2-for-4 with a run in Game 1.
Wei-Yin Chen: A
You can't say enough about the job Wei-Yin Chen did here in Game 2.
He withstood two errors from his defense and pitched into the seventh inning in a big game at home, allowing just two runs (one earned).
Chen had a 4.02 ERA in the regular season, including a 1-2 record and a 5.25 ERA in four starts against the Yanks, but he's looked like a different player in the postseason.
Mark Reynolds: B
Mark Reynolds only went 1-for-4 in the game, but his hit in the sixth was the difference in a close ball game. He's 2-for-7 with three strikeouts in the series, but that tends to be ignored when you come up with a big-time hit.