South Carolina vs. LSU: The 10 Must-Watch 2013 NFL Draft Prospects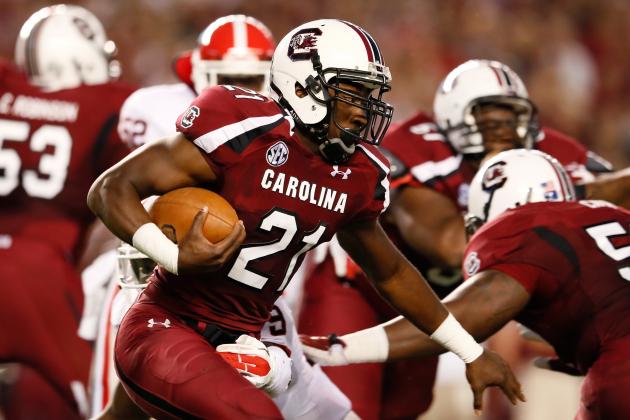 Kevin C. Cox/Getty Images
Will LSU's defense be able to contain South Carolina RB Marcus Lattimore?
The marquee matchup of Week 7 is without a doubt the huge SEC showdown between No. 3 South Carolina and No. 9 LSU in Baton Rouge.
You won't see many other college football games this year that will feature the amount of future NFL players that the battle between the Gamecocks and the Tigers will.
Plenty of scouts will surely be making their way to Tiger Stadium on Saturday to catch a glimpse of some of the elite talent that will be on display.
Here's a look at the top 10 eligible prospects for the 2013 NFL draft that will be competing in the game.
Begin Slideshow

»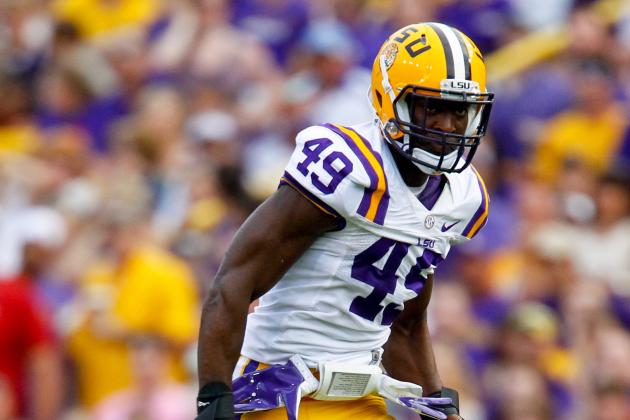 Derick E. Hingle-US PRESSWIRE
Barkevious Mingo
So far this season, Barkevious Mingo hasn't put up the type of stats many were expecting, as he's racked up just one sack and 16 tackles in six games.
Still, if you've actually watched LSU play this season, then you know just how special of a talent Mingo really is, regardless of his numbers.
The 6'5'', 240-pound junior truly deserves the label of "physical freak." Mingo is a tenacious and explosive edge-rusher who possesses similar physical attributes to recent coveted pass-rushing prospects Bruce Irvin and Aldon Smith.
Since he's only been playing organized football since high school, the Louisiana native is still noticeably raw and unrefined. Plus, he still has to add some more bulk to his lanky frame.
Obviously, though, young, gifted pass-rushers such as Mingo don't come along very often. There are certainly plenty of NFL teams who would love the chance to groom the potential future Pro Bowler.
With the versatility to line up as either a 4-3 defensive end or a 3-4 rush linebacker in the pros, it will be interesting to see what type of defensive system the potential top-10 pick eventually ends up in.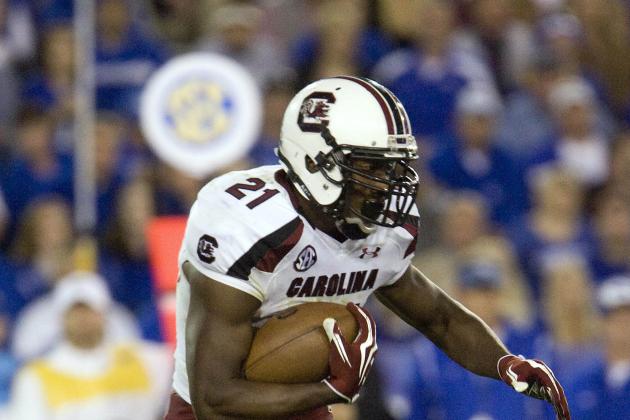 Mark Zerof-US PRESSWIRE
Marcus Lattimore
This year, Marcus Lattimore took some time to get into a groove after returning from knee surgery. However, in the last few weeks, he's finally started to look like his old self again.
Lattimore has rushed for over 100 yards in each of the past two games against Kentucky and Georgia.

He's now totaled 549 yards on the ground and scored nine touchdowns in six games this season.
The 6'0'', 218-pound junior is one of the best running back prospects of the last decade. He has all the traits—size, speed, power, balance, vision, instincts, pass-catching ability and toughness—that NFL teams are looking for in a potential featured back.
LSU's defensive front-seven may be loaded with talented difference-makers. But the Tigers are going to have their hands full trying to slow down Lattimore on Saturday.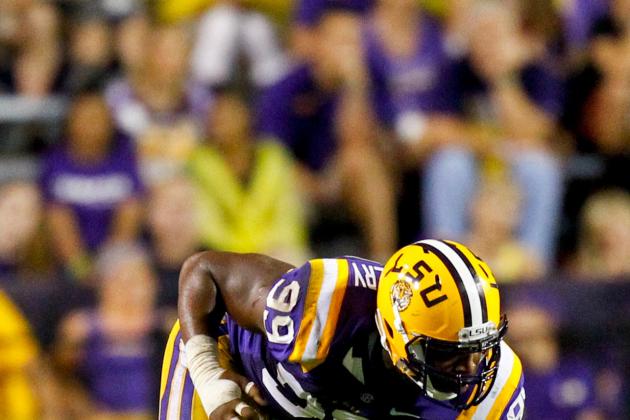 Derick E. Hingle-US PRESSWIRE
Sam Montgomery
During the offseason, Sam Montgomery was hyped up as a potential All-American pass-rusher, and so far, he's looked as good as advertised.
Montgomery has racked up two sacks and 5.5 tackles for loss in the Tigers' first six games. He's the type of player, however, that you simply can't judge solely by the stat sheet.
The 6'4'', 260-pound junior may be a bit undersized as far as NFL standards are concerned, but he makes up for it with his relentless playing style and his non-stop motor.
No matter what quarter it is, you'll always see Montgomery flying up the field and giving an opposing offensive tackle everything he can handle.
Although fellow defensive end Barkevious Mingo possesses more natural athleticism and upside, Montgomery definitely looks like he should develop into an impact pass-rusher at the next level.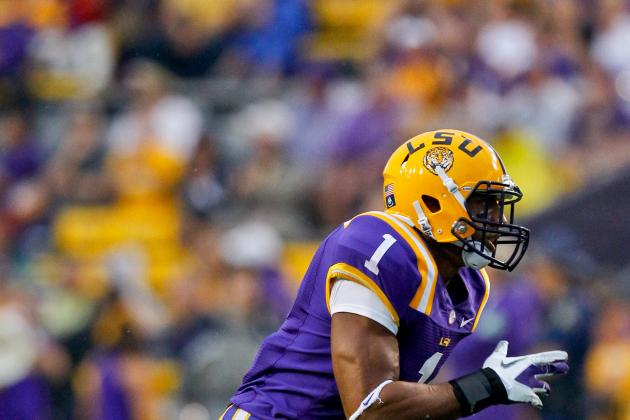 Derick E. Hingle-US PRESSWIRE
Eric Reid
Eric Reid is the son of former LSU All-American hurdler Eric Reid Sr., and you can definitely tell that some of his father's athletic genes were passed down to him.
Reid is one of the most athletic and instinctive safeties that we've seen in the college game in years.
He's on par with other recent SEC star safeties such as Mark Barron, Eric Berry and LaRon Landry, who all went on to become top-10 NFL draft picks.
The 6'2'', 212-pound junior has an outstanding radar for finding the football, and he always seems to come up with a momentum-changing play when it's needed.
Even though you don't often see many safeties selected early in the first round, Reid is one of the rare ones who deserves to be a top-15 pick.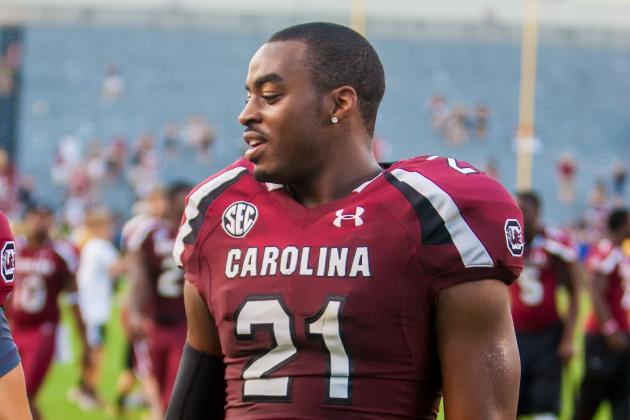 Jeff Blake-US PRESSWIRE
DeVonte Holloman
DeVonte Holloman started off his career at South Carolina as a safety, but he's since moved to the hybrid "Spur" linebacker position.
Since making the switch, Holloman has shown that he has the potential to become a starting 4-3 strong-side linebacker in the NFL.
The 6'2'', 241-pound senior possesses tremendous athleticism for his size. He has the speed and lateral quickness to roam around and make plays all over the field.
Although Holloman still has to figure out all of the intricacies of what it takes to be an every-down linebacker at the next level, there's simply no denying the NFL-caliber physical tools he has to offer.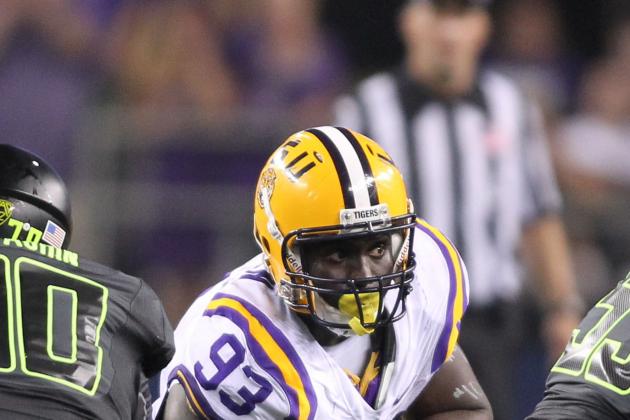 Tim Heitman-US PRESSWIRE
Bennie Logan
Anthony Johnson has been LSU's most dominant defensive tackle so far this season. However, his partner in the interior, Bennie Logan, has also looked impressive.
Logan has racked up 17 tackles, including 3.5 tackles for loss and a sack in 2012.
The 6'3'', 295-pound junior possesses a quick up-field burst as well as solid strength to take on double-teams.
The agile and powerful run-stuffer is one of the main reasons the Tigers are only giving up an average of 2.7 yards per carry this year.
While he may be overshadowed by his more heralded defensive line mates Sam Montgomery and Barkevious Mingo, Logan could certainly end up in the first-round conversation for the 2013 draft.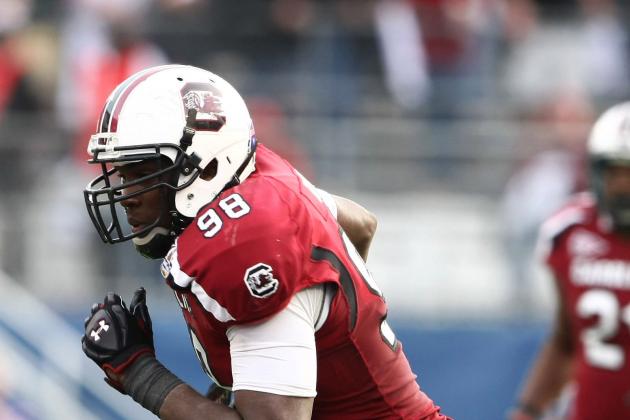 Douglas Jones-US PRESSWIRE
Devin Taylor
Devin Taylor is one of the most enigmatic prospects in the 2013 draft class.
If you took one look at Taylor's incredible and rare size-speed combination, you would quickly peg him as a surefire first-round pick. However, if you actually sit down and watch the 6'8'', 267-pound senior play, you'll begin to have more doubts about his overall pro potential.
Taylor is the type of pass-rusher that can make a huge disruptive play and then completely disappear for the next few quarters.
Some NFL team will likely take a chance on the former high school track star some time on Day 2 just based off his incredible physical skills. But the bottom line is Taylor still has a lot of work to do if he ever hopes to reach his full potential in the pros.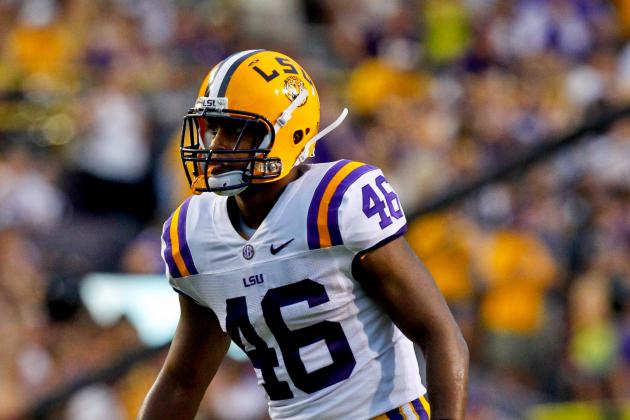 Derick E. Hingle-US PRESSWIRE
Kevin Minter
LSU's defensive line and secondary were the two position units that received the most acclaim last season. That meant LB Kevin Minter didn't receive the same type of attention and publicity as some of his fellow defenders.
Still, Minter had a very strong sophomore campaign in 2011, finishing fifth on the team with 61 tackles.
This year, the middle linebacker has taken his game to another level and really stepped up to become a key defensive leader. The 6'2'', 245-pound junior currently leads the team with 54 tackles, including 8.5 tackles for loss and two sacks.
Minter has proven to NFL scouts that he's the type of tough, instinctive and athletic inside 'backer who can keep a defensive front-seven glued together.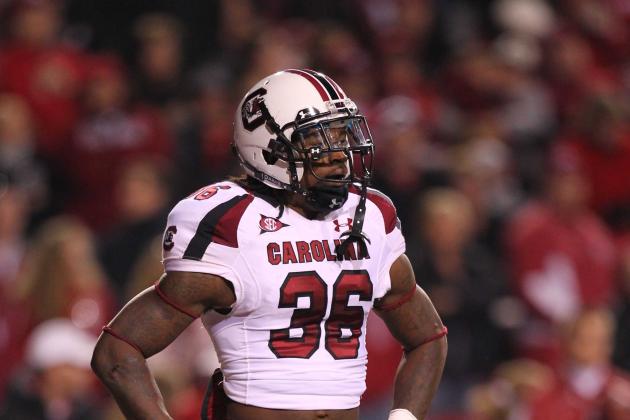 Nelson Chenault-US PRESSWIRE
D.J. Swearinger
South Carolina has produced plenty of coveted defensive back prospects in recent years such as Stephon Gilmore, Chris Culliver, Johnathan Joseph and Dunta Robinson.
The latest in that line is D.J. Swearinger.
Swearinger is a big, strong and physical free safety who loves to fly around the field and lay the boom on anybody in an opposite-colored jersey.
Last year, the 6'0'', 210-pound senior finished second on the team with 80 tackles.
This season, he's embraced his role as one of the South Carolina defense's key veteran leaders.
Although Swearinger may not end up as a first-round pick like former Gamecocks such as Gilmore, Joseph and Robinson, he definitely has the physical skills, tenacity and instincts that will catch the attention of NFL scouts.
Jim Brown-US PRESSWIRE
Kelcy Quarles
Kelcy Quarles is one of the most intriguing defensive tackles in not just the SEC, but the entire country.
Quarles may only be a sophomore, but since he played a year at Fork Union Military Academy before coming to South Carolina, he's technically eligible for the 2013 draft.
Although he may still be unpolished, Quarles is the type of young, raw tackle prospect who has a sky high ceiling.
The 6'4'', 286-pound tackle possesses tremendous quickness and explosiveness for his size. This season, he's shown that he can shed blocks and penetrate into the backfield, as he's already racked up 5.5 tackles for loss and 2.5 sacks in just six games.
He would probably benefit from returning to Colombia for another season. However, it wouldn't be surprising if Quarles ultimately turned out to be this year's version of former LSU DT Michael Brockers, who entered the 2012 draft as a redshirt sophomore and ended up as the No. 14 overall pick.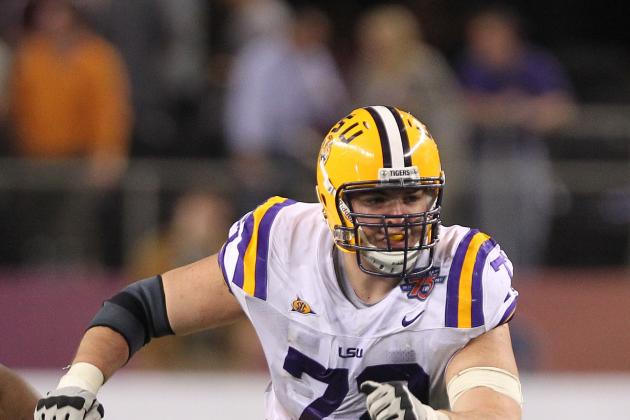 Matthew Emmons-US PRESSWIRE
Alex Hurst
LSU OT Alex Hurst

LSU DT Josh Downs

LSU DE Lavar Edwards

LSU CB Tharold Simon*

LSU RBs Spencer Ware and Michael Ford*

LSU QB Zach Mettenberger*

LSU Punter Brad Wing*

South Carolina OC T.J. Johnson

South Carolina LB Shaq Wilson

South Carolina QB Connor Shaw*

*Denotes Eligible Underclassmen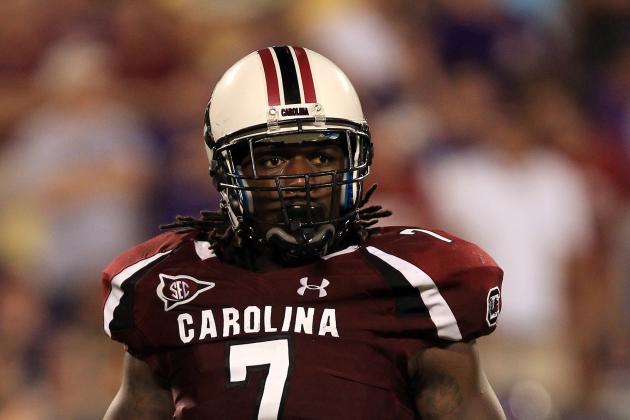 Streeter Lecka/Getty Images
Jadeveon Clowney
For those of you fans who like to keep an eye on the future, there are some young non-eligible prospects on both teams that look like they could become future big-time NFL prospects.
South Carolina DE Jadeveon Clowney may not be eligible for the 2013 draft, but he's arguably going to be the best player on the field when the Gamecocks and Tigers square off on Saturday.
Given the way the former superstar high school recruit is developing, Clowney has to be considered the early favorite to be the first defender taken in the 2014 NFL draft.
Besides Clowney, the other young South Carolina players to watch are SS Brison Williams, OT Brandon Shell and TE Rory Anderson.
The young LSU players to watch are DT Anthony Johnson, WR Odell Beckham Jr., RB Kenny Hilliard and CB Jalen Mills.