Predicting All Top 25 Week 7 College Football Games Against the Spread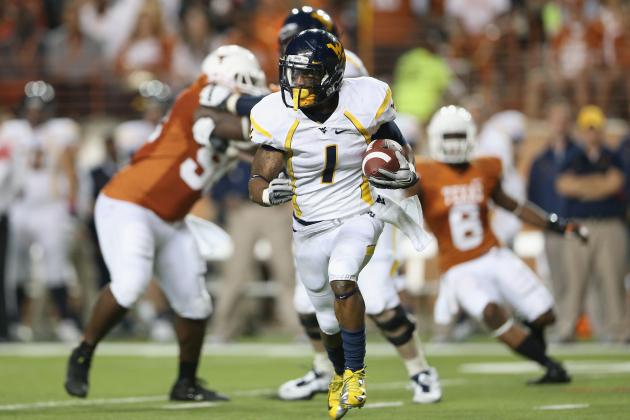 Ronald Martinez/Getty Images

It will be hard to live up to the drama of last weekend as far as upsets and thrilling endings are concerned, but Week 7 will still feature some exciting games, including one of the best rivalries in the sport.
Oklahoma and Texas will square off in the Red River Rivalry, with the loser likely eliminating any chance of contending for a Big 12 title.
Once again, 22 of the Top 25 teams are in action, and this week, there are four games featuring ranked teams going head to head.
Among the other must-see games this weekend are South Carolina at LSU, Stanford at Notre Dame and Texas A&M at Louisiana Tech.
As always, there are still some non-conference games that leave a lot to be desired, including Fordham at Cincinnati.
But, for the most part, this should be another outstanding weekend of college football.
The spreads are out and it is time to break down each game with a prediction to go along with it.
*All times Eastern; odds via VegasInsider.com
Begin Slideshow

»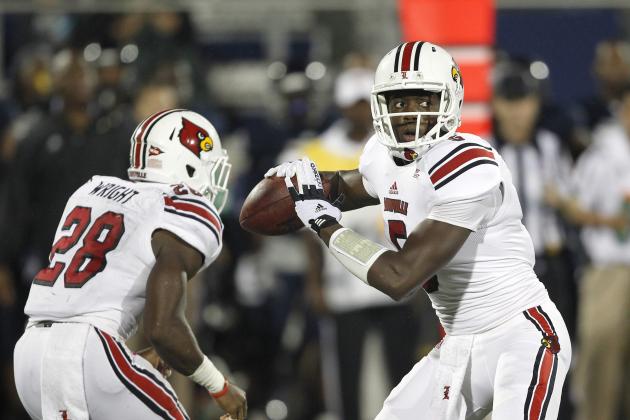 Joel Auerbach/Getty Images

When: Saturday, Oct. 13 at 11 a.m.
Line: Louisville -1.5
Louisville enters fresh off a bye week. The Cardinals will be playing their third straight bye week and begin conference play on the road against Pittsburgh.
While Louisville quarterback Teddy Bridgewater is no longer the Heisman contender that he was three weeks into the season, Louisville is still the favorite to win the Big East, but it will be tested at Pittsburgh.
Pittsburgh suffered a tough road loss on Friday at Syracuse, and after it appeared the Panthers had righted the ship, they took a step back last weekend.
The key to the game will be Ray Graham. He has struggled in the three Panthers losses, but has been solid in their wins. He will need to have a huge game for Pittsburgh to pull off the upset.
Pick: This one has all of the makings of being extremely close, but the Cardinals will be too much in the end and will cover with a touchdown victory.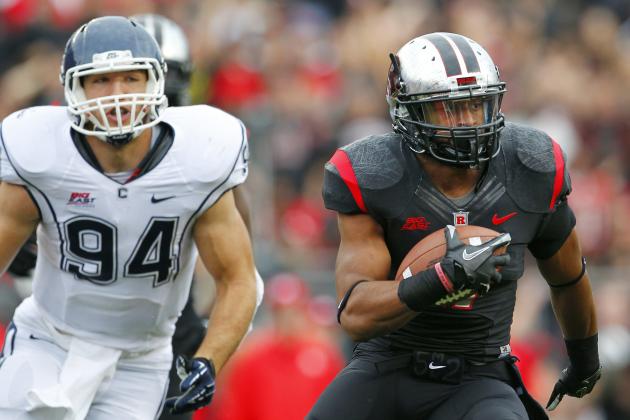 Rich Schultz/Getty Images

When: Saturday, Oct. 13 at 12 p.m.
Line: Rutgers -8.5
The Rutgers defense has been nothing short of spectacular the entire season, allowing only 10.8 points per game, good for fifth in the country.
That is not good news for a Syracuse team who has struggled to score points the last two contests. The Scarlet Knights will try to control the game with running back Jawan Jamison, and it looks like they will be able to do just that.
Syracuse is coming off a rare win against an FBS opponent in a 14-13 victory over Pittsburgh. The Orange are 2-3 and looking to go 2-0 in conference play.
Quarterback Ryan Nassib is an NFL talent who could use some more playmakers around him, but he should be able to keep Syracuse hanging around for a little while in this one.
Pick: Expect a low-scoring game that Rutgers will control from start to finish, but one in which it will never be able to completely pull away. Take Rutgers and give the points.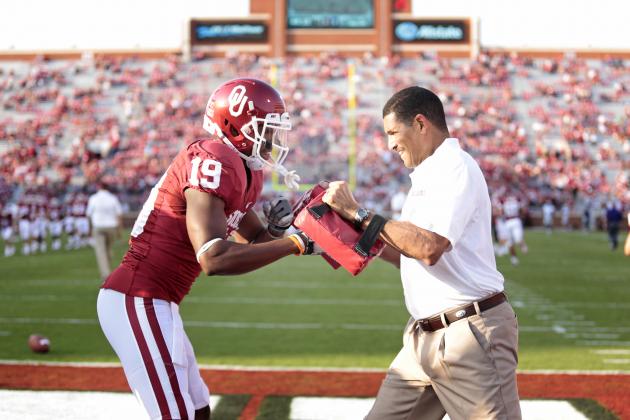 Brett Deering/Getty Images

When: Saturday, Oct. 13 at 12 p.m.
Line: Oklahoma -2.5
Oklahoma and Texas come into this game with one loss each, and the loser can kiss any chance of winning the conference goodbye.
The Sooners were very impressive in their win at Texas Tech over the weekend, dominating the Red Raiders from start to finish. That will not be the case in this one.
Texas hung with a very talented West Virginia team and nearly pulled it off on Saturday. Oklahoma does not have anywhere near the talent of the Mountaineers on offense, so the Texas defense should fare a little better.
The Longhorns have proved they can score with just about anybody, and the turnover battle will be the key to victory for both teams.
Pick: Expect the score of this game to reach the 30s and to be extremely close throughout. Take Texas and the points, but I think the Sooners somehow squeak this one out.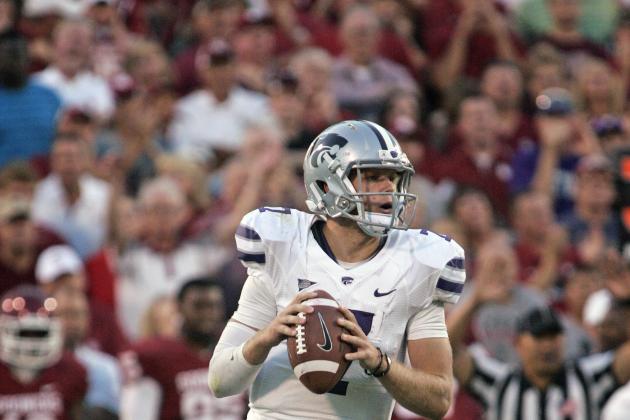 Brett Deering/Getty Images

When: Saturday, Oct. 13 at 12 p.m.
Line: Kansas State -7.5
Kansas State and West Virginia have emerged as leaders of the Big 12, and even though Kansas State is on the road, this spread appears to be a little too low. Kansas State ranks in the Top 20 in both offense and defense.
Collin Klein has emerged as one of the best quarterbacks in the country; his ability to both run and pass has given the Wildcats legitimate national-title hopes.
Iowa State, on the other hand, is coming off an impressive win at TCU on Saturday. The Cyclones will be looking to build on that momentum and should be able to stymie the Kansas State offense for a little while.
The Cyclones' defense ranks in the Top 20 in the country, allowing less than 16 points a game.
Pick: Look for the Cyclones to hang around for a half, but Kansas State will pull away in the end and cover easily.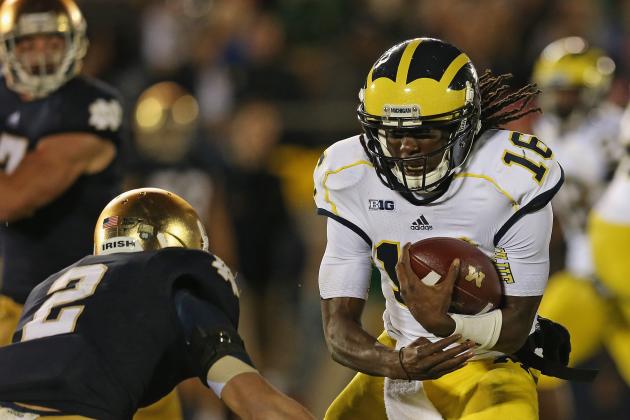 Jonathan Daniel/Getty Images

When: Saturday, Oct. 13 at 3:30 p.m.
Line: Michigan -21
Michigan looked like the team everyone expected them to be in a dominant 44-13 win at Purdue. The Wolverines are back in the rankings, and it looks like they might be there for a while.
Denard Robinson will be the main act once again, and stopping him will be a huge challenge for the Illinois defense.
The Fighting Illini have one of the worst offenses in the country, which does not bode well against an improving Wolverines defense.
Illinois will need to be able to run the football at least a little bit to keep the ball out of Robinson's hands. That has not been an easy task at all this season, however.
Pick: Michigan is clearly the better team, but a 21-point spread appears to be a little too much. Take Illinois and the 21 points.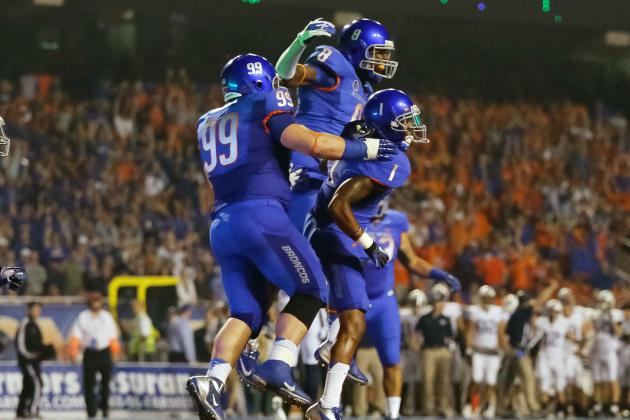 Otto Kitsinger III/Getty Images

When: Saturday, Oct. 13 at 3:30 p.m.
Line: Boise State -9
The Broncos have not been the team we have grown accustomed to this season, but they are still getting the job done and come into the game at 4-1 despite struggling on offense.
The defense has been a different story, as the group ranks in the Top 15 in points allowed. Expect the defense to show up big once again on Saturday.
Fresno State is 4-2, with its only losses coming at Oregon and by one point at Tulsa. The Bulldogs are better than many people think.
Quarterback Derek Carr is one of the best in the country and could give the Broncos' secondary some problems. The offense, as a group, is one of the Top 20 in the country.
Pick: Nine points is a lot, and Fresno State has enough talent to hang with the Broncos. Take the Bulldogs and the points. Don't be surprised if they win straight up.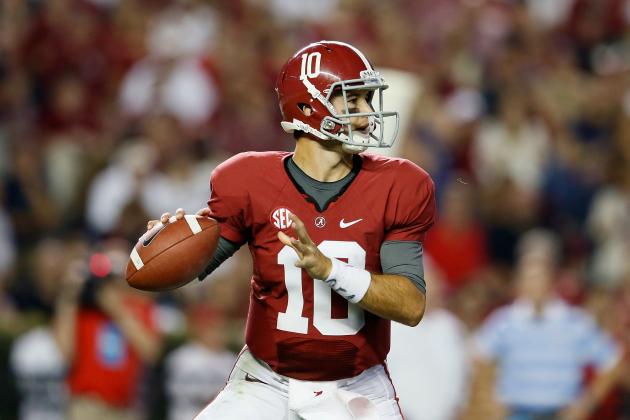 Kevin C. Cox/Getty Images

When: Saturday, Oct. 13 at 3:30 p.m.
Line: Alabama -17.5
The Crimson Tide are fresh off a perfectly positioned bye week and now begin their toughest stretch of the season at Missouri.
When it comes to defense, nobody in the country has been better than Alabama. The defense has allowed only 35 points the entire season. That is the best in the country.
Missouri has struggled for most of the season and appears to be beaten up halfway through the year.
The health of quarterback James Franklin has been a huge issue, and the Tigers do not appear ready to compete in the SEC.
Pick: Even though 17.5 points is a lot, especially on the road, expect Alabama to score just enough to cover this one.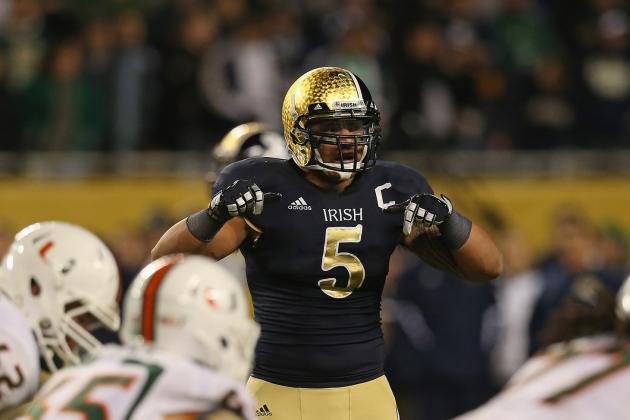 Jonathan Daniel/Getty Images

When: Saturday, Oct 13 at 3:30 p.m.
Line: Notre Dame -7
Notre Dame struggled early last week, but came on strong in the second half and continues to appear talented enough to return to a BCS bowl game.
The Fighting Irish still have some questions to answer on the offensive side of the ball, but on defense, only Alabama has been more impressive so far this season.
Stanford has plenty of talent to hang with the Fighting Irish, even if it is on the road, and will look to dominate up front.
This game is likely going to be another low-scoring battle. Stanford is probably going to have to force a few turnovers to have a shot to come out on top in this one.
Pick: The spread seems just a little too high. Take Stanford and the points, but Notre Dame comes out with a slim victory.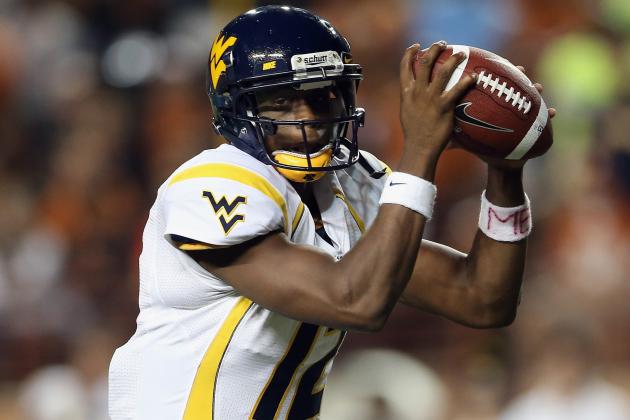 Ronald Martinez/Getty Images

When: Saturday, Oct. 13 at 3:30 p.m.
Line: West Virginia -4
West Virginia continues its tour of Texas with a trip to Lubbock to take on the Red Raiders. Last week, the Mountaineers were a three-point underdog at Texas and covered.
This week a four-point spread seems entirely too low. Geno Smith will have another field day against an overmatched defense.
Texas Tech is no pushover, however, and will be able to hang around at least for the first half.
The Red Raiders have been one of the real surprises of the season, but their schedule has been rather favorable so far, and it is not going to get any easier in the coming weeks.
Pick: Take West Virginia easily in this one.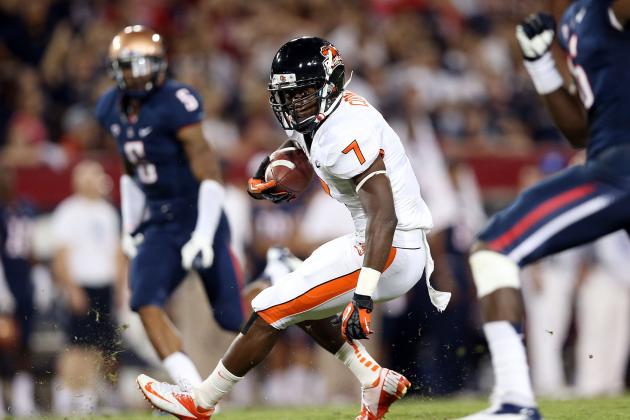 Christian Petersen/Getty Images

When: Saturday, October 13 at 3:30 p.m.
Line: BYU -5
Oregon State comes into the game undefeated, and the Beavers have been solid on the defensive side of the ball all season long.
The offense has been a struggle at times, as the Beavers have failed to score 20 points in two of their four games.
BYU is an intriguing team as well. The Cougars can play a little defense of their own and are third in the country, allowing less than nine points a game.
Expect this to be one of the lowest-scoring games of the week and very close throughout. The BYU defense should be able to force a turnover or two, and that could lead to some scoring opportunities.
Pick: Take BYU to win this one and cover the spread.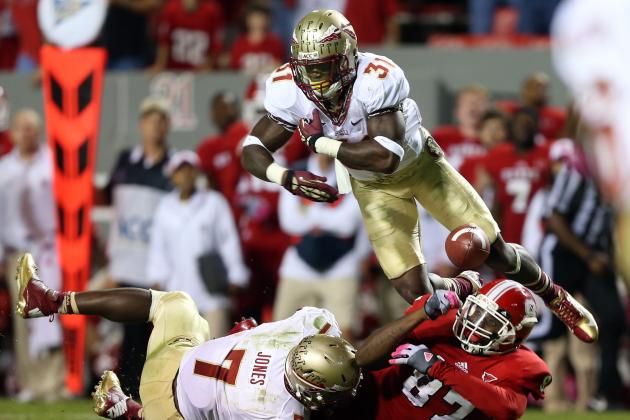 Streeter Lecka/Getty Images

When: Saturday, Oct. 13 at 5:30 p.m.
Line: Florida State -27
The Seminoles have the perfect opponent after a loss, as they take on a Boston College team who continues to get worse every week.
Florida State is definitely still stinging from the loss it suffered at the hands of NC State, and the Seminoles will have no trouble hanging 50 on the Eagles.
Boston College only has one win, and its most recent game was a 34-31 loss at Army. Couple that with an angry Seminoles team, and that is not a good combination.
Defense has been an issue all season long for the Eagles, and it will take a miracle to hang with Florida State on Saturday.
Pick: Take Florida State, even if the spread is 27.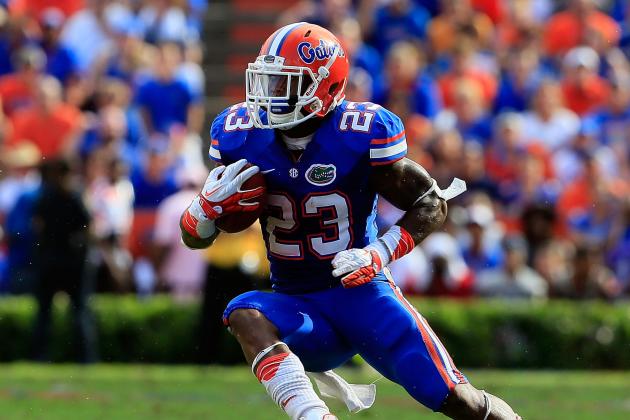 Sam Greenwood/Getty Images

When: Saturday, Oct. 13 at 6 p.m.
Line: Florida -8.5
In a defensive struggle last week, Florida came out on top against LSU and vaulted into the Top Five of the rankings.
The Gators did it with defense once again and are sixth in the country in that department, allowing only 11.4 points a game. Running back Mike Gillislee has been the difference on offense for a team who might have as much talent as anybody.
Vanderbilt did knock off Missouri on Saturday, but is still only 2-3 on the season and struggles mightily to score points.
If the defense can force a few turnovers, the Commodores could hang around for a little while in this one.
Pick: This is not a lot of points, and Florida is just a little too good. Take the Gators.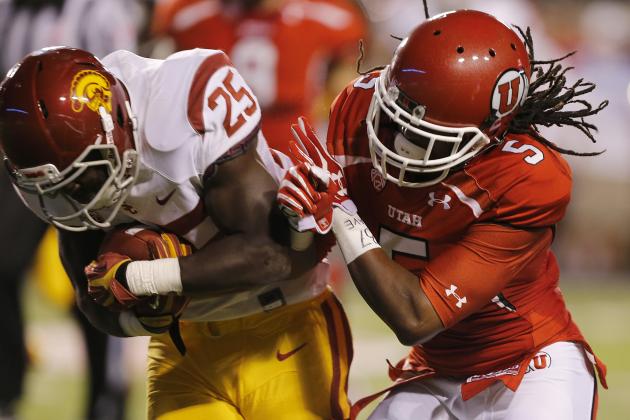 George Frey/Getty Images

When: Saturday, Oct. 13 at 7 p.m.
Line: USC -13
USC has not looked nearly as impressive as many people thought it would, particularly along the offensive line.
The Trojans still have the best set of skill players in the country, and there is plenty of talent to dominate anybody.
Washington has looked solid in some games and downright awful in others, as was displayed last weekend against Oregon.
If the Huskies can play like they did against Stanford, this will be a game. The defense will need to hold the explosive Trojans offense in check.
Pick: The 13-point spread makes this a very interesting pick. Expect this one to be close to the spread, but take the Trojans.
Jonathan Ernst/Getty Images

When: Saturday, Oct. 13 at 7 p.m.
Line: Cincinnati -39
This game did not have a line come out until Wednesday, as many games featuring FCS schools do not.
Cincinnati is at home and has looked excellent in its first four games of the season. The Bearcats are led by a stingy defense and an offense that has big-play capability.
Fordham is 4-2 and comes into the game having just knocked off Georgetown, 38-31, last week.
As a member of the Patriot League, Fordham has not played anybody from the FBS level, and this will be a huge test for the Rams.
Pick: This is a huge line and hard to pick. Take Cincinnati to cover the 39 points.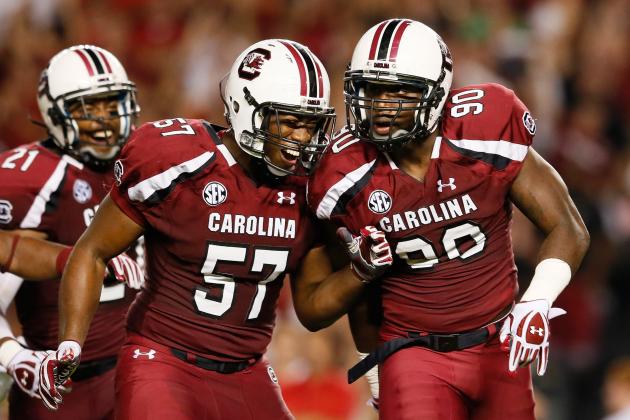 Kevin C. Cox/Getty Images

When: Saturday, Oct. 13 at 8 p.m.
Line: LSU -4
Everybody knows about the struggles of the LSU offense, and the Tigers are playing at home, which gives them a bit of an equalizer.
With that being said, LSU will need a lot of help from an offense that looked overmatched last weekend in Gainesville.
South Carolina, on the other hand, has been one of the more impressive teams in the country in recent weeks and looks poised to win the SEC East.
The way the South Carolina defense dominated the potent Georgia offense makes it hard to believe LSU could score much on the Gamecocks.
Pick: The line seems a little in favor of South Carolina. It is hard to imagine the Gamecocks not covering, even if it is a night game in "Death Valley." Take South Carolina and the points.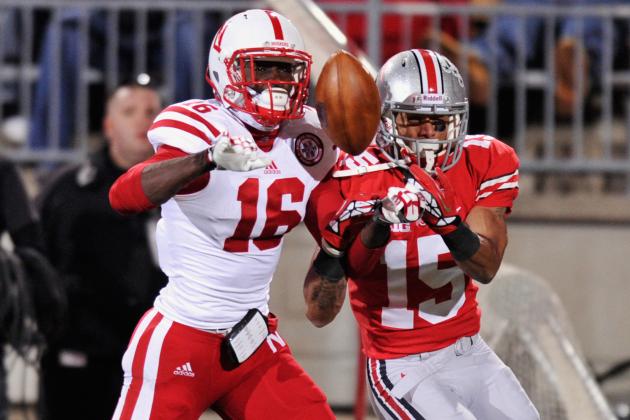 Jamie Sabau/Getty Images

When: Saturday, Oct. 13 at 8 p.m.
Line: Ohio State -19
With the schedule Ohio State has remaining, it is not far-fetched for the Buckeyes to run the table and go undefeated.
Braxton Miller is one of the leading candidates for the Heisman Trophy, and he is one of the most explosive players in the country.
Indiana is improved from a season ago and nearly knocked off Michigan State last week, but still has a ways to go and has lost three in a row.
The Hoosiers struggle on defense, which should benefit the Ohio State offense. If Indiana can avoid turnovers, it has a chance to cover the spread, considering how large it is and the fact that it is a home game.
Pick: This will be very close to the spread, but take the Buckeyes and give the 19 points.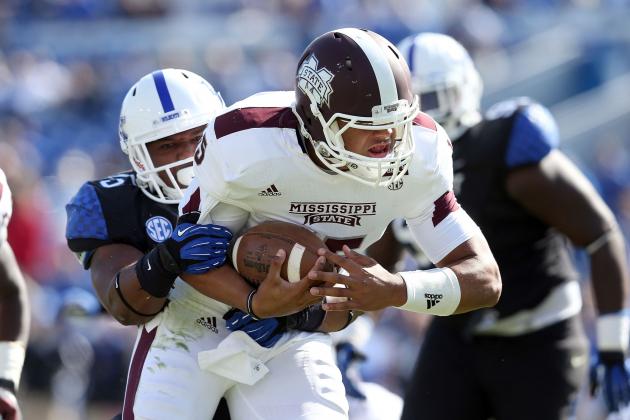 Andy Lyons/Getty Images

When: Saturday, Oct. 13 at 9 p.m.
Line: Mississippi State -1.5
Mississippi State is an intriguing team because there are still a lot of questions to be answered. The Bulldogs are 5-0, but have yet to play anybody of real significance.
The Bulldogs do it with a defense that ranks in the Top 15 in the country, only allowing 13.4 points per game.
Tennessee is still very talented, but once again has not been able to put it all together and comes into the game at 3-2.
For the Volunteers, defense has been the main issue, as they have given up 29.6 points a game. Offense is a different story, however, as the Volunteers rank 20th in the country, averaging 39.4 points per game.
Pick: This is one of the more interesting games of the week and seems like it could go either way. Take Mississippi State at home in this one.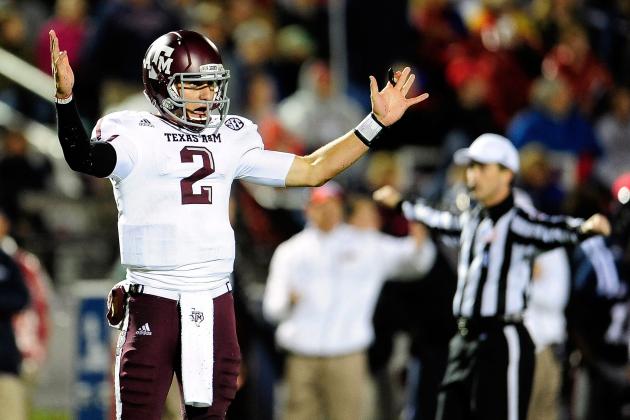 Stacy Revere/Getty Images

When: Saturday, Oct. 13 at 9 p.m.
Line: Texas A&M -8
Texas A&M has fared well so far as a member of the SEC and comes into this game 4-1. The only loss for the Aggies came by three points against a Florida team who is one of the best in the country.
The Aggies have a talented freshman quarterback in Johnny Manziel, and as he continues to develop, the Aggies will get better and better.
Louisiana Tech has been one of the real surprises this season and comes in at 5-0. The Bulldogs have taken down a few BCS schools in Illinois and Virginia.
The game is in Shreveport, and there will likely be more Aggie fans in attendance. This game is going to be very close.
Pick: Expect Texas A&M to win, but covering the spread may be a different story. Take Louisiana Tech and the points.