Houston Texans vs New York Jets: Live Score, Highlights and Analysis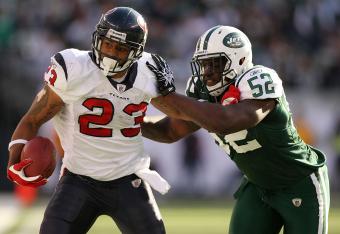 Al Bello/Getty Images
The New York Jets fought valiantly in a game they were supposed to lose against the Houston Texans on Monday Night Football, but Arian Foster and his 152 rushing yards were simply too much for Mark Sanchez and Co. to overcome.
The Jets fall to 2-3 with an unknown journey ahead, while the Texans remain unbeaten at 5-0 as one of the best teams in the NFL.
Final: Texans 23, Jets 17.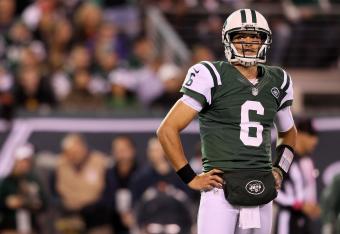 0:00 4th Quarter
To end the game, Sanchez has his last-ditch effort swatted down by J.J. Watt.
Final: Texans 23, Jets 17.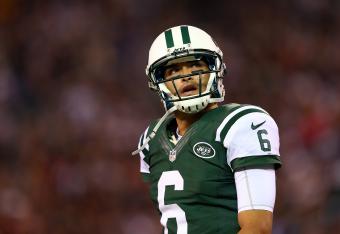 1:51 4th Quarter—Interception
Just like that, the Houston Texans appear to have a victory. After being sacked on second down, a Sanchez pass is tipped and intercepted by Houston's Kareem Jackson.
Less than two minuets left in regulation and the Jets only have one time out. Not to mention they have already given up 157 yards on the ground to Arian Foster.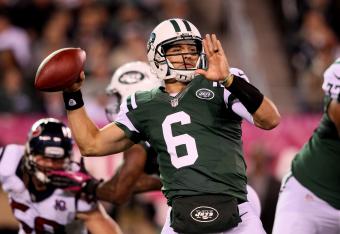 2:40 4th Quarter
New York is driving down the field after picking up two first-downs behind the arm of Sanchez. Plenty of time left for New York here.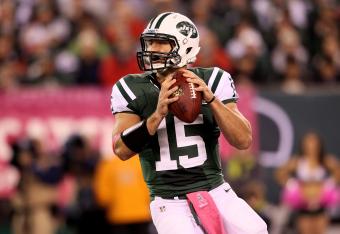 3:28 4th Quarter
Houston is forced to punt after picking up one first down on the legs of Arian Foster. New York takes over with just under four minuets remaining in the game.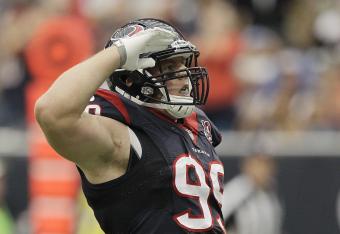 7:10 4th Quarter
J.J. Watt comes up with a huge sack on third down that forces the Jets to punt after a nice drive.
New York continues to juggle Tim Tebow and Mark Sanchez, which seems to be disrupting any rhythm either of them established. It could cost them the game.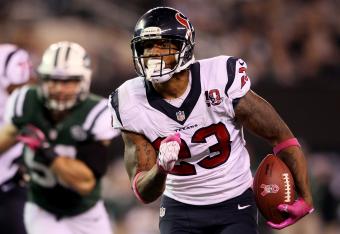 10:40 4th Quarter
The Texans are forced to punt after being backed up inside their own 20-yard line thanks to a horrible kick return to start the possession.
New York has a chance to take the lead on this drive, which is the complete opposite of what most thought would happen. Maybe it's Tim Tebow time?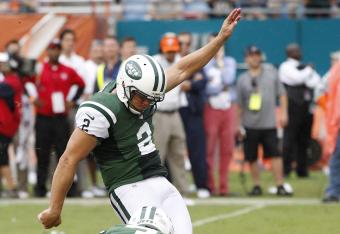 11:58 4th quarter—Field goal Jets!
New York is forced to settle for a field goal despite an electrifying 13-yard run by Tim Tebow. The Jets offense stalled after moving into the redzone, but New York is now within six.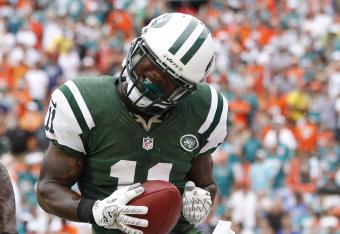 14:03 4th Quarter
The Jets are driving after Sanchez completes a 36-yard pass to Jeremy Kerley. It was a nice play, but Kerley almost lost his head thanks to Sanchez's lack of zip on the throw.
Jets on the move with a chance to score.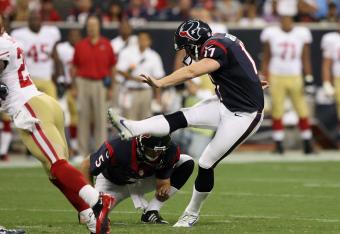 0:56 3rd Quarter—Field goal Texans!
The Houston drive finally stalled as the Jets' defense became much stingier in the red zone. Still, the Texans have extended the lead once again on a team that has done next to nothing on the offensive side of things tonight.
Texans 23, Jets 14.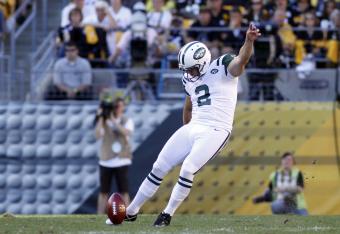 4:38 3rd Quarter
The Jets attempt to shock the Texans with a surprise on-side kick after the kickoff returned for a touchdown, but fail to grab the ball.
Texans take over past the 50-yard line.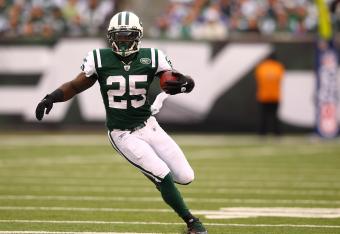 4:38 3rd Quarter—Touchdown Jets!
Joe McKnight takes a kickoff back 100 yards for a New York touchdown to give the Jets some hope.
Texans 20, Jets 13.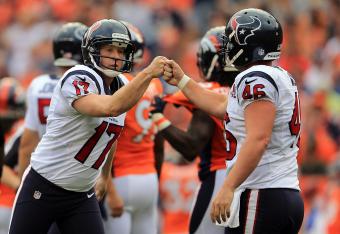 3rd Quarter—Field goal Texans!
The Houston drive finally stalls after an inaccurate pass intended once again for Daniels.
Graham knocks through another field goal, this time from 42-yards out.
Texans 20, Jets 7.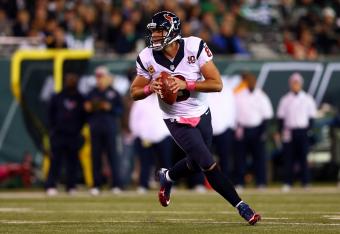 9:54 3rd Quarter
New York is having serious issues stopping the Texans right now as Schaub is methodically picking his way down the field.
Texans are now at mid field and driving.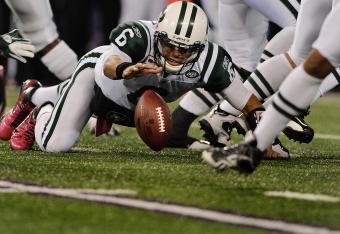 13:25 3rd Quarter
The Jets are forced to punt after a penalty and a muffed exchanged between Sanchez and a receiver on a sweep.
Schaub and the Texans get their first possession of the second half after the commercial break.
Injury timeout
Jets' center Nick Mangold is down on the field after New York started the first drive of the second half.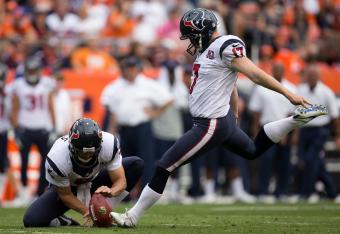 End of 2nd Quarter—Field goal Texans!
Houston capitalized on the mistake by adding three points via kicker Shayne Graham.
Halftime score—Texans 17, Jets 7.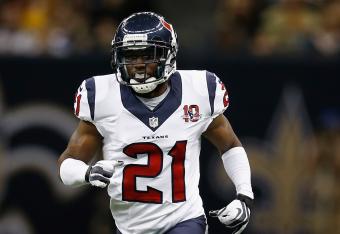 2nd Quarter—Interception!
And just like that, the game has had its outcome altered entirely in one play. Sanchez is intercepted by the Texans' Brice McCain and returned inside the 10-yard line.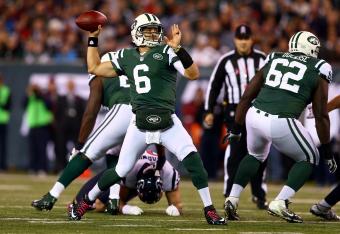 1:23 2nd Quarter
The Jets are driving after the two-minuet warning as Sanchez converts a third down on a slant pass and then goes deep for 27 yards to put New York in field goal range.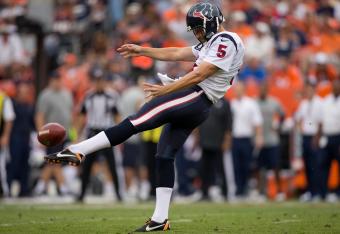 4:29 2nd Quarter
It appears as if our last update jinxed Schaub and the Texans as they fail to convert on third down.
The good news for Houston? The proceeding punt was downed on New York's 7-yard line, meaning the miserable offense has a long way to go before even entering field goal range.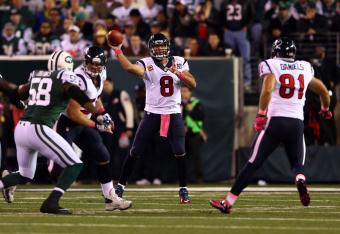 6:03 2nd Quarter
The Texans are continuing to eat the clock as they drive down the field on this drive. A 1st-and-20 didn't manage to slow them down as Matt Schaub has been precise in picking apart the New York defense.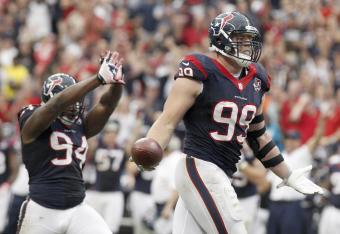 8:43 2nd Quarter
The Jets are forced to punt after J.J. Watt blows up the offensive line and forces Sanchez to throw it away.
In a horrible call of the night candidate, John Gruden decided to get clever with his word play and use "Watt" and "power source" in the same sentence. Yikes.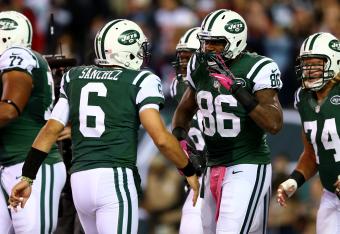 9:15 2nd Quarter
New York goes for it on 4th-and-inches via a quarterback sneak with Sanchez instead of Tebow. After a mini-scuffle and a measurement from the officials, the Jets managed to pick up the first down.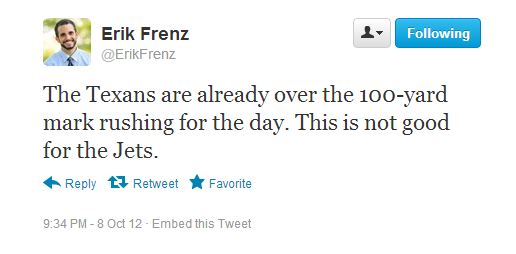 As mentioned, the complete inability to stop the run is going to seriously hamper the Jets' ability to keep this game close, as Erik Frenz accurately points out.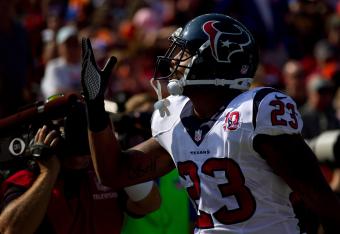 11: 18 2nd Quarter—Touchdown Texans!
Arian Foster burns the New York defense for runs of eight, 21 and 13 yards, the latter going for a Houston touchdown.
The New York defense looked extremely soft on that drive as Foster had massive lanes to run through on each carry before hitting the open field.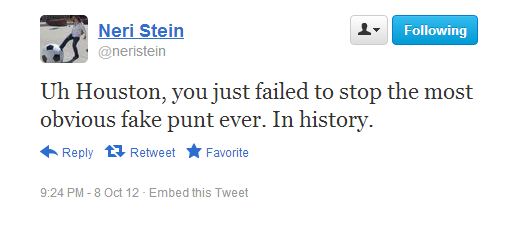 Great analysis here. The Tim Tebow punt-fake was extremely easy to see coming.
Jets are forced to punt after three quick plays.
This article is
What is the duplicate article?
Why is this article offensive?
Where is this article plagiarized from?
Why is this article poorly edited?