Where Does Drew Brees Rank in NFL History?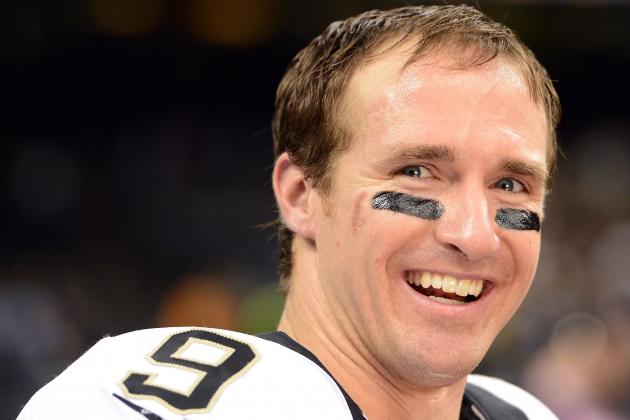 Harry How/Getty Images

Drew Brees is the all-time single-season passing yard leader. He's thrown a touchdown in 48-straight games, the longest streak in history.
He has a Super Bowl ring, and has been one of the true pioneers in the NFL's current aerial renaissance.
But where does the Saint of New Orleans rank among the top signal-callers ever?
Let's break it down from a mostly statistical standpoint.
Begin Slideshow

»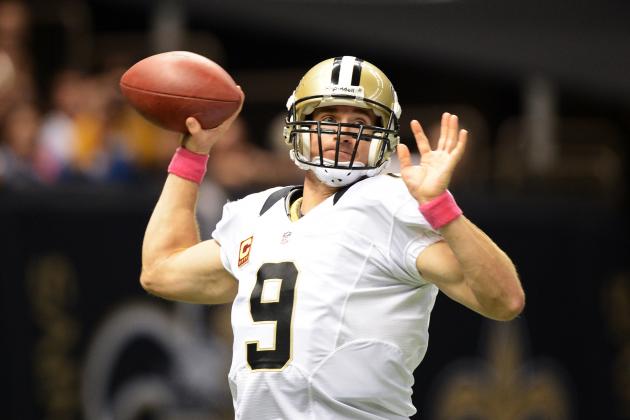 Harry How/Getty Images

The NFL is about scoring.
Scoring touchdowns, that is.
Right now, Brees is 7th on the all-time passing TD list, with 295. He's behind two active signal-callers: Tom Brady (308) and Peyton Manning (410).
What's more interesting is where Brees falls in the touchdown per game figure.
He and Brady, stunningly, currently have the same touchdown per game average—1.85. Manning's is an incredible 1.92.
The all-time touchdowns leader, Brett Favre, finished his career with a 1.68 touchdown per game average. Dan Marino's is 1.73, Fran Tarkenton's is 1.39 and John Elway's is 1.28.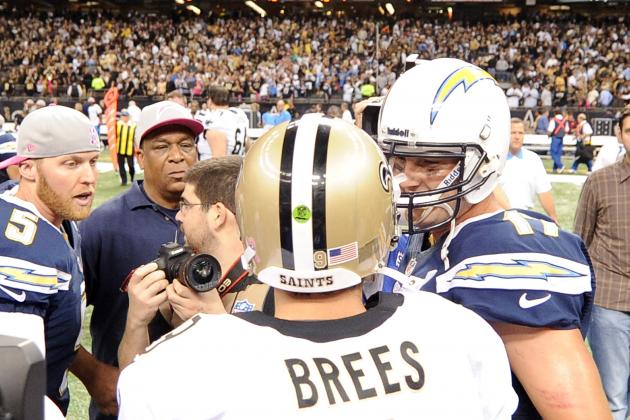 Harry How/Getty Images

Brees is slowly ascending the all-time passing yardage ranks, and currently is the 10th most prolific passer in NFL history with 42,462 yards.
Although he's two years younger, he has more passing yards than Tom Brady, and Peyton Manning is the only active player with more yards through the air in his career than Brees.
Conceivably, by year's end, the Saints quarterback could surpass Drew Bledsoe—who ended his time in the NFL with 44,611 yards—which would place him 8th.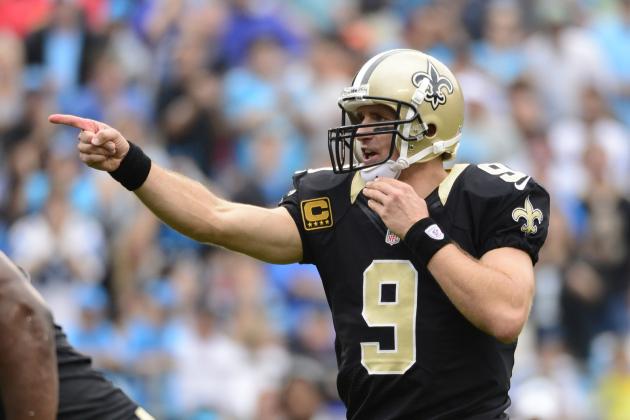 Bob Donnan-US PRESSWIRE

This clearly isn't necessarily his fault, but Brees has a .589 win percentage, ranking him 23rd all-time.
Because he's 159 games into his career, it won't be easy for the percentage to significantly fluctuate, but he could near .600 by the time he calls it quits.
Guys like Dan Marino (.611), Brett Favre (.624), John Elway (.643), Peyton Manning (.671), and Joe Montana (.713) all ended with far more impressive win percentages than Brees.
Tom Brady has a .774 win percentage, the highest ever.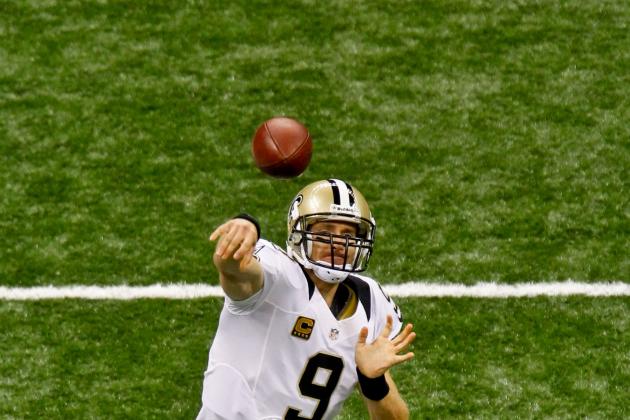 Derick E. Hingle-US PRESSWIRE

Brees' 93.9 career QB rating is the 7th-highest of all-time.
This statistic is tough to judge, because, obviously, it's easier to have a higher rating when playing in less games.
Aaron Rodgers is current leader in this category with a 103.5 rating, and his 2011 masterpiece was instrumental in such a ridiculously fantastic number.
Tom Brady has a 96.6 career rating, and Peyton Manning's is 95.1.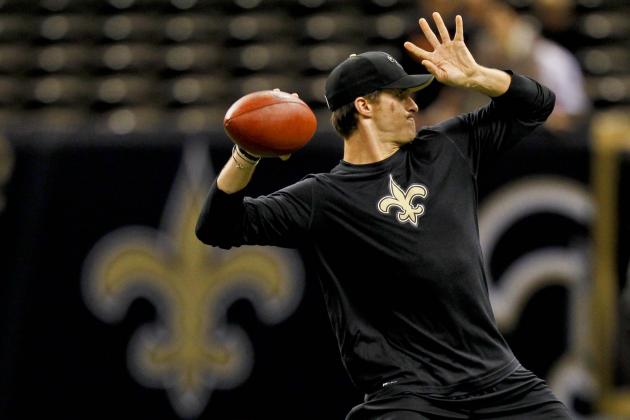 Derick E. Hingle-US PRESSWIRE

Super Bowl rings matter. But they're not everything.
Brees has one, so he doesn't have the burden of chasing an elusive title late in his career like Jim Kelly or Dan Marino.
In this ranking, individual achievements were weighed heavily, and the intangibles that lead to never-ending arguments were all but ruled out.
Based on where Brees ranks in the categories used in this slide, I have the all-time QB rankings as follows:
(OK, the rankings weren't totally based on statistical evidence, but you get the picture.)
1. Tom Brady
2. Peyton Manning
3. Dan Marino
4. Brett Favre
5. John Elway
6. Fran Tarkenton

7. Drew Brees
8. Warren Moon
9. Johnny Unitas
10. Joe Montana