New York Yankees vs. Baltimore Orioles: ALDS Game 2 Live Scores and Analysis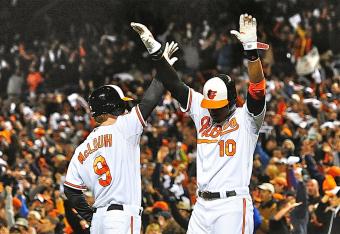 After dismantling Baltimore's bullpen for five runs in the ninth inning Sunday night, the New York Yankees hope to put a stranglehold on the Orioles Monday night in Game 2 of their American League Divisional Series.
Andy Pettitte goes for the Yankees and Wei-Yin Chen starts for the Orioles.
First pitch after a rain delay is at 8:45 p.m. ET.
SCORE UPDATE:
Final: Orioles 3 - 2 Yankees
Series tied 1-1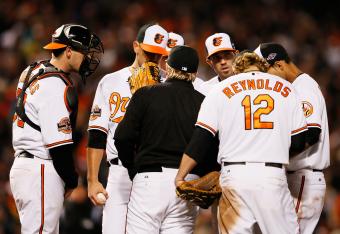 Chen goes into the seventh and gets the clutch win in his first playoff start.
Andy Pettitte kept the Yankees in the game into the eighth, but takes the loss.
Brian Matusz gets a huge hold getting four outs in the seventh and eighth and Jim Johnson gets a 1-2-3 ninth for the save.
They go to New York Wednesday night for Game 3.
A-Rod swings and misses at a splitter in the dirt on a full count.
The Orioles have won the game and tie the series at one!
Towels waving and the decibel meters are hitting 120.
Ichiro chops one to second and there are two out.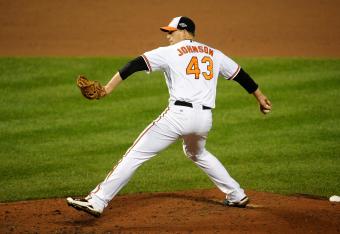 Like any good closer, Jim Johnson needs to forget about last night and concentrate.
He gets a good start as Jeter grounds the first pitch to short for the out.
Chavez stays in the game in right.
Reynolds strikes out and we go to the top of the ninth.
It will be up to Jeter, Ichiro and Rodriguez to start a rally if the Yankees are to break through again tonight.
Wieters bounds one to Teixeira who takes it himself for thye out.
Chavez goes to third and Mark Reynolds tries now to bring home the insurance run.
Jones hits an excuse-me swing chopper to Robertson and is retired.
Chavez moves up and Wieters is at the plate.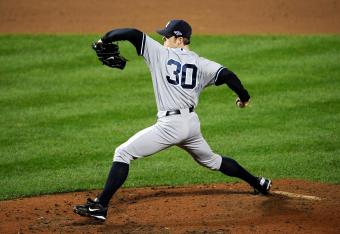 David Roberstson gets the call and Endy Chavez pinch runs for Chris Davis.
Robertson faces Adam Jones to start.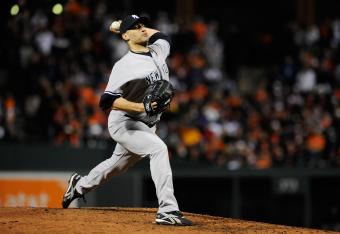 Pettitte starts the eighth, throws one pitch to Davis that goes for a single over Jeter and is done for the night.
Nunez fouls out to first and Baltimore gets out of it.
Matusz gets Granderson swinging at a curve in the dirt.
A bad night for Curtis and two out.
Martin strikes out on a pitch that looked inside and there is one out for Granderson.
New York is struggling with runners in scoring position tonight, 2 for 9 so far.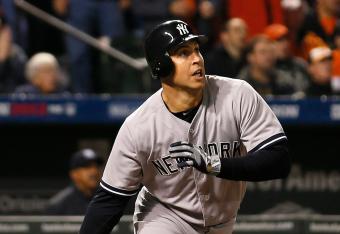 As Matusz starts the eighth inning, Teixeira singles to start.
Tex, Russell and Grandy in the 8th. The time is NOW.

— New York Yankees (@Yankees) October 9, 2012
After McLouth skies one to center, Hardy grounds out to Jeter.
Just 97 pitches through seven for Andy who is on the wrong side of a 3-2 game.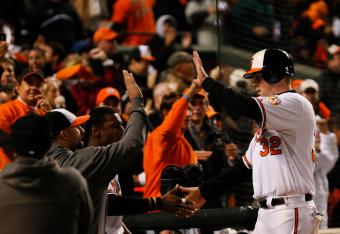 Two runs, eight hits and two errors for New York and three runs, six hits, and two errors for Baltimore.
Pettitte does start the seventh and starts by getting Andino to ground out to short.
Swisher flies out to left on a full count and New York strands two.
Stretch time at Camden Yards.
Matusz uncorks a wild pitch and the runners move up.
Second and third now with two out and Swisher up.
A move I never understand, Matusz intentionally walks Cano.
It is not the walk that is strange but the fact you burn the new pitcher with the chore.
Why do not you leave the old reliever to do that and then pull him?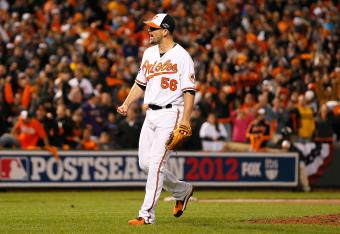 The Yankees try the hit-and-run with A-Rod a few times and he strikes out.
Going on the pitch, Ichiro steals second as the throw was wide of the bag.
O'Day strikes out his lone batter and here comes Matusz to face Cano.
Darren O'Day is on the hill for Baltimore to face Alex Rodriguez.
Brian Matusz is warming up behind.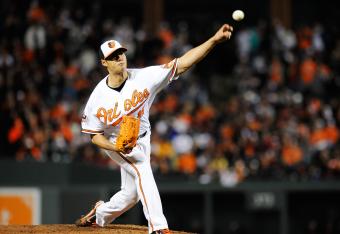 After Ichiro forces Jeter at second, Showalter comes and gets Chen.
A very good night for the rookie who pitches into the seventh and has given his bullpen just eight outs to get.
If there is someone warming in the Oriole pen, we have not seen it.
Ichiro tried to bunt Jeter along, but could not keep them fair.
Chen is now over 110 pitches.
Jeter singles over short and Nunez never stops running.
He does not even draw a throw as the Yankees cut the lead to one.
This article is
What is the duplicate article?
Why is this article offensive?
Where is this article plagiarized from?
Why is this article poorly edited?